They say these are the dog days of summer, the hot, sultry time of year between early July and early September. Here in Las Vegas this is our monsoon season. As funny as that sounds, there are two periods where Las Vegas receives most of its precipitation: December through March and July through September. Make no mistake; it's the July through September period when moist air travels up from the Gulf of Mexico that's the killer when combined with high temperatures well above 100 degrees. At those temperatures the rain often evaporates before hitting the ground which contributes to humidity… and thus the "dog days of summer."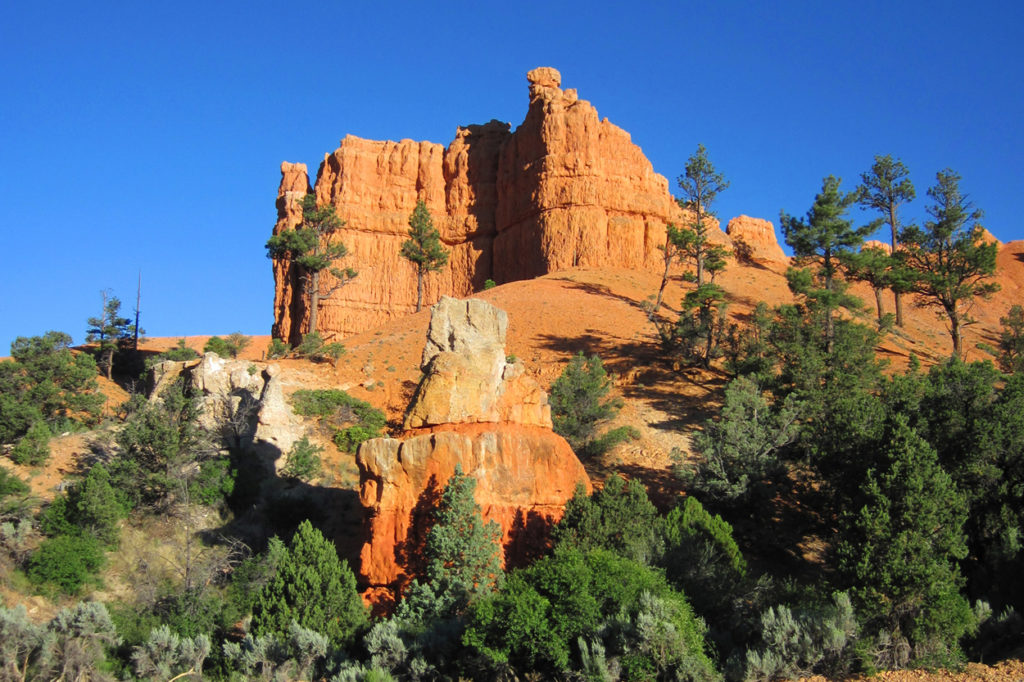 I had taken this week off for several reasons. One was that I had planned to take a week off in August for a vacation anyway, but other family obligations were preventing us from traveling to California. Two of our sons have recently moved to the Golden State and we were looking forward to visiting them despite their 400 mile separation between Long Beach and San Francisco, but that will have to wait another time. We've also signed up for a four-day conference starting on Thursday, and so it seemed best to take the week off and maybe, with Denise's permission, squeeze in a couple fishing days.
This trip was more of a "car tour" than a serious fishing trip, as I covered 694 miles in about forty-five hours (some westerners can relate to the challenge of travelling our wide open land). Sunday evening I left Las Vegas and traveled north on Interstate 15 to Utah State Route 20, just south of Beaver. Route 20 traverses the mountains separating Parowan Valley and the Sevier River valley, squeezing between Fishlake and Dixie National Forests. The eastern slope of Route 20 actually links up with the Old Spanish Trail. It was on this highway that I spotted three cow elk waiting to cross the road. Upon connecting with U.S. Route 89 which parallels the Sevier River I turned south towards the town of Panguitch where I lodged for the night, after dining at the fine Panguitch restaurant, Subway sandwich shop, just before 10:00 PM (smile).
Monday morning, after an early breakfast at the Panguitch café, I headed for Tropic Reservoir. I first heard of Tropic from a fly fisherman I ran into at Cold Creek as we traded stories about places to fish. Tropic sits off State Route 12, the gateway to Bryce Canyon National Park. Route 12 takes you through the scenic Red Canyon, and the turnoff to Tropic takes you up the East Fork of the Sevier River (hardly a river in these early stages). Tropic sits in a narrow valley between the Paunsaugunt Plateau and the Pink Cliffs that create Bryce Canyon. It's a beautiful area; a fine example of why southern Utah describes itself as Color Country. I fished Tropic for just about ninety minutes, catching nine stocked rainbows, only two of which approached thirteen inches. I was hoping to connect with a larger brown trout, but as the owner at the Panguitch café told me the rumors of large brown trout in Tropic were just that, rumors.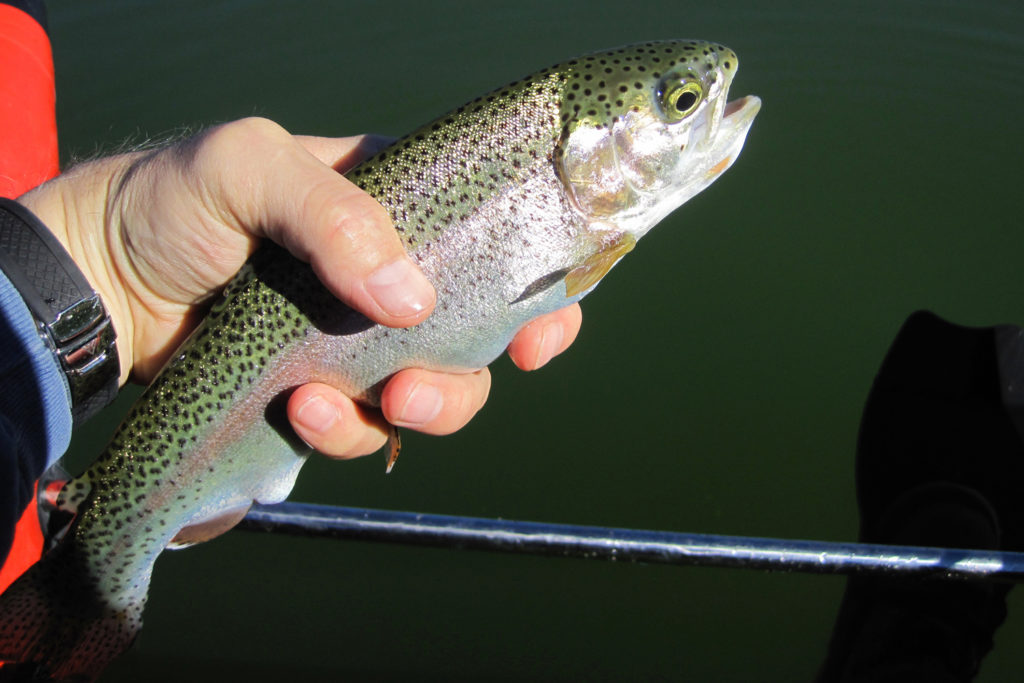 By about 10:00 AM I left Tropic and headed for Mammoth Creek in Dixie National Forest.  Although there wasn't a cloud in the sky and noon temperatures were approaching eighty degrees, I gave the Hatch Meadow section a try.  I did witness two brown trout make splashing rises (one looked to be in the fifteen-inch range), and I did get one attempted take that I either miss-timed or was refused at the last minute.  Although this was my second skunking on Mammoth, I keep returning to it for two reasons: sentimental memories from the 1980s and the knowledge (and sightings) of wild brown trout in the creek (see Mammoth Creek posts from 1984, 2009, and 2010). After another ninety minutes of fishing I left Mammoth Creek for Panguitch Lake.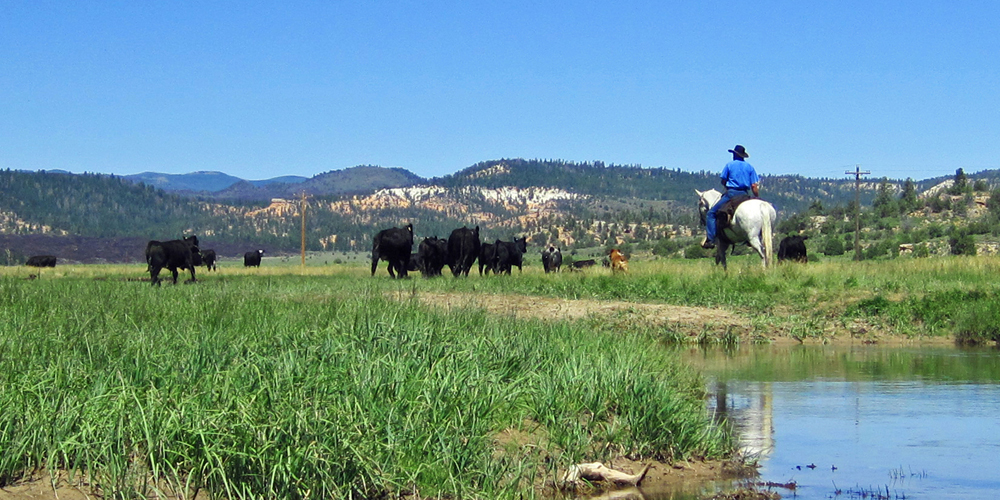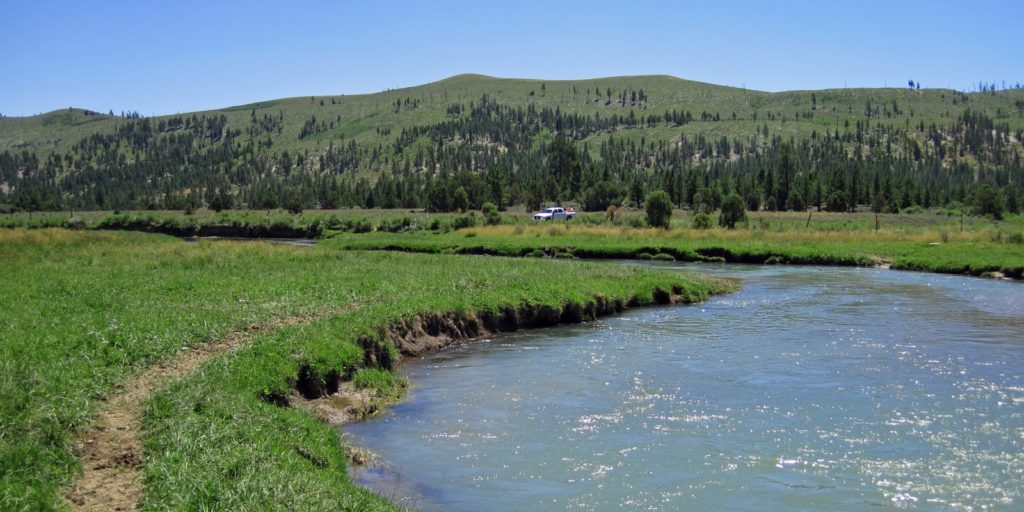 Panguitch sits on the Markagunt Plateau at about 8,200 feet in elevation, but the man-made lake is a very busy place. The best indicator of the active community surrounding this large lake is the presence of the new Mormon Church right on State Route 143 overlooking the lake. I arrived around 2:00 PM and parked near the Blue Spring inlet on the southwest corner of the lake. Even at mid-day on a Monday I counted four fly fishermen staking out the prime pockets of weedless water just a few hundred feet offshore. I tried not to impose on their "territory" and rowed my Outlaw Escape over the weed beds to the west and north of the "tubes and toons" flotilla (by late summer the weed growth is quite remarkable at the inlets). In about three hours of fishing I only caught three fish (lost a hefty fourth after about thirty seconds on the hook), but one was a large cutthroat that measured over twenty-one inches. I couldn't control the fish with one hand on my lap so I was forced to take the picture while it was in the landing net (for dimensional perspective, my landing net opening is eighteen inches by twelve inches, and the netting measures at thirty-one inches from lip-to-lip, so when looking at the below picture you'll see that the trout is taking up two-thirds of the netting length). Using two hands I was able to lay it out on my stripping apron that measures up to twenty-four inches, and the fish was just over twenty-one, easily the longest trout I've landed since Henderson Springs in 2005.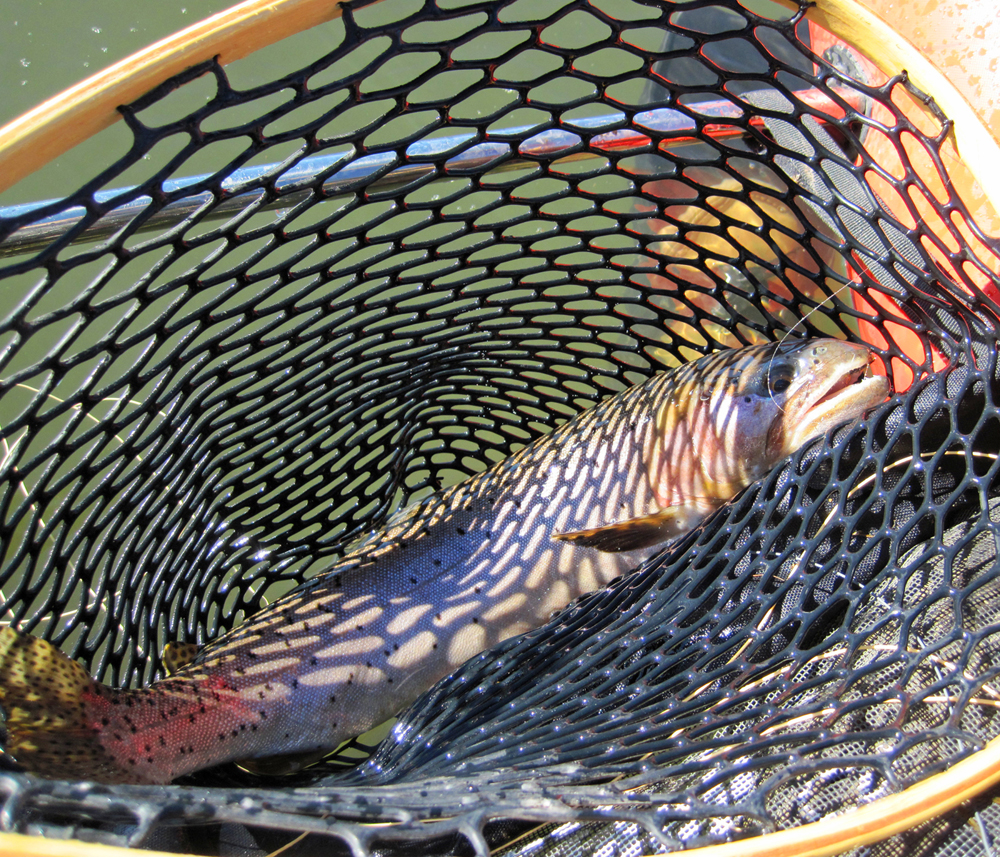 I caught the Panguitch beast after circumnavigating around the fly fisherman, who by 4:00 PM had grown to five. In fact, I was disappointingly on my way out of the lake after having "my" space taken over by a boat with a mom, dad, and toddler (now seven anglers on what seemed like a two-acre parcel of water).  The boaters actually came right up on my space after I had carefully avoided imposing upon the other five fly fishermen.  Disenchanted, I decided to get out as it was just too crowded for me.  But, as I made my way to the boat launching area I decided to try the Blue Spring inlet channel one more time, as it produced a fine surprise on my July 2009 visit.  To my amazement it turned up another large trout again.  Highly satisfied with the fish I decided to call it quits and take Route 143 back into the town of Panguitch for dinner and rest after the whirlwind tour.
Lest you think my experience indicated the Panguitch fishing was slow, let me say the three original fly fishermen did pretty well, especially one in particular. They were fishing with droppers off a strike indicator. Unfortunately for me I had left my floating line in the truck, but I did switch over to a sink-tip line and I must say that made a difference, that and Rickard's callibaetis nymph. No excuses for me, but they obviously were using the better technique and had command of the prime waters.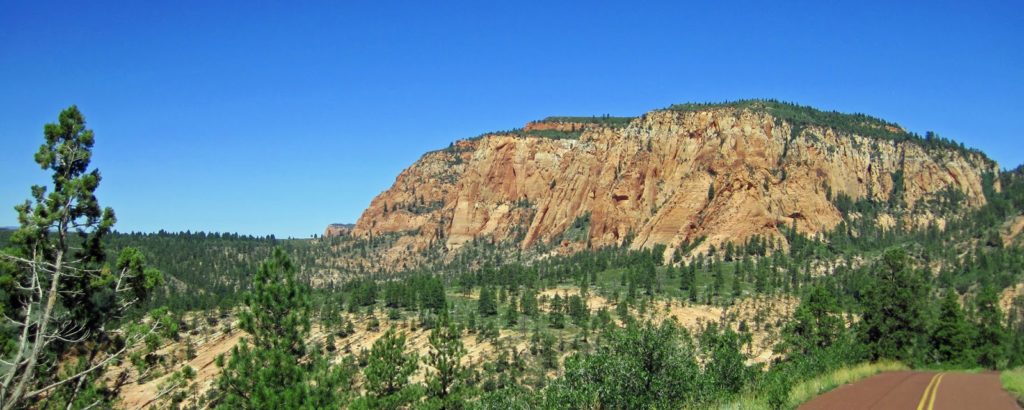 Tuesday morning I decided to head south toward Zion National Park. I was thinking of Navajo Lake since I had never fished it before, but truthfully I was leaning towards Kolob Reservoir just outside Zion National Park. I decided on Kolob because the drive is one of the most scenic I've ever driven and because it was unlikely to be crowded, something I wanted to avoid after Panguitch Lake. So I crossed over the Markagunt Plateau once again on State Route 14 at about 6:00 AM to get to Interstate 15 south on down to the Zion turn off at Anderson Junction to State Route 17. The only good thing about traveling the mountains at that time of the morning is the wildlife sighting. As I was crossing over Midway Valley at 9,600 feet in elevation I came across three young mule deer bucks in velvet (two fork horns and one spike). As soon as I stopped the truck to take a picture they high-tailed it for cover in the nearest stand of trees.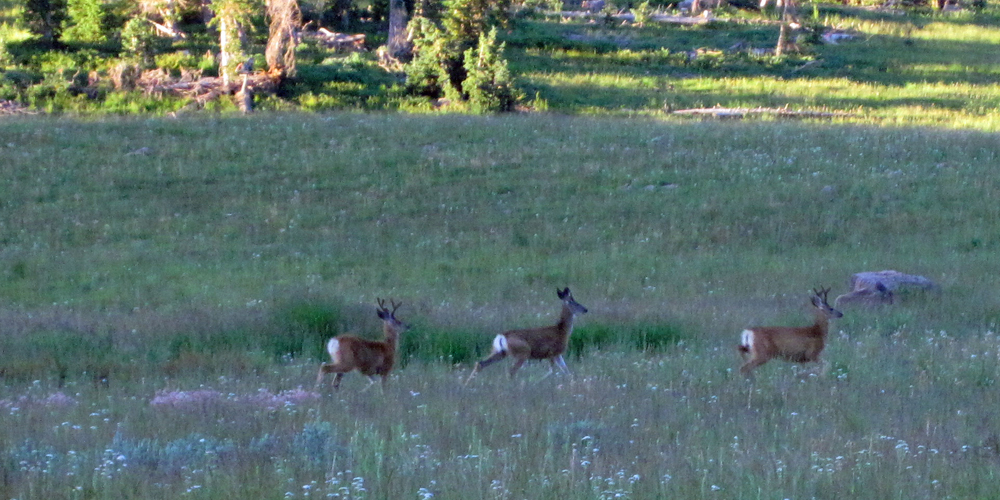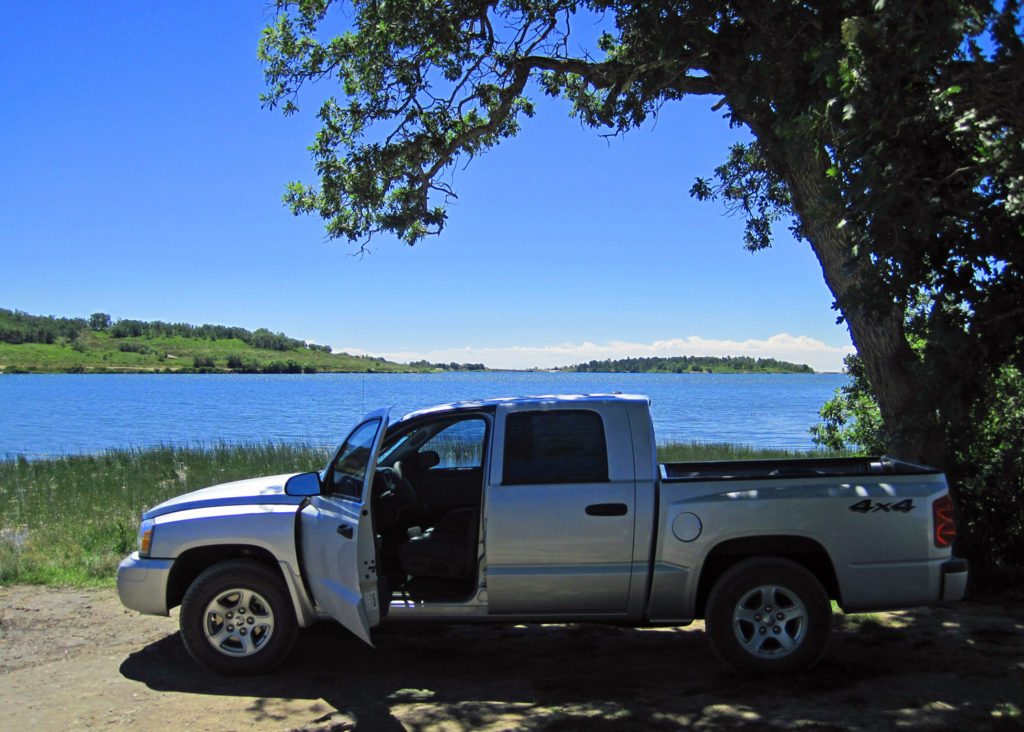 The circuitous route around the Hurricane Cliffs and Kolob Terrace was a long drive, but I got on the reservoir by 9:00 AM. I had decided to return home around noon as I was suffering from a mild case of dysentery that I likely picked up from the Panguitch Subway shop on Sunday night. I decided I would only fish for about ninety minutes and then head home. Knowing I was on a short time line I rushed a little and forgot to take my camera on the reservoir; no fish pictures. In the ninety minutes I did catch five trout, three rainbows and two cutthroats. All were over twelve inches, with one rainbow measuring a hefty sixteen inches and one cutthroat measuring seventeen inches.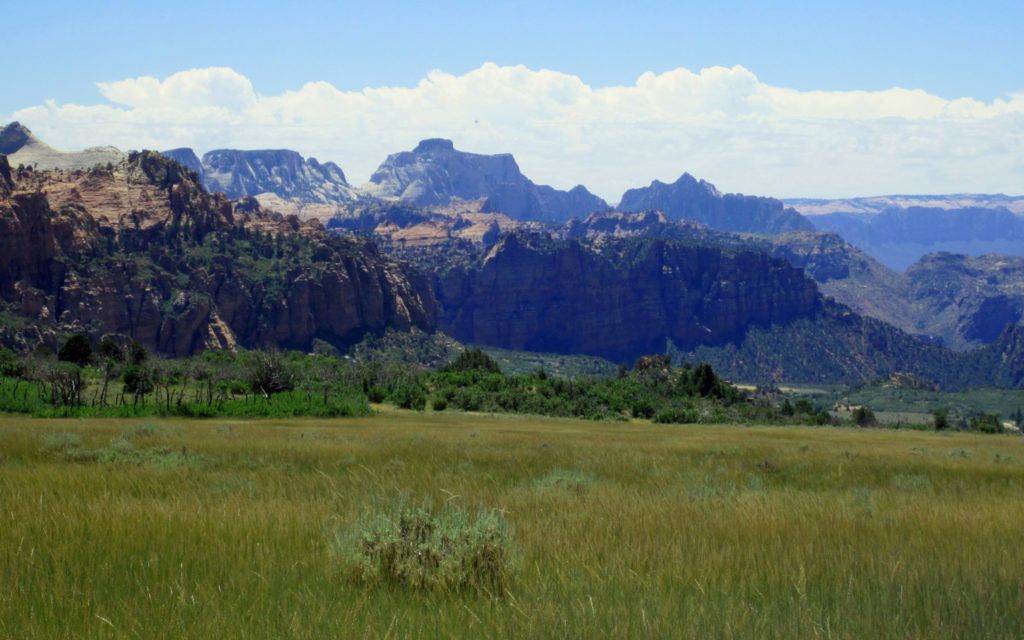 So, a whirlwind tour of southern Utah produced seventeen trout in six hours of fishing spanning two days and 700 miles. It was a somewhat impetuous journey through southern Utah, but the first-time visit of Tropic near Bryce Canyon and the twenty-one inch Panguitch cutthroat easily justified my crazy behavior. Perhaps this erratic trip was subliminally fuelled by the national debt and deficit crisis and its related impacts on the investment markets. Maybe crazy begets crazy sometimes.