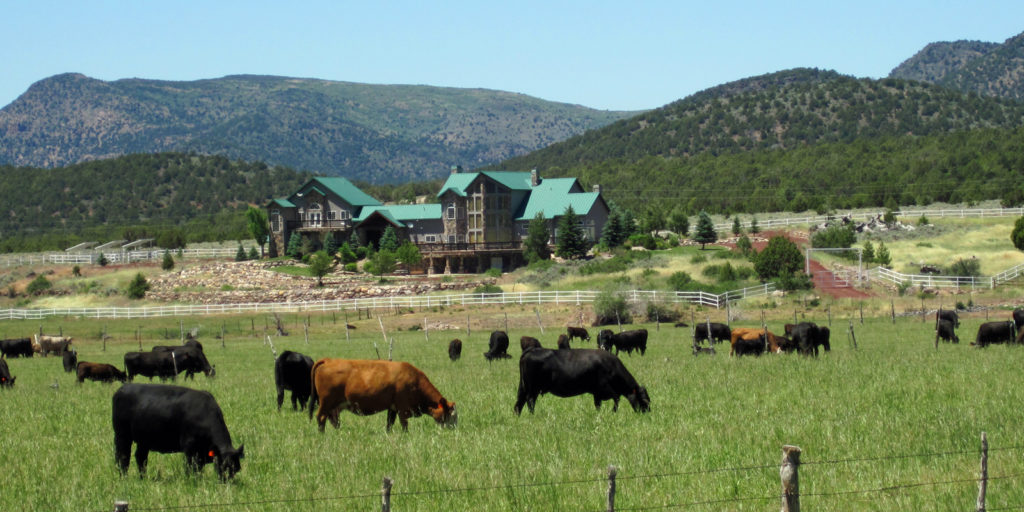 Holiday weekends don't usually entice me to travel. I like to vacation between the weekends so as to keep the crowds to a minimum. It's not that I'm introverted or antisocial, but truthfully, who likes to struggle in crowds on a vacation. Fishing works the same way, but for different reasons. When I venture outdoors I like to pursue the feeling of wilderness (even when it's not reality). It's a throwback to my youthful hiking days; always wanting to trek where no one has gone before, to see things as natural and undisturbed as possible. Currently, fishing on weekdays before or after the holidays is the best I can manage to create the sense of solitude and peace.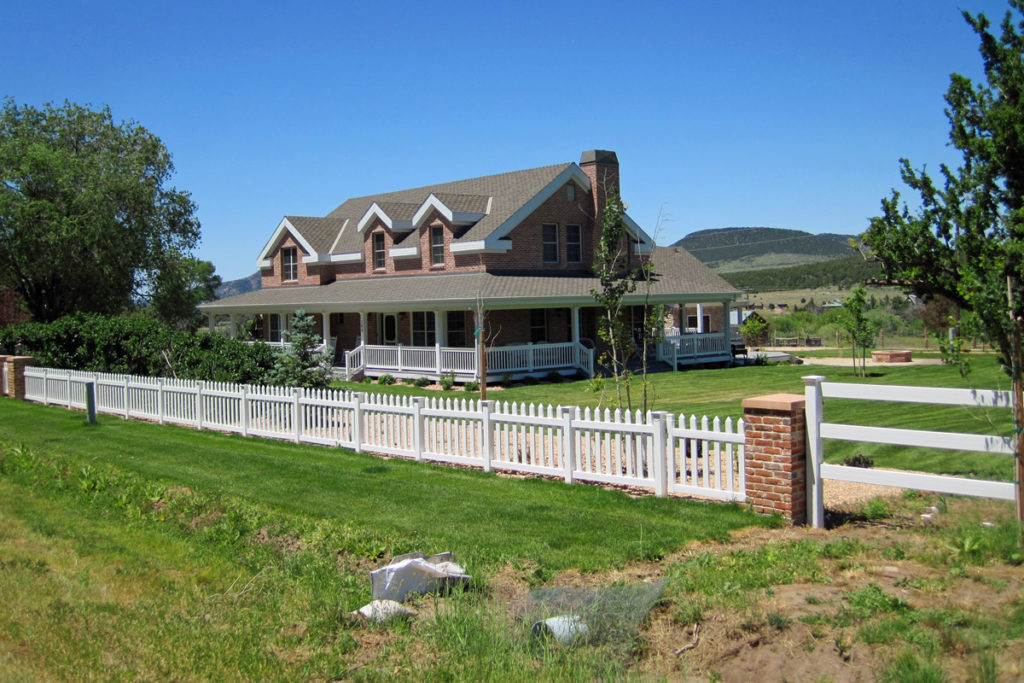 This Fourth of July weekend presented yet another opportunity for a quick fishing trip before the urbanites and suburbanites (of which I am one) left in droves to sample the vestige of wilderness in our state and national parks. I knew many would be leaving Friday to secure their camp sites, and I was certain they would either be on the road or too busy with camp chores to be able to start fishing before noon. So the plan was hatched to leave Friday morning between 5:00 AM and 5:30 AM for Pine Valley. I reasoned a two and one-half hour drive, so I could be fishing as soon as 8:00 AM, long before the masses arrived.
I was planning to fish a section of the Santa Clara River that I had yet to explore (river is a generous designation; it is more aptly described as a creek). It's the section just below the Pine Valley pasture, just as the river enters into the narrow volcanic canyon. I had heard that there was decent fishing in the canyon, but I'm not able to climb in and out of canyons like that anymore. So my strategy was to park near the entrance and start there. There is a dirt road that took me down to the canyon's edge near where the river enters, and I was able to scramble down to the river without much difficulty.
For this trip I brought three rods. Originally I had planned to bring just the two four-weights (the six-footer and the seven-and-one-half-footer). For some fortuitous reason I also brought my nine foot, five-weight rod. I thought I had brought my hip boots to work the river and remain cool in the impending heat of the day, but when I started to unload my gear at the edge of the canyon I realized I only brought my chest high waders. Those two packing decisions, however absent minded they might have been, were good omens of things to unfold in Pine Valley.
The water was a little murky, but very fishable. Immediately I could see several sections that though could hold brown trout, and I plied them with several nymphs and dry flies. I was casting the seven-and-one-half-foot rod and I was able to place the flies where I wanted. But I was hopelessly skunked. I did not even see a fish dart for cover as I walked upstream or crossed over. It was a serene and pleasing stretch of river cooled by stately Ponderosa pines, and I had it all to myself. Unfortunately, the trout would have none of my offerings. By the time I reached the pasture I had covered about three hundred yards… no strikes.
So, feeling slightly defeated I decided to try the section below the reservoir; it always had fish in it. I started my ascent out of the canyon and back to the truck. It was then that I realized my legs were already exhausted from the squatting, crawling, and crossing the creek. I didn't time it, but it must have taken me a good fifteen minutes to get back to the truck despite the hike out being less than a quarter mile. By the time I reached the truck my legs were getting numb, so I nixed the idea of fishing the upper reaches of the river and instead opted to fish the reservoir. This is where the nine-foot rod and chest-high waders became most useful.
The woman working in the park entrance booth said they just stocked the reservoir, so I figured I'd erase the early morning skunking with a bunch of little stocked rainbows and get on my way home. As planned, there were just a few folks positioned around the little reservoir (it's only about five acres so boats and float tubes are not allowed). Fortunately, no one was near the inlet, so that's where I went straight away. Although the reservoir wasn't much higher than normal, the water flowing in through the inlet was moving pretty briskly, and it was very cold despite the ninety degree temperature. Due to the volume of spring runoff there was a large sandbar that drifted into that reservoir maybe one hundred feet or so, but then fell off quickly. With my chest-high waders and nine-foot fly rod I was able to command quite a bit of prime water, sometimes in ankle deep water and other times in water just over my waist.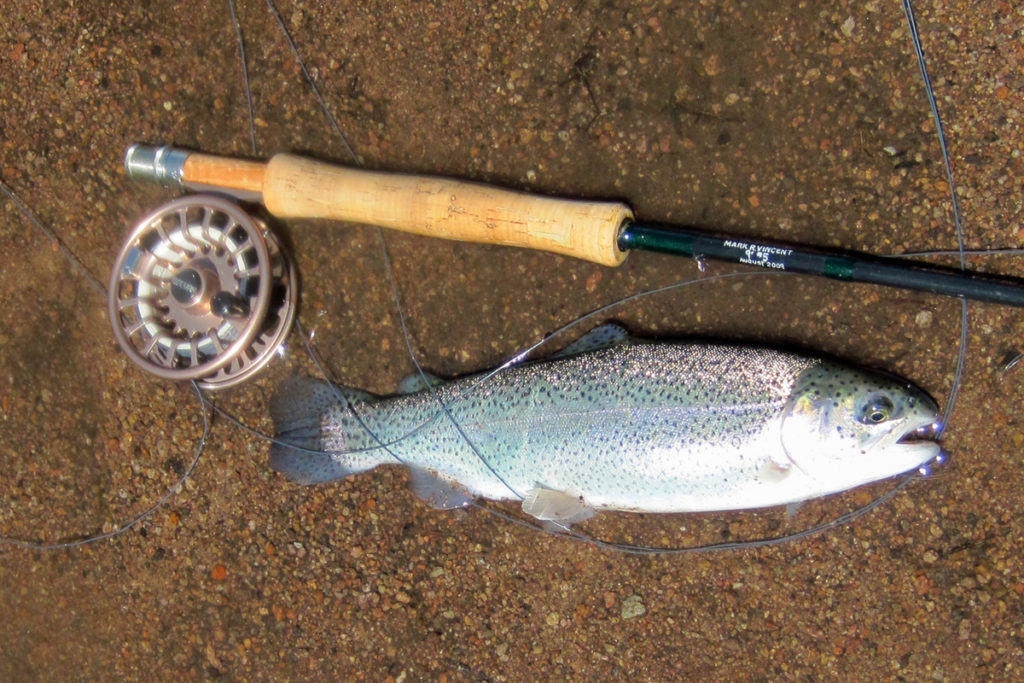 Being somewhat disappointed about the creek skunking I suppose I had low expectations about the reservoir. Those feelings were erased almost immediately as I began hooking into twelve and thirteen inch rainbows, almost on every cast. I don't think they were from a previously stocking, but rather that the Utah Department of Wildlife stocked larger trout here for some reason. Regardless of how or why, they were all stacked below the sandbar, which fanned out quite widely, waiting for the morsels drifting into the reservoir. I believe I started fishing the reservoir around 10:00 AM, and by 1:00 PM I had caught and released thirty trout (excluding the seven LDRs, that one every six minutes on average). All but one were rainbows, but the one little brown trout was very special. It was further evidence that brown trout still exist in the Santa Clara system that are reproducing (you don't see much mention of brown trout in the Pine Valley Reservoir literature, printed or online). This little brown was exactly what I was hoping to catch in the river below that pasture. Perhaps another day, or on another stream.
I was impressed with how hard these trout fought. They were a little larger than your average stocked trout, and for the most part their strikes came deep which when coupled with the inlet flow working against me they certainly bent the nine-foot rod as if they were fifteen or sixteen inches. After three hours my rod hand was tired and sore from the fights, likely exaggerated by a mild case of gout in my right index finger (first time ever in that joint location). Despite being worn out, it was exactly what I needed to redeem myself for the poor showing in the lower creek.
This fishing experience was a little different for me, and it caused me to pause and realize that despite my desires time is marching on. Someday, sooner than I would like, I'll not be able to fish waters like this. Sometimes I feel as though Jesus is reminding me that earthly time is short, and that I should be about His business more fervently than I am currently. Apostle Paul in his second letter to the Corinthians wrote:
"Therefore we do not lose heart. Though outwardly we are wasting away, yet inwardly we are being renewed day by day. For our light and momentary troubles are achieving for us an eternal glory that far outweighs them all. So we fix our eyes not on what is seen, but on what is unseen. For what is seen is temporary, but what is unseen is eternal."

2 Corinthians 4:16-18
It's not that I think my little fishing excursions are sinful or wasteful; they are in fact a needed respite from the weight of the daily life in this world. It's more like a reminder that my eyes should be set on heavenly rewards rather than earthly pleasures. The Lord's not denying the earthly pleasures, but I need to be constantly directed to His desires for my life rather than my own. Meanwhile I will relish this gift of fishing, and every time I partake in its delights I will think of the heavenly pleasures that await me and be humble and grateful for His grace at the cross.