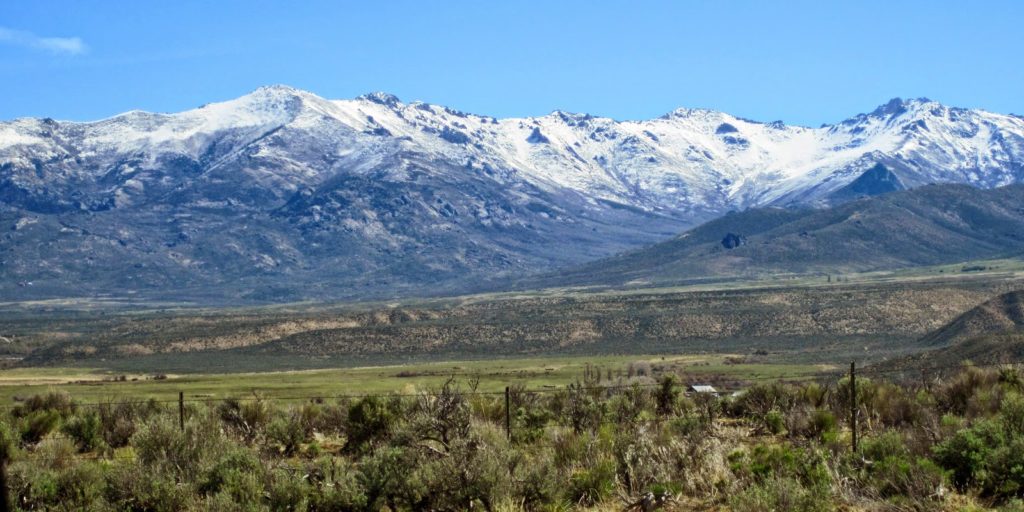 It had been over 11 years since I fished with my good friend and fellow pescador, Bill Bergan. In November 2003 I flew to Sacramento where Bill picked me up and whisked me off to fish the lakes at Henderson Springs in Northern California. Since then we have been scheming up new fishing adventures, but we could never connect. I was pushing the waters around the Ruby Mountains south of Elko, Nevada. It turns out the driving time to Elko from Sacramento and Las Vegas was about equal. Bill knew how beautiful the Rubies were from our 1979 backpack trip to Favre Lake on the Ruby Mountain's Lamoille Canyon trail. We eventually settled on the Ruby Mountain area where Bill was able to meet me, ironically, driving directly from another group fishing trip at Henderson Springs.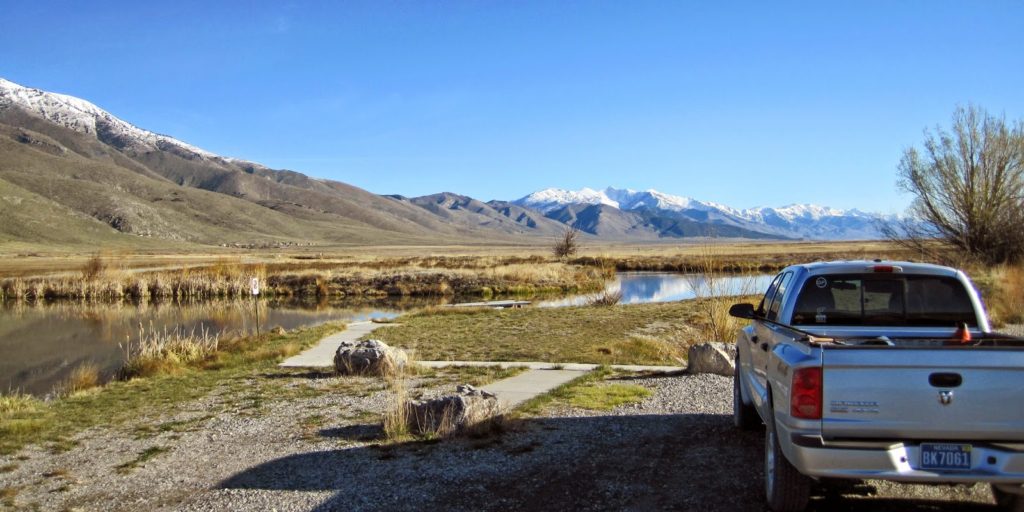 Through the wonder of the Internet, Bill discovered the Ruby Crest Ranch & Elko Guide Service located in the South Fork area which is about 15 miles south of Elko. The ranch and guide service is owned and operated by Bill and Betty Gibson. They served as our gracious hosts, and Bill Gibson introduced us to a few nuances of the nearby waters. I wholeheartedly recommend Bill and Betty to anyone interested in fishing or hunting in Elko County, but more on them later.
I have been captivated by the Ruby Mountains ever since I was a teenager. I learned about them through my brother Neal. Their alternate nickname, the Alps of Nevada, conjured up images that were spot-on when I first set my eyes upon them in 1979. Not only are they dotted with 25 or so alpine lakes and lined with miles upon miles of creeks and streams, they are home to the Ruby Lakes National Wildlife Refuge (NWR). The NWR contains almost 40,000 acres of wetlands, and is one of the most remote refuges in the lower 48 states. Their website reports that Ruby Lake serves as a magnet for a wide diversity of wildlife species and is strategically located along migration corridors serving both the Pacific and Central Flyways. The refuge has been identified as one of 500 Globally Important Bird Areas by the American Bird Conservancy. I suspiciously observed that while it mentions the fishery "is popular with local anglers" it never says it is a "world-class fishery" holding trophy size trout and bass. Our host, Bill Gibson, says that is because the NWR doesn't want to encourage the anglers.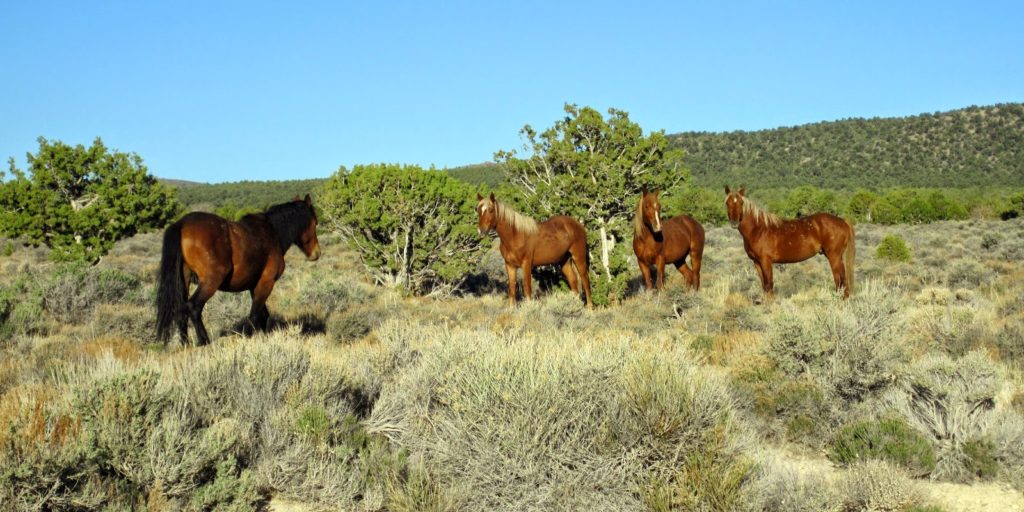 I wanted to be able to fish the Ruby Marsh Collection Ditch (Ditch) on my way to Elko on Monday morning, so I spent Sunday evening in Ely, Nevada. I left the Ely motel at 5:00 AM and at 7:30 AM I arrived at the Ditch below the Gallagher Hatchery, about where it connects with the Brown Dike Road. Think of the Ditch as a man made spring creek that collects water from numerous spring heads and delivers it to the marsh. I had great adventure working over large trout back in October 2012, and I had to revisit that spot again. I did indeed find trout in the culvert pool, but it was a lone dark shadow of about 18 inches downstream about 100 feet that intrigued me for over an hour as I tempted it with several nymphs, and I even floated a size 18 black gnat dry fly. The only honest look the trout gave me was a half-hearted chase of Denny Richard's stillwater Callibaetis nymph. Amazingly, except for the Callibaetis nymph, the fish never moved from his spot no matter what I did. I silently vowed to return later… although I never did because the fishing everywhere else was so outstanding.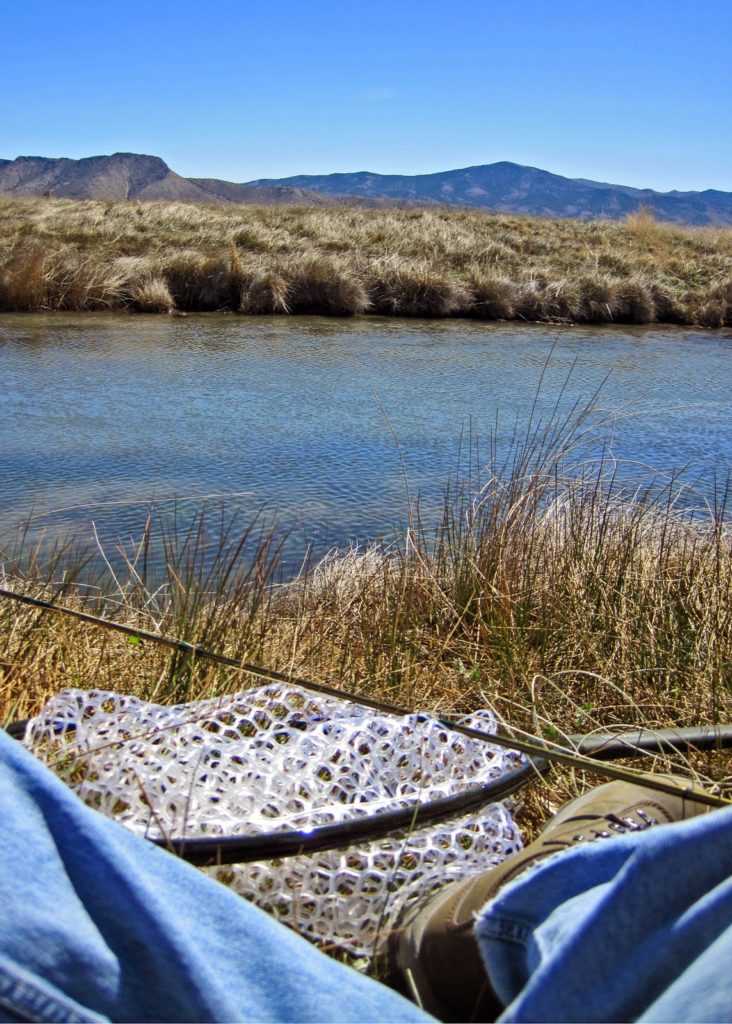 I arrived an hour later at the Ruby Crest Ranch, greeted by a spirited but loving welcome from the yellow Labrador clan headed by Ruby, the matriarch of the pack. Their raucous "hello" was followed by Betty who announced that "the boys" were fishing the South Fork Reservoir. She told me I could reach the two Bills (Bill Bergan and Bill Gibson) via cell service that extended to the reservoir. They were fishing from Gibson's small aluminum skiff powered by an electric trolling motor. They had already caught several well sized smallmouth bass and a trout or two. Gibson generously let Bergan and me take the skiff out to try for more bass, and later he took us to the boat launch area where we connected with several nice trout pointlessly trying to spawn along the shore (the South Fork of the Humboldt didn't have enough spring snowmelt to provide safe passage to the upstream spawning gravel).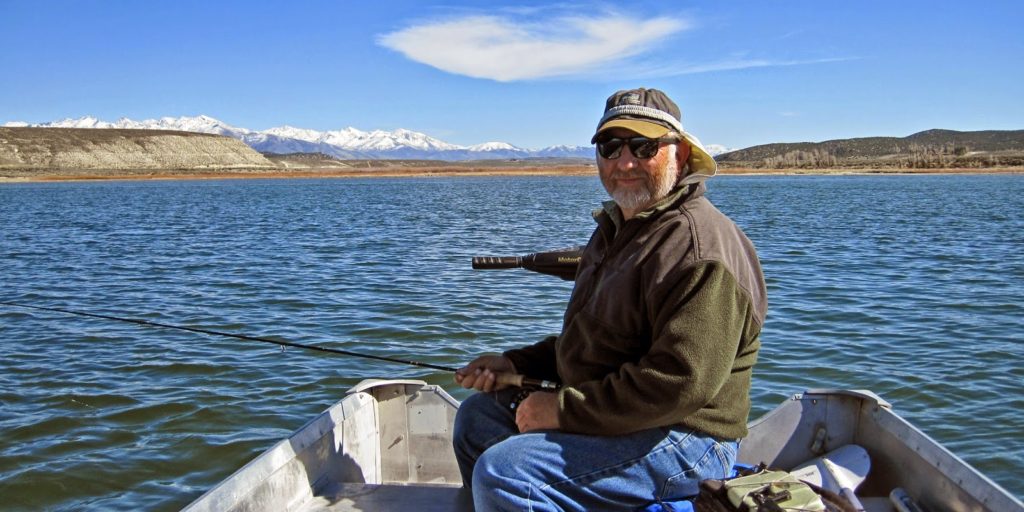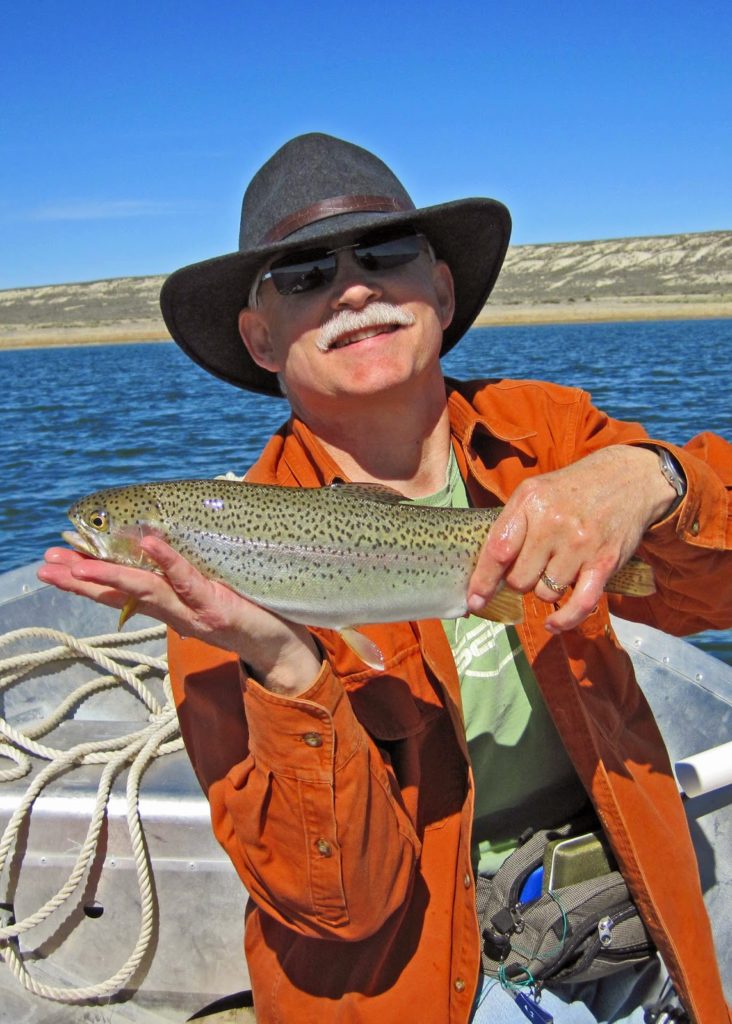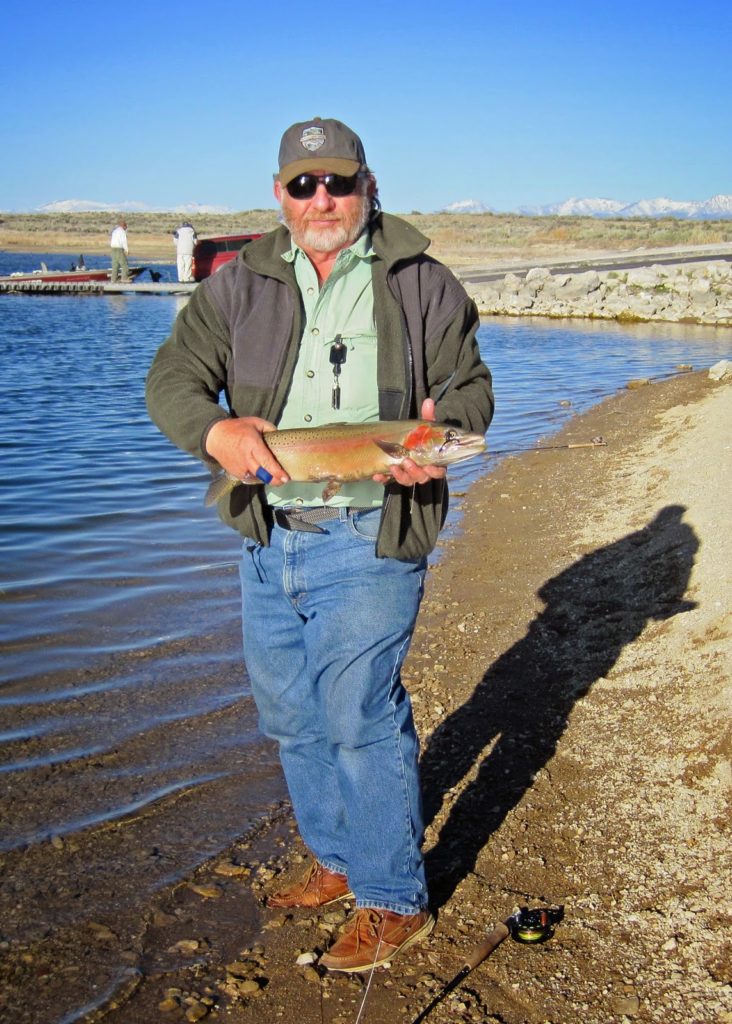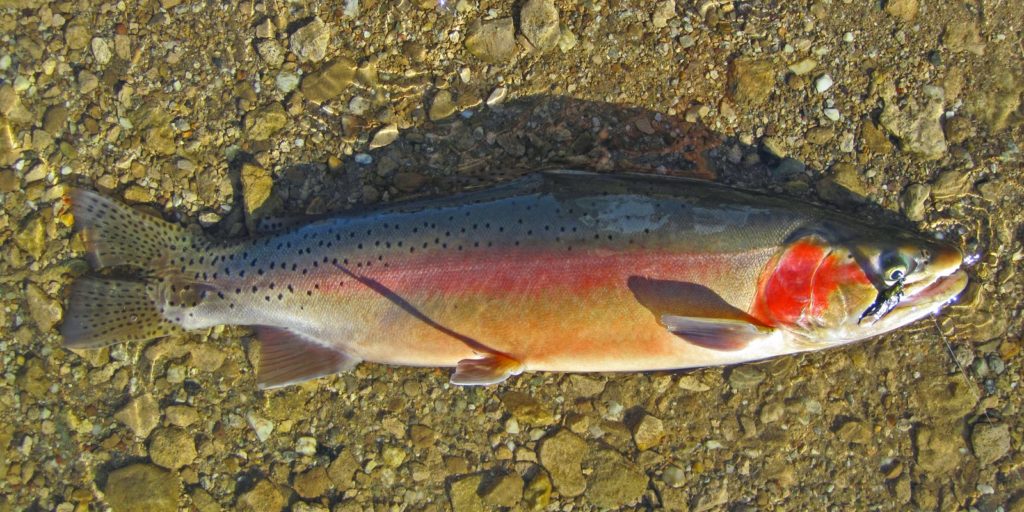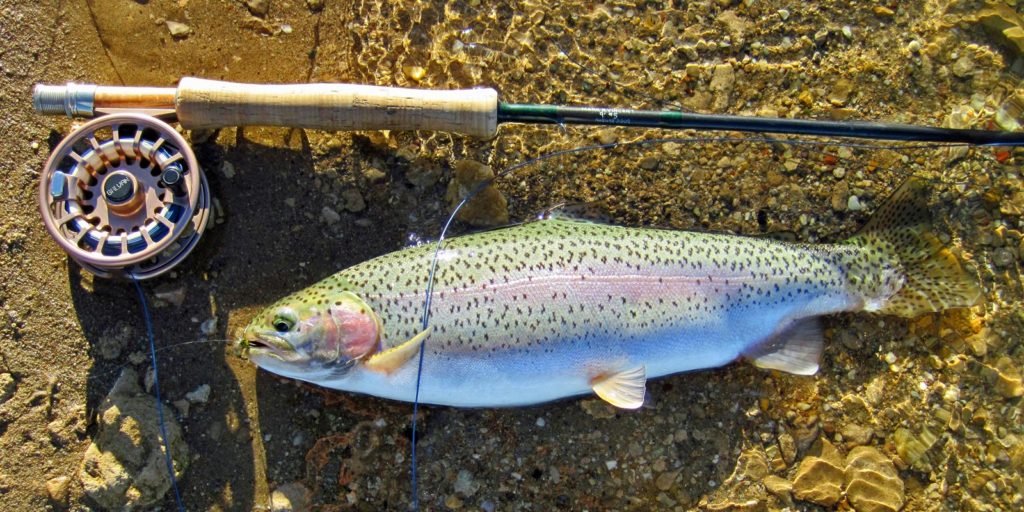 Tuesday morning we traveled over Harrison Pass to the Ruby Marshes and the Ditch. Fishing the Ditch was a little slow, but the trout size compensated for the pace. Of particular note was the absolute solitude amidst awesome natural wonder. The Ditch is close to 10 miles long, and even if a few other anglers are working it there is no "elbow to elbow" casting that you might find on other popular streams. The isolation of the area is hard not to recognize and appreciate. Fishing the Ditch takes patience, and much of it is "sight" fishing. I have read other Ditch reports that say dropping scuds and midges off indicators doesn't work here because of the crystal clear, glass-like water… they might be correct. The trout were visible from the east bank with the morning sun at our backs, and cruising fish, often in spawning pairs this time of spring, were in plain sight. I was able to connect with three trout, one of which approached 24 inches and 5 lbs. Another memorable moment was two trout circulating through an area where one of the finger springs joined the main current. Bergan described it as being similar to sight-fishing for bonefish. After numerous failed attempts I was finally able to place the fly in the path of one of the trout whereupon it gave chase and took the fly. All this was visible from the elevated bank, and certainly the visual stimulation created excitement and anticipation that will be responsible for this angler's daydreams for years to come.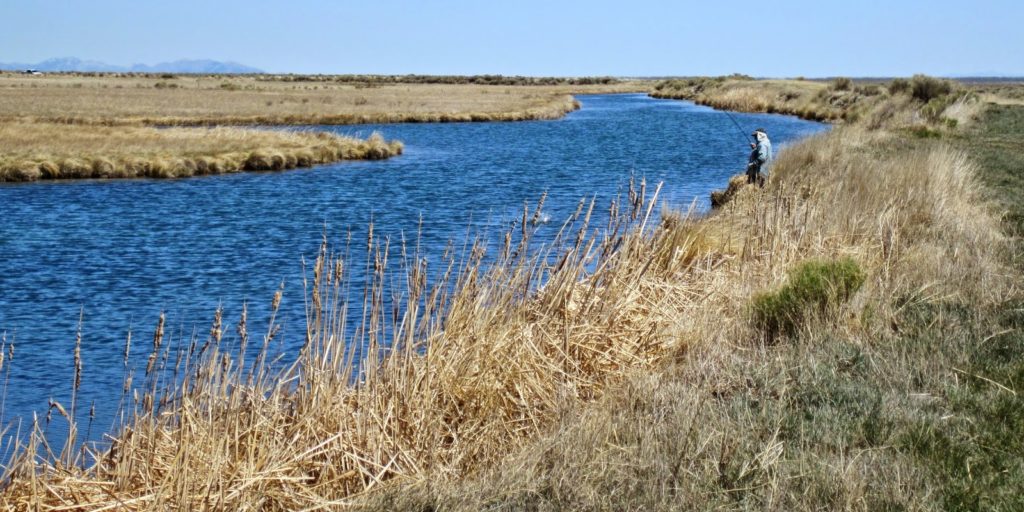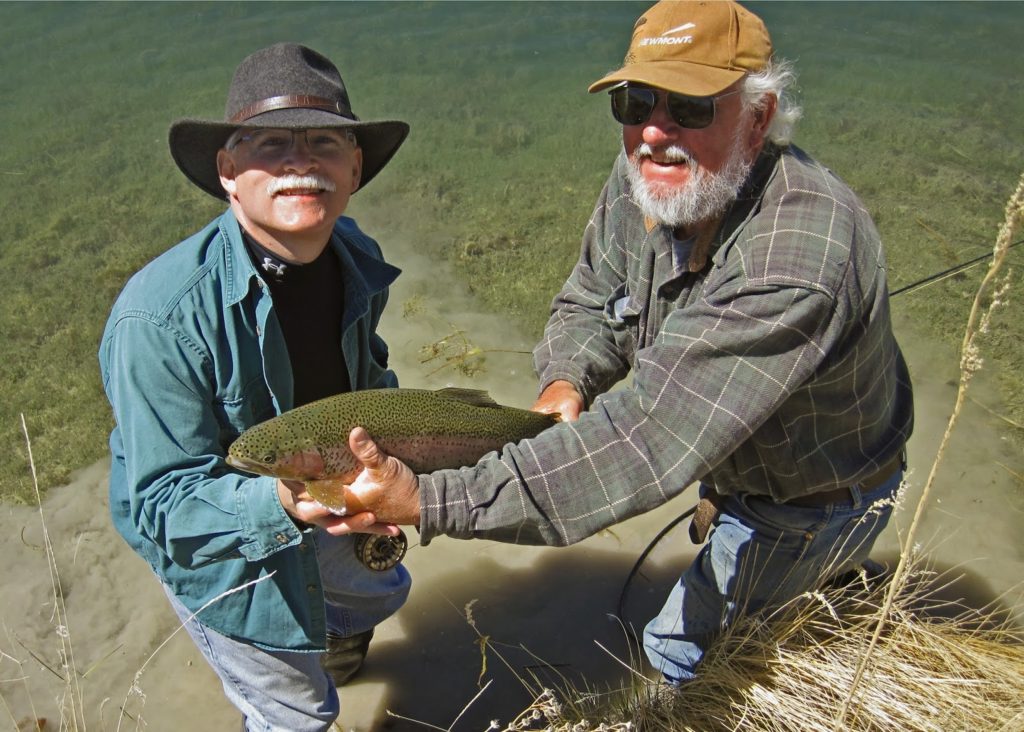 We took a break from the Ditch to visit the Ruby Crest Ranch cabin in the Shanty Town area. Gibson had to repair a faucet for a set of fly angling clients who travel up from Bakersfield, CA every year. While he toiled away, Bergan and I chatted with the guys from Bakersfield, exchanging stories, reports, and flies of particular note.
Once tasks were completed we set out for the Main Boat Launch, where we found ourselves fishing in aloneness once again. The Marshes can be thought of as a maze. This time of year the pathways through the Marsh are more obvious (although there are miles and miles of them to navigate), but once the bulrush gets taller and thicker they are not so obvious. Gibson reports that anglers inexperienced with the Marshes often cannot find their way back and spend the night in the marsh waiting to be rescued. Best to explore the deep marsh area with an experienced guide like Gibson.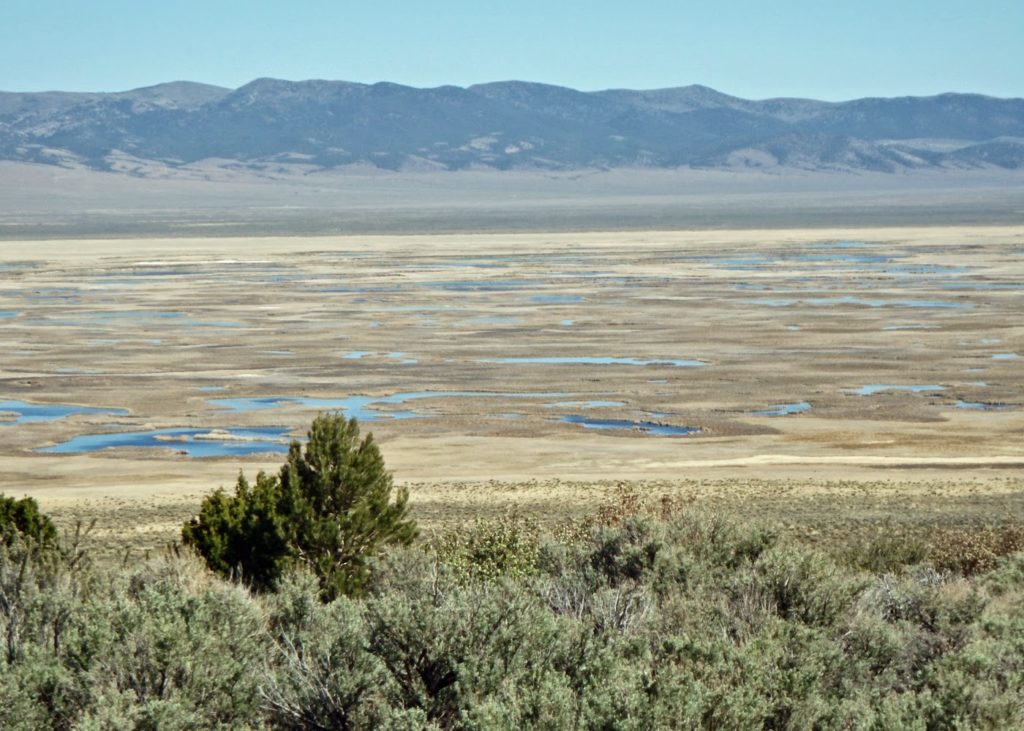 Bergan and I did not need to venture too far into the Marsh before we hooked up with beautiful trout. The first boat channel marker proved to be fruitful. We observed several large fish working a stretch of it that were difficult to hook, and even harder to land. I hooked two large rainbows that tugged with me for about 30 to 60 seconds only to ultimately dislodge the hook or snap a blood knot. I learned my lesson here that 3x or 4x tippets are best, and that blood knots can result in lost fish, so entirely new leaders are best when tippets get shortened or broke off.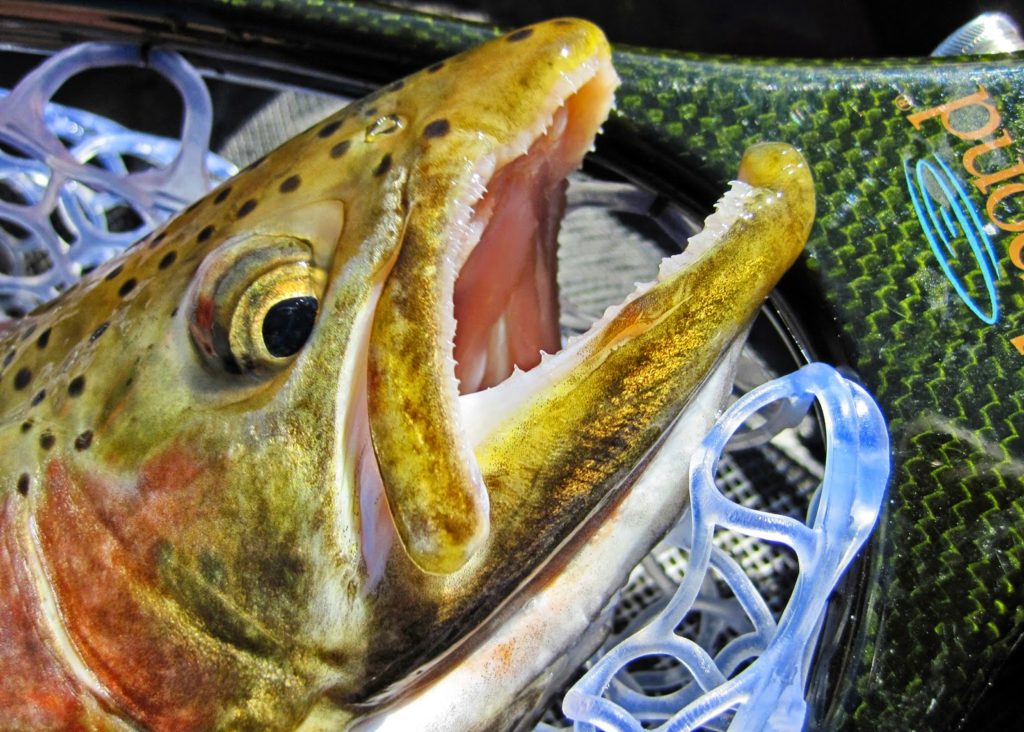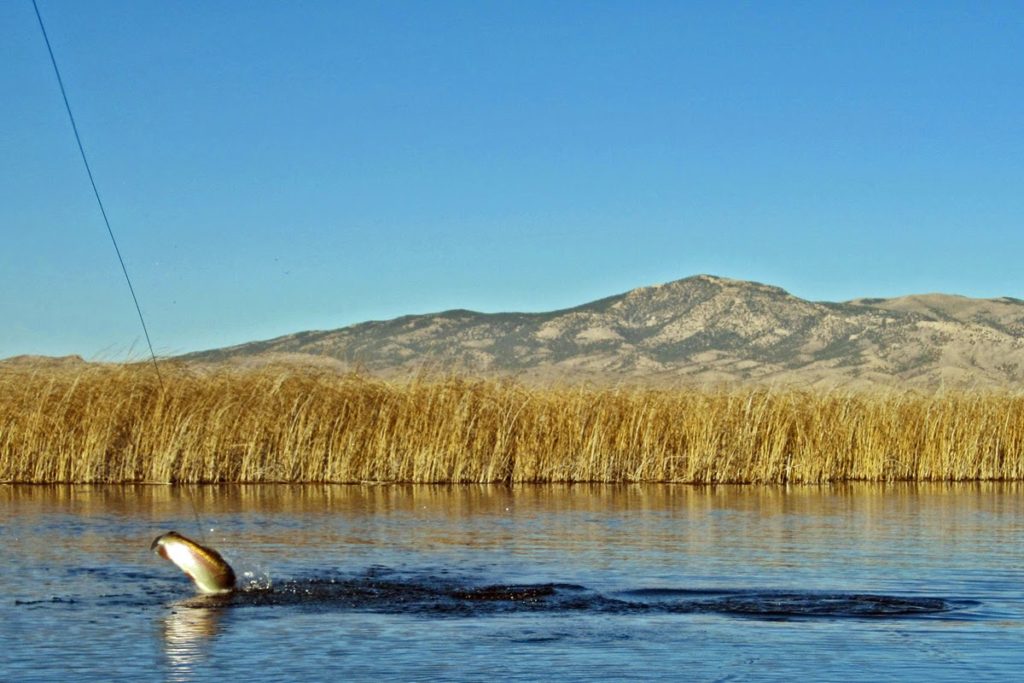 In discussing Wednesday's plans, we were torn between returning to the Marshes and visiting Wild Horse Reservoir. It was hard to fight against revisiting the Marshes, but I've always wanted to see Wild Horse Reservoir. Wild Horse is about 60 miles directly north of Elko, which means about an hour-and-a-half drive from the Ruby Crest Ranch. From Las Vegas, it's not a body of water you'd designate for a weekend angling trip, so I wanted to take advantage of being near Elko. Although the reservoir was way down, it was still a significant body of water. Gibson was hoping we'd land wiper (white bass / striped bass hybrid); not only do they fight really hard, they are one of the best tasting freshwater fish. If we could land a decent one Gibson directed us to keep it for our Wednesday night supper. Unfortunately, the wipers didn't cooperate. I was fortunate to connect and land three nice rainbows in the 18 to 19 inch range. The most memorable fish was the one I brought to the net eight times, and each time it immediately recognized it and dove straight down stripping line of my Galvin reel. As Bergan will be my witness, at one point it had my Outlaw Escape doing 360º turns right on the spot. I suppose, just like human beings, some fish are better athletes than others, and this one fought way longer and tougher than his 19 inches would have predicted.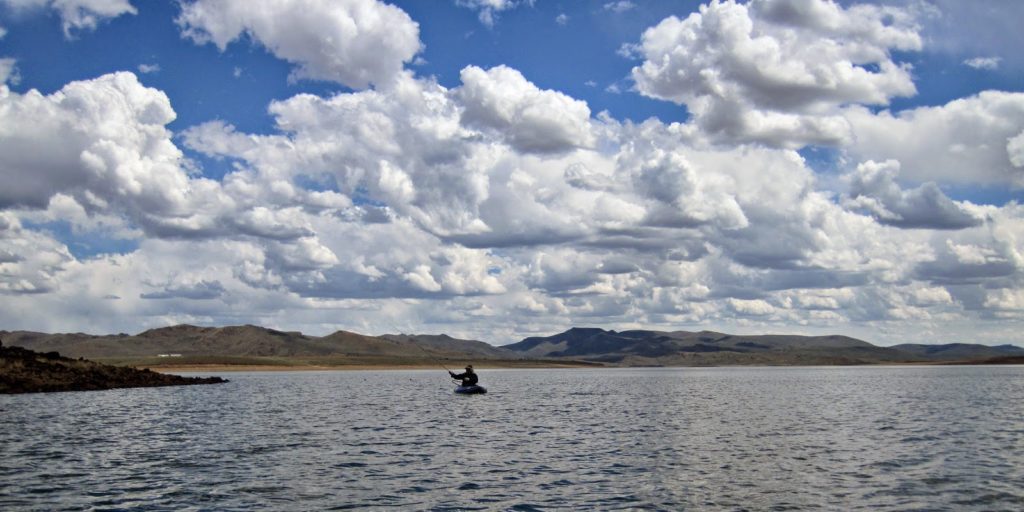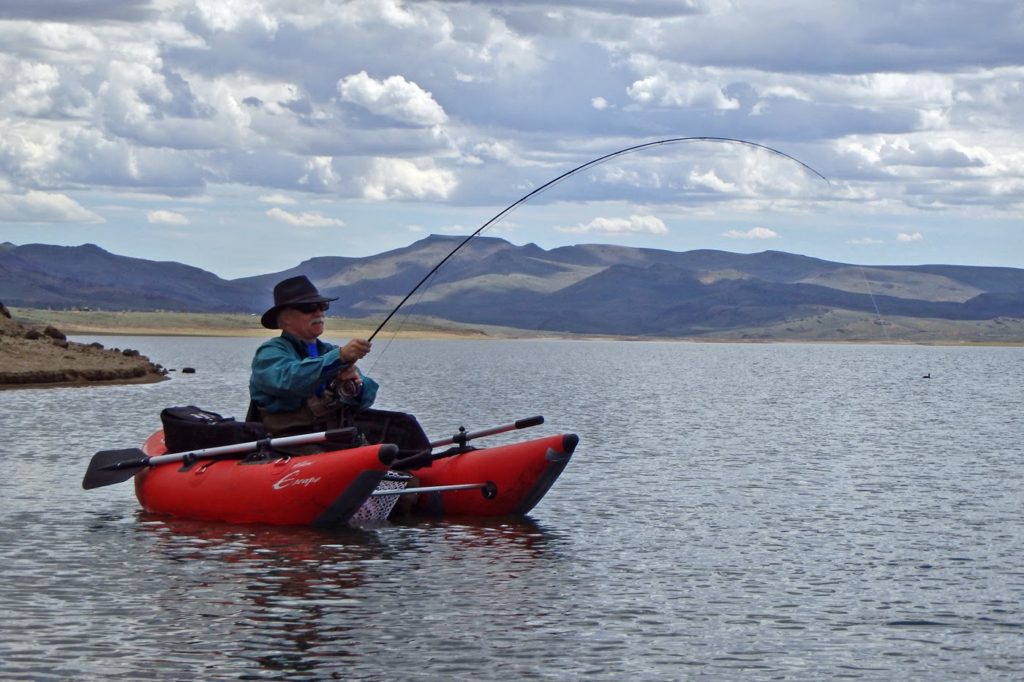 On Wednesday afternoon, Bergan and I fished the South Fork boat launch for the crazy spawners that appeared so eager to be hooked on Monday evening. Gibson stayed behind at the ranch which gave Bergan and me more time to privately catch-up on the happenings in our lives. The fishing was fun, and Bergan even wet-waded a submerged little peninsula that, despite my hope, did not give up any fish. Regrettably, scrambling down the rip-rap caused Bergan to tweak his knee, so we both agreed to head home early Thursday morning.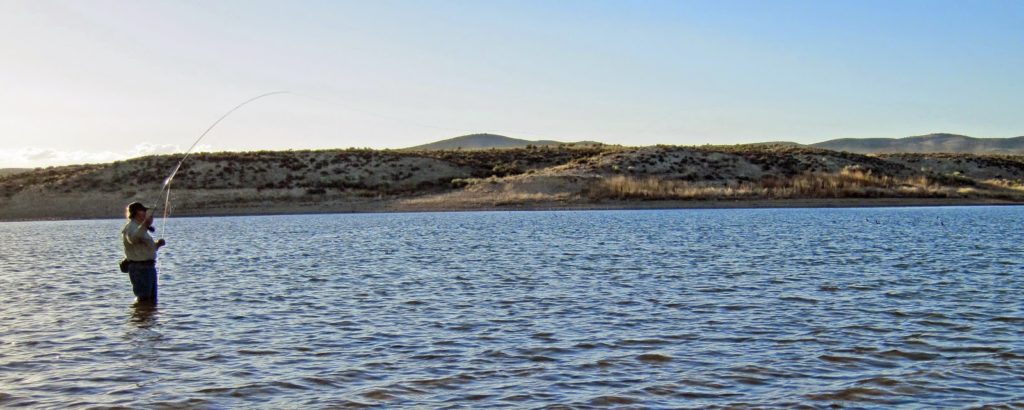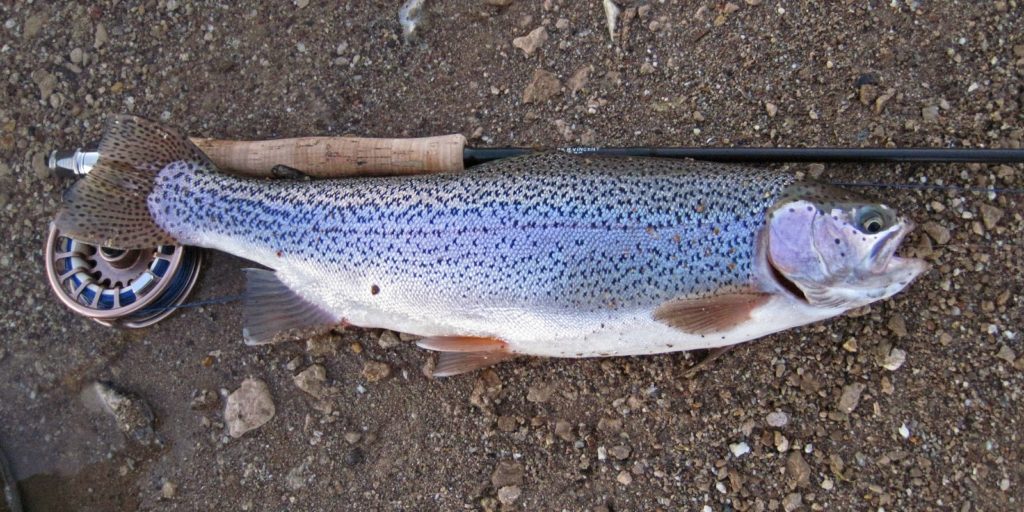 Before I forget, here's a little more about the Ruby Crest Ranch & Elko Guide Service. Bill Gibson is a licensed master guide and fly angler who can put you into a variety of fish and waters. For hunters, he can set you up for antelope, elk, big horn sheep, mountain goat, and lion, not to mention upland game bird and waterfowl hunting. Gibson also holds a BLM Special Use Permit, a USFS Special Use Permit on the Humboldt-Toiyabe National Forest, and a US Fish & Wildlife Special Use Permit for Ruby Lake National Wildlife Refuge, in addition to access on choice private lands. And for the do-it-yourselfers, he rents out his two cabins as well as rooms at the ranch. In addition to the hunting and fishing, Bill and Betty offer family adventures including horseback trips. Bill even has the patience to teach fly fishing to children. He knows his wildlife, and more importantly he knows the area. Despite his vast knowledge, Bill is low key and patient; it is a relaxed experience where his goal is for you to come as a guest and leave as a friend.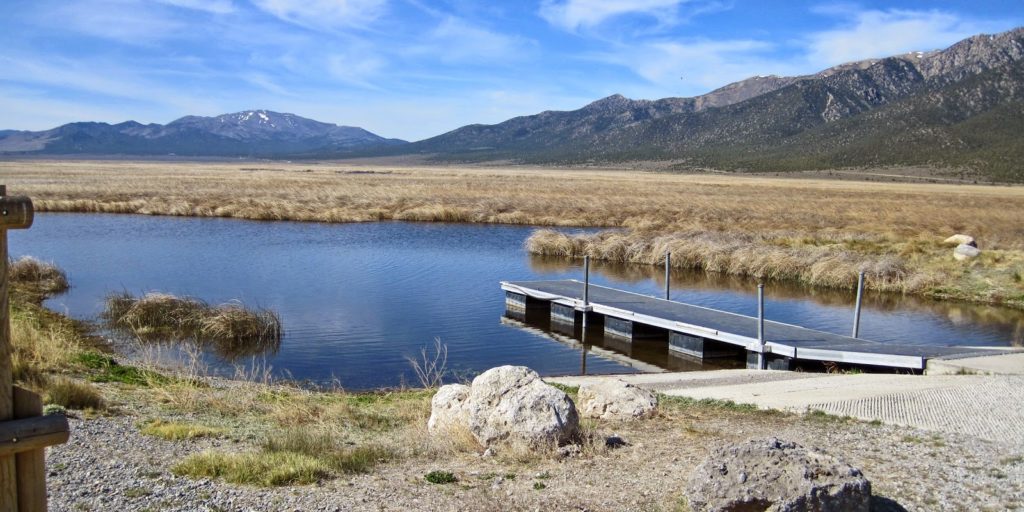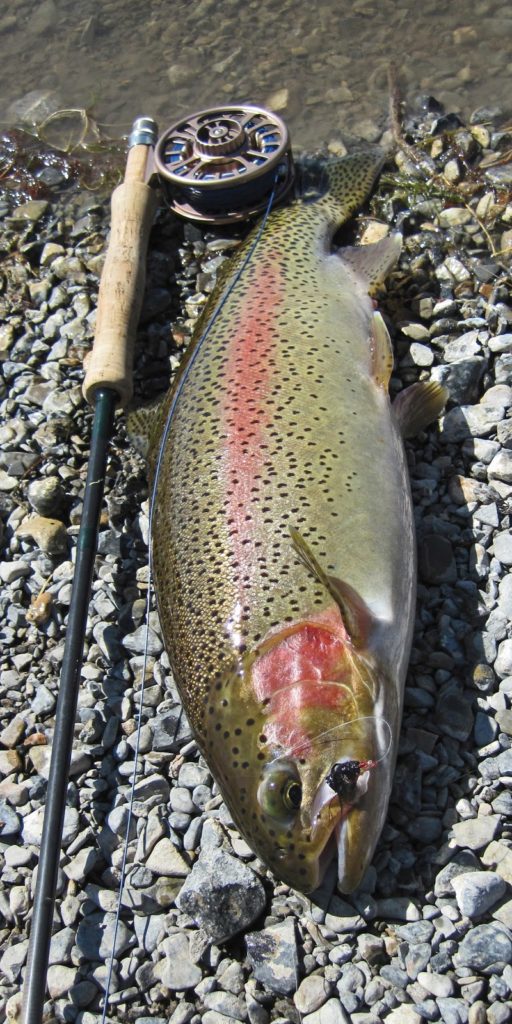 As I had planned, I stopped at the Marsh on the way home. I did not fish the Ditch, but rather fished the Main Boat Launch based on advice from Gibson. The hatchery planted small stockers there that disrupted his fishing Tuesday afternoon, but he surmised they would have disbursed by Thursday leaving the larger trout still attempting to spawn. He was correct. I again hooked into four large trout, but all except the last one were adept at throwing the hook. When that last one, approaching 20 inches, was brought to shore I noted that he was hooked in the corner of his jaw and that his maxilla was stretched pretty well. That caused me to ponder how often these larger trout were caught and released thereby creating mouth damage that resulted in more hook pull-out in subsequent battles (maybe that was why they were so hard to land?). I don't know that answer, but that last fish was a wonderful conclusion to an awesome fishing trip with my good friend, Bill Bergan. May we have many more trips to come.