Over the course of three decades I would pass by Baker Reservoir on my way to Pine Valley Reservoir. I had never read anything about the reservoir, but its existence eventually caused me to research it on the Utah Division of Wildlife Resources (UDWR) website. This blog's March 2007 post describes my first Baker fishing experience as a revelation of sorts. Including the 15 mph wind chill, the temperature was in the low thirties that early spring day. Landing a couple rainbow trout in the sixteen to eighteen inch range made the cold seem like a worthy sacrifice (check out that blog post here: Baker Reservoir – Veyo, UT).
Built for irrigation storage in 1953, Baker Reservoir rests on the western foothills of the Pine Valley Mountains at 4,800 feet elevation. The reservoir is managed as a put-and-take resource, but it yields a surprising number of holdover rainbow trout as well as wild brown trout that make their way into Baker from its source, the Santa Clara River. I admit it's the opportunity to land a large brown trout that piques my fantasies, but the decent rainbows are a wonderful salve while the browns remain undiscovered.
In the 1990s the reservoir became part of the Baker Dam Recreation Area (BDRA). The reservoir is managed by the Baker Dam Reservoir Association, and the UDWR stocks rainbow trout on a regular basis. While spring and fall provide the best fishing opportunities, the BDRA is open year-round. It is a good base for hunters looking for deer, quail, and rabbit, and off highway vehicle users wanting to explore higher elevations. The BDRA boasts a 19-site campground but no potable water, so be sure to bring your own. It also offers first-come-first-serve Day Use facilities including picnic tables, fire rings with grills, ADA compliant vault toilets, a dumpster, and a Self-Pay Register Kiosk. As with a lot of southern Utah recreation areas, its proximity to Cedar City, St. George, and the Las Vegas MSA can make it feel crowded at times and therefore less wilderness-like.
It's not that I had forgotten about Baker Reservoir these past 13 years, but rather I developed new interest in other waters. My Baker interest was rekindled this year by a subscribed UDWR email which reported:
"Fall, winter, and spring are the best times to fish at Baker Reservoir. The reservoir seldom freezes over during the winter and ice doesn't last long when it does."
The Cold Creek Pond (5,800 feet elevation) freezes over for a month or two, so this revelation warranted another winter Baker trip. The weather forecast for the BDRA was calm, partly cloudy, with a high temperature of almost 50° degrees. Maybe it was my memory of that very cold March 2007 trip that filtered out Baker for a return visit; if so, this weather forecast melted that objection.
I left for Baker late on Friday morning, wanting to be sure any overnight ice would be gone before I arrived around 10:30am. The 135-minute drive to Baker seems to go quick since most of it is on I-15. The drive from St. George, UT is pleasing due to the inspiring scenery as Highway 18 weaves through The Ledges, Snow Canyon, Dammeron Valley, and Veyo on its way to the BDRA. Traffic on the two-lane highway is bothersome, but more because it diminishes the natural experience than because it slows you down.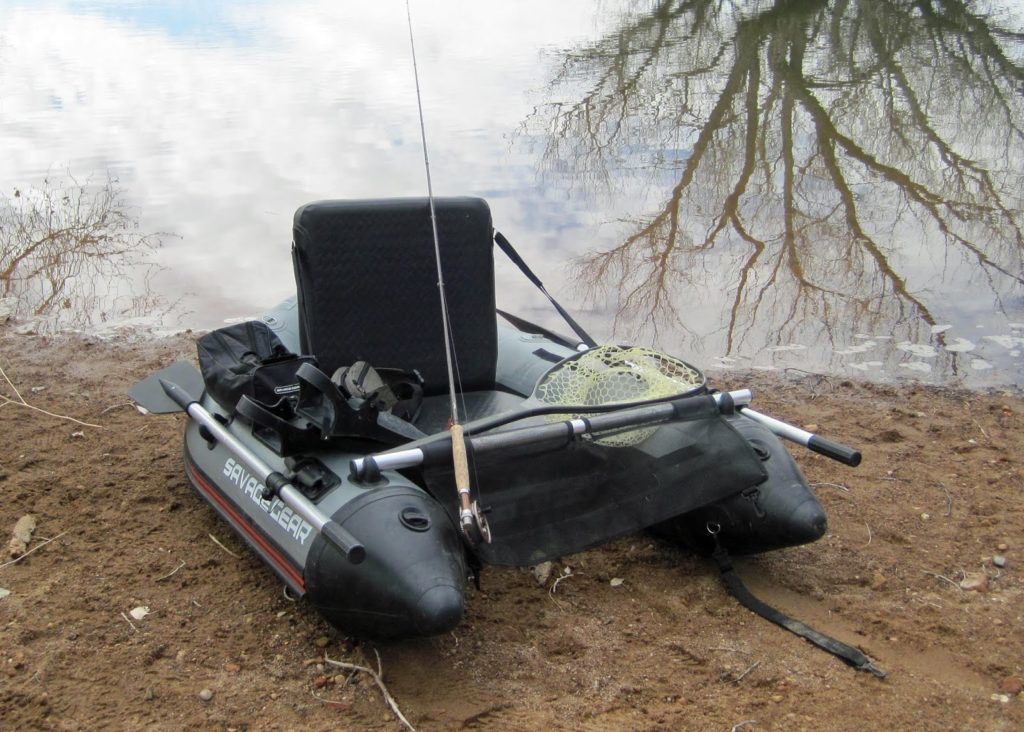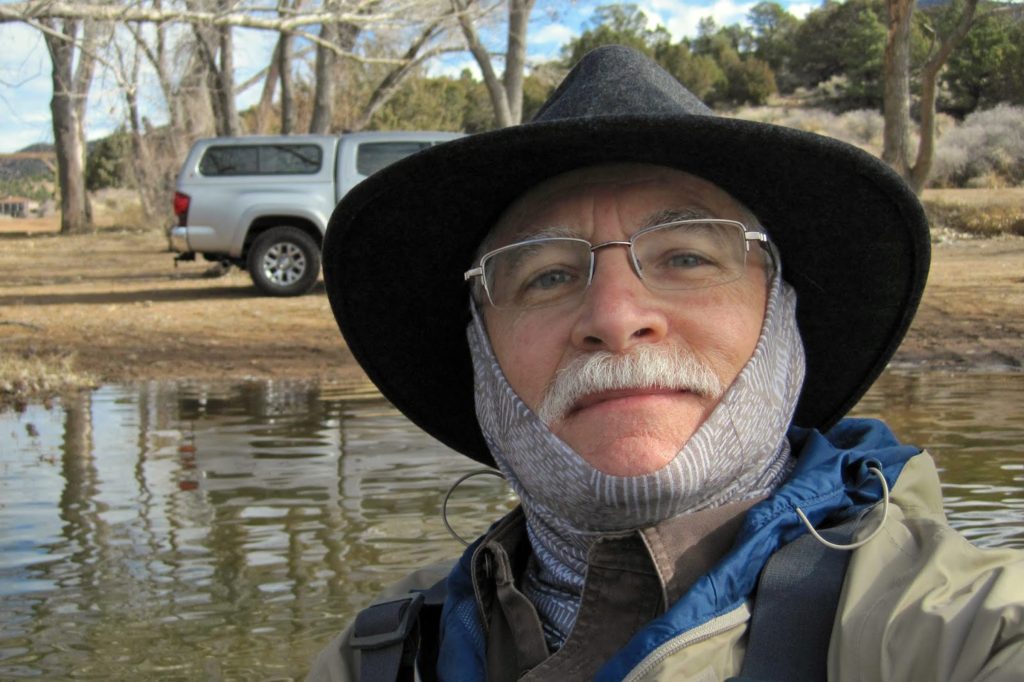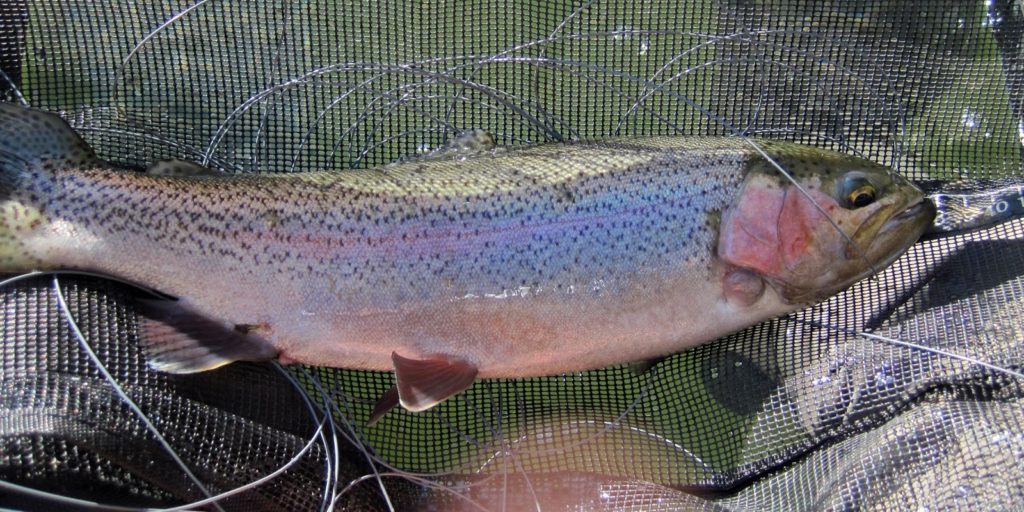 I often mention that when on reservoirs I'm inclined to fish their inlets before exploring other structures that typically hold trout. Stream inlets are like trout food conveyor belts. They are also the gateway for mature spawning trout in search of partners and spawning beds (browns and brookies in the fall, rainbows and cutthroat in the spring). Although I never actually fished the inlet in 2007, I did fish around it. When the water is high (which was the case on both Baker visits due to the colder seasons) the willows and small cottonwoods near the inlet can appear to stand in the reservoir. Fishing in and around them was productive in 2007, and even more so on this 2020 angling trip. Still, there's something about fishing inlets that stirs in me.
I made a point to locate the Santa Clara inlet on this trip. On a map it will appear on the north-western end of the reservoir. While the willows betray its approximate location, you nonetheless need to probe them somewhat to locate its exact entrance. I noticed a few great herons in the area, and luckily one such wetland wading bird was strategically standing by the entrance I was searching for.
Just prior to entering the inlet shrouded by willows, the action was becoming brisk (a good sign, indeed). I had caught about 16 trout at that point, rainbows predominantly 11 to 12 inches long, but a couple were closer to 14 inches. I was casting a reddish leech pattern tied by my good friend, Bill Bergan. Because I was contemplating dredging large streamers for big brown trout in the depths of the reservoir, I was casting them on my 7-weight, 9-foot Fenwick fly rod. (Speaking of casting, I must confess that three days of striper fishing with Bill on the California Delta has noticeably improved my casting… so thanks to Bill and Captain Maury.) Bill's leeches were "killing it" as they say. As I finned up into the inlet there was no perceptible current inflow; it appeared more like a reservoir channel than a stream. Its deepest parts were 3, maybe 4 feet and clear enough to see the bottom. Being an inlet that must manage spring flooding, there was submerged log structure in the channel, some of which I had to navigate around. Those conditions were perfect for my float tube, although it was a little tight in spots (maybe 8 feet wide at its narrowest point).
Looking upstream I noticed a narrow pool, and to my surprise a rising trout. Beyond that I could see a wide flat maybe 30 feet across. I tied on a smaller leech pattern and cast up about 40 feet near a log protruding from the water. It wasn't quite where I noticed the rising trout, but I didn't want to spoil the lower end of the pool lest it held other trout. My second cast hooked into a strong trout of 14 inches. What fun! I kept working that pool until it stopped giving up trout; it produced seven additional trout to the day's 23-fish total (not that I'm a fish counter…). All the trout from this channel pool were holdover stocked trout that had put on length and girth. The largest was about 15 inches (38cm). Most experienced anglers have been fortunate over time to come across a piece of water that holds a special bounty, and they know a patient investment of 30 minutes can produce memorable results. I'm sure the thicker willows on the shallower edges of this Santa Clara channel made the trout feel secure in their environs, and but for a small float tube most anglers would not fish this water.
Although I cannot boast any trout over 16 inches on this trip, nor a wild brown trout, I can boast that my four hours of angling time landed 23 rainbow trout (and about 8 hook pull-outs or LDRs for you angling aficionados). The overwhelming majority appeared to be males, and surprisingly they were in the beginnings of their spawning colors. I even had one male squirt a little milt juice on my stripping apron.
On a side note, while I was fishing around the willows before entering the inlet, I noticed a bird of prey perched high on a dead cottonwood. As I stared at the large raptor, I noticed the tell-tale white markings of a mature bald eagle. It is common for bald eagles to winter in the southern waters of the US. In fact, their winter migration gives rise to the annual bald eagle survey on Lake Mead. But this sighting was more intimate. I was able to digitally zoom in on this magnificent bird, even catching it in-flight as it escaped my unwanted intrusion.
Other than the eagle, herons, and rainbow trout, I had the reservoir all to myself until around 2pm when I noticed a kayak angler. I did hear some truck and ATV traffic in the area, but I wasn't bothered by it. In fact, I expected more traffic being it was a Friday afternoon and unseasonably warm.
If you have a float tube and have not tried Baker Reservoir in the winter or early spring, I urge you to give it a good look. Maybe you'll get into one of those larger brown trout that seem to be eluding me.
As always, being in nature intensifies my belief in The Lord. Scripture tells us nature reveals God's invisible qualities—his eternal power and divine nature—so that people are without excuse (Romans 1:18-20).