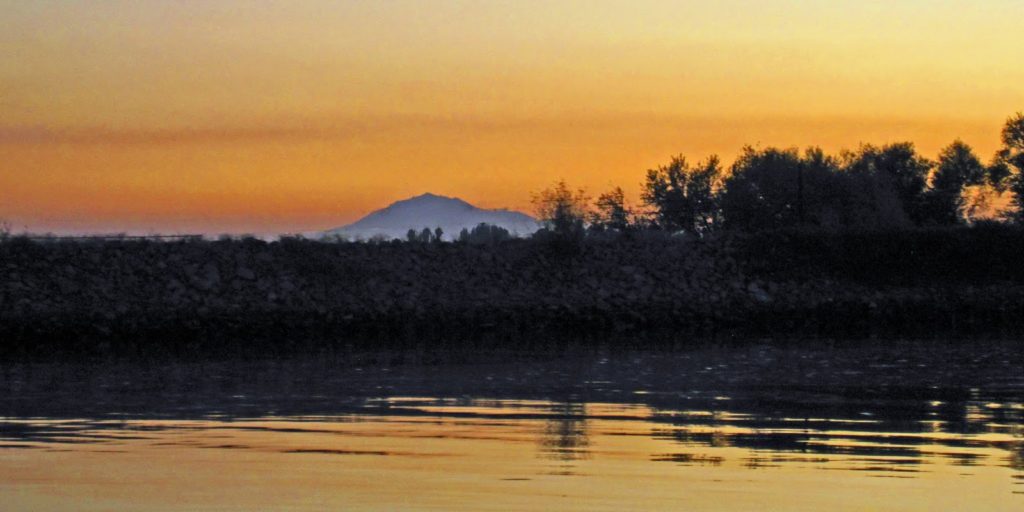 Men who have had "good" mentors in their lives are very fortunate, blessed you might say. Even more so for men like me who grew up without their dads (mine died when I was three years old). Some men might have been fatherless like me, or they might have had fathers who were rough, angry, unloving, or even abusive, and some of those might think they would have been better off without them. Maybe so. I believe that boys and men benefit significantly from the presence of older, wiser, and "good" men in their lives. By "good" I mean men with loving hearts who are willing to pass on their knowledge, experience, and sound judgment. Men willing to share their wisdom without a stifling layer of self-righteous judgment.
One of my very first mentors was Bill Bergan. Our supervisor/subordinate relationship naturally morphed into a work mentorship while I was an apprentice, so to speak, for a local CPA firm. Our shared appreciation of all things outdoors fostered friendship beyond our profession and allowed the mentoring to grow alternate paths. Bill often describes his friends as "genuinely good people." I understand that phrase to mean they are caring and compassionate, but he adds an inflection for those who also pursue adventure in the natural world.
Those first three to four years of my 20s with Bill remain so very meaningful to me. We often talked of life, love, and work while on our weekend climbing assaults, skiing adventures, and fly angling excursions. A lot of "stuff" was crammed in those three-plus years, and I learned that outdoor experiences often open gateways to discussions that don't normally occur over lunch or cocktails. Although Bill was only about 9 years older, he had experienced enough to guide me through some youthful nonsense. I don't want to get mushy here, so suffice it to say Bill was a very special friend who invested time in me, not only to obtain a climbing or fishing partner, but because he genuinely cared about me as a person despite my obvious flaws.
While the passage of wisdom from sage mentors often encompasses areas pertaining to marriage, children, and careers, it can and should involve our spiritual journey. For me, that also involves my relationship with God the Father, through Jesus Christ. For those of us without fathers, or at least "good" fathers, recognizing God is our Abba Father is important. While discussing His impending crucifixion, Jesus comforted the disciples who were concerned about His upcoming departure from our earth by assuring them He will prepare a place for each believer in his Father's house, and that He will return to take us there (John 14:2-4). He also revealed the nature of God the Father in many parables, including the two sons working their father's vineyard (Matthew 21:28-32), the lost, but found prodigal son (Luke 15:11-32), the unmerciful servant (Matthew 18:23-35), and the laborers' wages (Matthew 20:1-16). Over and over, God the Father is shown as a righteous judge with a merciful heart for those who believe, confess, and repent. If He were merely "just" He would give us what we deserve based on His law, but because He is "merciful" His grace gives us what we don't deserve and cannot earn.
Since Bill's relocation to Sacramento around 1980 we've only shared five adventures, including this trip on the California Delta for striped bass. While that computes to just one trip every eight years, it always seems like we pick up right where we last left off. It is a uniquely satisfying friendship.
For several years Bill enticed me to join him on the California Delta to fish for striped bass, known simply as stripers. We had penciled in a trip last fall, but the northern California fires roughed up the Delta water quality and thus the angling, so we canceled the trip. While this year's water quality was very good, the weather was warm for early November which made locating the fish difficult. Generally, stripers go where the baitfish go, and schooling baitfish were hard to find on the 150 miles of water I estimate we traveled over three-plus boating days.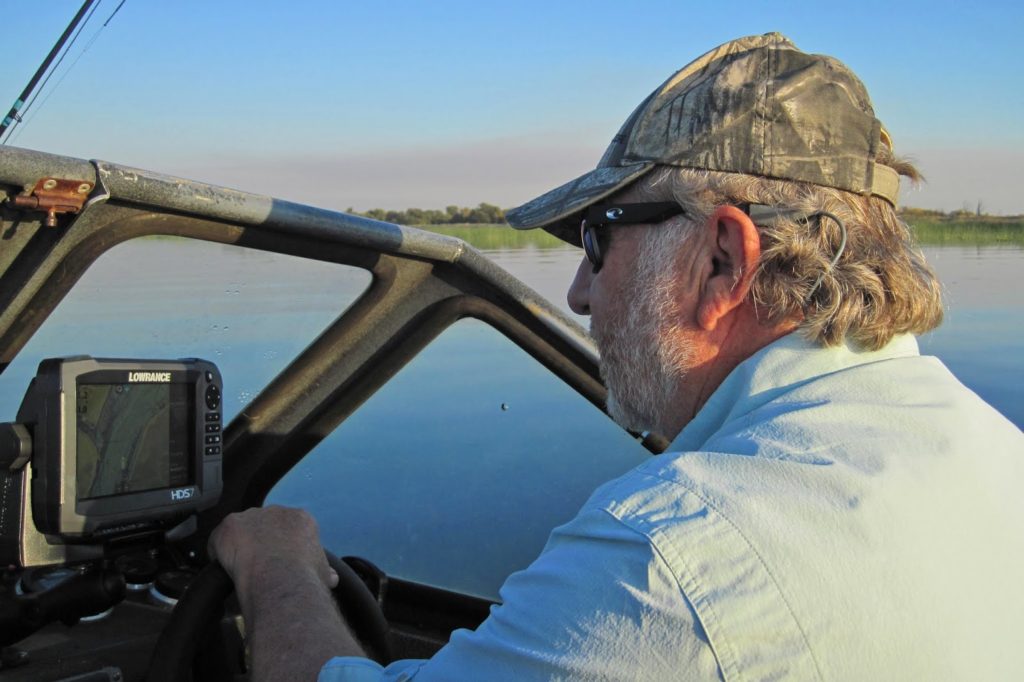 Fueled principally by the Sacramento River from the north and the San Joaquin River from the south, the original Delta was a large freshwater marsh that emptied into the Suisun Bay, a shallow tidal estuary extension of the San Francisco Bay. It has a myriad of channels and sloughs surrounding low islands of peat and tule. The 19th Century saw much of the Delta claimed for agriculture, which is still the case today. Eventually erosion and oxidation led to subsidence such that much of the agricultural land sits below sea level behind levees (I'm told some refer to the Delta as "California's Holland"). Today the Delta serves up water for much of central and southern California via pumps located at the southern end of the Delta. The Delta consists of approximately 57 reclaimed islands and land tracts, surrounded by 1,100 miles of levees that border 700 miles of waterways. The southwestern side of the Delta lies at the foothills of the California Coast Ranges, with the Montezuma Hills to the northwest. It's a massive area to explore by boat. 
The Delta supports approximately 22 species of fish, including several Pacific salmon species, striped bass, steelhead trout, American shad and sturgeon. Amazingly, about two-thirds of California's salmon pass through the Delta on their way upstream to spawn. Similar to Lake Mead in Southern Nevada, stripers are not indigenous to the Delta, but rather are transplants from the East Coast where they can be found from the Gulf of St. Lawrence to Alabama. However they got there, they seem to be the preferred Delta sportfish today.
Stripers are prolific spawners which accounts for their highly successful transplant into the western waters. They are also voracious predators which is helpful to fisherman, especially novices like me. In the inland channels and sloughs we fished their primary prey is threadfin shad, but in the larger bays they'll feed on anchovies, sculpins, and even shrimp. They are migratory through the seasons, spawning upstream in the spring, and they also move with the stronger tidal currents throughout the Delta, which can be very confusing to newbies. Often you see Delta striper anglers consulting their "tide & current" phone apps to locate the moving waters caused by the various tidal and waterway confluences because they often contain baitfish, and thus stripers.
I had never fished for stripers before, not even on Lake Mead. I think that was mostly because a boat is needed to effectively find them and their baitfish prey, but also because the fly-fishing equipment is larger and heavier, obviously out of necessity. You trout fly anglers need to visualize leaded baitfish flies on 1/0 hooks, stripping buckets, 9½ foot rods for 7/8 weight shooting heads, and pliers (no hemostats here). Your first time out it won't feel like fly angling… it simulates war!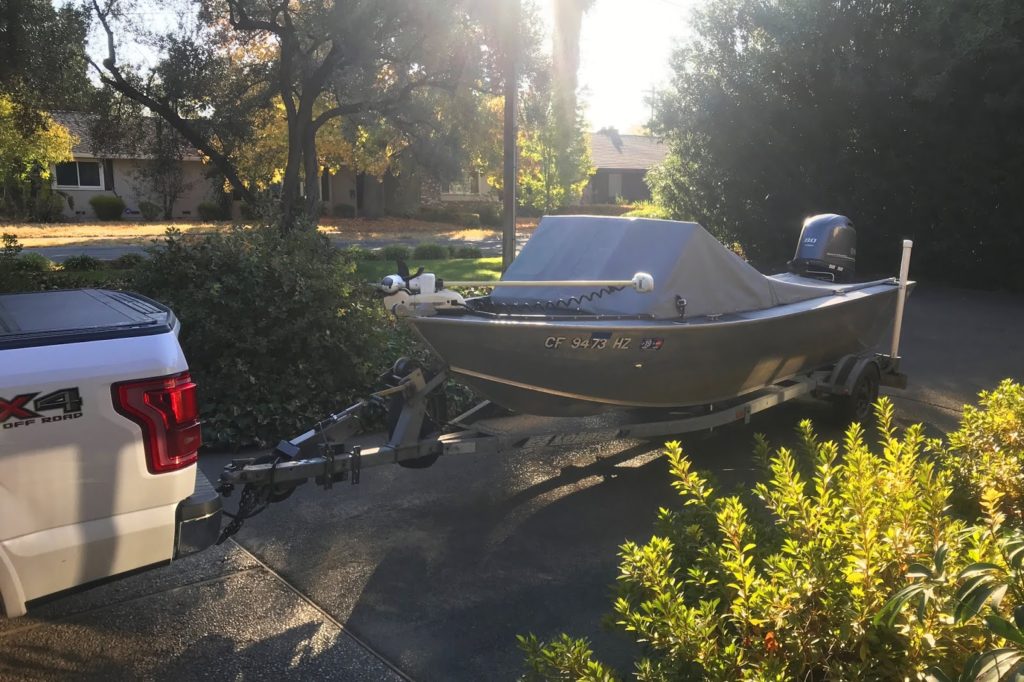 Without insulting me, Bill knew I wasn't equipped for this type of fishing and so offered to provide all the needed equipment as well as his service as captain of his boat. All I needed to do was get to the Sacramento International Airport where he picked me up, with boat in tow, so we could immediately head to the B&W Resort Marina in Isleton, CA. We checked into our two-bedroom cabin, stowed away our clothes, food, and of course the beer and wine. And it was an especially nice wine, Dancing Lady bottled by Della Costa Family Vineyard in 2013 from the Alexander Valley… an old vine Zinfandel. Delicious!
Captain Bill then launched his boat into the Mokelumne River, just up from the San Joaquin River. According to one source, the Mokelumne (pronounced Muh-CULL-uh-mee) means "Condor River" in the Native American Yokuts' language. Heading to various downstream destinations, we fished for the next five hours while running to new expectant water after expiration of the Delta "5-cast rule" (i.e., without evidence of baitfish water disturbance or predatory birds over the water, if there are no strikes after 5 casts into likely water, move on to other water). Bill caught a couple small stripers and a small black bass (i.e., largemouth), but for me the afternoon was an introductory lesson in casting shooting heads on a striper rod. I sort of got the hang of it, but most of my energy was concentrating on the casting, reacquainting myself with the double haul, and making sure I didn't pierce either of our ears with that vicious 1/0 hook or fall out of the boat. Truthfully, I wasn't disappointed about not hooking anything, and I was grateful for the time and advice Bill afforded me to get familiar with this new type of fly angling.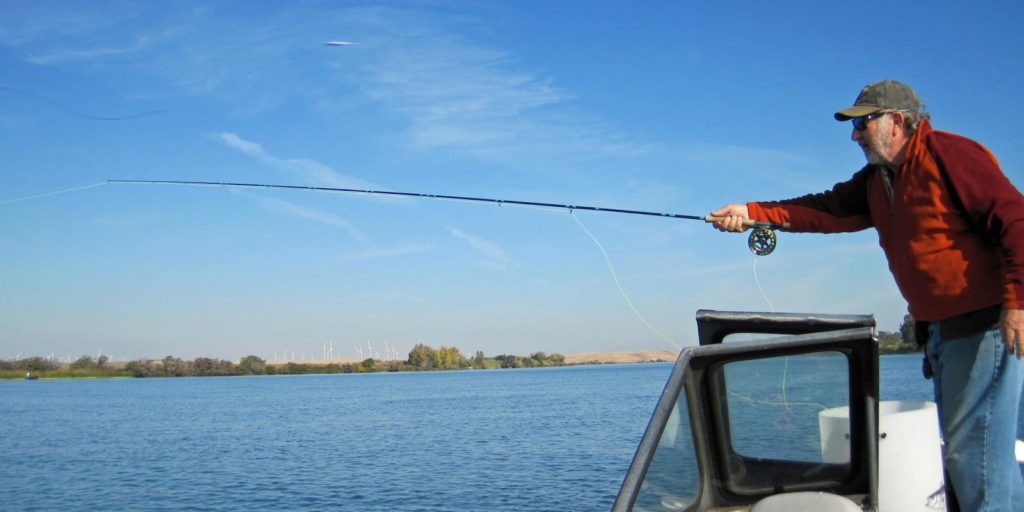 Tuesday was a special day as Bill had booked a guide for that day, unbeknownst to me. In addition to giving me helpful casting tips, Captain Maury Hatch put us into stripers that we likely wouldn't have found on our own. Launching from the Pirates Lair Marina right where the Mokelumne enters into the San Joaquin, Maury is constantly on the water to guide, fish, or both. That amount of time on the water vastly enhances his ability to predict where we might find the fish, especially when you aren't seeing the bird activity which often occurs over schooling baitfish. He brought us into one narrow slough where we saw birds swirling over water surface disruption from 50 yards away, not to mention a few porpoising stripers. The next 10 minutes of casting/stripping was feverishly exciting. We caught a couple nice stripers, but nothing near a double-digit weight.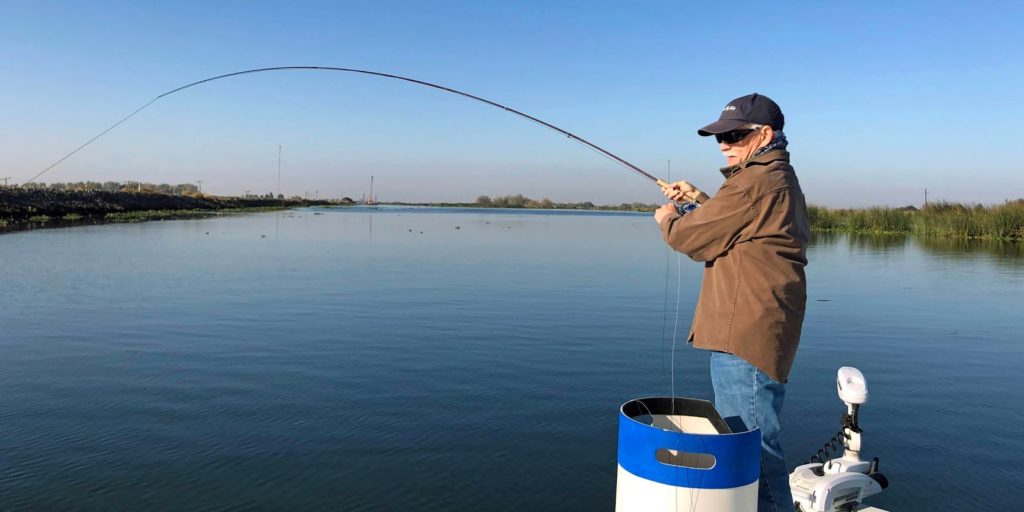 Maury politely but firmly kept on me about my casting, reminding me to slow down my casting in order that the weighted shooting head and fast action rod could do their jobs. I'm sure it was difficult for Bill to observe and coach my casting on Monday while he was fishing too. With Maury guiding he was able to devote all the time I needed for extra coaching and instruction. They tell me the Delta striper fishing has been slower than normal this season, but I finished that day with six stripers, two being close to 5 pounds, plus a couple small black bass. It wasn't one of those 20-fish-days I heard about, but for a trout angler who was fly fishing stripers for the very first time I was well pleased. Bill benefited too because he was freed from babysitting me and thus landed several nice stripers, one of which looked to be over 5 pounds. Bill's unilateral decision to engage Maury's services was spot on.
I can't say enough about Maury. I highly recommend his Hatch First Guide Service for first-time Delta striper anglers, and he also guides other nearby waters like the American, Feather, Sacramento, and Yuba rivers. Bill's occasional use of Maury is enough of a testament in itself. Not only is he a licensed guide, but a credentialed US Coast Guard Merchant Mariner who's certified in First Aid, CPR, and AED. And he provides everything you need, except the fishing license. He can leave you be, or he can do everything including repairing leaders, changing flies, and landing the fish. I've been told he's even cast the fly for clients when asked. He even has a special comb to remove weeds from the flies and keep their fibers aligned, bright, and shiny. Lest you assume the purpose of the comb is to beautify, know that it is to ensure the fly rides in the water properly resembling a baitfish.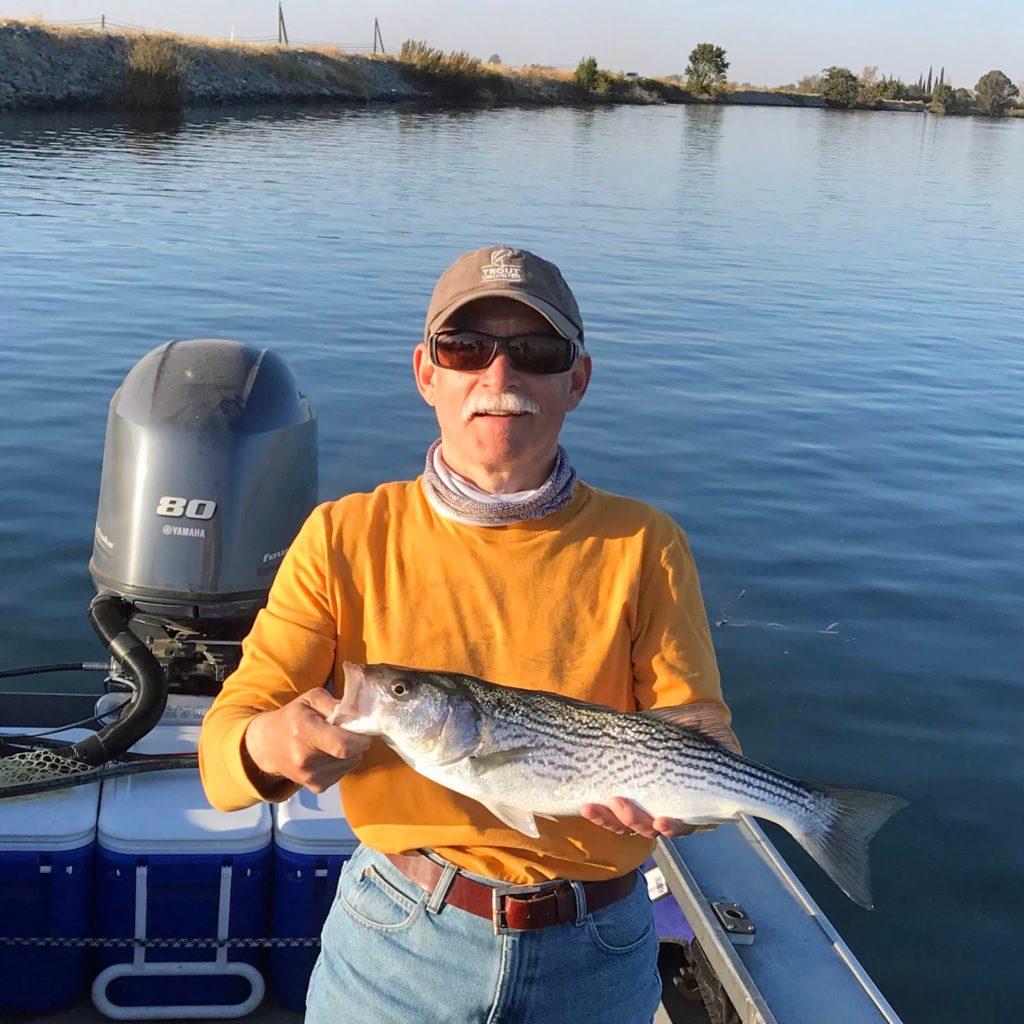 With Maury's instructive words and coaching still swirling in my head, Bill and I spent Wednesday on his boat exploring deeper into the Delta. Although my bad trouting habits popped up now and then, Bill observed my casting was very "striper-like," and I even earned his compliments for my vicious line-stripping technique. That was a reasonably good day for us, and I landed four more stripers including one that I think was over 5 pounds.
If you've never caught stripers on a fly, let me tell you it's nothing like trout angling. The takes can be subtle sometimes, especially with 1 to 2 pound fish. But the larger stripers hit hard, and immediately bear down on you, pulling hard and deep. Based on my trout experience it was difficult not to imagine these fish were two to three times larger than they actually were. On at least three occasions I buried the butt of the fly rod into my waist to gain leverage to fight the fish. Since stripers are divers and not leapers, you don't see them until they decide to give up. That's when you say under your breath, "Wow, he's a lot smaller than I thought he'd be."
Due to my flight departure time, we had but four hours to fish on Thursday morning. I landed two baby stripers and a couple more black bass as well. But honestly, I was becoming physically tired of casting and stripping, casting and stripping. I'm sure I would have felt different if we were into schools of fish that included a couple 8 pounders, but that was not to be on this Delta trip.
So, my journey into the Delta for stripers was highly successful (in my opinion). Experiencing what it takes to locate the fish, throw a fly at them, aggressively strip it in, set the hook, play, and land a few in the 20 to 23 inch range gives me confidence that I now understand enough to be able to replicate the results on my own.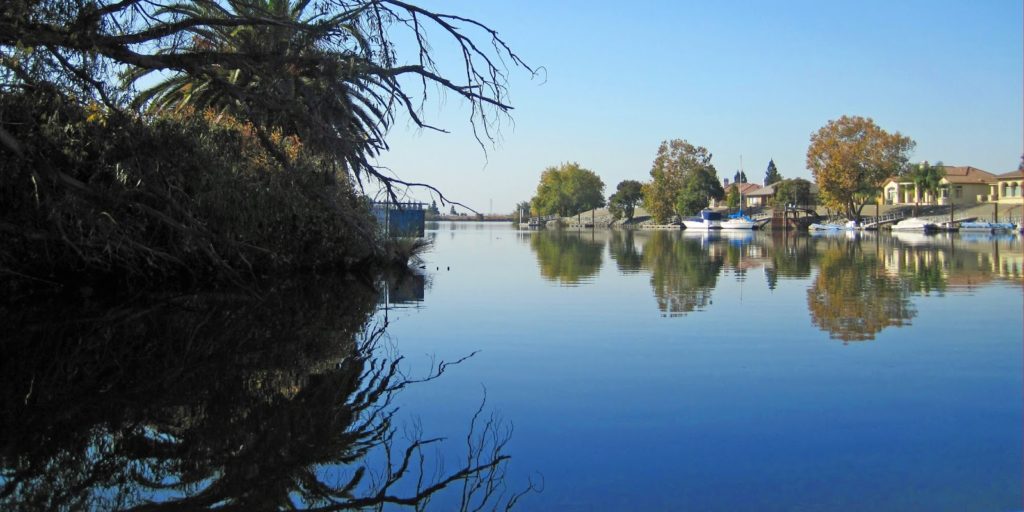 But the absolutely best part was hanging out with Bill for a few days. We both know we are blessed to have married the loves of our lives, although we are often dumbfounded that they agreed to marry us. Besides sharing our spousal adoration, we talked about our kids, grandkids, in-laws, extended family, and I guess everyone else important in our lives. We discussed some politics (or more accurately most all politicians' propensity to act in their best interests rather than the electorate), cooking recipes, and our elder years that have crept upon us. I know when the Lord calls our checkout date we will be awestruck by the magnificence of everlasting life in the presence of God. Bill and I just hope it includes a little fly angling.