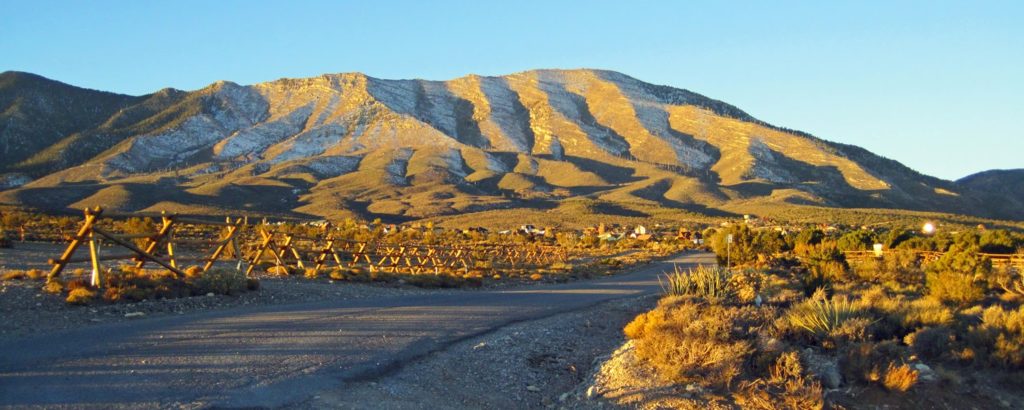 I had received a few inquiries on the stocking of the pond at Cold Creek – my Veterans Day visit confirmed it is so. An email from my friend Mitch this morning also said it occurred two weeks ago. Chan will be smiling because I didn't jump the gun this year.
Speaking of Veterans Day, I want to personally thank all the men and women who have served in the armed forces. The sacrifices they make to serve our country and keep us safe and free are beyond the imagination of most of us. I thank God for those who serve, and pray they and their loved ones are blessed by the Lord.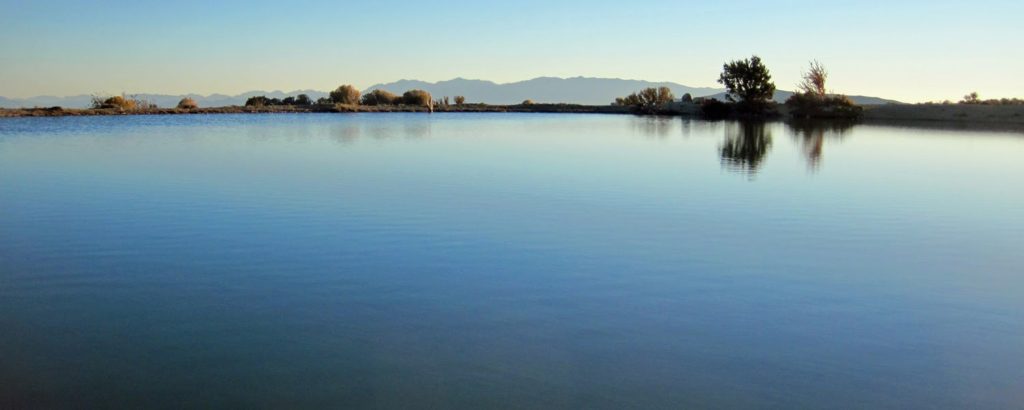 So, this morning I ventured up there arriving before 7:30 AM; the sun had just begun to crest the Spring Mountains. Although I was the first to fish it this morning, there was a large group of young men and women who were camping below the pond spillway. They were raucous as they were waking up and preparing breakfast. It wasn't long before a few emerged on the pond and began fishing.
For the record, it was warm, no wind, and I had a blast fishing my 6-foot, 4-weight rod with a Type II full-sink line using a size 14 Prince and a size 16 black, bead-headed nymph. Both caught several trout, largest being maybe 11 inches.
For the most part the young men were flailing the water. One of them had brought a fly rod, but from the looks of things he had never been instructed as to its use. After about 20 or 30 minutes a white sedan arrived and a father and daughter emerged from the car. The father/daughter duo was fishing small flies on spinning rods equipped with bobbers of sorts. The dad, who told me his name was Brett, caught five that I could see, and his daughter, Brenna, caught at least two. They were having a grand time, despite the vulgarity and crassness swirling between the young men in the group. I found it somewhat amusing that none of those guys ever caught a fish while I was there, and that young Brenna had out-fished all of them!
By about 8:15 AM I was ready to head home before my daughter, Emily, would wake up and blurt out "Daddy!" But I noticed the young man with the fly rod was at it again. I was compelled to offer a little assistance and a very short casting lesson. He accepted the offer and the first thing I noticed was he had his fly (a large size 12 Caddis dry fly) attached to his line via three feet of braided fly line backing using a knot that I couldn't begin to describe. I didn't have a spare leader, but quickly cut it all off anyway, tying a perfection loop on the end of his fly line. Then I tied a makeshift leader with a 2x butt and a 5x tippet (each 3 feet long) and finished with a perfection loop on the 2x. I showed him how to connect the loop-to-loop, and then I cut off my size 16 black nymph with gold ribbing and a bead head and tied it on the terminal rend of his 5x tippet. I cast his rod a few times demonstrating the benefits of not letting the tip dip low in the forward and backward casts, how to time the power strokes as the line lengthened, and how to use shorter strips of line as he retrieved the small nymph. If it weren't for my need to get home by 9:00 AM I would have stayed longer to work with the young man. But, I'm such a poor teacher it might not have mattered.
By the way, for newer readers who have yet to "test the waters" of fly fishing, read this beginners guide blog… it might be helpful and encouraging.  If you need additional help don't be afraid to post a question or two.
It was a fine morning, all in all. The young campers weren't excessively bothersome, and it is an awfully small public pond after all. I think what I enjoyed most, though, was talking with Brett; it was the best part of the morning. Watching a loving father spend time with his daughter, teaching her about fishing and nature in general… it warmed my heart. I hope when Emily is old enough to come along with me that I can be as patient and instructive as Brett was with Brenna.