This past January, in protest of the winter and my new interim job, I built a new six-foot fly rod. It was my first rod building project in about twenty-five years. I still enjoy fishing my old six-footer that I built in the early 1980s for small creeks and stocked trout, but it is a slow action fiberglass blank and I wanted to replace it with a new, faster action graphite rod. I was hoping I could extend my casting range another five or ten feet with a graphite rod blank.
Those of us that like to build or create things recognize the feeling of satisfaction derived from those activities which instill a sense of accomplishment from a job well done. It is not a sinful or boastful pride, but just a sense of the pleasure from being creative, productive, or even constructive. Apparently when God made us he implanted this need or desire to create; I guess that is a condition of being created in his likeness (Genesis 1:26). When you stop to ponder it, what amazing pleasure God must have felt by creating the universe, the world, and us. Awesome to contemplate, is it not?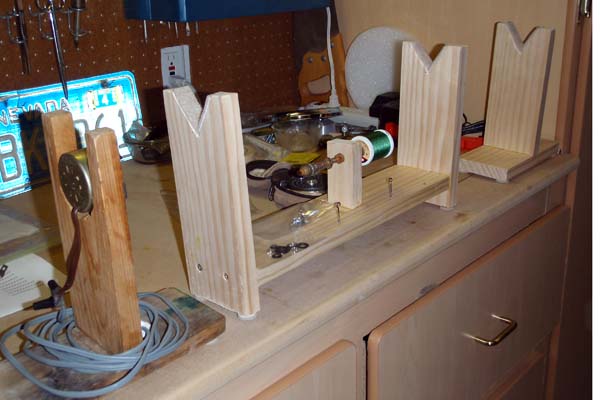 There isn't much you can customize on a fly rod; it is a pretty simple tool after all. The length and line weight of the blank is the driving force (in this case I was targeting a six foot length to cast a three weight line for small trout in small waters). Trout as small as eight inches can put a respectable bend in the rod and imitate the feeling of a twelve to fourteen incher on a five-weight, eight-footer. I have landed twelve-inch trout, wild trout mind you, on the old six-footer which was highly satisfying.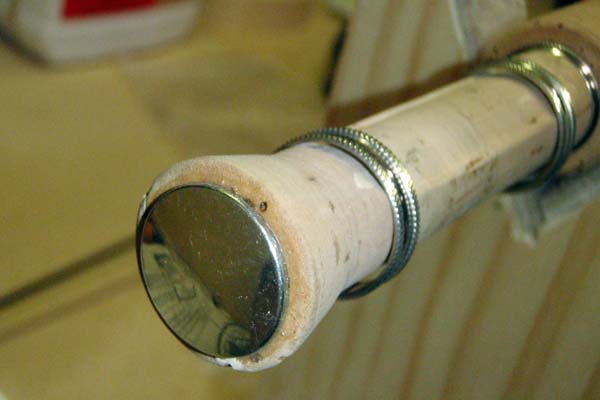 After selecting the rod blank characteristics, the next most "customizable" item will be the reel seat and handle (I highly recommend REC Components for their high-quality guides, grips, real seats, and spacers). On a small rod such as this I prefer the "all cork" route; it is a classic look and very light which compliments a fly rod of this minute size. Finally, there is the color of the rod wrappings and the writing of the owner's/builder's name on the butt of the blank.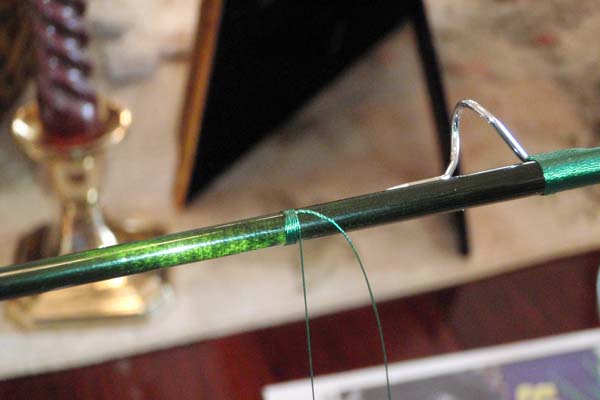 I tried out the new rod in early March, but struck out. I know there were still a few trout holding over from November in that Cold Creek pond, but I didn't perceive getting as much as one little strike. Nonetheless, the casting was fun with the new rod and indeed I could reach a little farther than with the old fiberglass rod.
Last night I noticed that the Nevada Department of Wildlife had recently stocked the little Cold Creek pond with about 500 ten-inch trout. So I arose at 6:45 am and reached Cold Creek by 7:30 am. There was another bait fisherman on the pond with his youngster. Immediately after my arrival another car pulled up, and a gentleman proceeded to extract a wheelchair from the back of his Subaru. I observed that his daughter was soon situated near the water in the wheelchair with a little rod in her hand. The sight touched my heart, and I resumed my fishing.
Over the next thirty or forty minutes numerous other cars arrived, several with small children. I had caught about five or six trout, two of which were in the ten to eleven inch range. My fly casting was consuming more than my share of space on that tiny pond so I decided it was time to depart (the pond is a little over a half-acre so five or more anglers gets crowded). Besides, my new little creation had been inaugurated with its first catch of trout.
As I was backing out of the water I visually drank in the father-daughter duo. I had heard the father remark "Isn't it a wonderful day to be alive," or something very similar. I felt compelled to engage them in some small way; to acknowledge God's grace even in the face of their obvious obstacles. As I watched I realized that the father was John L. Smith, the noted Las Vegas Review Journal columnist and author of several books. Suddenly it became clear to me; he was taking his beloved daughter, Amelia, for a Saturday morning fishing trip. As I approached I said, "You are the Smiths, are you not," and John replied "Yes, we are." I squatted next to Amelia's wheelchair. I told her that I had read all her dad's columns about her cancer struggle. I told her, "You know you are an inspiration to many people, but you probably hear that a lot." John said something like, "Yes, but we can never hear it enough." I chatted with them for a few minutes. The conversation was about nothing significant, but it was enough to feel connected to them and their difficult journey, to know that God's grace is magnificent, and that it is sufficient for us (2 Corinthians 12:9). Amelia, who is the same age as my youngest, Evan, was pleased to announce that she is doing very well and her prognosis was very positive. She had not an ounce of remorse, regret, or pity in her voice. She was strong and thankful for being able to spend her morning in the bright, warm sunshine with her loving father. I wished them luck with the trout and left for home.
On the drive home I felt a tinge of regret for not mentioning the gift of Jesus. Sometimes these opportunities present themselves and we wastefully let them pass by. But then I felt the warmth of God surrounding me with the sense that He is walking with the Smith family, especially with Amelia. I cannot imagine the burdens of their long brain cancer fight without the presence of God in their lives.
Meeting John and Amelia has enriched my life even if only from a few moments of conversation. We need to be reminded, always, of the gifts that God has bestowed upon us, and to be thankful in all things.