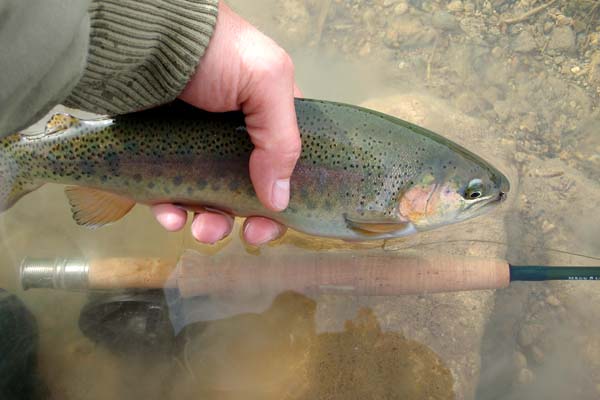 Being a local government employee, I benefit from the Nevada statehood holiday. Strangely, or not, it coincides with Halloween. Some, mostly those who mispronounce its name, probably think that makes Nevada a scary state. Regardless, I took advantage of the holiday to run up to Cold Creek for ninety minutes of fishing.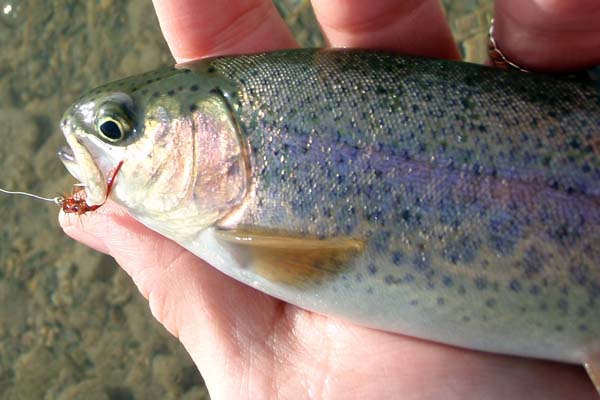 From my perusal of the Nevada Department of Wildlife (NDOW) website I noticed they stocked the little pond on October 23. I say Cold Creek is little because even when at capacity it can't be over two acres in size… maybe 100,000 surface square-feet at most. Despite the cold front that blew into the valley on Wednesday I decided a quick trip to Cold Creek was needed before all the meat anglers depleted the pond of its little jewels. I tried to cajole my son Brian into going with me to "get out of Dodge" as they say. But he feared it would be cold and windy on Saturday morning. Turns out this morning was calm, but cool. The temperature upon arrival at 8:30am was about 45 degrees. But since there was no wind it was very tolerable.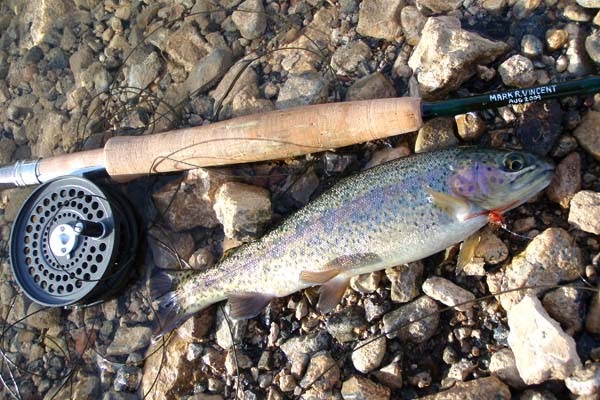 There were two gents slinging hardware (i.e., metal spinning lures) into the pond when I arrived. They were from Las Vegas and were clearly harvesting fish for a meal. They had a few on a stringer that were slapping around near the shore. Unfortunately for them, they did not realize that the average size of these little stocked trout was about 9.2 inches, making it difficult for most of them to get their mouths around the metal lures, assuming they wanted to eat those things. In contrast I had the perfect weapon for these little fish… flies tied to resemble little bugs. Trout naturally feed on aquatic insects. Bugs that live their nymph stage in the water clinging to rocks and weeds. As they transform from nymph to full grown insect they emerge from the water to molt into mature winged bugs that mate and drop their fertilized eggs into the water, starting the cycle of life all over again. The point is that trout eat bugs, and the closer you can resemble the bugs they are eating the more successful you will be. Of course they will eat other food that resembles or smells like something edible (e.g., worms and cheese-ball bait), but there is no debating that they eat aquatic insects.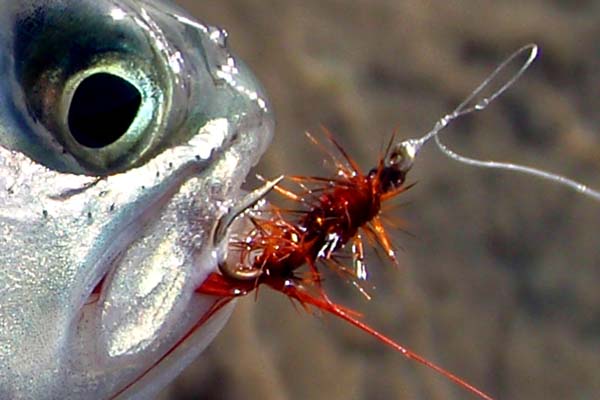 In ninety minutes I landed well over fifteen trout, maybe even twenty. I lost count. On several occasions I caught three in a row on successive casts, much to the dismay of my fishing company. Most were as advertised on the NDOW website: about nine inches. I did land several close to eleven inches, and two plump ones close to twelve inches. What I found especially nice was that they were deeply colored, and many leaped wildly out of the water. The NDOW website indicates these Cold Creek trout were stocked from the Mason Valley Hatchery near Yerington, NV; looks like Mason Valley produces some healthy, nice looking rainbow trout. I was using my newly built seven foot, six inch fly rod with a four-weight sinking fly line. It was a blast. I was casting size twelve still-water nymphs. One of them lacked a tail and it sometimes acted as a dry fly sitting on the surface. I noticed a trout rose to the surface to strike it, and for a while I fished it as a dry fly. I took four nice trout using that tactic.
Others had arrived at the pond, and some were catching a few trout, but nothing like what I was experiencing. I caught trout in practically every corner of that little pond. The weather was cooperating nicely, as were the trout. I tried hard not to let my pride swell too much, but I admit to getting a little giddy at times. I think a couple of the other fishermen were enjoying my success in a vicarious sort of way. I heard one older gentleman talking with his wife on the cell phone. "Yes honey, I arrived just fine. I'll call you when I leave. There are a few guys fishing, and one fly fisherman who's catching fish on practically every cast."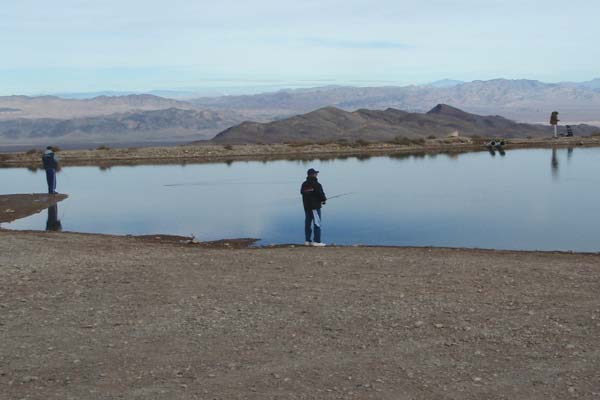 Before I got into my truck to depart, I talked with one of the fishermen who was there when I arrived. He claimed to have loaned his fly rod to his sister or daughter or someone, which made no sense to me at the time. He asked to see the flies I was using. I opened my Wheatley box and showed him the flies. I told him how I would rig up my spinning rods for my sons to fish flies. He seemed sincerely interested, and so I gave him a couple of flies. As I was driving up the dirt road I looked into my rear view mirror to witness him dragging the nymph on the end of a bobber as if it were a spinner. I reckoned that my first impression about the "loaning" of his fly rod to someone else was right on… he clearly was not a fly fisherman.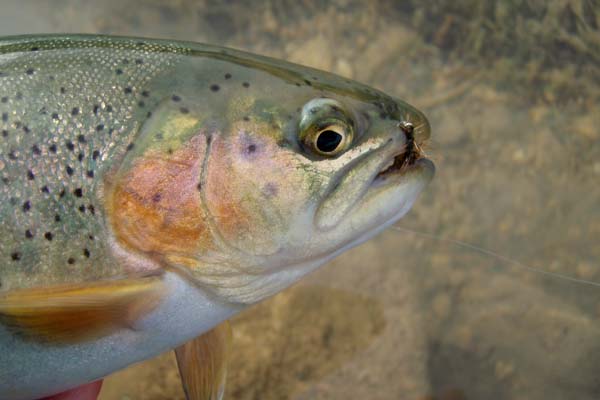 For the past twenty-five years I've been practicing catch and release, returning the fish to their environs, hopefully to grow larger and be caught again by another catch and release angler. I was glad to have released all those Cold Creek trout back into the pond. Maybe the fishermen I left behind caught a few of them, who knows for sure. One of them made a disdainful comment or two about my catch and release practices, especially when he saw me release the larger ones. But I always feel a sense of joy returning fish unharmed to the water. The excitement is in the casting and catching, not the killing. And with little ponds like Cold Creek, the stocked fish can be harvested out within a month if the fishing pressure is hard. Putting them back in prolongs the fishing enjoyment, for most of us anyway.