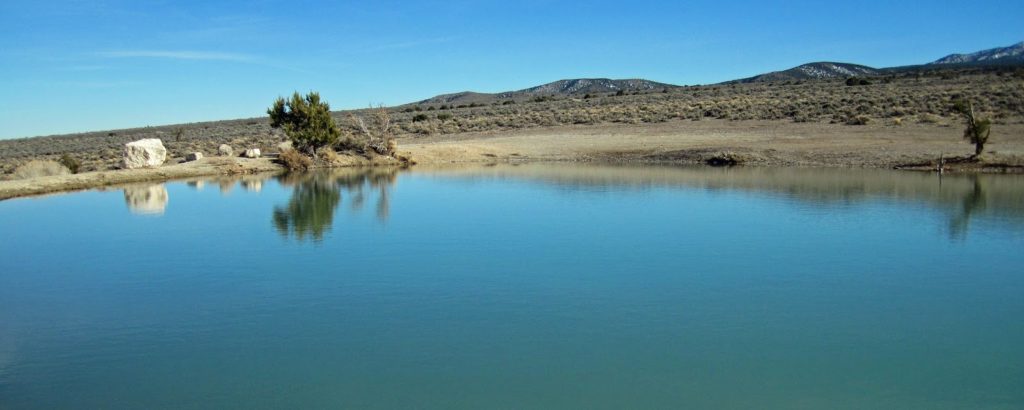 I am one of those outdoorsmen who has always enjoyed the solitude of the experience. Whether fishing, hunting, hiking or whatever, going solo with nature creates a certain tranquility that is healing. It creates a "white space" to clear thoughts, communicate with the Lord, or to simply regain the peace within you.
As much as I claim I like to fish in solitude, encountering other anglers at Cold Creek can be rewarding in its own way.  Cold Creek is intimate water.  That coupled with its popularity breeds social interaction for even the most staunch introverts.  If there are two fishermen they cannot help but strike up a conversation that can become interesting no matter how benign its beginnings.  Unlike other types of conversations with strangers, at least when you are fishing you can safely assume the other person actually enjoys fishing.  At Cold Creek the commonality can be the pond itself. "So, how did you discover this pond?" "How long have you been fishing it?" "Did you notice the wild horses on the drive up?"  In previous posts I've run across a fellow heart attack survivor, fathers fishing with daughters, including one whose daughter who has battled cancer.  I've run across a fellow CFO and a civil engineer who works for the City of Las Vegas, too.  I've shared the pond with my son Brian, and even a coyote and his jackrabbit prey.
Today's Cold Creek adventure started off the 2016 Valentines Day weekend. Since Monday was the Presidents Day holiday I actually expected to see some folks at the pond, especially RV campers. I did come across a large, extended family walking down to the pond on the dirt access road, and several other vehicles containing sightseers passed by the pond, but remarkably there were no other fisherman. It wasn't until my alarm went off signaling it was time to return home that another small sedan arrived with two passengers. (For those of you concerned about my propensity to travel and fish alone in my post-heart attack state, take note that I expected lots of company at the pond. The pond even has cell service… I did not feel at risk at all. But I did text my wife and make her aware of my scheduled return time.)
As I was concluding my angling with my back towards the new arrivals, I could only hear a smattering of their conversation. One side sounded like an elderly fellow who might be hard of hearing and thus had a tendency to talk louder than normal. I turned around and I saw an elderly man and a woman who appeared appeared to be 15 – 20 years younger. I quickly noted the old man had a fly rod in his hand as he gave instructions to the woman who was there to help him down to the pond.
I was just reeling my line in and was about to engage the couple in conversation when I heard the man instruct his wife to ask if he could fish ahead of me at the pond. At first this struck me as funny because there is no "ahead" or "behind" at Cold Creek. These polite fishing terms are usually reserved for stream fishing, and Cold Creek is so small practically any position on the pond is either behind or ahead. What struck me next, of course, was the politeness belying the man who was raised in a different era, a man old enough to be my own father. I also observed the lady with him was not a fishing person but rather was present to help this older, more frail man fish the pond.
I told him to take my spot on the tiny jetty because it's the most strategic position from which to reach the best and deepest portions of the pond. I asked him what he was fishing, and he said "I tie all my own flies, and I'm fishing a nymph." I asked him if I could see the fly and he obliged as he simultaneously instructed the woman to retrieve his fly boxes from the car. The fly was not a nymph but rather a Caddis dry fly. I also saw that he was using a floating line. His best chance this day was to attach a bead headed nymph on the end of his leader.
While the woman returned to the car to grab the boxes, I asked him if I could tie on one of my beaded nymphs, and he was thankful. After assessing his skill level, as we tend to do in situations like this, he asked me "So, they're down deeper. How long should I count to let the nymph sink?" This was a question from a reasonably experienced fly fisherman, to which I relied "I would count to at least 10 and then retrieve slowly with a small jerking action."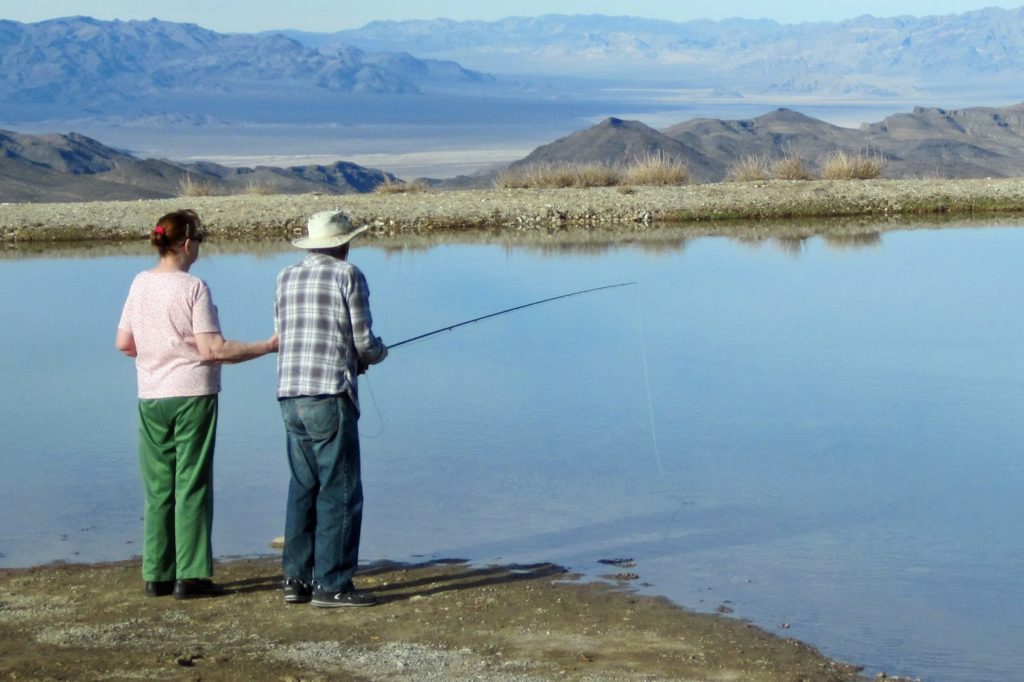 He said his name was Ken, and that he was battling cancer. He could not recall the name of his cancer, but he said the meds were causing all sorts of side effects including dizziness. I asked him if the woman retrieving his fly boxes was his daughter, and he said Wendy was his wife. I told him he married well which made him giggle a little.
He said his father taught him to fly fish when he was 13, and since Ken had told me he was 84 that means he'd been fishing for 71 years (almost double my 39 years). I asked him how he found Cold Creek, and Wendy answered for him that they just learned about it and attempted to fish it for the first time last month, but the pond was still frozen over so he couldn't fish. Wendy added that it's the only place they have found that he can fly fish. Ken announced he was going to Mammoth Lake in California to fish this spring, and without saying it I assumed he was using Cold Creek to sharpen his skills before the big adventure. Because of his cancer, I also kept to myself that this could be the 84-year-old cancer patient's last hurrah with his fly rod.
I watched him cast a little bit and he had good mechanics, although his body was frail and weak. He was fishing a Fenwick rod with a Pflueger reel… exactly how I started almost 40 years ago. I couldn't help but see myself in his image. I discovered that they have lived in Las Vegas for 20 years, and being slightly proficient in math I assumed he moved to Las Vegas for retirement, as many Californians do to escape the higher taxes and cost of living. He asked where in Las Vegas I lived and with that exchange we discovered we are near each other in the northwest end of town. Wendy remarked, "Maybe we'll see each other at the Albertson's some day." I said it would be nice if we did.
For those who read my blog to learn about angling action in the southern Nevada region, I did better than I thought I would. In about 90 minutes of fishing I hooked 11 and landed 8 small stocked rainbow trout. I was too heavy handed with the first few trout which resulted in the three hook pull-outs. The fish were very silvery given this time of year and the pond's limited food source. There was hardly any surface action, and all my takes were down near the bottom of the pond. I was using my favorite 7.5 foot 4 weight rod with a full sink line, fishing a size 16 brown nymph. The trout were small, but my light rod bent over quite nicely with every battle. It was a lovely day, especially meeting Ken and Wendy. I may have to shop Albertson's more frequently to see how Ken and Wendy are getting along.
Here's a smattering of Cold Creek fishing photos from today's visit: