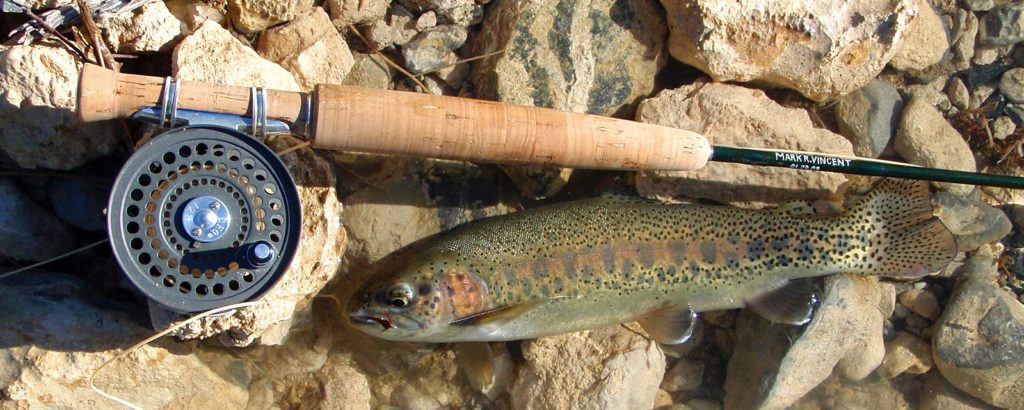 I often wonder how many folks are aware of the elk herds in the Spring Mountains west of Las Vegas. I've known about them since I was a teenager, but I have never seen elk in the more than thirty-five years I've been tramping through those mountains. That is, until this morning.
The continuing weather schizophrenia we were experiencing this spring was flip-flopping from a wet sixty degrees to a warm and sunny eighty. Yesterday it rained on the way to work, and today was forecast to be glorious. I couldn't help but set the alarm for 5:20 am and try one more Cold Creek trip before the oppressive heat of southern Nevada begins to set in.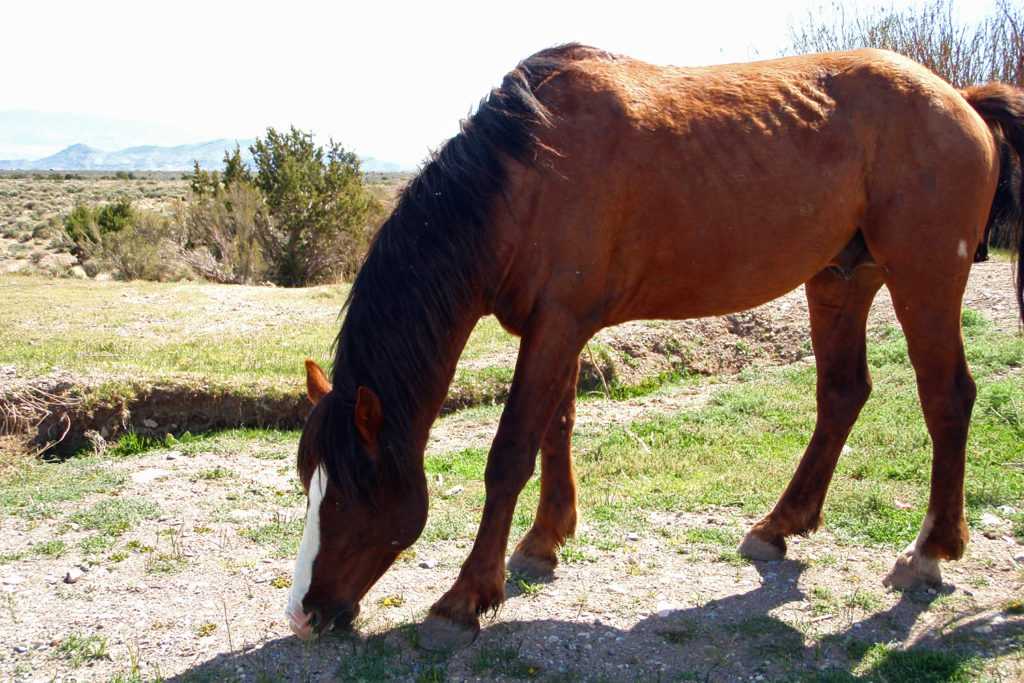 Today's forecast predicted temperatures in the seventies at Cold Creek, so I left the house with only a t-shirt and long-sleeve shirt. On the way up the Cold Creek road my outside temperature gauge indicated thirty-eight degrees… yikes! I tried to convinced myself that as soon as the sun cleared the easterly edge of the Spring Mountain Range it would warm up, and fortunately it did.
As I drove up the Cold Creek Road in the twilight of day break I was unaware of the surprise awaiting me. Within a quarter-mile of the little Cold Creek enclave I came across my first Spring Mountain elk sighting. Another hundred yards put me into a small herd of five, right next to the Bureau of Land Management sign. I couldn't believe my good fortune after all these years! None were sporting spikes in velvet, so I assume all were cows. Like all members of the deer family, bull elk shed antlers annually, and I am not certain when they start growing so while I think all six were cows there might have been a young bull in their midst… who knows?
I was the first angler to arrive at the pond, which hadn't happened in a while. I brought my six-foot, four weight rod with me. I had so much fun fishing it at Cold Creek a couple of weeks ago I just had to run up there again. I started out with my full sinking line and managed to catch quite a few. Then a gentleman named Chad showed up, a fellow fly fisherman. He had started out with dry flies, and I decided to switch over, too. There was more surface activity than usual due to the warming temperatures. I caught several on a small Adams dry fly, about size eighteen. Soon another fly fisherman arrived, and the three of us had the pond to ourselves, casting away and releasing all we caught.
Eventually I removed the dry fly and tied on a nymph again, but this time with the floating line. This technique prevents the fly from getting down deep, which is usually where I want it on a pond. But the surface activity was continuing and I thought a sub-surface fly would get a little more action than the dry, which it did.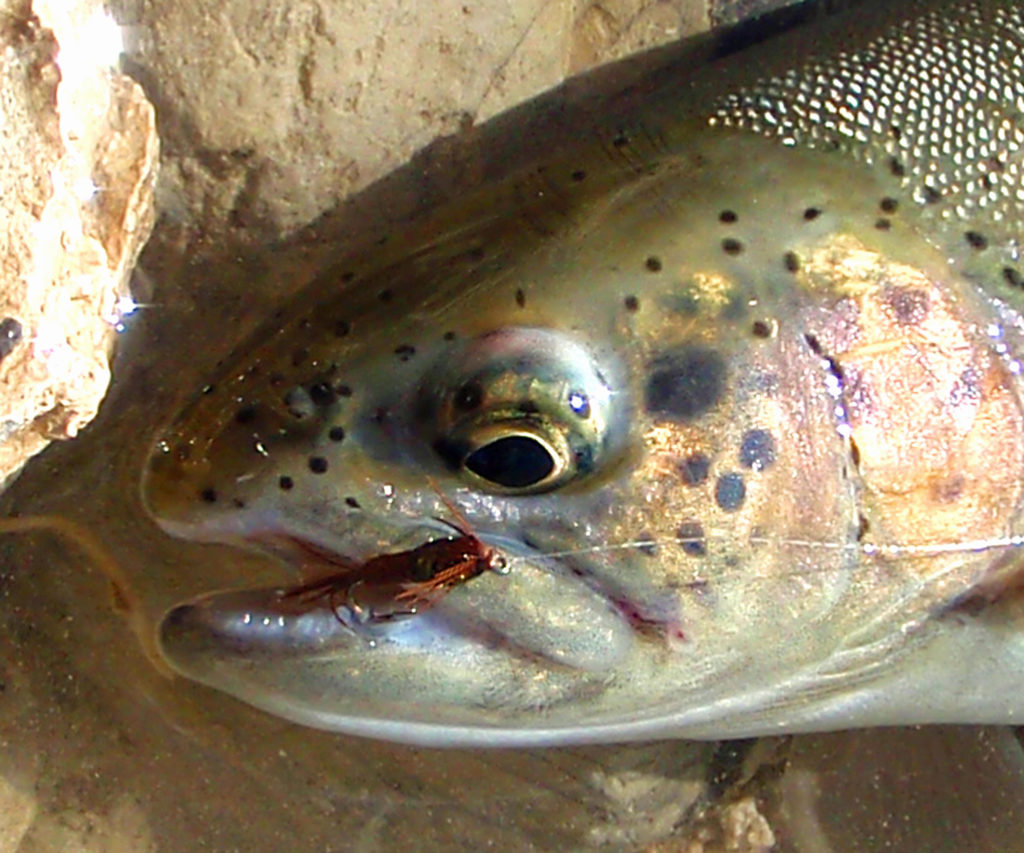 One nice aspect of writing a blog is that some anglers recognize me from reading it. Most folks, and especially men, are quiet and aloof in the outdoors. When we run across strangers we'll exchange a pleasant "hello," but rarely stop to engage in conversation. I've learned that this blog can serve as an ice-breaker. If someone thinks they recognize me they sometimes ask is I am FisherDad. I guess it's an effective way to disarm those social defenses. Once I confirm my identity, the conversation opens up because they feel as though they know me, or at least something about me.
That was the case today as both fly anglers, Chad and Nick, had read my blog and identified me from the stories and pictures. Both had started fly fishing about a year ago, and from what I could tell they were getting reasonably proficient in their casting, each catching numerous trout. One of the things I enjoy about fly fishing is that no matter how long you've been doing it, your "on the water experiences" always seem to reveal new things, teach you new lessons, if you are observant and patient (which most fly anglers are by nature). It could be learning the single or double-haul cast, or how to fish a nymph with strike indicators or droppers. Even new discoveries about the nuances of still water vs. stream fishing will occasionally occur. And then, after you think you have mastered trout angling there are bass, pan fish, steelhead, and salmon. Or how about bonefish and tarpon? It is as if the learning is never ending. It's like a perpetual adventure laced with challenges and surprises.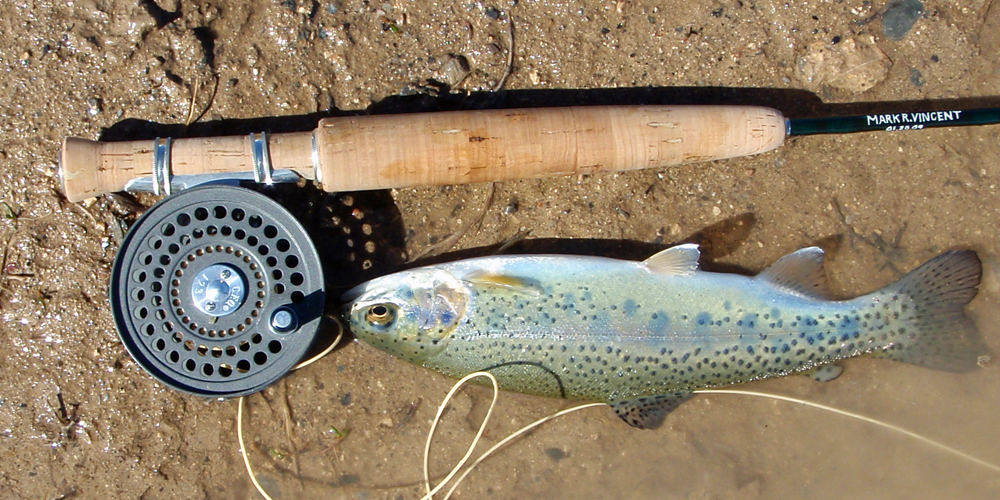 No matter how I slice it, today was a true gift from the Lord, a little jewel of an adventure. I savor days like today because we do not know the day or the hour.
(Read other interesting Cold Creek blogs at November 2006, October 2009, February 2010.)