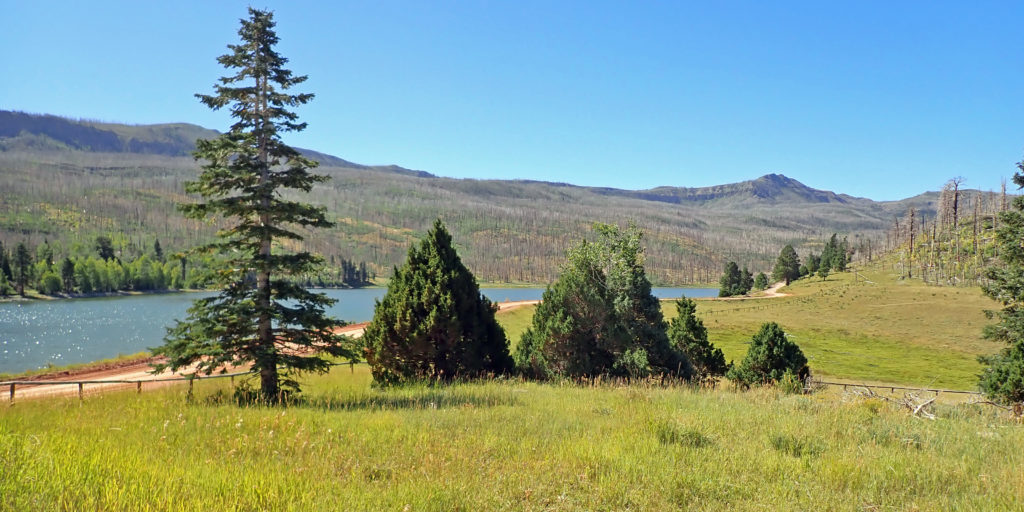 I have known of Yankee Reservoir for many decades. It was my brother Neal who told me about it, but I do not recall ever fishing it with him or anyone else. Yankee Meadow offered Brook trout back then (probably Rainbow trout as well). I suspect our New England roots fostered Neal's sentimentalism for the Salvelinus fontinalis (the genus Salvelinus is sometimes referred to as a Char because their dark bodies are overlaid with unique light-cream, blue, pink, or red spots as contrasted by darker spots on the lighter body of the other trout genera).
The Utah Division of Wildlife website indicated Brook trout were still being stocked in Yankee Meadow. Perhaps, like Neal, I felt a nostalgic impulse to see if I could catch a fat Brook trout, but the attraction of fishing new waters was likely the determining factor in choosing Yankee Meadow. I proposed my concocted adventure to my friend Luis, and he was enthusiastic to accompany me.
Since I am obviously fixated on the taxonomy of trout, excuse me while I dive a little deeper. I am not a biologist, but I have always been interested in the relationship between salmon and trout (salmonids) as well as between the many trout species. I think it evolved from my discovery that the Salmonini fish tribe's Brook trout (Salvelinus Fontinalis) was not in the same genus as Brown trout (Salmo Trutta), and that the Rainbow trout (Oncorhynchus Mykiss) was in a whole different tribe (Oncorhynchini). The deeper I submersed into trout angling, the more alluring the variety of Rainbow and Cutthroat trout subspecies became. My brain began to spin, and my fascination peaked after I caught my first Cutthroat in Mammoth Creek. Exactly which of the fourteen subspecies of Cutthroat trout (Oncorhynchus clarkii) did I catch? Was it a Bonneville cutthroat, or perhaps a Humboldt cutthroat? Maybe it was a Whitehorse Basin cutthroat or even a Yellowstone cutthroat? Oh my, I became lost in the romance of trout taxonomy…
Taxonomy aside, fly fishing is the main event. No matter what species you catch, it is a divine blessing to be out in nature having a lovely day with a good friend. It was just this past March when Luis picked up his first fly rod. The following April, after some dry casting lessons and tutorials on the use of fly line, leaders, tippets, and flies, he caught his first small Rainbow trout at Cold Creek. We ventured to Comins Lake in May for his first significant fishing trip. Although action was slow for Comins, Luis did manage to land a nice Rainbow and a Largemouth bass. But on this trip to Yankee Meadow, it appears the angling hook was set into Luis as he connected with a good number of Rainbow trout. He kept the largest two for a fish fry; one was a solid 14 inches and the other was 15.4 inches. The Yankee Meadow Rainbows fought hard, and Luis was surprised by their tugging power. I had warned him that light fly fishing tackle can break off a strong fish, and that sometimes you must be patient and let the trout have its runs. He did well for just his second "real" fishing trip. He was happy at the end of the day, and I was happy for him.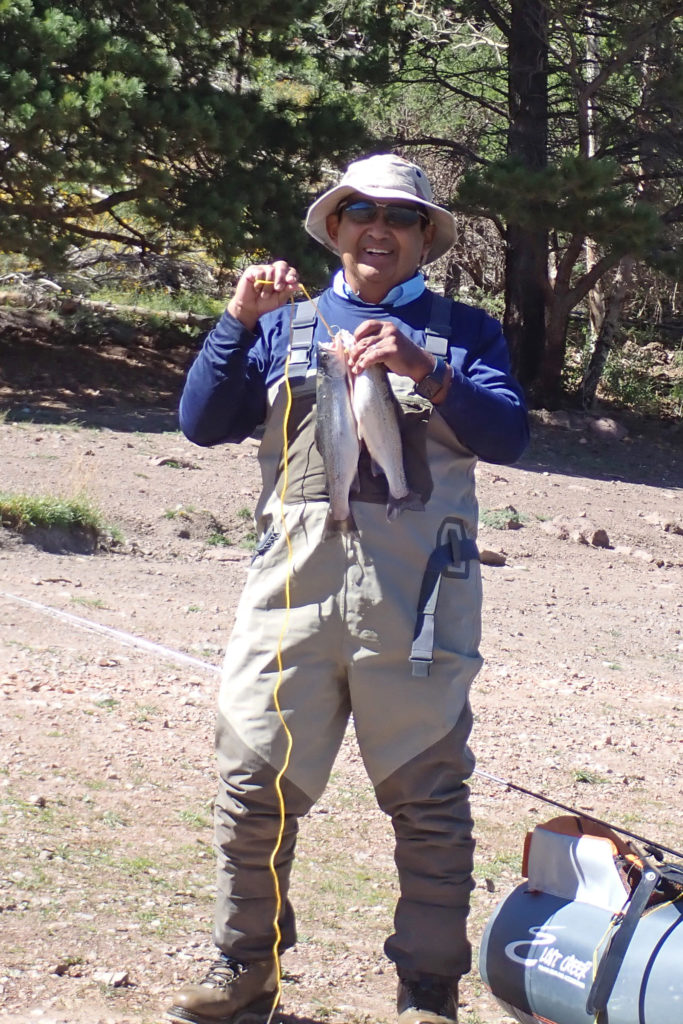 As for me, I tried the weedy eastern shoreline all the way down to the little stream inlet. I was interested in exploring for Brook trout, but all I caught were 9 inch Rainbows. When I approached the stream inlet area, I did see a decent size trout porpoise in the current, so I changed over to a floating line and a foam terrestrial. I only got one look, and I missed it.
Mid-afternoon we took a little break. Luis was excited to describe his success on the western shoreline, after which he lifted his "dinner" trout out from the water with a big smile on his face. He convinced me to try that side of the reservoir after our short rest. As the shade from the pines grew over the western shoreline we continued to land many Rainbow trout. I kept a 15 inch Rainbow to be added to Luis's fish fry stringer, but my fish of the day was an athletic Rainbow. She was the only acrobatic leaper of the day, and she measured out at 43 centimeters, or slightly over 16.9 inches. I did not keep her.
Yankee Meadow proved to be a particularly good choice. We did not catch any Brook or Cutthroat trout that are known to be stocked in this reservoir, but the Rainbow trout did not disappoint us. Luis and I counted our many blessings: our undeserved salvation, loving wives, awesome children, blooming grandchildren, good friends, peaceful retirement, and reasonably good health. We have nothing to complain about; we are blessed and content. Although we are undeserving, we have been divinely blessed.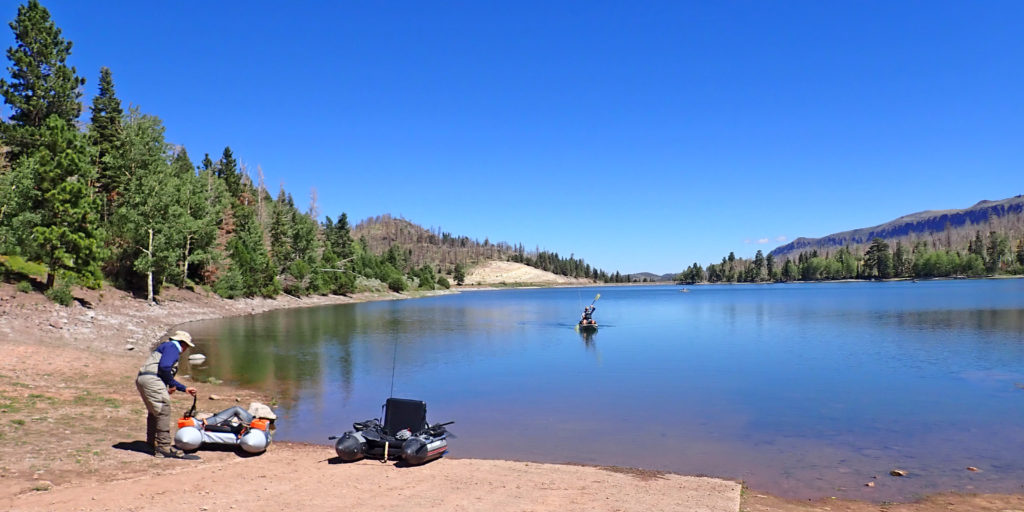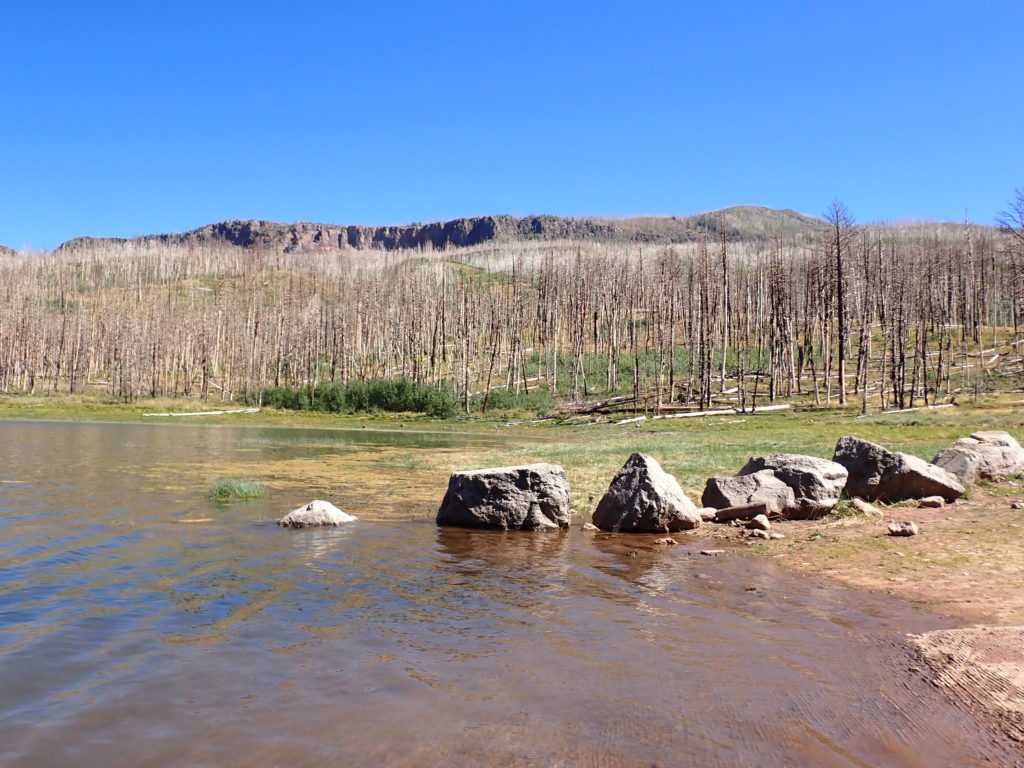 For it is by grace you have been saved, through faith—and this is not from yourselves, it is the gift of God— not by works, so that no one can boast.

Ephesians 2:8-9