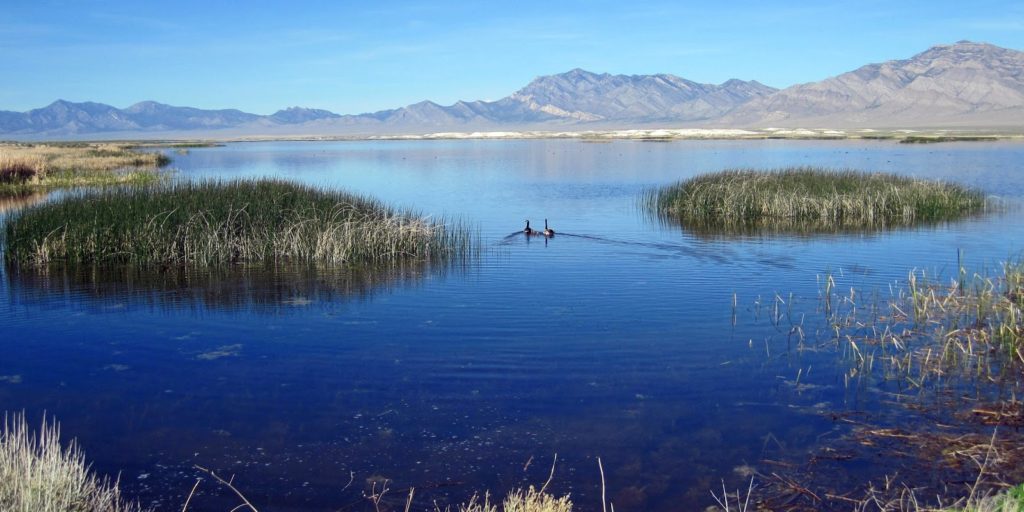 Ever notice sometimes how those experiences you anticipate often fail to fully come to fruition, particularly if it's something you're really looking forward to? Fueled by your imagination you envision how wonderful the experience will be and the pleasure you'll derive from it, especially when your brain builds upon prior awesome remembrances.
I don't typically recall details of unpleasant experiences. When it comes to outdoor adventures I am especially optimistic about what I might observe, what I might witness. Nature always amazes and inspires me, and when I make my treks to old and new destinations I just expect to be awed. After all, it is God's creation that man has never been able to match.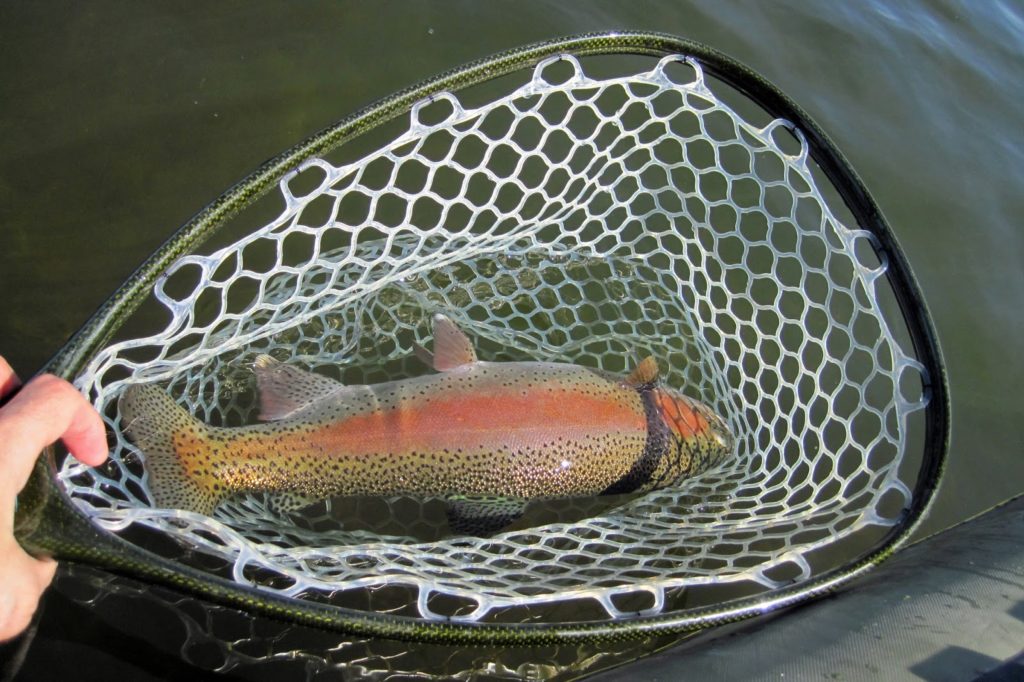 My very first trip to Dacey Reservoir was on September 27, 2013.  I was mildly stunned by the size of the trout in this high-desert wildlife management area, so much so that for weeks my mind would daydream about them.  I immediately followed that with another trip on October 23, 2013 and two trips in April (April 4, 2014 and April 23, 2014).  Those early Dacey angling experiences so influenced me that I wrote my first published article on Wayne Kirch which resulted in yet a fifth trip in eight months for the magazine photo shoot on May 31, 2014.  Although the May trip was a little late into the spring for Kirch trout angling, that string of five fishing adventures still rattles around my hippocampus, believed to be the brain's sorting center where new sensations are compared with previously recorded ones.  I like visiting new water just because it's a new exploration, but memories from those five trips keep overriding my natural quest for new adventures.
And so here I was, planning my first "real" fishing trip since last October. I was leaning toward Utah's Kolob Reservoir again. But, Kolob is a slightly longer drive than Kirch, and there were those Dacey Reservoir re-runs playing through my hippocampus. The two days spent on Dacey with Bruce and Doug in late April of 2013 were some of my best fishing days ever, including the family bonding. It can be difficult to override memories like those. As you already know from the title of this post, Dacey won out again.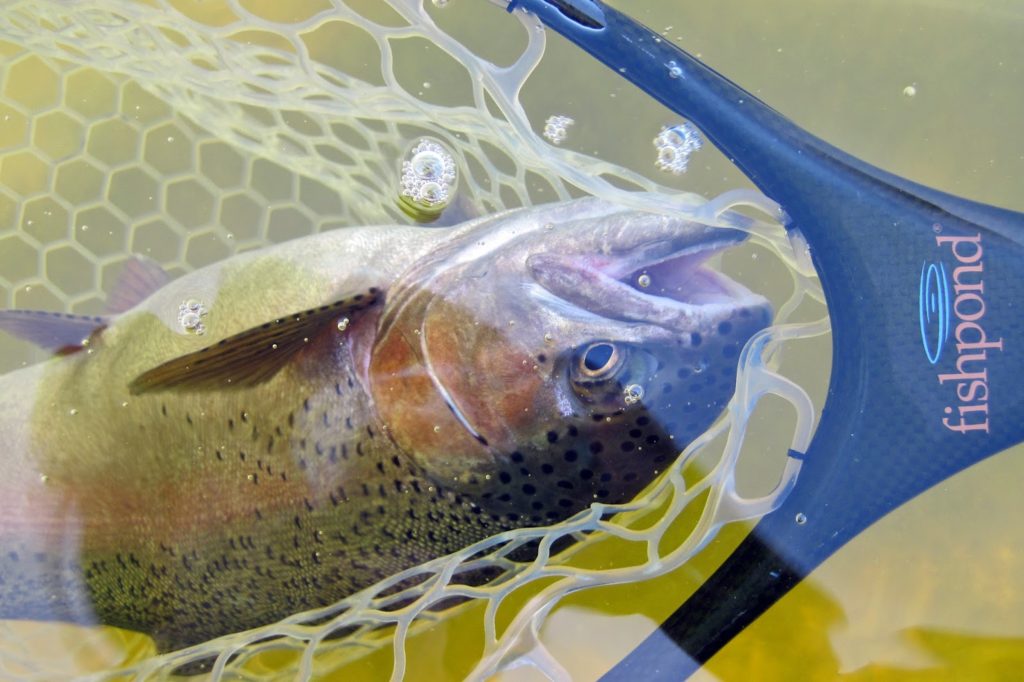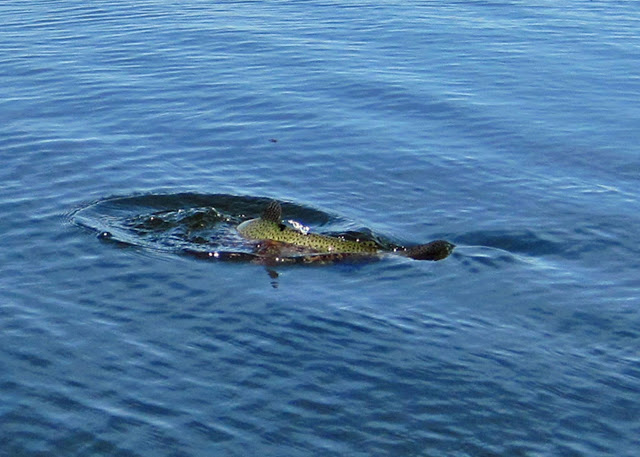 I can say that all the trout Dacey gave this day were comparable in size and coloring to those I experienced in 2013/2014. I can also report that I was the only one on the reservoir all day, which always enhances the sensation of a wilderness experience, even though Kirch isn't really that remote or isolated. Yet somehow I came away mildly dissatisfied with the fishing. Perhaps in part due to the low fish count (five hooked, four brought to the net), or maybe it was the unseasonably warm weather (by the afternoon it was about 80°). But now that I'm home contemplating the whole of the trip I can honestly say it was in fact awesome. It was every bit as breathtaking as the first time in September 2013. How can anyone be disappointed with an outing that produced a fat rainbow just under 20 inches long? How could I feel slighted after examining an 18-inch male rainbow displaying the most radiant scarlet spawning wardrobe I've seen since fishing the Ruby Lake with Bill Bergan in 2015? Sure, I would have been more pleased with faster action, but more trout would have statistically resulted in most being 12 to 14 inch trout that were stocked just last fall. I've written many times that I'd rather land one old, large, naturally radiant trout than a boatload of recently planted trout.
So what is it in me, maybe in you as well, that always expects the next adventure will be better than the last? What is it in our soul that occasionally produces the belief that our experiences are never good enough? Why do we think we deserve more than what we've been given? Can it be as simple as our sinful nature?
When Paul wrote to the church in Philippi he thanked them for sending gifts while he was in prison (Philippians 4:10-13). He was there because officials had levied false charges against him; in a way they were "hating" on Jesus through Paul. Paul already knew that the grace of Jesus was sufficient for him; because of Jesus he lacked nothing. He needed to thank the Philippi Church for their generosity, but he also needed to teach a lesson in contentment while doing so. Paul did not mean contentment in the pagan sense of self-sufficiency, but that his sufficiency was in Jesus. Without Jesus we are nothing, for He created it all and only through Him do we find grace and redemption (John 1:1-18).
When I begin to feel disappointment in this world, I pinch myself and remember that God's grace is sufficient for me, too. Every breath, moment, day, and experience on earth is a gift from Him, and I just simply need to "snap out of it" just like Loretta Castorini told Ronny Cammareri in the movie Moonstruck.