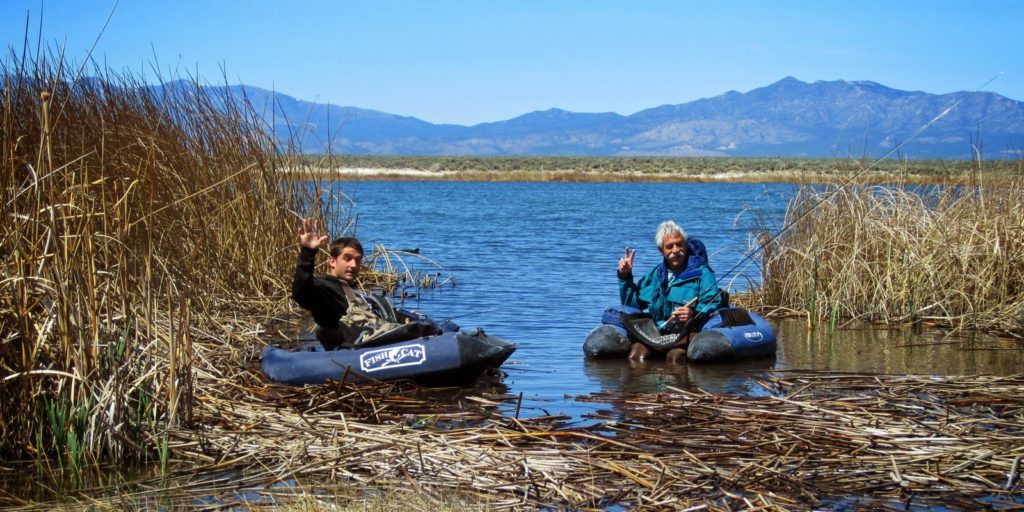 The Greeks have four words to describe love based on their observations on the subject. There is their word éros (ἔρως) to describe "physical" passionate love that carries a sensual desire and longing; a more self-centered "erotic" driving force. Then they have philia (φιλία) to describe a "mental" love, an affectionate regard or friendship that exhibits the give and take seen in families and friendship (the root of Philadelphia, city of brotherly love, originates from philia). Their word storge (στοργή) describes "affection" as in a parent's natural affection for its offspring. Most importantly, they have agápe (ἀγάπη) to describe a "spiritual" love, a true sense of unconditional love that is selfless; it gives and expects nothing in return. Agápe is the word used in the Bible's "love chapter," 1 Corinthians 13; it is a sacrificial and spiritual love. I believe all four words are used in the Bible, but perhaps a more scholarly Bible reader will post a correction to that assumption. Anyway, the point is that in context each clarifies what God was saying in the Holy Scripture.
I'm sure you are asking why I'm on this bent today. It's because my older brother Bruce used his five-day vacation to visit me and my family, and his visit caused me to ponder my love for him. Clearly I storge him as part of my nuclear family, and philia him as well. I do not éros him, but I when I search my soul do I see my agápe for him? That's the crux of our relationship: do I love my brother unconditionally? Or, is my relationship based solely on a give and take; do I give to him only through an expectation that he'll give back in return… in an equal amount? This can be dangerous territory.
There is no question that Christ had agápe love for mankind; He was the living sacrifice for all us sinners with full knowledge that He created us with free will in order that we may choose to follow Him out of love… or not. God wants us to choose to become Christ-like by the power of the Holy Spirit, and therefore agápe others that He created in his likeness. And it is no coincidence that God's greatest commandment is to agápe God and agápe our fellow man (Mark 12:30-31). Thank goodness that is possible through the power of the Spirit given some of these characters we find living amongst us, and you know of whom I mean.
So, when I think of my love for Bruce how did it manifest itself on this visit? Did I allow him to stay in our home even though it inconvenienced our family? Did I share my food and drink with him? Did I use my vacation time to be with him, in his presence, accepting any behavior or habits that I might find awkward or even stressful? Did I do any of these things with the expectation that he'd reciprocate? And, if he never reciprocates will I refuse a request for a return visit in the future?
By way of background, Bruce was almost ten years old when our dad died; I was just over three. Our mom was pregnant with our sister June when dad succumbed to the effects of a misdiagnosed heart attack. The dreadful event actually occurred on my sister's due date (she was born eight days after), which was also our oldest brother Neal's thirteenth birthday. Bruce and I discussed the awful difficulties our mother endured, not to mention the impact on he and Neal being they were at that formative age when a dad becomes so instrumental in their development. There's much to that story, but the main event was our mother's agápe love for her children. Our family persevered despite our significant loss, moved out west to start a new life, all made possible by the sacrificial love our mother had for her children. Oh, and our mom did this as a single mother, never remarrying, doing her level best to give up her dreams so that her children could achieve their own. That is agápe. In today's society, a young mother is more likely to sacrifice her children's needs and aspirations in order to pursue her own.
The last time Bruce and I got together was at our brother Neal's funeral, ten years ago this coming November (our mom passed almost three years earlier). We communicate via phone and email occasionally, but most of our conversations focus on our mutual affection for nature. Our most recent conversations drift towards our health as we push into our retirement years. Last fall Bruce proposed the idea of a visit to Las Vegas (he's the resident naturalist of Ojai, California), partly to be with our family but also with the notion of a shared fishing trip. He said my recent posts on Dacey Reservoir's large rainbows stirred a strong desire to try float-tubing for the first time. There is excellent fishing in the coastal mountains around Ojai, most significant being the Sespe, Sisquoc, and Casitas waters, but none ever presented the need to float tube on still waters. Bruce was also intrigued with the notion of large trout in the middle of the Great Basin desert… who knew? And thus we hatched a four-day visit with two of them set aside for fishing Dacey.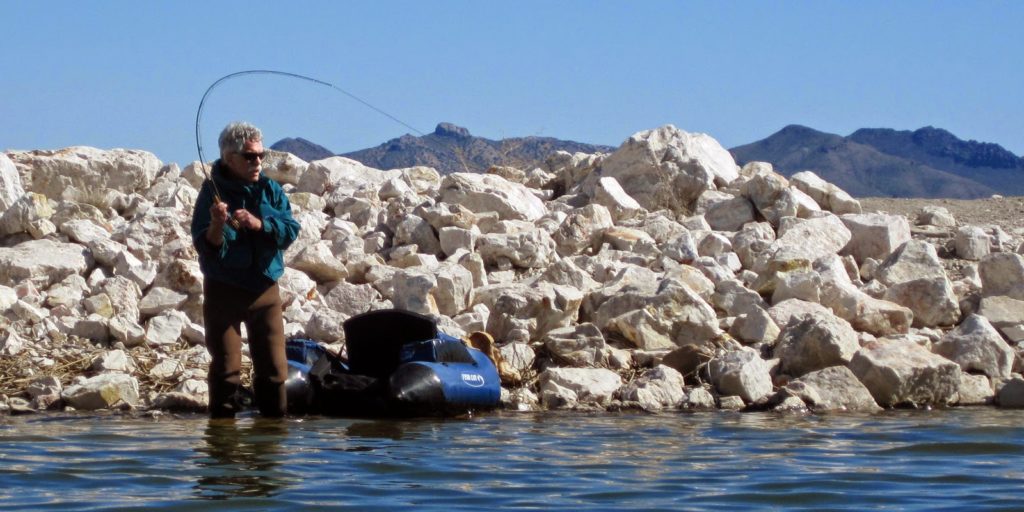 Bruce stayed with us, and arrived in time to celebrate Easter dinner. Absent were Nick and Doug, but Doug was to join us on the fishing trip; Nick now lives in San Francisco. Tuesday Bruce and I visited the Corn Creek Ranger Station (gateway to the Desert National Wildlife Refuge) while Emily was in preschool, and afterwards we took her to the Las Vegas Springs Preserve. Emily quickly took to Bruce, but it was likely because his odd sense of humor was familiar to her; I emulated his idiosyncratic mind when he served as my pre-teen surrogate father figure.
The unstable weather forecast for the Wayne Kirch Wildlife Management Area forced us to split fishing days between Monday and Wednesday as Tuesday's wind reached 29 miles per hour. We arose extra early on Monday to get on the water by 7:30 AM because the winds were scheduled to arrive by noon, effectively blowing us off the water. Conversely, we returned late Wednesday morning so that the early morning winds would have a chance to subside. Still, Wednesday's breezes were enough to ground Bruce on the reservoir dam by mid-afternoon, which is where I was once again confronted with agápe love.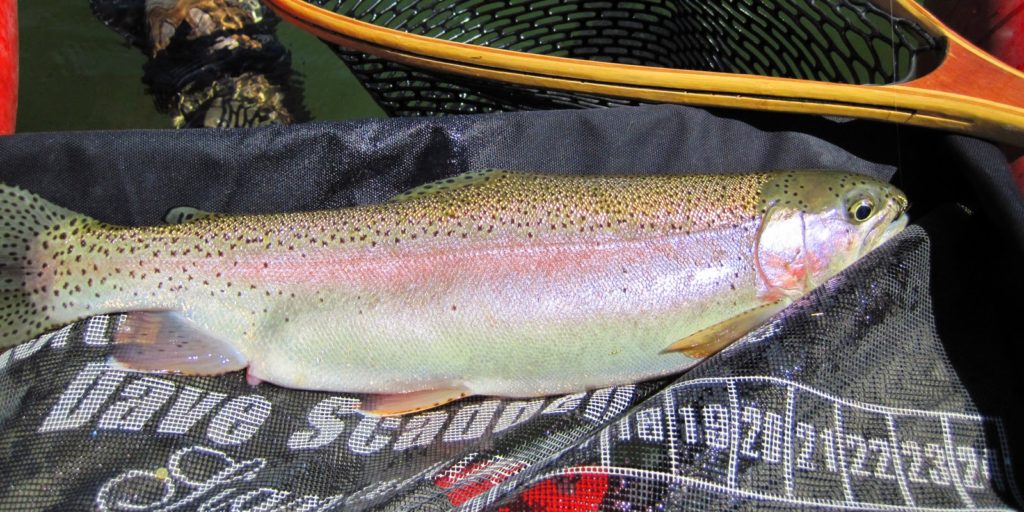 I had contemplated offering Bruce the use of my NFO Outlaw Escape while I used one of my Fish Cat tubes. I was praying for calm weather because such conditions would minimize any difference in effort between the two; but tubing on the Fish Cat without the advantage of an integrated oar system in winds approaching 10 miles per hour would cause fishermen our age to tire quickly (constant finning, or kick-paddling, is required just to maintain position let alone locomote to different locations). Fortunately, Monday morning's weather complied perfectly, and when the breeze finally kicked up it pushed us in the direction of the Trout Truck for the mid-day extraction before the high winds developed. In fact, there were just four other tubers on the water that day, and they were in the wrong place as they needed to fight through the winds to return to their truck; Bruce and I were very thankful our strategy worked in our favor.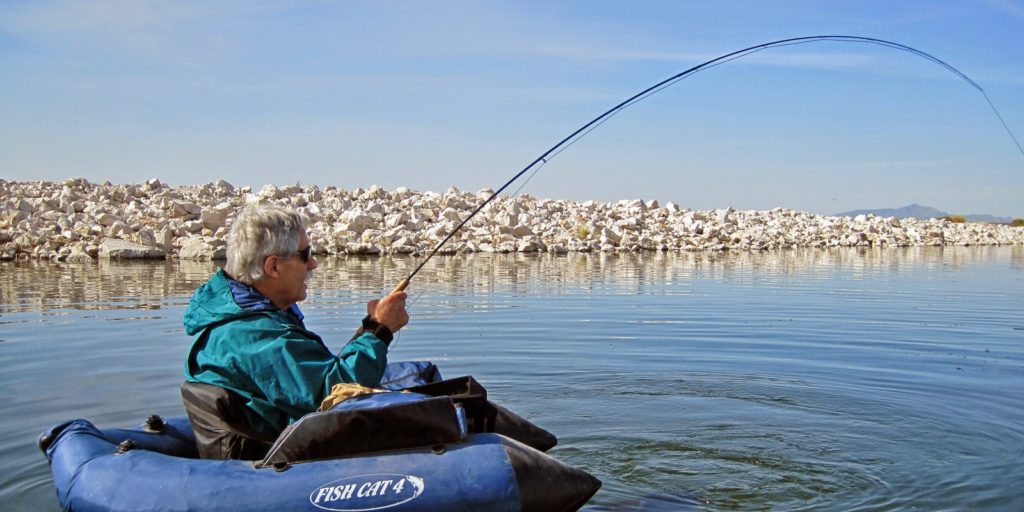 Wednesday was not as cooperative, but I failed to offer Bruce the Escape until he had already been beached on the dam. My son Doug joined us on his day off, and when we launched I had the Escape and Bruce and Doug were on the Fish Cats. Doug is young and strong, so he propelled all over the place without any sign of distress. We had just two landing nets and one camera between us. When Doug went off to the southwestern side of the reservoir I found myself rowing back and forth between Bruce and Doug to be sure we got memorable pictures documenting our success, and to use my 31-inch landing net (with a 18-inch hoop) to assist in landing the larger trout. I justified keeping the Escape for my use to ferry our limited resources back and forth. However, when I realized Bruce had beached his Fish Cat because the finning had consumed his leg strength I recognized my selfishness. I offered to trade tubes with him, but by then it was too late; he didn't have the energy to float anymore.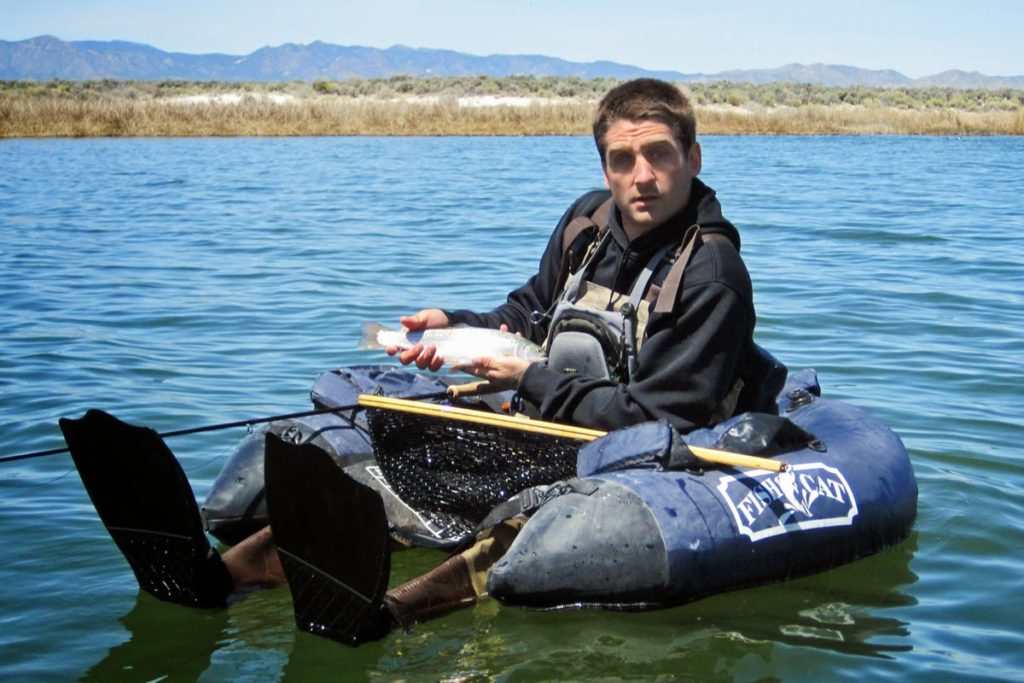 Fortunately, the large trout foraging near the rocky impoundment we experienced on Monday had returned by mid-afternoon allowing Bruce to land several on nymphs along the submerged rocks and boulders. His success lessened my guilt, but I still felt that had I been less selfish, had I loved Bruce as I loved myself, I would have offered him the Escape even before the strong winds arrived. It made me wonder if I agápe'd Bruce as God asks of me, or if I merely philia'd or storge'd him. I know Bruce did not have any expectations and would likely say I did everything I could to make his visit awesome, but I still know better.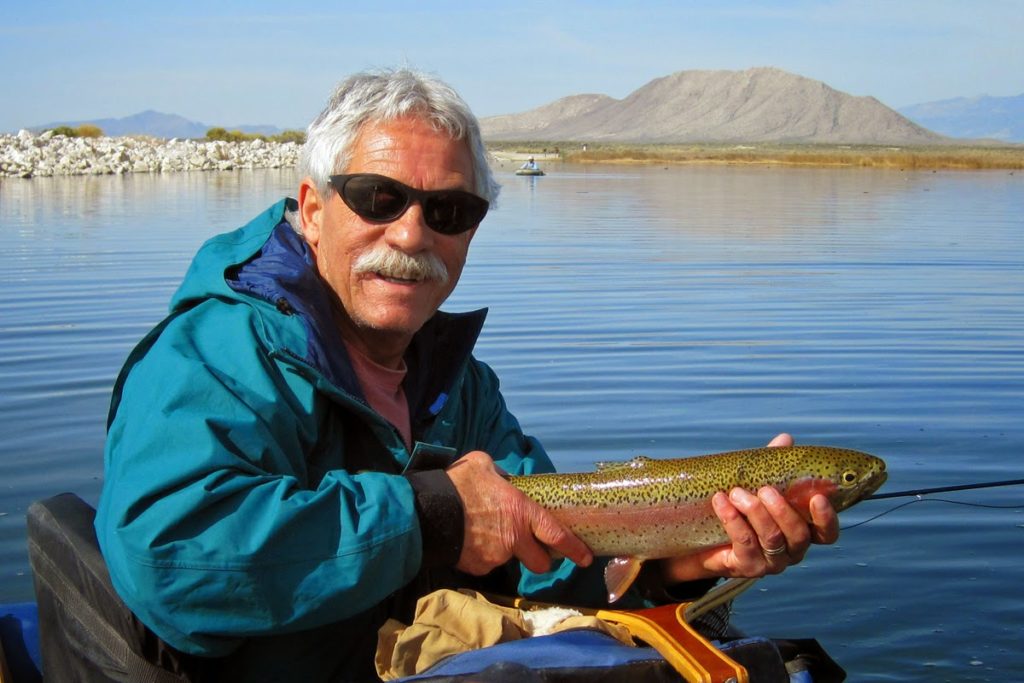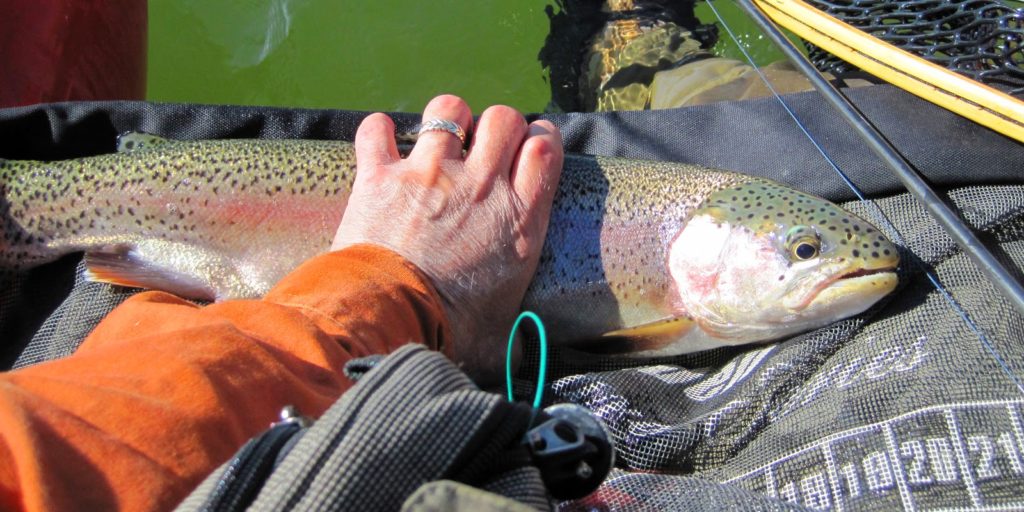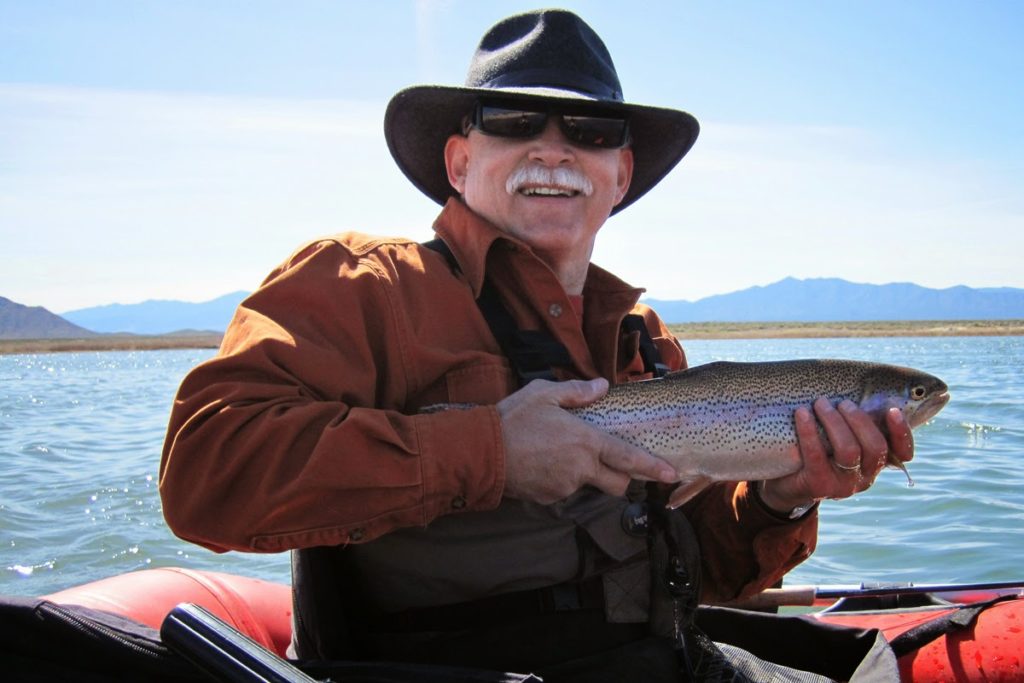 Regarding the fishing details, it was amazingly simple most of the time. The trick was finding where the trout were. Monday was warmer and the winds calmer, and we found all we could handle in the southeast corner of the reservoir. Fly selection did not seem to matter much. Not counting the numerous long-distance-releases (LDRs), in four hours I landed six, half of which were between seventeen to nineteen inches, whereas all five of Bruce's were between seventeen to nineteen inches.
When Doug joined us on Wednesday the fishing got even better, although it took a while to heat up. We all caught good fish, but as Pastor Maclean said to his sons in Robert Redford's movie, "…it's just that The Lord had particularly blessed me." Of the eleven trout I landed, the top four were 22, 21, 20, and 19 inches. All of Bruce's were carbon copies from Monday. Doug hooked into a rather large rainbow that he played for about ten minutes. After hearing a level of stress in Doug's voice as he shouted out from afar, "This one is huge!", I rowed as fast as I could to get to him. Witnessing the trout near the surface I easily had it at 20 inches. I attempted to scoop it into the landing net several times, but it was not ready. Growing anxious, Doug tried to muscle it towards me whereupon the tippet blood knot gave out and we lost the trout without a picture. I know Doug and I will always have our memory of that great fish and our failed attempt to land it despite the absence of photographic evidence (maybe it'll grow to 23 inches as we retell the story to others over the years). Doug, by the way, was the only one of us to land any largemouth bass, all three of which he connected with near the southwest part of the reservoir.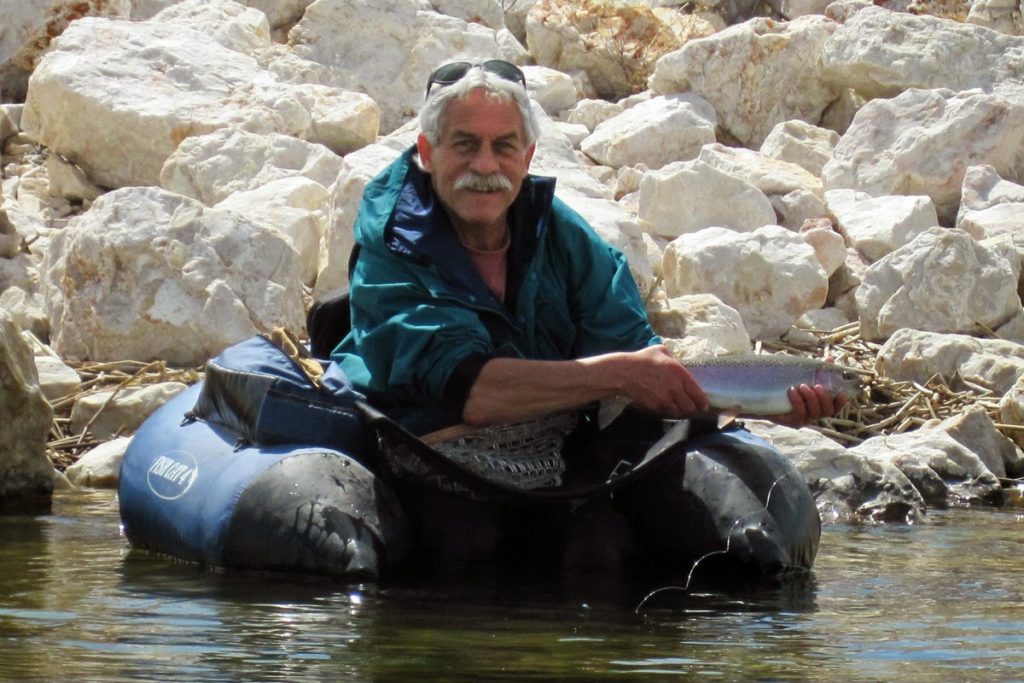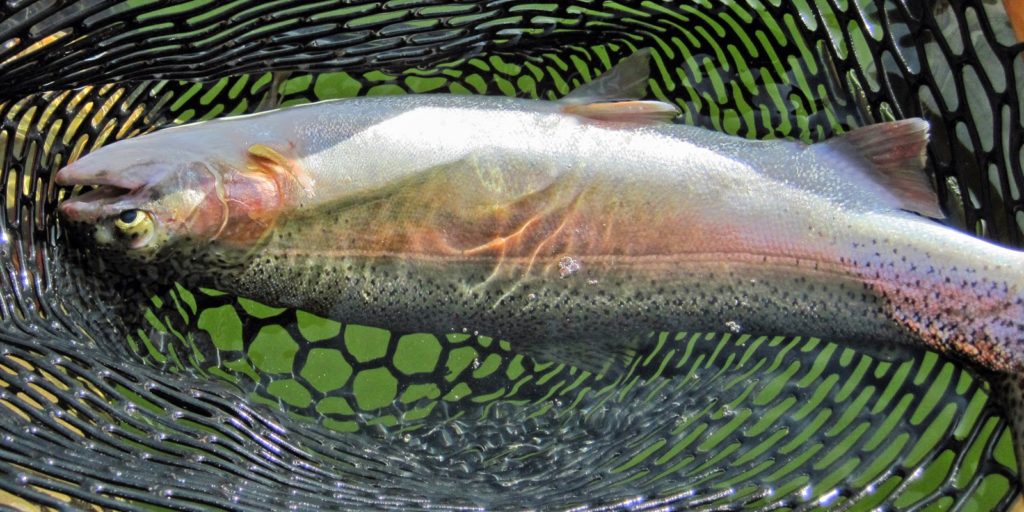 While the fishing was awesome and extremely gratifying, more than we expected or even deserved, it was the time spent together that was most important. Reliving some of our childhood memories, discussing our family and friends, agreeing that The Lord had blessed our lives more than we deserved, that was what the visit was all about. The fishing was just a means to an end, but it was a mighty fine means. And yes, I do believe I love Bruce unconditionally despite our differences.