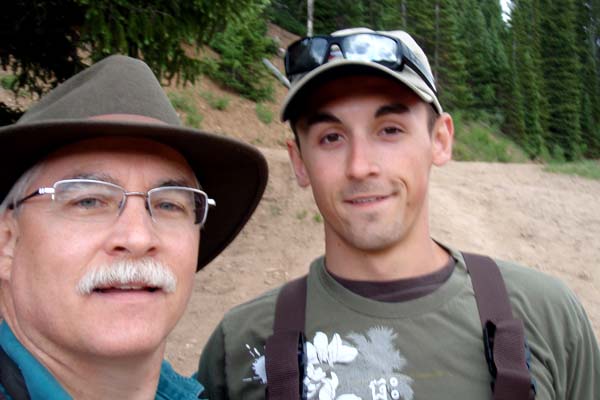 My sons, Evan and Brian, were lined up for an over-night fishing trip to Utah. We had not decided where in Utah, but the Red Creek trip on July 7th was not what I hoped it would be. And although Panguitch was great, it was too technical for a teaching trip for Evan. After giving it some thought I opted to take the boys, Brian and Evan, to Fish Lake National Forest just east of Beaver, Utah. There are numerous lakes such that if one was slow there was another just up the road. And, being a farther drive from Las Vegas there should be less people.
When I got home from work Friday afternoon I began the process of packing the truck for departure. Brian was at work and would not get home until after his weightlifting work out, or around 6:30 pm. That still left plenty of time to drive to Beaver and find lodging for the night and enable an early morning start up the mountain. But alas, Evan decided that he did not want to go on the trip. I mildly probed him to see if there was an uncertainty, fear, or other apprehension that could be dissipated or explained to his satisfaction. He simply decided that he just wanted to stay close to home. Although I was disappointed, I thought it presented an opportunity for Denise to have one-on-one time with Evan while I could do the same with Brian.
On the drive that night Brian and I were quite chatty. I'm not sure how we got on the subject of my work years for the Nevada Test Site (NTS) contractors; I guess we were discussing college and work careers. I never really discussed much of those years with him, and he did not know much about the NTS. Through the three-hour drive I babbled on giving Brian a little history lesson that seemed to capture his interest. We decided that I needed to take him to visit the National Atomic Testing Museum near UNLV's campus.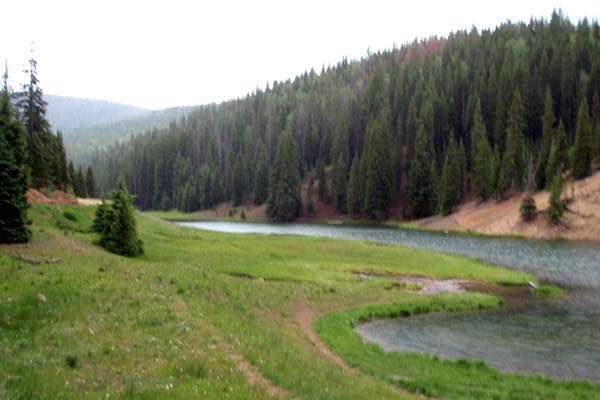 Saturday morning, after a hearty breakfast we gassed up the trout truck, inflated our tubes, and headed up Beaver Canyon with Anderson Reservoir as our destination. I first visited Anderson with my brother Neal in the late 1970s when I was just learning to fly fish, and again in August of 2004. I had a blast in 2004, catching twenty trout in about four hours; one was about fifteen inches, so I was hoping Brian would have a great time catching lots of small mountain trout. As an added bonus we saw four mule deer along the road as well as several marmots; wildlife always brings a smile on these outdoor adventures.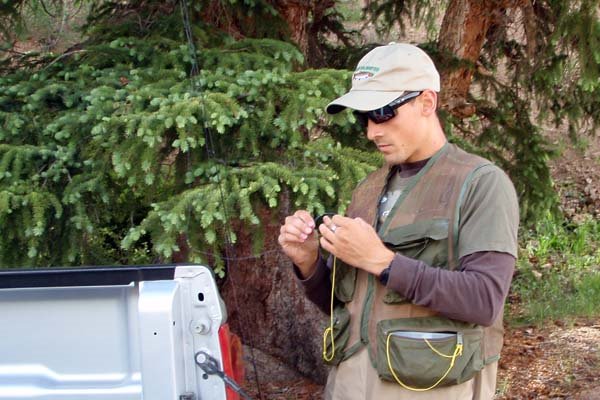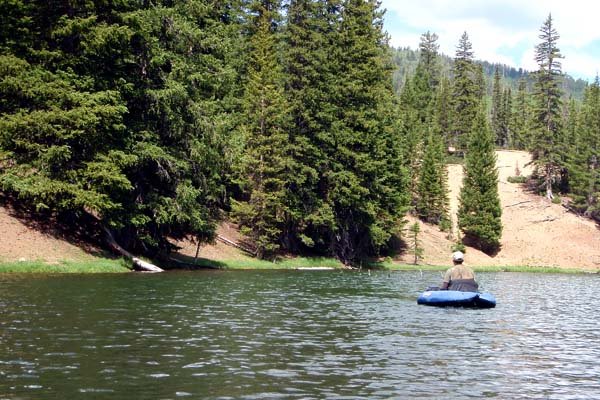 By the time we got to the reservoir there already were about seven to ten anglers fishing. We were the first to launch float tubes, and I was quickly into several fish. Although Brian caught four, he was not satisfied with the experience. He saw me catch about fifteen or sixteen trout (I wasn't counting, but it was a lot like August 2004), and he finally told me he wished he was fly fishing because it looked like it caught more fish (a little competitive streak, yes?). Sometimes it does, but fly fishing is not as simple to learn as a casting or spinning rod. It's more like learning to throw a football; it takes a little practice before you can start to play the game.
As I floated down to the inlet area I noticed there were lots of small but aggressive brookies feeding in the shallows, just like in 2004. I was using my little six foot fly rod, and casting forty-five feet to these hungry trout brought strikes on almost every cast. I summoned Brian over, gave him a few fly-casting lessons and let him try for the brookies. Upon retrieving a twenty-five foot cast on the fifth or sixth attempt he hooked and landed a little brook trout. I was very proud of him, and I promised to teach him more if he had the willingness to learn. Obviously, there will be more teaching trips to look forward to.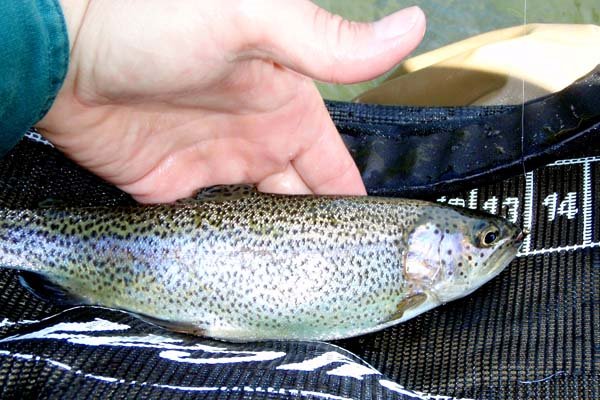 It was about then when the thunder clouds rolled in, and at 9,500 feet in elevation we were all that much closer to lightening strikes. We decided to cut the trip short and head for the safety of the truck. Looking back, even though the trip was too long for a scant three or four hours of fishing, I surely enjoyed being with Brian and was awfully pleased we made the trip together. It's not always the quality of the time that matters in life, but the quantity. I often find myself challenged to share my resources and gifts with my family and others. James reminds us that hoarding our wealth is folly (James 5:3); too often we think of wealth only in terms of the physical or in relation to others who we think have more and we fail to see the great gifts of time and service the Lord has provided us and we horde them to our detriment. With that in mind the trip was a blessing all the way around.