I recently retired from from the bank where I worked as an SEC registered municipal bond advisor. It was a great job that came along at the perfect time, and it allowed me to retire from my stressful municipal Chief Financial Officer position at age 60, about one year after I suffered a heart attack on this very reservoir (see Maiden Voyage of Water Master Grizzly Interrupted by Heart Attack). While these past five years with the bank have been enjoyable and rewarding, when I reached 65 I was psychologically prepared for full retirement (two COVID years of working from home also helped). This adventure to Dacey Reservoir was my first angling trip under full retirement status. It was a satisfying way to acknowledge never having to work for a paycheck again.
I last fished Dacey in October of last year. I was surprised that day produced just black bass, especially since it was mid-fall. Equally surprising on today's visit was the four black bass I caught on this last day of March. Normally the bass are more active in the warmer months of the year. The difference between last October and this March was today also produced nine rainbow trout. Forty-fish days are a rarity to be cherished, but a thirteen fish day (in 4 1/2 hours) is a really nice day in anyone's angling journal.
None of today's bass exceeded twelve inches (and only one even reached that measurement). Most of the rainbows were under twelve inches as well, but three were about twelve or thirteen inches, and one trout was over fourteen inches (36 centimeters per my Savage Gear stripping apron) and quite memorable for its acrobatic leaping for a good 60 seconds or more. Historically, I have found these Dacey trout to be awesome leapers once they reach or exceed fifteen inches or so.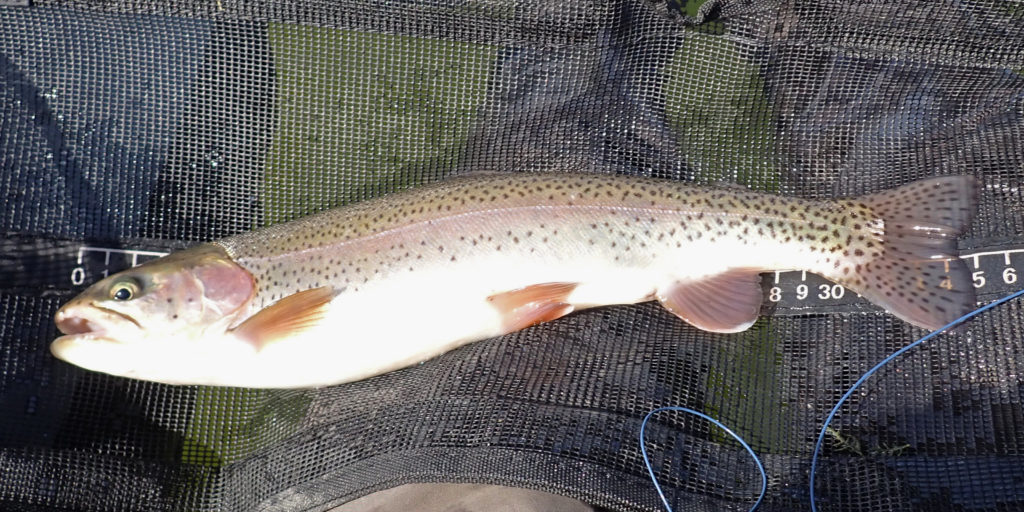 I was pleased to run into Nevada Department of Wildlife fisheries biologist Mark Beckstrand before I launched the float tube. This was our third chance encounter, the first one dating back to October 2013, which included both of us landing several trout in excess of 20 inches. That was an unforgettable day.
Mark asked me how I thought Dacey had been fishing recently, and I told him it seemed like it was deteriorating. I mentioned that sometimes in the spring and fall (usually the best seasons for the rainbows) I catch many more largemouths than rainbows. And while sixteen inches seemed normal four or five years ago (with a good chance for one or two twenty-inchers), now even a seventeen-inch trout seems hard to come by (like today). The last time I caught a Dacey trout approaching 20 inches was two years ago when I landed twelve bass and just six trout. Mark mentioned he might perform an electro-shock fish survey to see how the trout are holding over. Trout cannot spawn in these reservoirs or their spring sources, so it is stocked trout that survive over two or more winters that grow to 20 inches, helped along by restrictive regulations limiting trout harvest to one fish with artificial lures and motorized watercraft limitations. Maybe Mark will discover the larger trout are present, but they're in places different than before (when I experience patterns of success, I tend to fish those areas more often, and covering all 185 surface acres in a float tube at age 65 is a daunting ask).
I often mention that my fishing trips can be a salve for my spiritual aches and pains, even when I do not consciously know I need it. It is not the specific destination, but the process of escaping the urban city and all its entrapments for the wonders of nature and the peace of spirit that comes with being in God's creation while exercising my favorite pastime of angling with a fly rod. In those hours driving on the two-lane highways, I pray about many things. I pray for forgiveness and strength to fight against my own sinful nature. I pray for emotional and physical healing. I pray for my wife, family, and friends. I pray for our country, and foreign countries, that they can achieve peaceful and prosperous relations. But, in the end, I always come back to, "Lord, your will be done, not mine," which is another way of saying, "Lord, show me your will in my life." I return home refreshed in body, mind, and spirit, but occasionally in need of a period of reentry, sometimes accompanied with a nap.
Recently in church I was remined that Jesus used this same process whenever he needed relief form the pressures of saving a world full of lost souls. In her article titled "7 Reasons to Get Alone With God," Andrea Moore also reminds us that Jesus regularly withdrew from people, activities, and even ministry opportunities to be alone with His Father. Her article is worthy of your read.
Perhaps the most well-known, and clearly the most significant, of Jesus' retreats into nature was His evening of prayer in the Garden of Gethsemane on the Mount of Olives (a mount frequented by Jesus). All four Gospels (Matthew, Mark, Luke, and John) describe this event. Jesus, who was filled with fear and anguish over what He was about to experience as humiliation, torture, and the horrific death of crucifixion, withdrew with His inner circle (apostles Peter, James, and John) to take refuge in Gethsemane and pray to God the Father in preparation for what was to come.
In the smattering of verses below, notice how Jesus, as a man, did not want to go through with this tormented death (Mark 14:36), but He ultimately understood and submitted to the Father's will.  Also note that as part of the Triune God, in Matthew 26:51-54, Jesus tells his disciples (Peter in particular) that He has the power to call on his Father who will provide more than twelve legions of angels, but it was the Father's will that the Scriptures be fulfilled, i.e., that Jesus would be killed on the cross as the atoning sacrifice for humankind, a humankind that demonstrated an inability to follow God's laws, thus the need for Jesus' grace of accepting punishment in our place. It is interesting that Jesus, as a man, had an angel strengthen Him so he could accept and endure the punishment to come. Also enlightening was the incapacity of the disciples to pray with Jesus after He specifically told them to pray that they do not fall into temptation. Had they prayed as Jesus asked, perhaps Peter would not have struck the high priest's servant or denied knowing Jesus three times after His arrest.
Prayer is powerful, but we should know that God's will is always best, and we should resist assuming that our plan is better, which was what Peter, James, and John apparently thought. Finally, why was the death of Jesus so unusual, so significant? Apostle Paul answers that in his first letter to the Corinthians: Jesus bore all the sins in the history of humankind (past, present, and future) even though He led a perfectly sinless life. No person has endured that unimaginable magnitude of punishment from God the Father at their death.
Jesus went out as usual to the Mount of Olives, and his disciples followed him. On reaching the place, he said to them, "Pray that you will not fall into temptation."

Luke 22:39-40 (after the Last Supper, Jesus prays awaiting his arrest)
Watch and pray so that you will not fall into temptation. The spirit is willing, but the flesh is weak."

Mark 14:38 (similar to Luke, Mark adds the obvious human weakness)
"Abba, Father," he said, "everything is possible for you. Take this cup from me. Yet not what I will, but what you will."

Mark 14:36 (verse 33 notes Jesus was deeply distressed and troubled)
An angel from heaven appeared to him and strengthened him. And being in anguish, he prayed more earnestly, and his sweat was like drops of blood falling to the ground.

Luke 22:43
So he left them and went away once more and prayed the third time, saying the same thing. Then he returned to the disciples and said to them, "Are you still sleeping and resting? Look, the hour has come, and the Son of Man is delivered into the hands of sinners. Rise! Let us go! Here comes my betrayer!"

Matthew 26:44-36 (the Jewish high priest Caiaphas had Jesus arrested)
Jesus replied, "Do what you came for, friend." Then the men stepped forward, seized Jesus and arrested him. With that, one of Jesus' companions reached for his sword, drew it out and struck the servant of the high priest, cutting off his ear. "Put your sword back in its place," Jesus said to him, "for all who draw the sword will die by the sword. Do you think I cannot call on my Father, and he will at once put at my disposal more than twelve legions of angels? But how then would the Scriptures be fulfilled that say it must happen in this way?"

Matthew 26:51-54 (the betrayer Judas uses a kiss to identify Jesus)
For what I received I passed on to you as of first importance: that Christ died for our sins according to the Scriptures, that he was buried, that he was raised on the third day according to the Scriptures, and that he appeared to Cephas, and then to the Twelve. After that, he appeared to more than five hundred of the brothers and sisters at the same time, most of whom are still living, though some have fallen asleep. Then he appeared to James, then to all the apostles, and last of all he appeared to me also, as to one abnormally born.

1 Corinthians 15:3-8 (Paul sharing the resurrection news to the church in Greece)
So my friends, as Holy Week approaches, I pray you see how Jesus, God made man, suffered and struggled with the Father's plan, a plan set into motion since the beginning of time (see what Genesis 3:15 means). Despite His fears, Jesus submitted to his Father's will to die on the cross, be buried in a tomb, and then ascend to the Father after showing his resurrected self to hundreds of witnessing disciples over 40 days (Acts 1:3).
We who believe in Jesus look forward to His coming return.
May His will be done!