As a way of saying "Goodbye" to our southern Nevada winter, this morning I took a leisurely drive to the less traveled portion of the Spring Mountains west of the Las Vegas Valley, a trip that also moderated my adjustment to a valley temperature of just under 80 degrees. The Spring Mountains Range is about 60 miles long, and most of it angles off in a northwest direction from Las Vegas. Its most obvious view from the city is that of the prominent red rock bluffs on the west edge of the valley. Of course I took along a fly rod and a few flies just in case I decided to fish the pond at Cold Creek (I doubt you are holding your breath on that one).
And yes, I did indeed submit to the call for casting a fly or two. There were just three or so vehicles parked in separate places where someone might start off hiking or riding on a mountain bike, and I was pleased to see the pond was looking very lonely on this mid-week morning. In a few hours my itch was sufficiently scratched after eleven hookups with rainbow trout, seven of which were brought to hand. Three were fairly chunky for planters and they tugged as strong as any ten-inch trout for twenty seconds or so. My last trout, perhaps more than ten inches long, was the most attractive of the day with somewhat darker colors and peppered spots all around.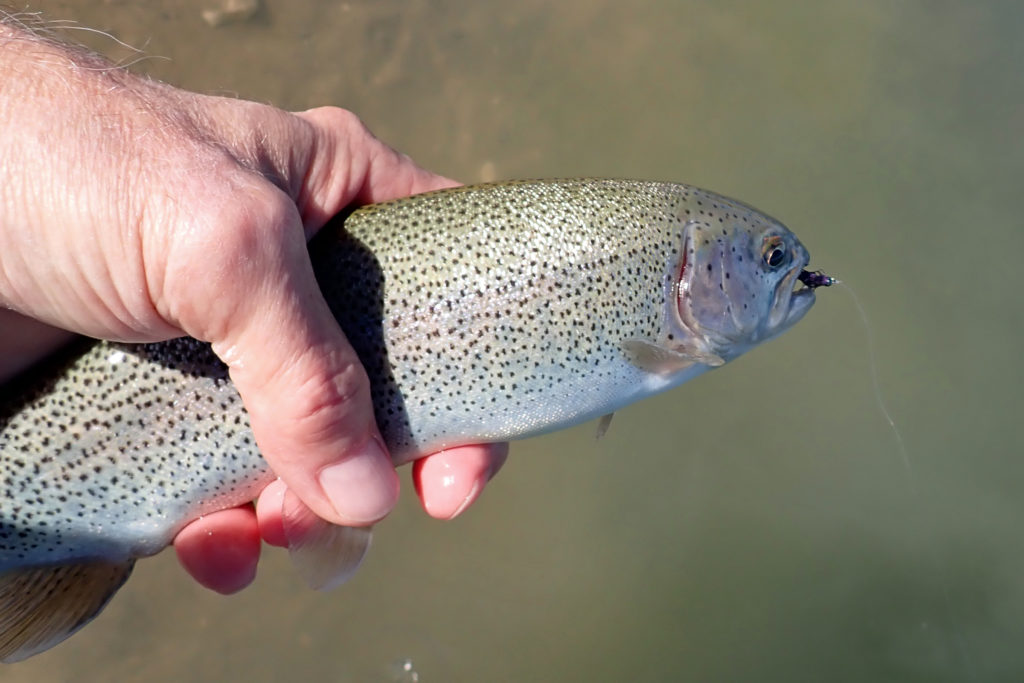 Although I am very familiar with Cold Creek, like all natural areas it often reveals new surprises to the observant visitor. For example, wild horses are a common sight at the pond, apparently somewhat less since recent herd thinning. There is the occasional duck and heron, and a kingfisher I once saw. On one visit four elk crossed the road in front of my truck (see this April 2010 blog post). One day in late November, I stopped on the road during a light snowfall to witness a coyote chase a jackrabbit right in front of my truck (see this November 2013 blog post).
As for today, my surprise was evidence that a good number of elk recently visited the pond for drinks. I also noted large heron tracks in the shoreline water. I have seen heron tracks often at the pond, but the elk tracks around it were a first for me. As warmer temperatures melt the winter ice off ponds with sandy shorelines, it tends to make the dirt surrounding the pond more muddy than usual. Cloven hoof tracks were evident all over, even a few feet out into the pond. At first I considered if they could be mule deer, but after carefully examining them in the drier areas around the pond I concluded they were too large to be deer (elk are three times heavier, plus or minus, than mule deer, thus their larger hooves). Here is some of that evidence: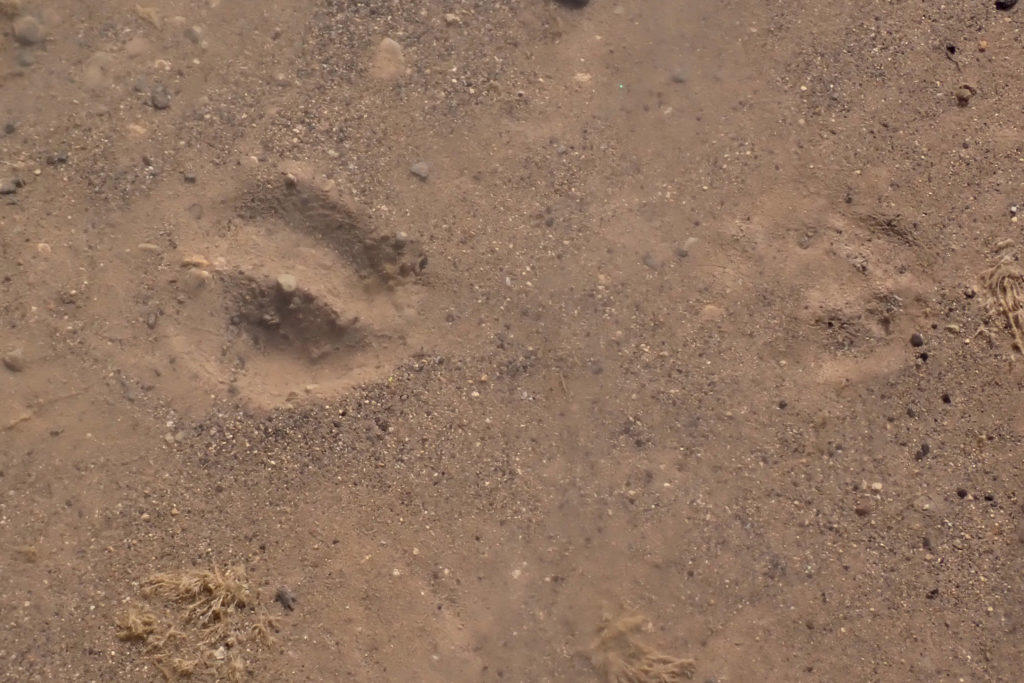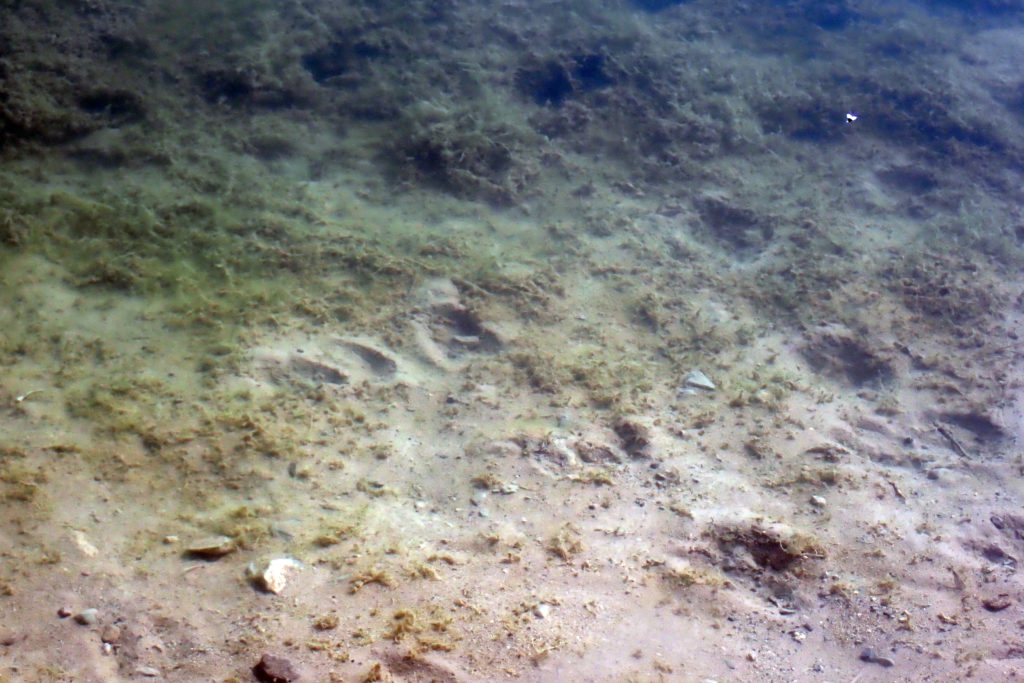 After getting over my fixation with the plethora of elk tracks, I strung up my little rod to see what was going on in the depths of the pond. There was no surface action and the morning was without clouds or wind, so the little trout would likely be nearer the bottom than the surface. I was fishing my 7 1/2 foot, 4-weight rod with a sinking line. All my hookups were around three feet deep. The trout did not seem to care what fly I threw at them (they were stocked fish, most likely from last December, with no holdovers).
Forgive me for never tiring of photos of trout with my fly rod.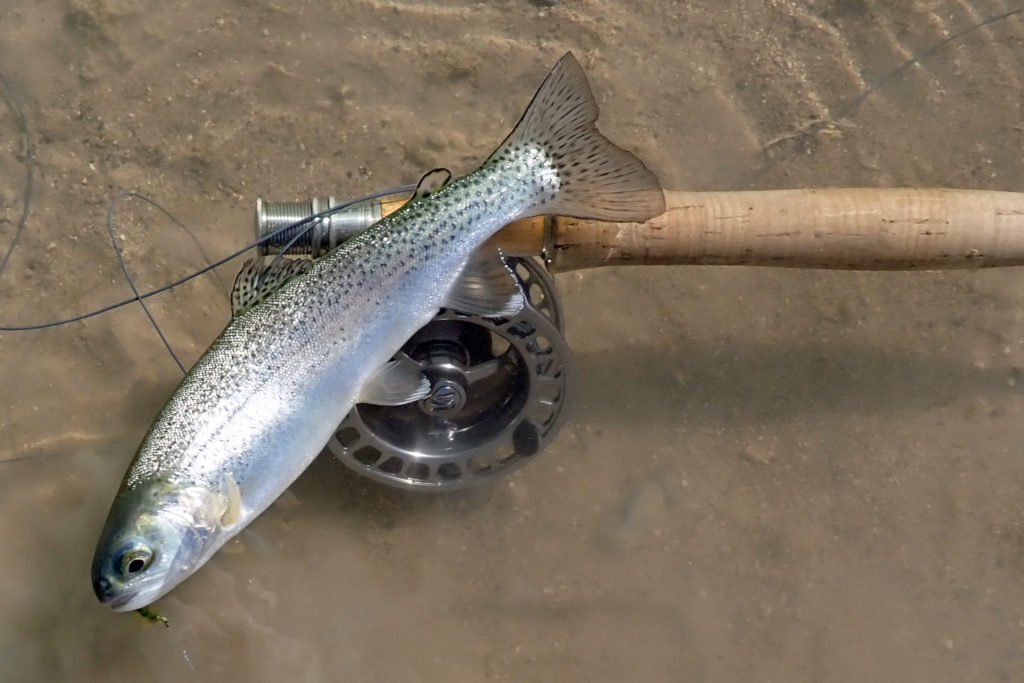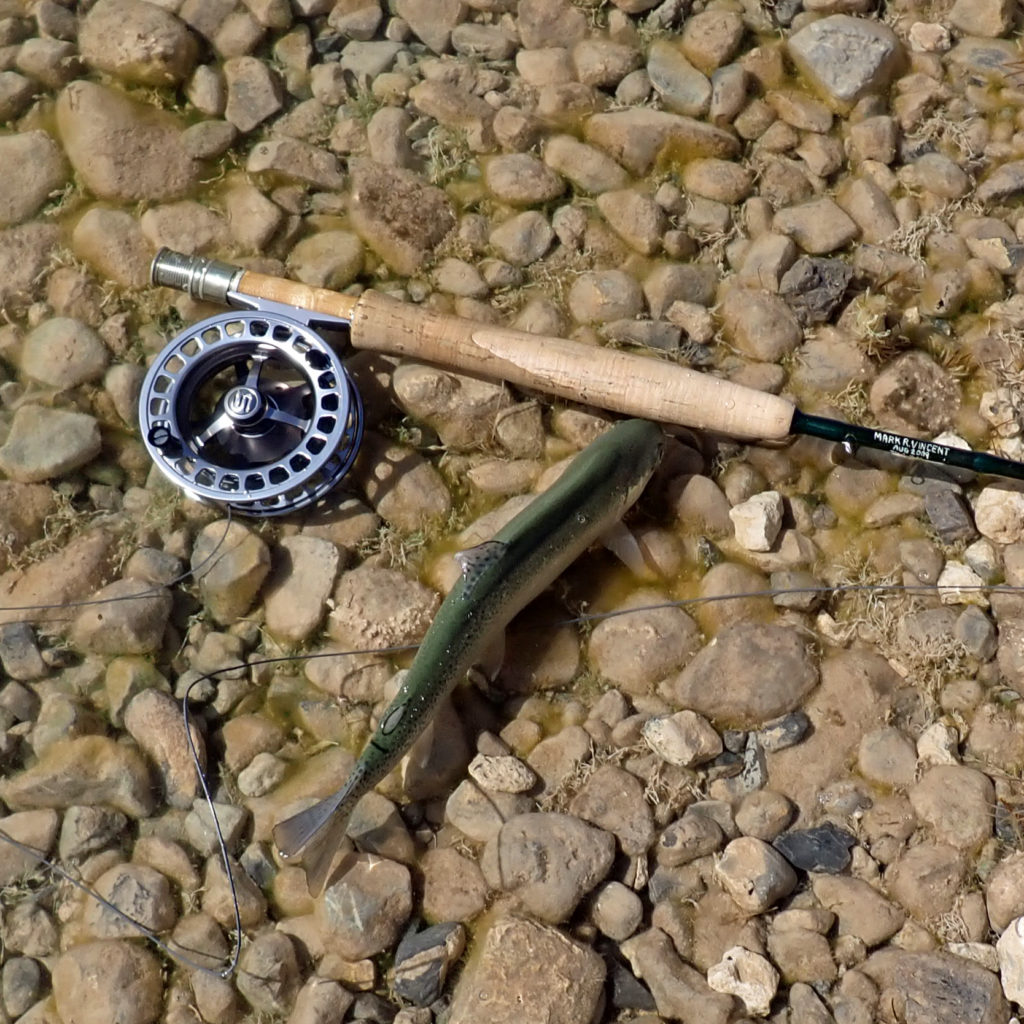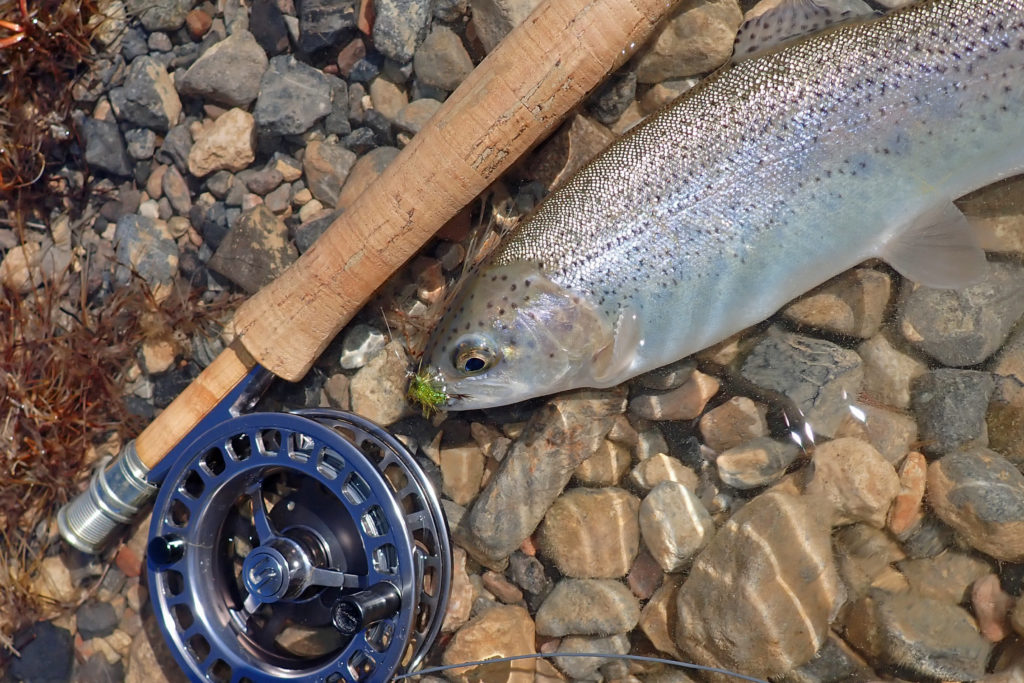 Having such a pond so nearby is a blessing to me. It is easily accessible whenever I get antsy from longer dry spells, i.e., long gaps between fishing caused by scheduling issues of one sort or another (severe weather, obligations associated with a large extended family, fishing guilt, and other such reasonable obstacles). Where I live, a trip to quality water ranges from 200 to 400 miles – one way. Cold Creek is but an 80-mile round trip and four gallons of gas from my home. It is a very cheap price to rid myself of fly angling delirium tremens, or ADTs for short.