Although I prefer to angle for the Salmonidae fish family, there is no denying the Morone Saxatilis (a.k.a., Striped Bass, Rockfish, and Linesider of the family Moronidae) is a far stronger fighter, who when he strikes the fly makes an unforgettable impression followed by a deep and sullen tugging. Even stripers as small as twelve inches confuse my "trout" memory into believing the fish might be 20 inches or longer. It is a remarkable gamefish, and anglers are easily hooked by the "tug drug."
The massive California Delta is home to many species of fish. By massive, I mean it is over 1,150 square miles, significantly bigger than the state of Rhode Island. The major sportfish are bass (stripers, largemouth, and smallmouth), Chinook salmon, sturgeon, catfish, crappie, and even steelhead. Anglers fish it year-round, although each sportfish has its preferred seasons as does the weather.
My fellow pescador and mejor amigo, Bill Bergan, easily convinced me to fish the Delta again this fall. I admit to being excited by the prospect of attacking the Delta stripers for a second time. Last year's experience, although intimidating at first, was a quick study in fly fishing for stripers (see California Delta Stripers and Other Stories). The intimidation arises from the vast expanse of the Delta with its labyrinth of canals, sloughs, and channels hidden behind a daunting maze of levees that an inexperienced boater can easily become lost within; thank goodness for Bill's decades of Delta experience. But it is also intimidating from the sheer physicality of the angling. Thankfully, even a simple trout fisherman can eventually get down the rhythm and timing of casting 7 and 8-weight integrated sinking shooting heads. The persistent casting of large Clouser-like weighted flies on those fly rods followed by an intense stripping of fly line into the stripping basket can make your shoulders and elbows feel like mush by the end of the day. And that is all accomplished while standing on casting platforms at the bow and stern of the boat, constantly using your legs as leveling pistons while the boat bobs and rolls upon the big water. You are so darn exhausted towards the end of a long day fishing you begin to seriously question whether you could fight and land a 10-pound striper if you hooked one.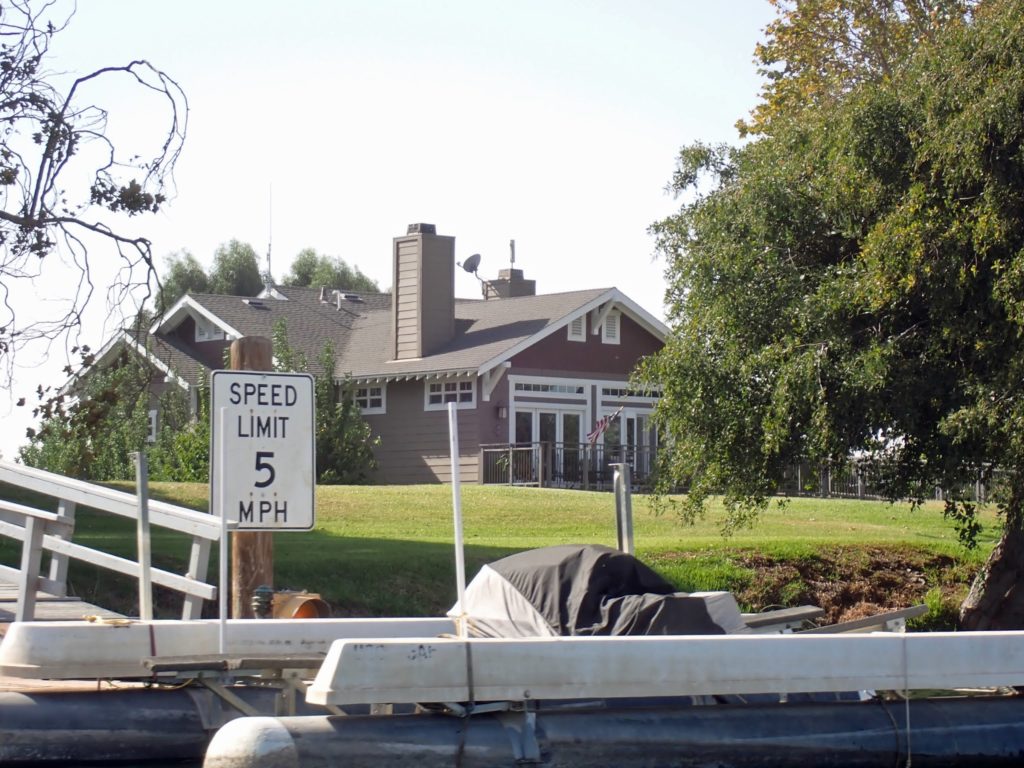 I flew to Sacramento on Tuesday morning, and Bill picked me up at the airport. We stayed in a rustic two-bedroom cabin at the B&W Resort and Marina. B&W's cabins include a three-quarter bathroom and a kitchen with a fridge and range/oven. It overlooks the marina where Bill docked his boat overnight. We were able to fish the Delta for about five hours on Tuesday and spend a good ten hours in the boat on both Wednesday and Thursday. We got in about six hours on Friday before our run to the airport for my flight home.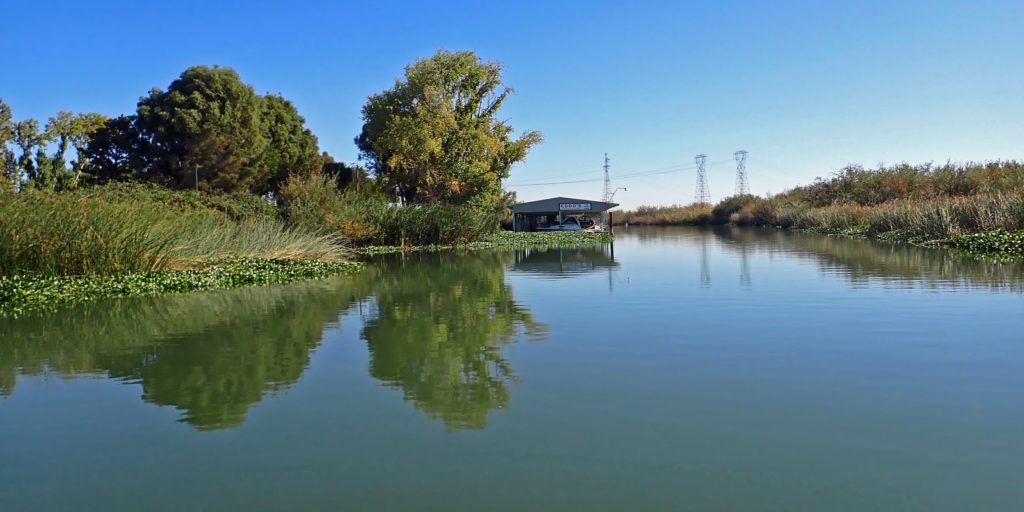 Over those four days, 31 hours on the Delta, we traveled 149 miles in Bill's refreshed boat when we were not fishing. He had its dents and dings removed and new paint/coating applied. A custom casting platform was also installed in the stern with locking built-in storage. He also upgraded the old trolling motor with a remote-controlled Minn Kota Ulterra with GPS capability to not only follow a charted direction, but also act as a virtual anchor by redirecting the boat to GPS coordinates within 5-foot increments, adjusting for wind and tide flow. It was quite amazing to watch it constantly adjust itself, although on occasion it would kick-in when you least expected it which compels you to quickly shift weight. It is important for striper fly fisherman to chase the moving tides, which can be a nightmare on the Delta which has a complex tidal flow due to the multiple rivers, channels, and flooded islands. Thus the need for a high-end Lowrance navigation computer that not only displays fish near the boat, but more importantly helps you navigate to where they might be in the expansive and complicated Delta given the cycle of the tides. Sometimes it is hard for trout anglers to understand the need for this technology, but a few days on the Delta will quickly educate you.
This year's weather was unseasonably warm (highs in the 80s) as was the water temperature (about 70 degrees). This was consistent with our Southern Nevada weather experience for October as well. According to Captain Bergan, the warm water can slow striper feeding, or even discourage them from entering the Delta. The water temps in the lower bays (i.e., Suisun, Grizzley, San Pablo, and San Francisco) and the upper feeder rivers (Sacramento, San Joaquin, and their tributaries) are cooler, while the Delta that connects them is warm in the summer, usually over 68 degrees, perhaps higher. On this trip, the water temperature was persistently at 70 degrees, although by Friday it seemed to be cooling a few degrees. I don't intend this to sound like an excuse for poor fishing, as I think Bill and I combined for about 35 to 40 fish over the four days of fishing, it is just that I don't think we landed anything over 14 inches. As I said, even small stripers can fight hard, but the hope is to land a striper around 10 pounds, hopefully more (i.e., 25 inches or longer). Included in that 35 to 40 fish count was about 15 or so largemouth bass, but they were small as well.
If you are considering fishing the Delta for the first time (or even subsequent times), I strongly suggest the need for an experienced guide. Not everyone has a Bill Bergan to host them, so a good guide like Maury Hatch (see Hatch First Guide Service) is invaluable. He is licensed and credentialed, and he provides everything you need except the fishing license. Another source to do some homework on the Delta (and other waters) is Dan Blanton's Fly Fishing Forum and Bulletin/Message Board. It takes a little effort to search the message board but there is loads of good information on there.
Just like last year we saw a plethora of waterfowl everywhere, as well as a sea lion who made his way into the Delta. A new sighting for me was a pair of otters porpoising and feeding along an edge of tulies. There have been over 2,500 otter sightings in the Delta according to the River Otter Ecology Project (these were not sea otters). Of course, the seals and otters are likely to scare off the fish which is not good for fishermen. Sea lions are said to consume three to five salmon per day when they migrate into their home rivers, so I guess that would translate into 12 to 20 stripers per day. Nonetheless, it was cool to watch them.
While the Delta and its angling resources are certainly a great attraction, spending time with Bill is the crème de la crème, as we French Canadians would say. Friends typically share similar interest and values, and that is true for us. Our professional careers followed similar paths and were in fact our initial point of connection. A deep appreciation of the natural outdoors, especially catch-and-release fishing with a fly rod, is a major shared activity. But those do not overshadow our love of family and friends. We share long-term, loving, and fruitful marriages. We often speak joyfully and lovingly of our children and grandchildren. Our relationships are our most valued possessions.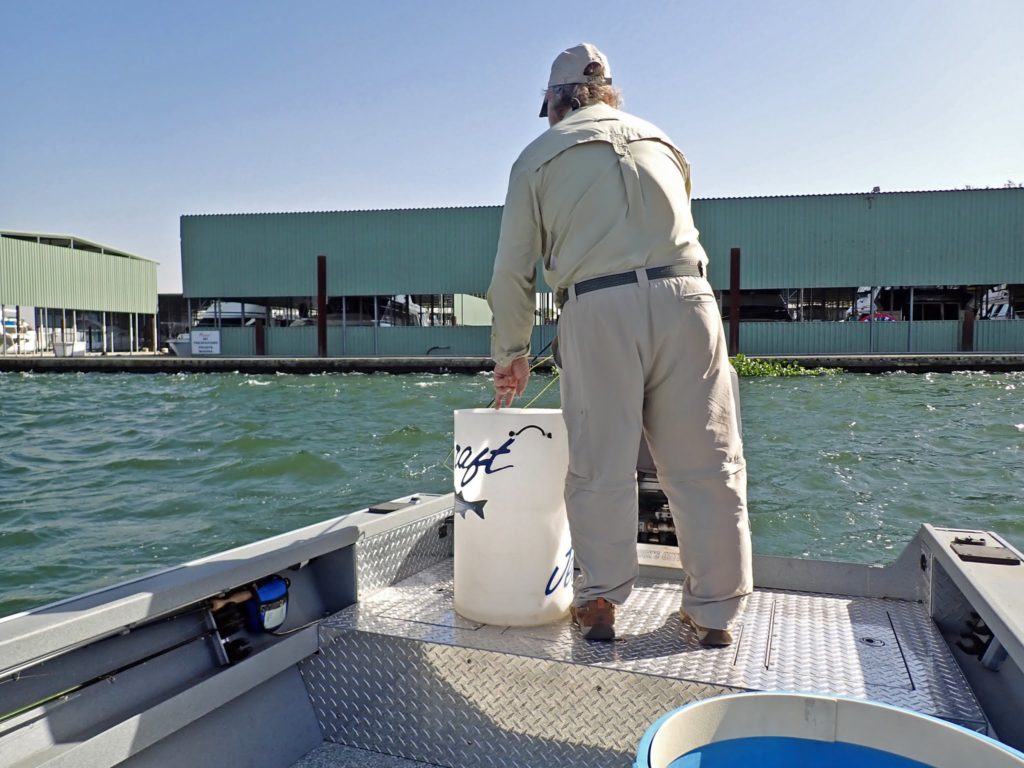 After an exquisite but simple dinner prepared by Bill on Thursday night, including a glass or two of a smooth Chardonnay, we haphazardly entered the world of politics. Our country seems more politically polarized than I can recall from prior election cycles, and we both find it disturbing that family, friends, and neighbors cannot seem to discuss their opposing viewpoints without getting hurt or angry feelings. I was not surprised that Bill and I do not share identical political viewpoints. I would not say we are far apart, but we do have different perspectives. Because of our friendship we were able to agree to disagree.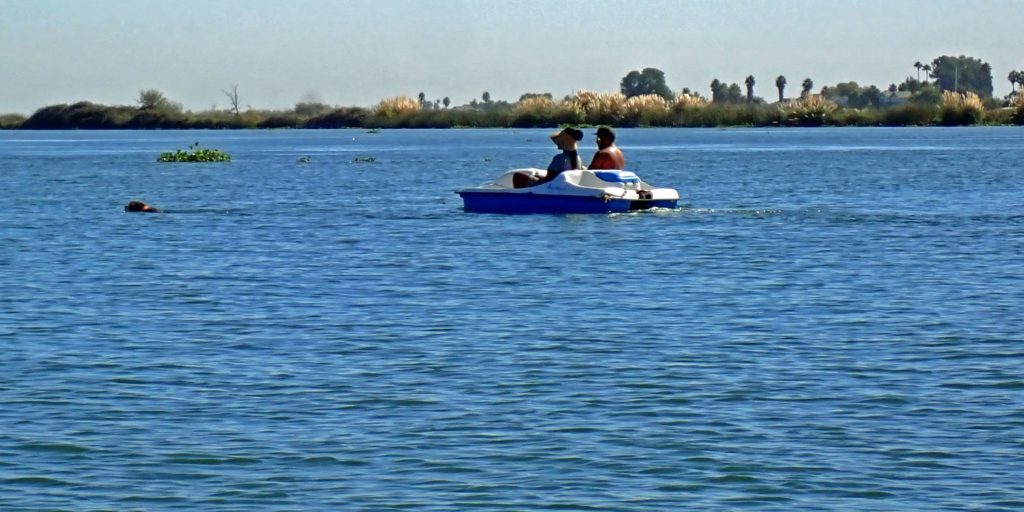 That après-dinner political polarity conversation caused me to think of the Bible's Great Commandment. In Mark 12:28-34, a scribe (e.g., a lawyer) asked Jesus which of the commandments handed to Moses was the greatest of all. Jesus' simple reply was love: "Love the Lord your God with all your heart and with all your soul and with all your mind and with all your strength. The second is this: Love your neighbor as yourself. There is no commandment greater than these." This simple reply distilled the 10 Commandments into "love" (1 through 4 address loving God, whereas 5 through 10 address loving your fellow beings). Unfortunately, these commandments are challenging not only for secular individuals but for Christians as well, which is why the grace of Jesus is so needed to cover our sins of disobedience. It is, after all, difficult to express love for someone with whom you have significant disagreements. Love would have us treat these disagreements with respect, patience, kindness, and honor (1 Corinthians 13:4-7).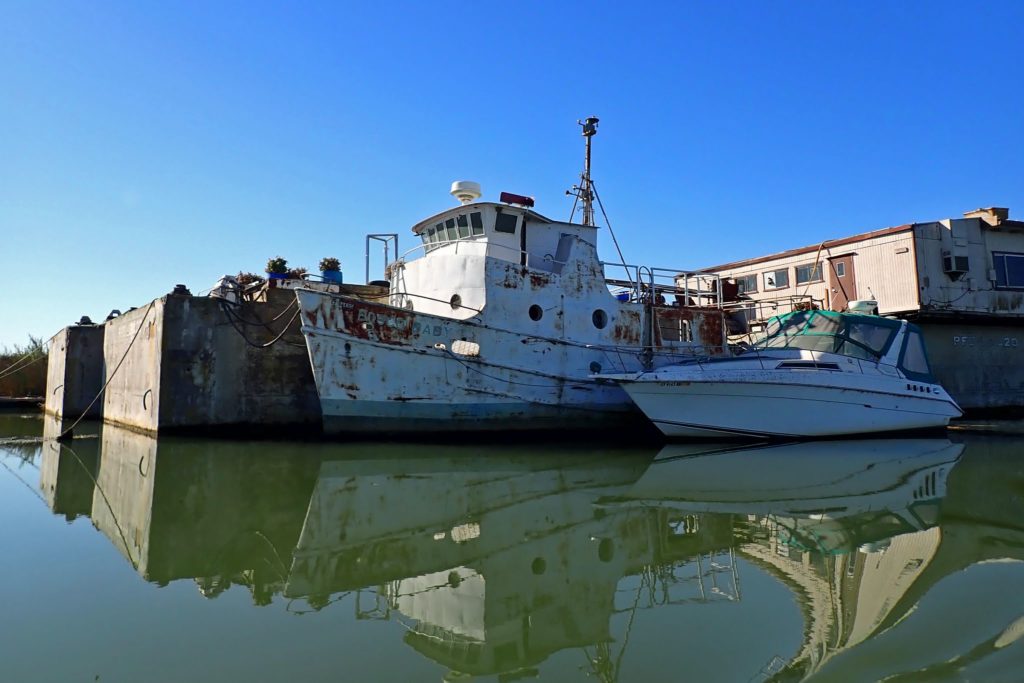 As a closing side note, and in honor of election day on November 3rd, the Bible also says we are to obey our government leaders (Romans 13:1-7). This seems to be a tricky piece of scripture by virtue of the number of varying interpretations. That said, here is one pastoral lesson I found honest and helpful: Lesson 88: The Government and You (Romans 13:1-7). It is a rather long lesson, but its essential message is that your relationship with Jesus provides the basis for proper submission toward the government. Some might recall His reply to the Pharisees trying to trap Him regarding paying taxes to Caesar (Matthew 22:15-22), where He asked them whose face was on the Roman coin, and then told them to "…give back to Caesar what is Caesar's, and to God what is God's." A brilliant answer that also gives insight into how we are to respond to government authority.
I can honestly say that another wonderful aspect of this angling adventure was that I did not read or watch any political news or pundits for four full days… what a relief that was.