Beaver Dam Creek
Those of you who have been reading this blog for a while know Beaver Dam Creek is where I learned to fly fish a trout stream. I started angling Beaver Dam State Park's namesake creek in 1977, and I continued through the 1980s and 1990s. Schroeder Reservoir created an interesting tailwater fishery (although by virtue of a spillway as opposed to a tunnel outlet at the bottom of the reservoir) that created wild trout habitat that was accessible only by foot or four-wheel drive. Most anglers fished the reservoir, but exploration of the creek below proved fruitful in many ways. And yes, an occasional larger trout found its way over the dam into the spillway pool where it set up shop. My last visit before the dam was breached and removed was in August 2002, and you can read about those early experiences in that blog post.
My next visit was in September 2010, five years after the dam was removed, which I mournfully describe in that blog post. Whether true or not, I like to think of myself as an optimist, so almost ten years to the day I decided to give the creek one more chance before my aging body prevents me.
The most recent Google Earth imagery (October 2013) displays numerous beaver dams on the creek; I counted seven in the creek section I fished today. Although it has been seven years since those satellite images were taken, I was still surprised that I did not run across any dam remnants on this trip. For a change in approach, mostly due to the reservoir dam removal, I fished upstream from the trailhead in the parking and day use area. With a three to four-hour effort I caught 12 trout. Most were under eight inches, but four were at least that length. I never spooked anything large, but one seemed to be nine to ten inches; it slapped at my fly after the leader spooked it.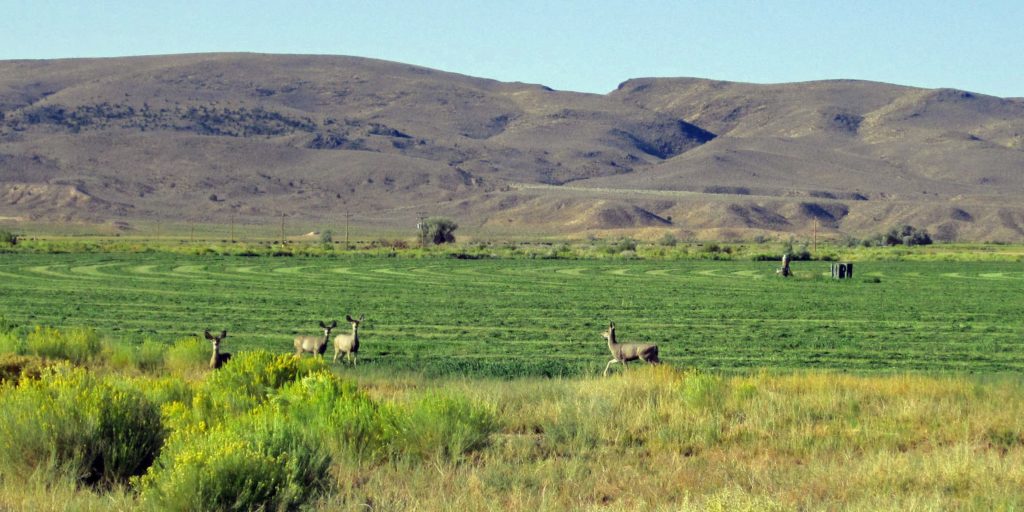 So, I recant my blog of 2010. Anyone taking an interest in fly fishing would do well to learn the craft on the waters of Beaver Dam Creek. The intimacy of the water can be a quick teacher, with more immediate results. Lessons learned here are readily transferred to larger streams and rivers.
For those interested in detail, I was casting my eight-foot, five-weight rod which I underweighted with a four-weight floating line. The creek is ankle deep for the most part, but there are occasional pools and glides that larger trout occupy (there were many fingerlings present, but usually relegated to the thinner water). One or two were caught on a little scud pattern, but the others were caught on a size 16 elk hair caddis dry fly. I rarely fish reservoirs with dry flies anymore, so it was a special treat to angle that way today.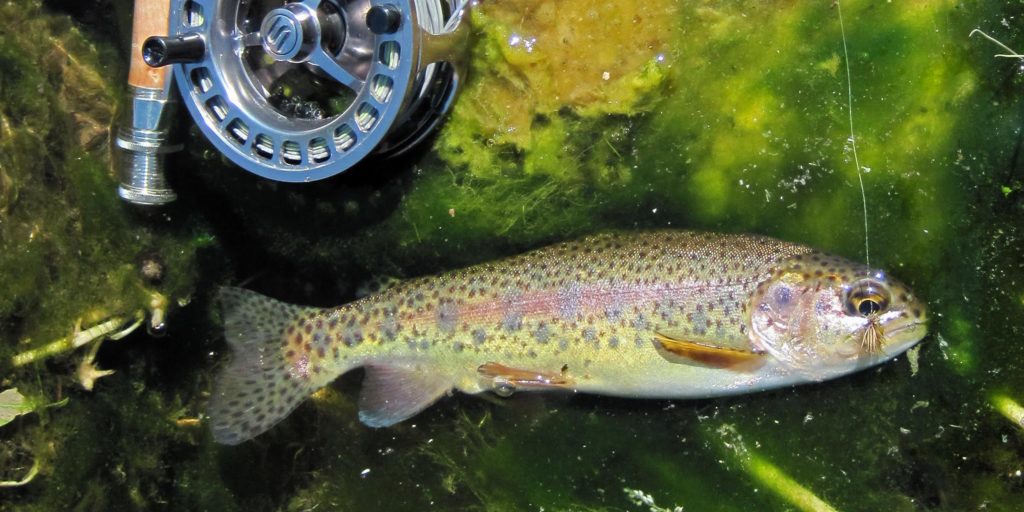 Nature Leads to God
It is hard for an old man, assuming 64 is old, to avoid longing for the adventures of his youth. I was a virile young man who sought after all kinds of unique ways to immerse myself in the natural world. It was not good enough to simply fish, it had to be fly fishing using rods and flies I built myself. Hiking was great, but backpacking trails in mountain ranges approaching 12,000 feet in elevation was better, and better yet was backpacking into wild areas where there was no trail. Ski slopes had to be conquered not with Alpine skis, but with Nordic cross-country skis. Technical climbing added a thrill element (read risk) as trails became vertical thereby placing a premium on muscle strength, endurance, and fear management. Even in the 1970s (well before cell phones, personal computers, and the Internet) city life provided all sorts of amenities and conveniences, but experiencing and understanding nature in its rawest forms made me feel more alive. Dare I say that nature adventure was my "religion" of that time.
Giving up the physically demanding approaches to nature due to aging has been disappointing. I admit that. But my last holdout remains fly fishing. I still have my dad's fly rod and eleven flies tied by him over 60 years ago. Fly fishing connects me to a father I never got to know as heart disease took him from our family at the age of 37. My mother spoke so lovingly of my dad, and my brothers idolized him. What 10 and 13-year-old boys could resist idolizing a dad who epitomized the adventurist outdoorsman? Although I was barely out of my toddler years, my father's love of the outdoors was deeply planted in my older brothers, and they in turn transferred it to me and my younger sister. While they were the agents of transmission, my longing for all things in the natural outdoors is rooted in my father, Raymond Joseph Vincent.
As a grown man I have given up that "religion" for my savior Jesus Christ. That does not mean I have lost or denied my appreciation of His creation, just that I have come to know and love the creator of it all. In a way, I have discovered my true Father in heaven.
Scripture tells us, and science has yet to disprove it, that God created the heavens and the earth, and all that exists on the earth (Genesis 1). He created nature for our use, enjoyment, and stewardship (Genesis 1:28). Scripture states that one purpose of His natural creation is to reveal Himself to those who do not know Him. In a crude way, it would be like learning to praise the maker of an artwork rather than praising the artwork itself.
Colossians 1:16-17 says:
For by Him all things were created, in heaven and on earth, visible and invisible, whether thrones or dominions or rulers or authorities—all things were created through Him and for Him. And He is before all things, and in Him all things hold together.
In Romans 1:19-20 Paul writes:
The wrath of God is being revealed from heaven against all the godlessness and wickedness of people, who suppress the truth by their wickedness, since what may be known about God is plain to them, because God has made it plain to them. For since the creation of the world God's invisible qualities—his eternal power and divine nature—have been clearly seen, being understood from what has been made, so that people are without excuse.
Job was a man God described as blameless and upright, a man who feared God and shunned evil. When Job lost everything but his life at the work of Satan, he countered his accusers by saying (Job 12:7-10):
But ask the animals, and they will teach you, or the birds in the sky, and they will tell you; or speak to the earth, and it will teach you, or let the fish in the sea inform you. Which of all these does not know that the hand of the LORD has done this? In his hand is the life of every creature and the breath of all mankind.

My enjoyment of all things natural now points me to Jesus, not to my prowess over nature as was the case in my youth. I no longer try to conquer nature, but rather revel in its awesome beauty and wonder, of which I have only witnessed an enormously, almost infinitely, small fraction. Not to be morbid, but as I get closer to death on this earth, I find great comfort in knowing that my Lord has saved a place for me in heaven (John 14:2), and that I will live eternally in His presence (John 5:24). I pray that I will see my family and friends on that side of eternity, but I am not in charge of that decision. While I greatly appreciate the wonderous world He created for me to experience, I know there are many things more important than nature itself.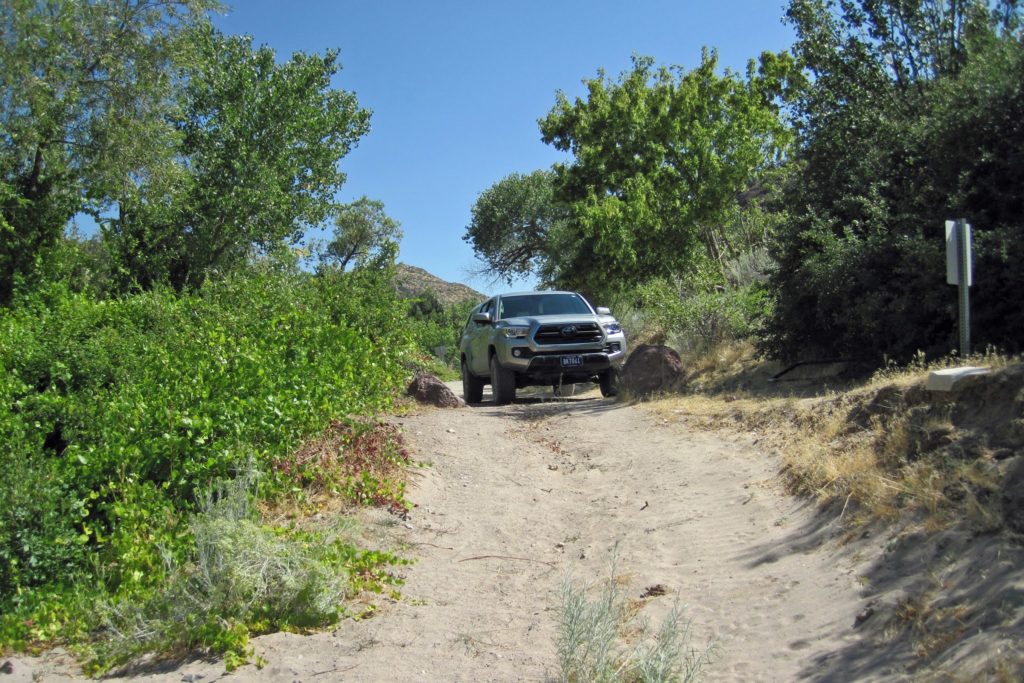 Lacey's Story
I was tuned into a talk radio show on my drive home from Beaver Dam. The host was interviewing singer-songwriter Lacey Sturm. Lacey is 39 today, which makes her about 35 when she did this two-part interview in 2016. Two things grabbed my ear at the start: she was a hard rock artist about the age of my oldest son, and her music genre was reminiscent of my son's bands when he performed in junior high through college. I thought listening to her story might enlighten me a little about the music of his youth (all my adult children would agree I still need enlightenment, and other improvements).
Having six children with my wife of 40-plus years, I have great empathy for husbands and wives who are raising families. I sometimes joke with my own sons who have small children that they will get a new appreciation of what it was like for us to raise a large family. Joking aside, while it can be terribly taxing in the worst of times, there is no joy more profound, no accomplishment more meaningful, than helping your children grow and achieve what has been made available to them. There is a dated family portrait on our foyer table that has Psalm 127:3-5 inscribed on it. There is not likely a greater legacy than a man's children.
Raising a family in today's world appears much more difficult than our parents' generation. For one thing, my generation's youth did not have the technology of today that gives every child access to almost anything in the world… good, bad, ugly, or evil. According to one study 53 percent of children have a smartphone by the age of 11, and 84 percent of teenagers now have their own smartphones. These smartphones are much more powerful than the first personal computer I bought in the mid-1990s. At their best, these devices discourage proper socialization and purposeful endeavors like team sports and outdoor recreation. At their worst is a darker side at play. Most parents I know live in fear that their children will fall prey to pedophiliacs on social media, or at least be exposed to other sources of perversions and evil.
Like my older sons, Lacey was raised before the technology boom from "mobile" phones to "smart" phones, or tiny personal computers as I think of them. Her father abandoned her mother to raise six children. I cannot fathom what raising six kids on your own feels like, but I can empathize with her mom. Thankfully, the Lord gave women such strong mothering instincts. Nonetheless, Lacey grew up distrustful of all men. The murder of her young cousin by the hands of his stepfather enraged her. While her mother did what she could, Lacey eventually felt her despair and worthlessness rage into a belief that suicide would be a noble act. It would be like giving a world so full of pain and isolation the "middle finger." I will leave you to decide to listen to her story in her own words, but I caution that they will strike a painful chord in every parent's heart. Here are the links to Part 1 and Part 2 of her interview, or alternatively here is a reporter's version of Lacey's story.)
No child deserves to grow up like this, but the Lord gave Lacey a voice and place to fight for those who view suicide an option in what seems like a godless world. I learned the Center for Disease Control reported suicides by children age 10 to 24 increased 56 percent from 2007 to 2017. I imagine it is even higher given the events of these past eight months. Why would young people be taking their own lives at an increasing rate?
Like me, I believe Lacey discovered her true Father in heaven. I am thankful He has given her a heart to give hope and purpose to our suicidal youth. It is a mission far more important than pursuing His natural creation with a fly rod.