Right as school let out for summer break, Denise and I received our first foster home placement. Although we were licensed since last October, we had only provided a few respite periods for another foster couple we know. This placement was the real deal, a sibling pair: a 21/2 year old girl and a 14 month old boy. Ironically, we know their biological family indirectly, which creates some complications. The little girl has severe emotional disabilities, reactive attachment disorder they label it. Needless to say, this was a long, exhausting summer. I had not been fishing since Cold Springs at Wayne Kirch in early May. I had wanted to go in June before the summer heat reached its apex, but I just couldn't bring myself to leave Denise with these two children, both still in diapers and devoid of any appreciation and respect for boundaries. By the time September arrived I could not contain myself any longer, and so I planned a two-day overnight trip.
I was strongly considering southern Utah, around Hatch to be specific. From there I could fish the Sevier River and Mammoth Creek, even Panguitch Lake. I had not done any serious stream fishing for many years, so I was visualizing casts into the currents for wild trout with great anticipation. Mammoth Creek is known for a naturally reproducing brown trout population. Rekindling my imagination was the memory of the largest trout I had ever caught in a stream, a sixteen inch brown trout from Mammoth on a hares ear nymph I tied myself with fur from a cat called Buffy, the first cat Denise and I ever owned together.
A friend at work, Joe, always asks me if I'm going fishing when the end of the work week arrives. After a three-plus month dry spell I was finally able to say "Yes." He has his own connections to southern Utah, and he was kind enough to call Sportsman's Paradise in St. George, UT to get current fishing reports. They were not good for the lakes and reservoirs, but the creeks seemed to be a good alternative. But, consistent the events of the summer so far, the fish gods were not favoring me because the weather in southern Utah was forecast to be turbulent and wet. The morning I was to leave, I changed my mind and headed for Ely to fish Illipah Reservoir. The storms were supposed to slide to the east of Nevada, so I thought Ely was a better choice than Hatch.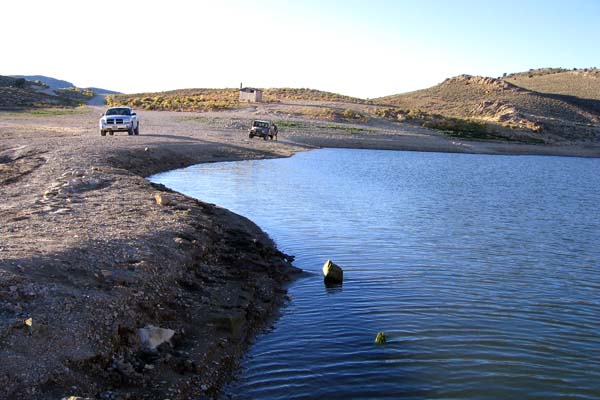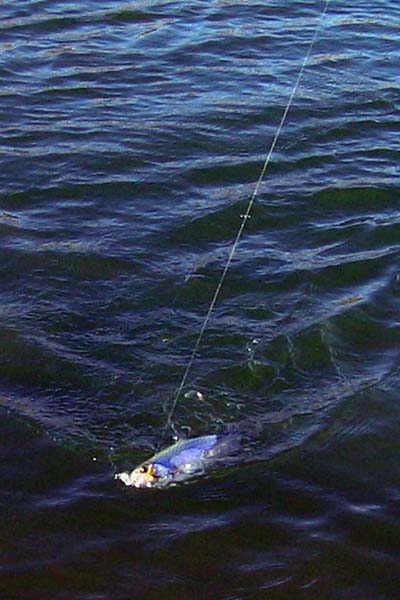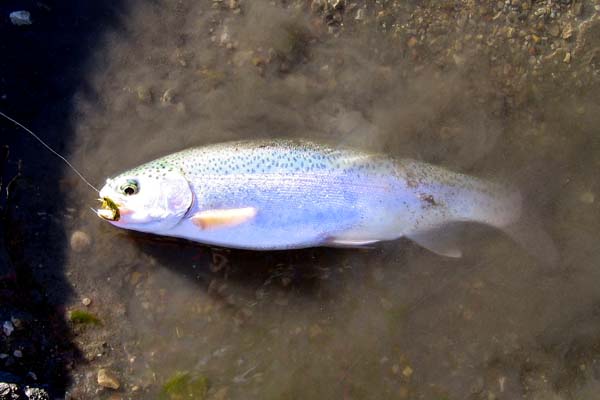 I did not want to fish the lakes in the heat of the day, so I left home late (after helping Denise with feeding and dressing the foster children, not to mention supervising the change-out of a defunct water softener unit) and arrived at Illipah about 3:30 pm. It was very windy at Illipah, although clear and dry. Maneuvering the float tube in the gusting wind was too much like work, and I was only able to catch one twelve inch rainbow. After about two-and-a-half hours I pulled myself from the water and drove over to the old dam site. From there I walked out on the dam and was able to cast far with the wind, allowing my fast sinking line to get deep. I landed three more rainbows of similar size.
While fishing from shore movement in the shallow water caught my attention. There were plentiful crayfish scavenging about in the pre-fall weather. Much to my amusement, I landed about five or so of these fresh water crayfish. These were the largest I have ever seen; they were the size of small lobsters (five to six inches long). Some were reddish, and some were dark green (that is when they weren't coated in gray mud). I was using a size ten green wooly bugger, which must have resembled a damsel fly nymph. These crayfish would attack my fly and hold on for dear life as I stripped them in. It was strangely amusing, even for me.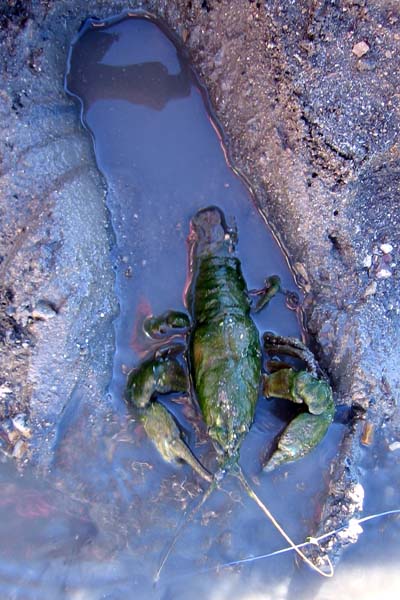 With the sun setting I drove back to Ely and contemplated my next move. Honestly, I was disappointed with the wind playing havoc with my float tubing, and the water was very grayish, partly from rain run-off and partly due to the dying aquatic vegetation. The reservoir had a faint deathly smell to it as the water was experiencing a late-season turn over. I really did not want to go back to Illipah. When I woke on Saturday, I showered and walked over to the Silver State Restaurant for breakfast. The walk across Main Street felt like 45 degrees; it was very brisk. As I was eating breakfast I was watching the pine and poplar trees. There were swaying ever so gently, and the sky was clear and bright. I decided to run up to Cave Lake to try the fishing there. If it was slow I would simply pull out and head back to Vegas.
When I arrived at the lake I pulled into the registration area just above the boat dock. I could see fish working on the surface, which was encouraging. After paying the day fee, I drove over to the inlet side of the lake and inflated the tube and assembled my gear. I chose the inlet because the brown trout would be getting ready for their upstream spawning run, and fishing Cave Lake always makes me think of catching wild brown trout. I pushed out at about 8:00 am, and I was the only one on the lake at that time (another good omen).
The fishing was reasonably fast at Cave Lake. I caught fourteen trout in four hours, about 3.5 per hour. All but one were twelve to thirteen-inch rainbows, but they were sleek, not plump. The water was very clear, the exact opposite of Illipah, and the weeds were still alive and thriving. I often had to cast over and around the weed beds, and that seemed to work just fine. On one particularly long cast a rainbow attacked the nymph on the water surface before it sank… which brought back old dry-fly memories. After a while I noticed a larger fish porpoiseing just beyond a weed bed that was blocking my location from his sight. Casting my nymph over and beyond the weeds by about three feet was rewarded with a strong strike. Because of the casting location, the fish worked into the weeds. I was using a 6x leader that tests at three-and-a-half pounds, so I was able to fight the trout through it. I was excited to see it was a nice brown trout, fourteen inches in fact. That fish made my day, and the trip was salvaged from the Illipah doldrums.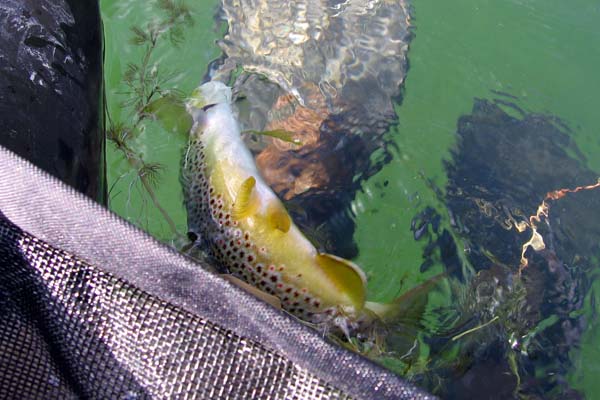 Stopping at noon meant I was able to get on the highway by 1:00 pm. I wanted to get home early Saturday so I could be of some use in breaking Denise from foster children duties.
I admit this trip carried a healthy dose of guilt, similar to what I felt when our boys were of toddler age. From the early 1980s through the mid 1990s I curtailed a lot of my fishing activities because I was not fond of leaving Denise behind to manage the boys by herself. It wasn't that she couldn't do it, it was just that it didn't seem fair to ask her to shoulder the whole burden. As the boys got older I began to take more trips, but this summer's foster children had placed a familiar damper on my excursions.
I enjoy being a father, especially playing and goofing around with them, acting like a big kid myself. But I do have a need to be outdoors, and the thing I love to do the most outdoors is angle for trout. And while taking young boys fishing can be fun and rewarding, it does diminish your own quality fishing time. My weakness for fly fishing can get me cranky and useless at times. It might shock those who don't know me well that I am not perfect. Angling has a selfish streak that I've never been able to shake, and to be truthful I don't think I want to shake it.