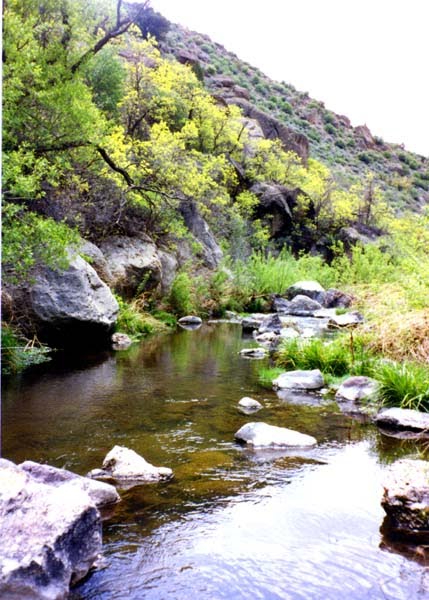 Beaver Dam Creek is where I learned the subtleties of fishing a small stream. Stalking is the name of the game on that modest creek. It was a fine place to become educated in the way of the trout and the tactics necessary to catch them with a fly.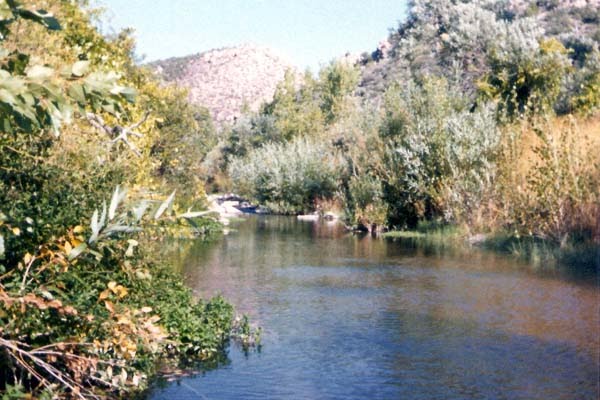 Beaver Dam Creek flows southerly from springs in both southeastern Nevada and southwestern Utah, and the Nevada State Parks Department capitalized on the resulting confluence by creating a recreational lake called Schroeder Reservoir. The reservoir resided in one of the prettiest of Nevada state parks, Beaver Dam State Park. For decades the Nevada Department of Wildlife planted Schroeder Reservoir with rainbow trout, and they would spawn upstream in the springtime. Some trout went downstream slipping over the spillway where they developed into a self-reproducing population of small, but wild rainbow trout. The park is quite remote, in the diminutive rolling mountains northeast of Caliente, Nevada. The park is accessed via a thirty mile dirt road that traverses hilly country speckled with pinon and juniper trees; it is not very accommodating to the family car. Unfortunately, time and remoteness deterred the Parks Department from maintaining the earthen dam, which deteriorated to the point that they had to destroy it in 2005 to prevent an accidental breaching which would endanger the downstream ranches. As of 2007, no plans seem to exist regarding its reconstruction. Ultimately, the creek flows south crossing into Utah and then Arizona until it trickles into the Virgin River, between Mesquite, Nevada and St. George, Utah. The Arizona town site near the confluence is actually called Beaver Dam, and it can be seen from Interstate 15.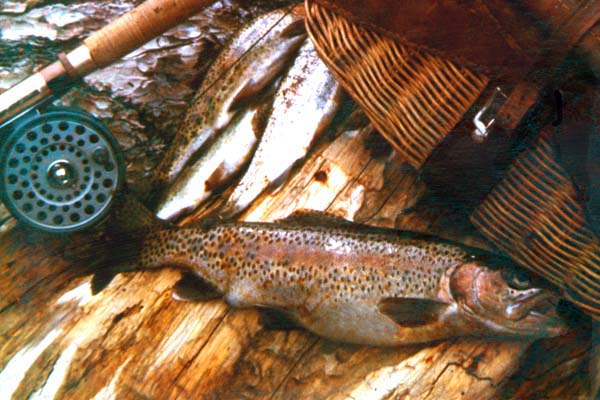 My first visit there was in the spring of 1977 for a backpack trip with Kevin McGoohan. Although I don't recall, most likely we were on Spring Break during my junior year at UNLV. This creek was another one of those trout places I learned about from my brother Neal. In discussions with Neal about his Nevada fishing trips he always left me with the sense that this was a favorite place of his during the 1970s. For many years a picture hanging in his apartment of a thirteen-inch buck rainbow in spawning colors gripped my imagination. He never mentioned fishing upstream, and my love for adventure lured me to suggest to Kevin that we backpack upstream towards the Utah border.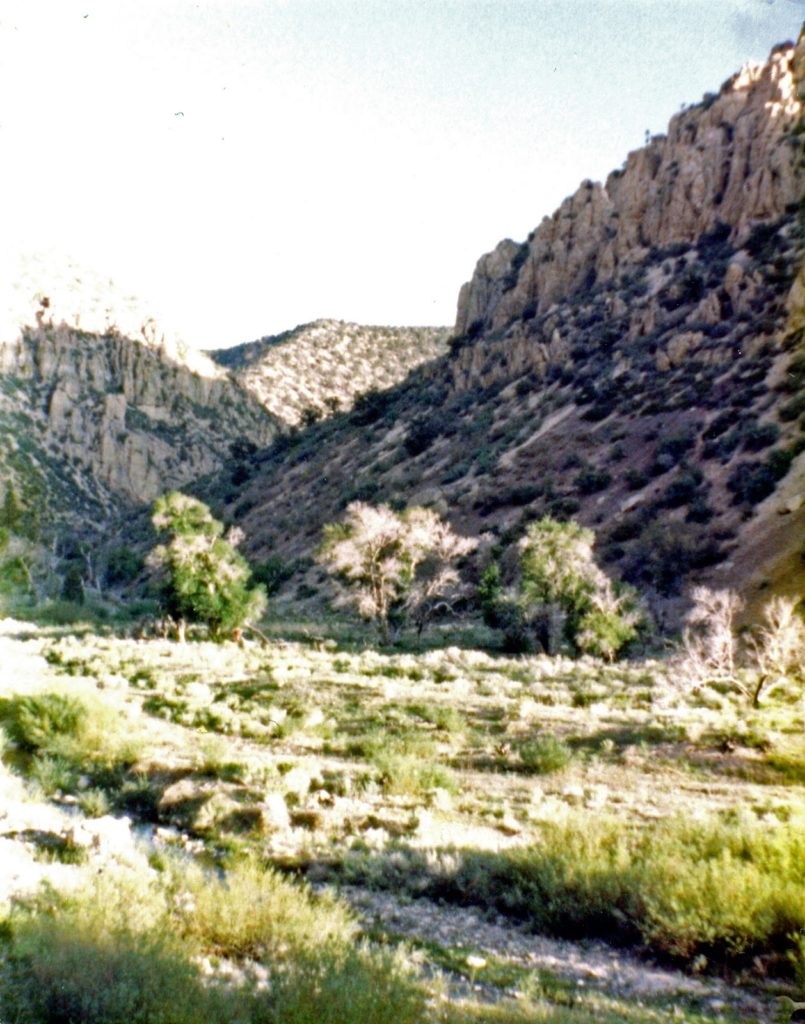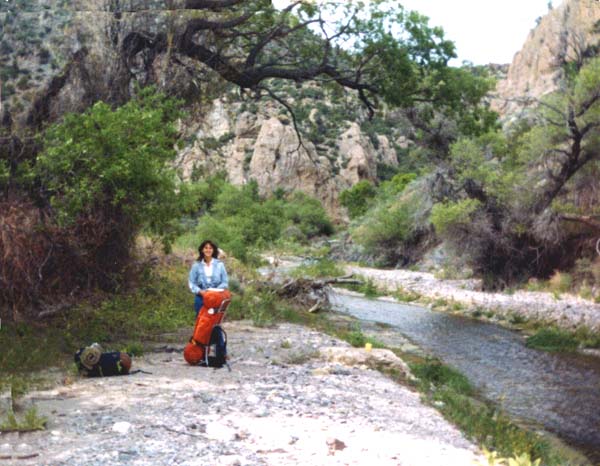 From 1977 to the early 1980s I made several trips every year working on my skills as a fly fisherman. I built a fly rod specifically with this stream in mind; a six-foot, four-weight rod that could make a nine-inch trout feel like twelve inches. Often I made these trips by myself, but sometimes I brought company. Beaver Dam is where I introduced Bill "Bergie" Bergan to the spell of fly fishing. (I am not proud of my youthful ways before accepting God's truth, but one night of impaired judgment caused me to concede to let Bill teach me rock climbing if he would let me teach him fly fishing; some deal, eh.) In the spring of 1981, I took Denise on her first and only backpack trip to the very spot where Kevin and I camped. She was a great sport, never complaining. But we were only married less than two years, and she's never backpacked or camped with me since then. Although not her cup of tea, I am thankful she allows me these indulgences.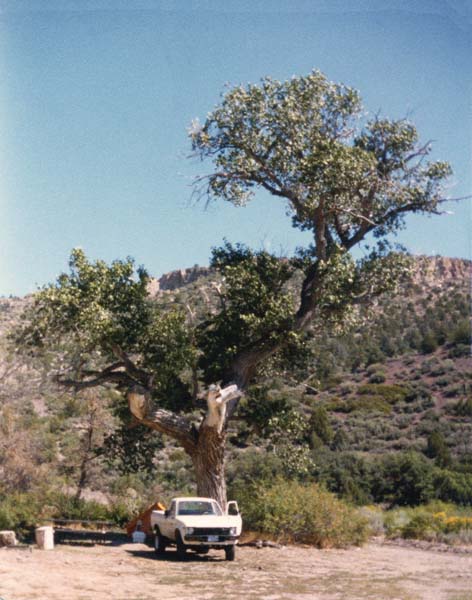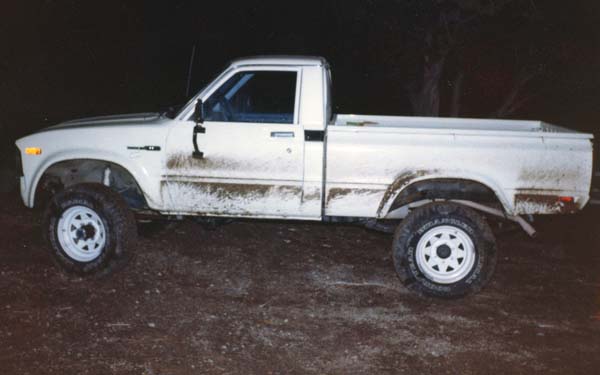 I made three trips in the spring of 1982, including one in March when I almost lost my Toyota 4×4 in the flood water below the spillway. The above picture of the truck, taken around 11:00pm Friday, clearly shows the high-water mark at the height of the 30 x 9.50 R15 tires. I left for Beaver Dam shortly after work and arrived in the darkness of night. The flood waters caused me to change my mind about camping below the reservoir and I turned around. Engaging second gear, low range of four wheel drive is clearly what prevented me from getting stranded in the creek. The little Toyota pushed across and upstream into the water causing it to back up in front of the radiator and then start up the engine hood. Good thing I had already cut-off the air intake pipe that sucked air from the front of the engine compartment, otherwise it would have sucked water and stalled mid-stream. I might have ended up in the Virgin River.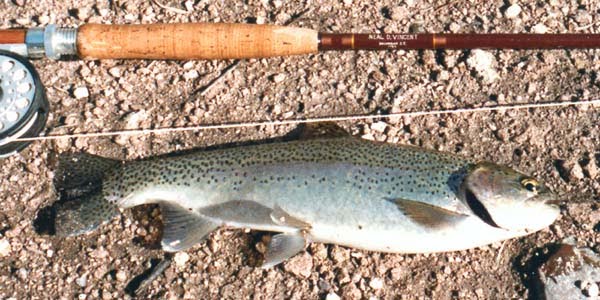 In the fall of 1982 I built Neal a seven and one-half foot, five-weight rod for Christmas, and I just had to field test it in late October before wrapping it. That was my most memorable Beaver Dam trip to date. It was common in those years to catch twenty to thirty trout in a day of fishing, but most were in the eight to ten inch range. They were beautiful, however, with golden bellies and gill plates with the signature crimson rainbow stripes down their sides. They were always heavily spotted, not silvery like you would expect with hatchery-raised trout. However, that October trip produced two real nice trout: a fourteen-inch rainbow in the big pool at the bottom of the spillway, and a twelve-inch beauty in a secret little honey-hole. I landed numerous other trout, but nothing as memorable as those two.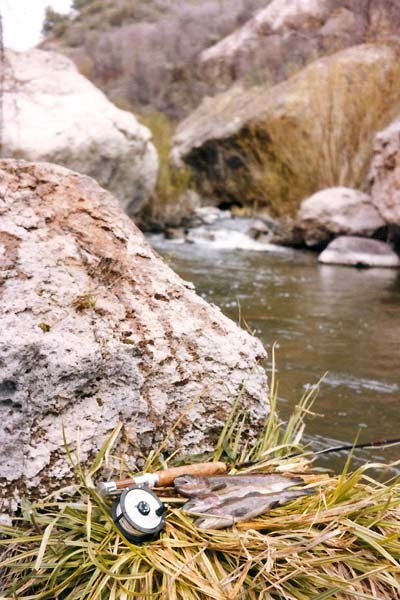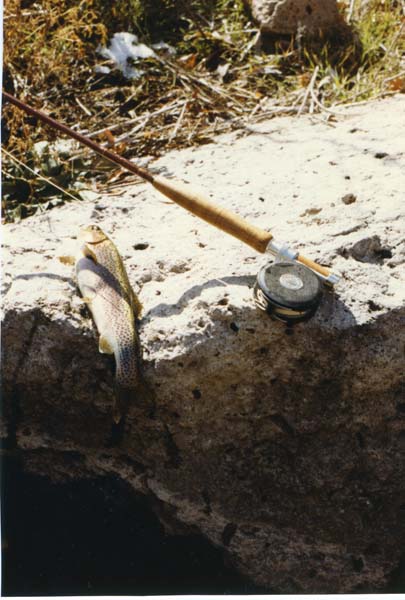 I still enjoy fishing Beaver Dam, but it's not the same for some reason. Maybe it is because I am older and less limber, a critical factor for stealthy, crouching approaches to these skittish, wild trout. In fact, in August 2002 I snapped back my ring finger after slipping off a rock (well, I had to save my little six-foot rod so I held that high in my right hand while bracing for the fall with my left). I dislocated my left-hand ring finger, but was able to snap it back into place. For a while I had to wear my wedding ring on my right hand… it wouldn't fit on my left hand.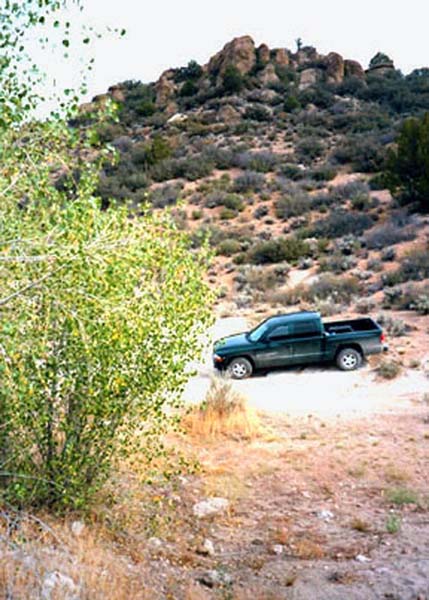 In addition to the wild trout, Beaver Dam's other attraction is its remoteness. In the first fifteen or twenty years I fished it you needed four-wheel dive to access the "wilderness campground" below the spillway where the best fly fishing was to be found. I believe that two-rut jeep track, coupled to the end of the thirty-mile dirt road into the park that gets quite gutted and muddy when it rains, keeps out the rift raft, so to speak. For me, that effort was always worth the seclusion and the reward of those wild little rainbows.