UPDATE #2: Finally had a desire to take two frameless water crafts on an upcoming trip (Water Master Grizzly replaced the Escape as my fishing craft of choice), so I inflated the Escape to test repair effort no. 2… leaks were present in all the same spots. Utterly disappointed.
UPDATE #1: My buddy Bill ran into a NFO representative at a fly fishing show near or in Sacramento. Through Bill's banter with the rep regarding his eyewitness account of the failed repairs, I received a text message directly from Dave Scadden saying that he would repair the Escape. He has done so, although I have yet to inflate it and test it out. I will say the repairs look to be much more robust than the first set, but we'll see how it holds air on one of my upcoming trips. More to come later.
I purchased my Outlaw Escape from North Fork Outdoors (NFO) in the fall of 2010. Although I'd been a contented owner of several Fish Cat tubes, I was looking for a compact tube that provided a footrest to rest my feet out of frigid water as well as a unique oar system that could handle the windy days that often descend upon my favorite reservoirs. NFO is owned and operated by Dave Scadden.
I was aware of Scadden's products, having first borrowed an Escalade X on my 2003 Henderson Springs trip with good friend Bill Bergan (who also owns a couple Scadden products).  After Scadden introduced his NFO Outlaw series I would frequently check the NFO website, watching for a frameless model designed more for Nevada's reservoirs than the whitewater rivers of Idaho, Oregon, and Washington.  So, when I first laid my eyes on his Outlaw Escape I was certain I had found my nirvana.  Or so I thought.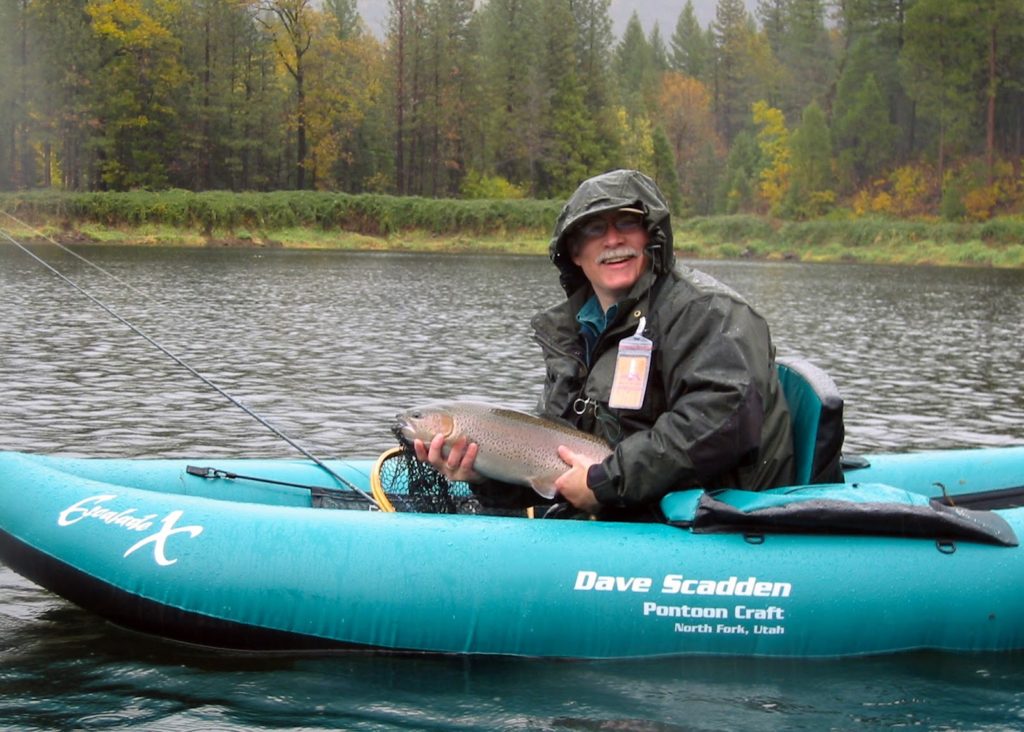 I purchased my Escape in the fall of 2010. Until the spring of 2014 it provided 4 years of yeoman service. Over those years I touted my delight over the Outlaw Escape's performance, and I received numerous inquiries about the watercraft. At first readers just wanted to know how the Escape compared to the Fish Cat, Caddis, and other similar tubes. I always replied that it was superior.
More sophisticated tubers were worried about NFO's use of Bravo valves manufactured by Scoprega out of Italy.  (I did report my disappointment that the Escape did not come with an acceptable valve adapter for filling the tube.)  Several commenters reported concerns about the Bravo valves rather than the more common Halkey Roberts valves.  The writers said they could not find parts for them.  But my research uncovered a marine outfitter, Defender, that supplies Bravo valve replacements and tools.  Consequently, my blog advised not to let the new Bravo valves become a reason to avoid the NFO Outlaw watercrafts. You can read many of these comments on the bottom of my New Watercraft blog posted December 9, 2010.
However, my fervor for the Escape began to wane in May 2014 when I began to notice the glue separation on the rack and pinion (R&P) integrated oar system.  The high winds experienced during my Southwest Fly Fishing photoshoot necessitated additional force on the oaring system, resulting in a partial glue failure. (In my opinion, the design of the R&P integrated systems is flawed in the long haul, and I'm wondering if the design used on NFO's Switch Blade is a better solution.)  I continued to use the Escape through the summer and fall of 2014, relying on finning more than the oaring for obvious reasons.  Unfortunately, by the fall season the glue on the black cones at the tip of the pontoons was starting to separate, too.  Although I had no apparent leaks, that was my obvious concern.  Finning rather than oaring was one thing, but risking a tube leak was quite another.  
When Bill Bergan and I began to plan our Ruby Marsh fishing trip I decided it was time to check on that NFO lifetime warranty.  I emailed Scadden with pictures of the problem and he confirmed the glue was warranted for life:
"Hi Mark. Yes it sounds like it will be covered under warranty so please send it back to the shop with a note attached stating the problem and we will get it taken care of for you. Thanks so much! Dave"
Here are the pictures I emailed Scadden on March 5, 2015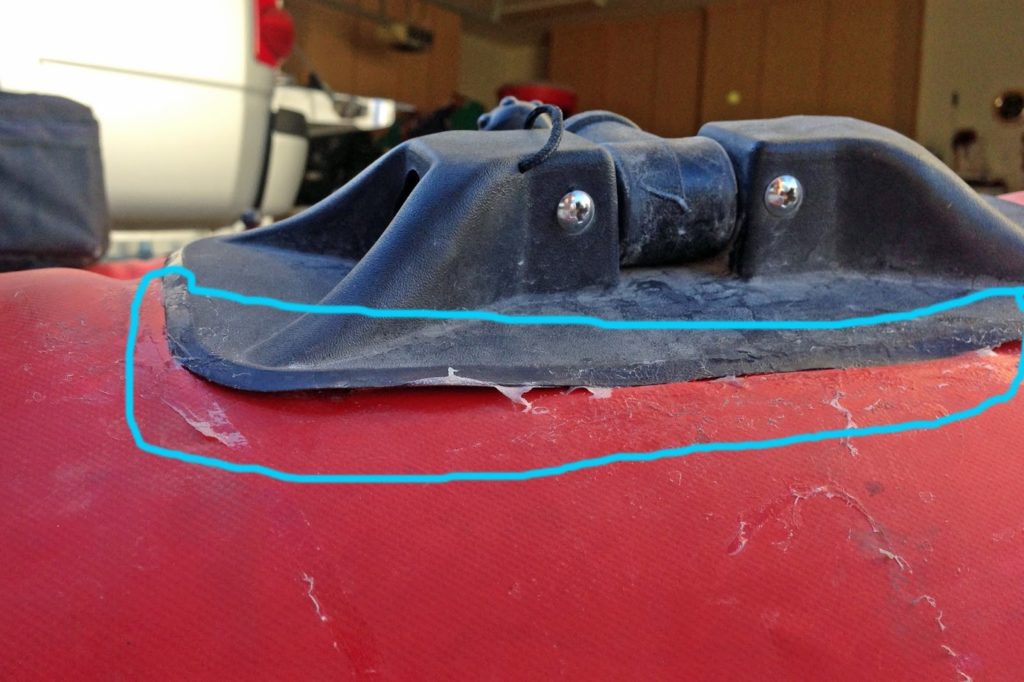 To his credit, Scadden returned the repaired tube within a week before my Ruby Marsh departure. I inflated the tube and inspected the repairs. The cone repair looked okay, but the repair to the R&P integrated oar system was not. Unfortunately, I did not have time to send the Escape back. Also, I did not have a pool in which to test the tube for leaks.
My very first float with the repaired Escape was on the calm water of the Ruby Marshes. Within two hours my escape was looking like a "Chinese Shar-Pei dog" according to my buddy Bill. When we headed for the Wild Horse Reservoir in northeastern Nevada the next day, I was able to check out the tube in the water before launch. It had a small leak in just below the port-side pontoon cone, which was just repaired by Scadden. I used a UV sealer to plug the leak, overlaid it with duct tape, and launched the tube. However, after a few hours I noticed the other tube bladder was losing air as well. By the time I extracted from the reservoir there was noticeably less air pressure. Submerging that cone into the reservoir revealed yet another leak. The following self-explanatory pictures were emailed to Scadden on May 9, 2015: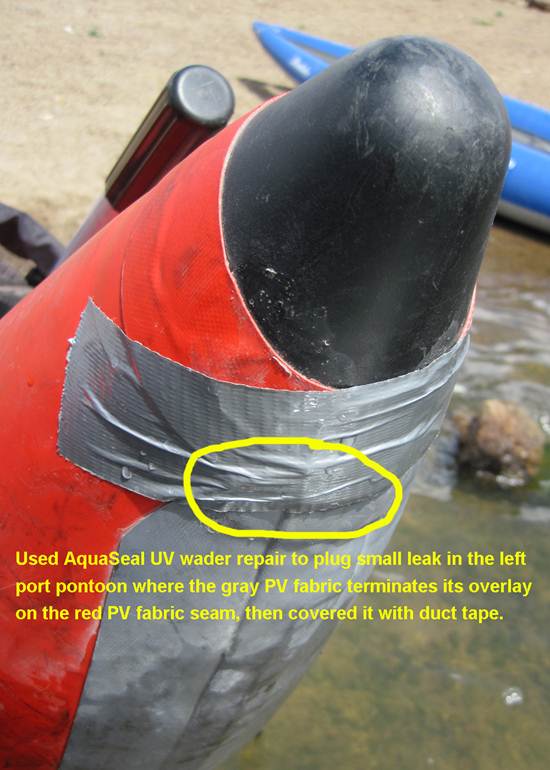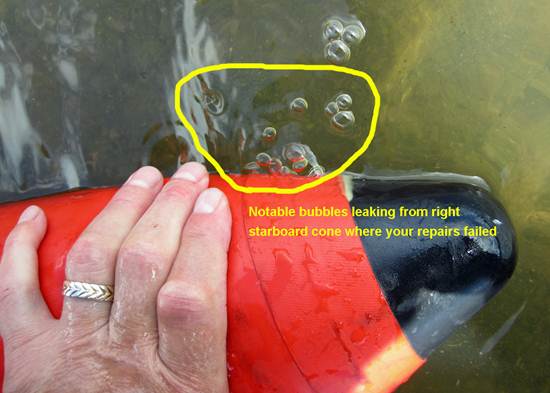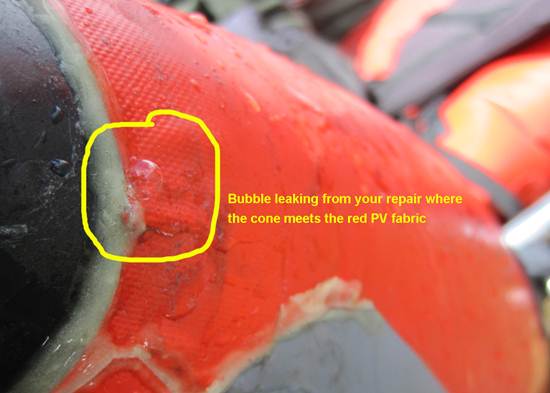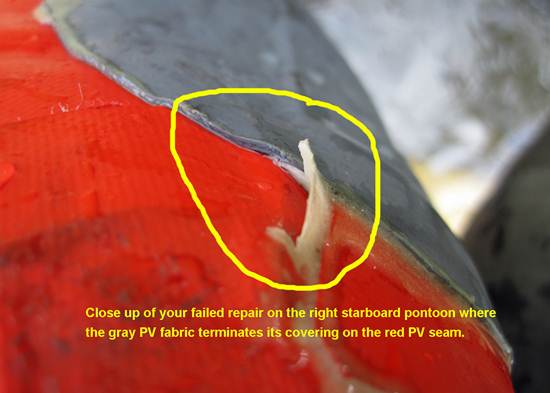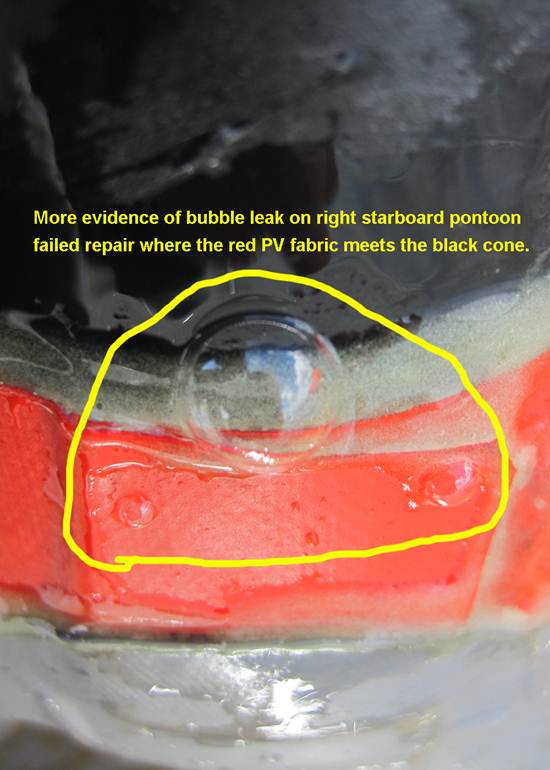 I have not floated the Escape since last April. I have placed no less than three phone calls to Scadden, leaving voice messages each time. I've sent three emails, with detailed pictures of the leaking cones. I've received no callbacks or emails, other than to say, "We have received your email and will respond and soon as possible."
As much as I enjoyed the tube's performance for 4 years, I cannot say I'd recommend the NFO products to anyone given Scadden's non responsiveness to the warranty coverage. NFO currently sells the escape for $999.99 full retail, and it lasted less than five years. My three Fish Cats, purchased well over ten years ago for about $140 each, still hold their air. You be the judge on taking a $1,000 risk that Scadden builds quality products, and more importantly keeps his word as to the warranty.