Since it was getting deeper into fall and the weather had turned decidedly cooler I took a quick run up to the pond at Cold Creek to see if it had been stocked this week.  As most of you Cold Creek followers know the Nevada Department of Wildlife stocks rainbow trout in the late fall and early spring.  The short answer was: no.
The temperature at 7:20 AM was 31 degrees according to the Trout Truck, so I was glad I brought my fingerless mittens.  Initial casting deposited ice crystals in my guides, but it easily shook off as the sun continued rising to the east. 
I witnessed a few fish rise to the surface, but they had that telltale yellow-orange hue of aquarium goldfish (a.k.a. carp).  I cast around for about fifty minutes and managed to snag a hefty goldfish of maybe nine inches in length but round like a football. I was dredging a small nymph and somehow managed to foul-hook the creature; I did not return him but quickly dispatched him.
On my  return home I crossed two small wild horse herds, as well as a lone coyote about two-hundred yards in the distance.  The rising sun was still low and the coyote's emerging winter coat was highlighted in the morning rays.  He was the highlight of this morning's trip.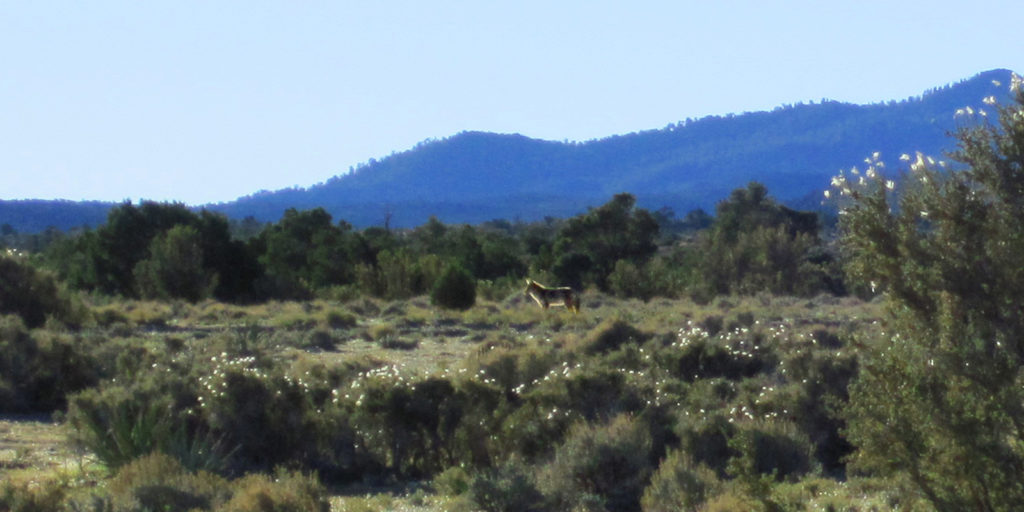 Life should always be this beautiful and simple, shouldn't it…