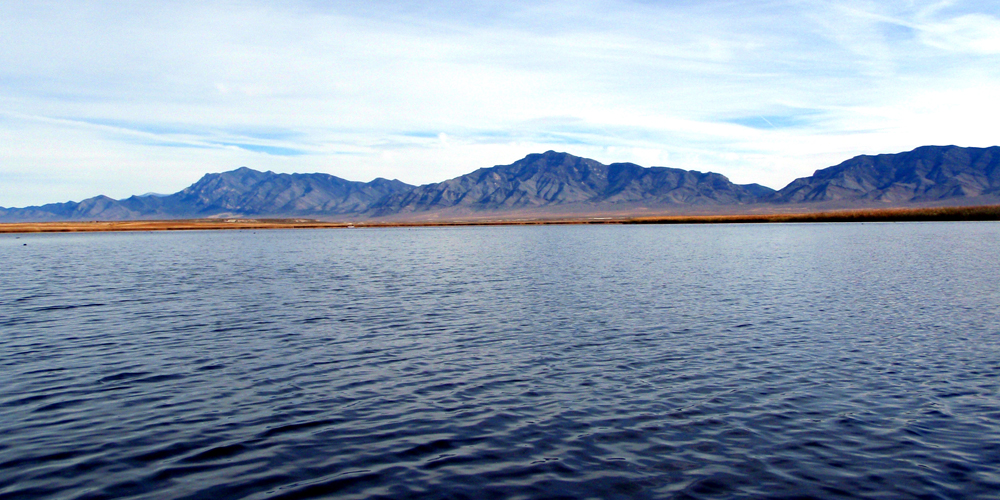 This past fishing season I concentrated more than usual on fishing streams rather than reservoirs. It was a conscious decision to get back to my fishing roots. Fishing the East Walker River for the first time was a rewarding experience, but all the trout I caught were just about twelve inches; respectable but not what I was used to catching in the lakes and reservoirs I frequent (excluding the local Cold Creek pond, of course). This year I made two trips to Mammoth Creek, and one each to Beaver River and Beaver Dam Creek. Those last four stream fishing encounters, while enjoyable, came up a little lame in the "fish caught" category. As the fall season was moving into its final month I thought I deserved a final still water fling with large trout.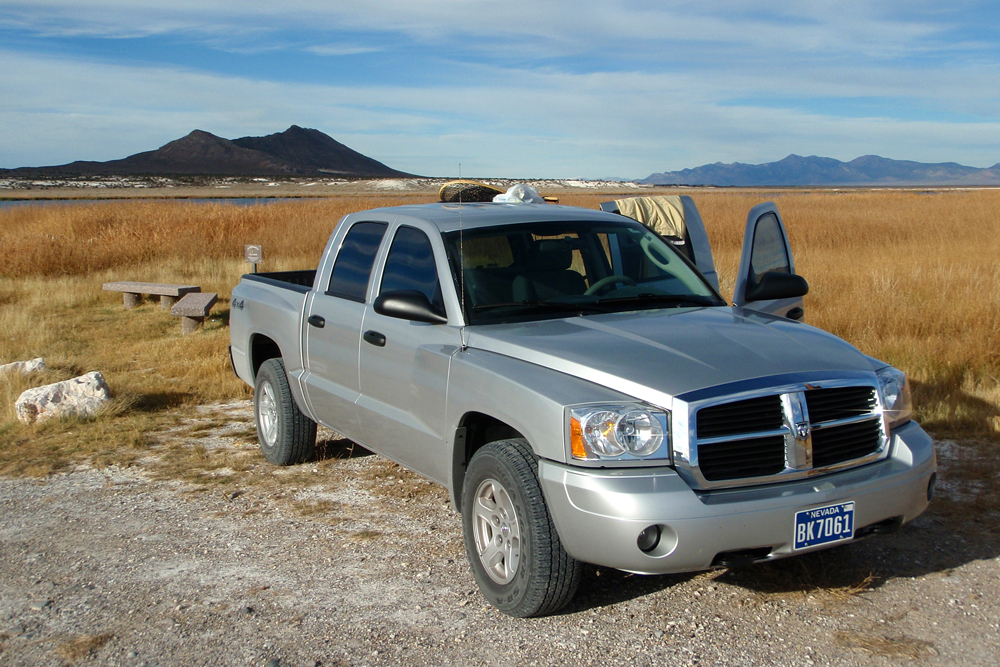 October 29th was a holiday for me (observance of Nevada's statehood), but we had several family engagements scheduled that day as the boys were off from school as well. Luckily I was able to take the preceding Thursday off and create a four-day weekend, enabling me to fish Wayne Kirch Wildlife Management Area (Kirch), or Sunnyside as some refer to it based on the original ranch owner.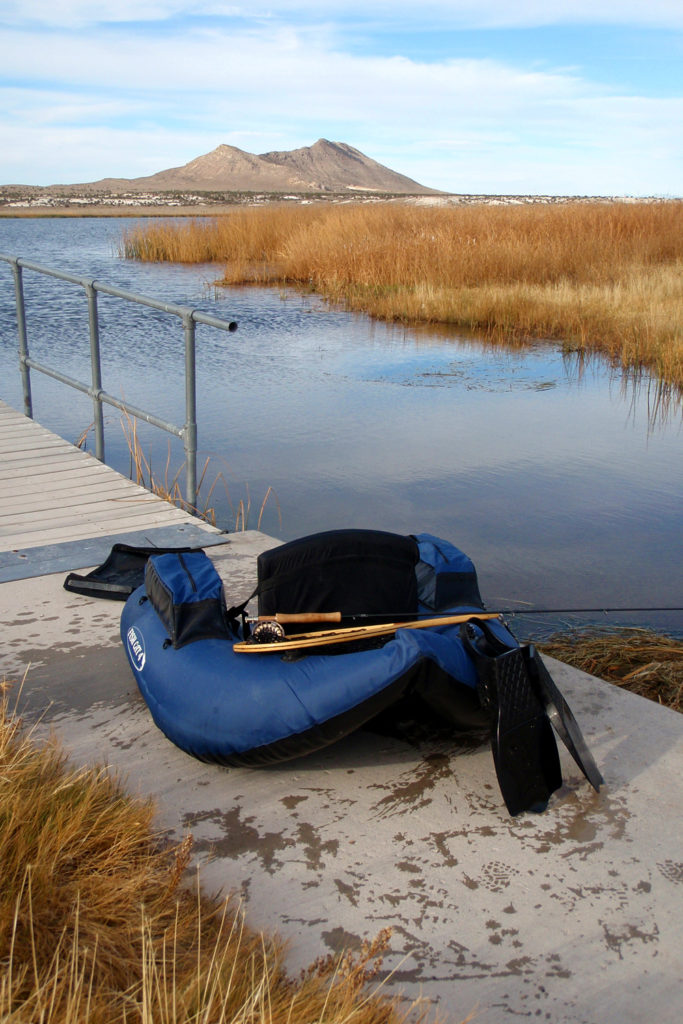 I dropped Evan off at school at 6:40 am, gassed up the truck and headed for Kirch. I was heading north on Interstate 15 by about 7:00 am. As I've written before, Kirch contains four fishable reservoirs that are all spring fed. To an untrained eye it is a rather desolate looking place sitting in a Great Basin alluvial desert at about 5,150 feet above sea level. I have never fished the Adams-McGill or Dacey reservoirs, but I have spent a fair amount of time on Cold Springs and Haymeadow. I arrived at Cold Springs at about 9:30 am, and I was fishing on the reservoir by 10:00 am. There were two men in a boat already on the water, but I saw no one else at Kirch the rest of the day. My Trout Truck said the outside temperature was 36 degrees, but I knew from the weather forecast that it would reach 50 degrees by noon, so I chose to wear a heavy canvas shirt over a t-shirt underneath chest-high waders. I was comfortable all day.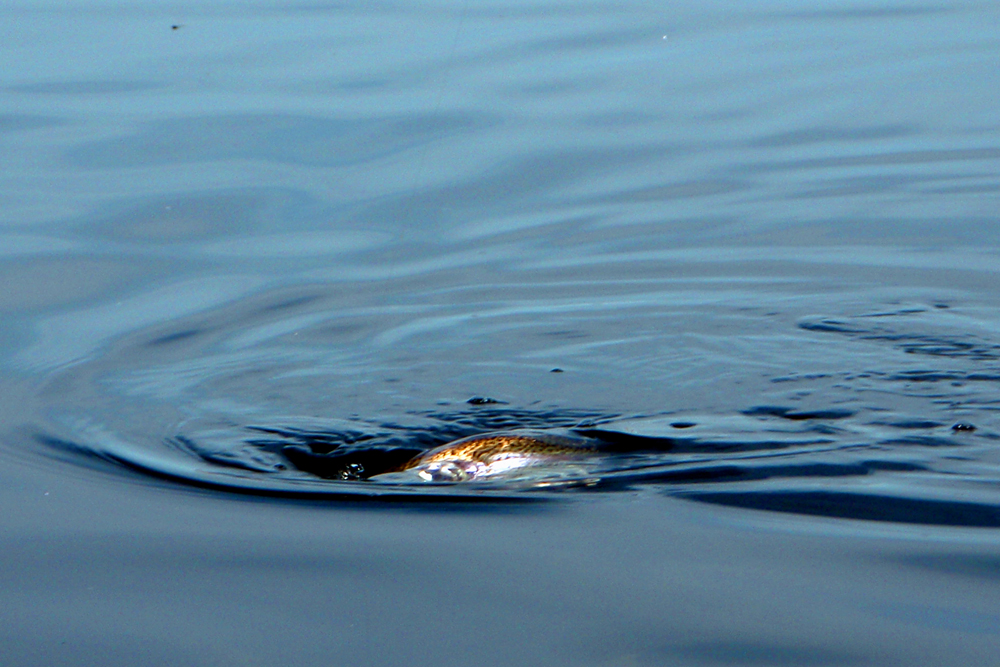 Within about five casts I hooked into a nice male of over fifteen inches. I perceived that as a good omen. I fished until noon on Cold Springs landing another seven rainbows, and had two long-distance releases (LDRs). Claiming LDRs, as they are referred to, is a way of taking credit for hooking a fish that you never did land… if you're into fish counts (smile). Most were in the ten to eleven inch range but nothing close to the size of the first trout.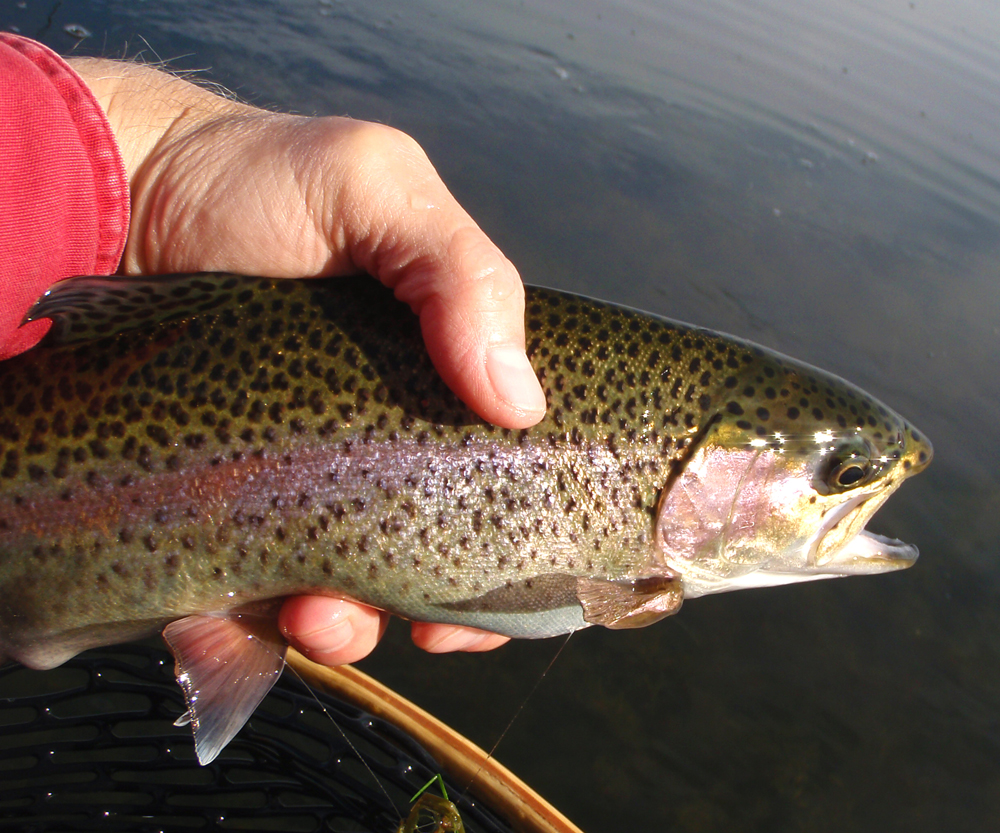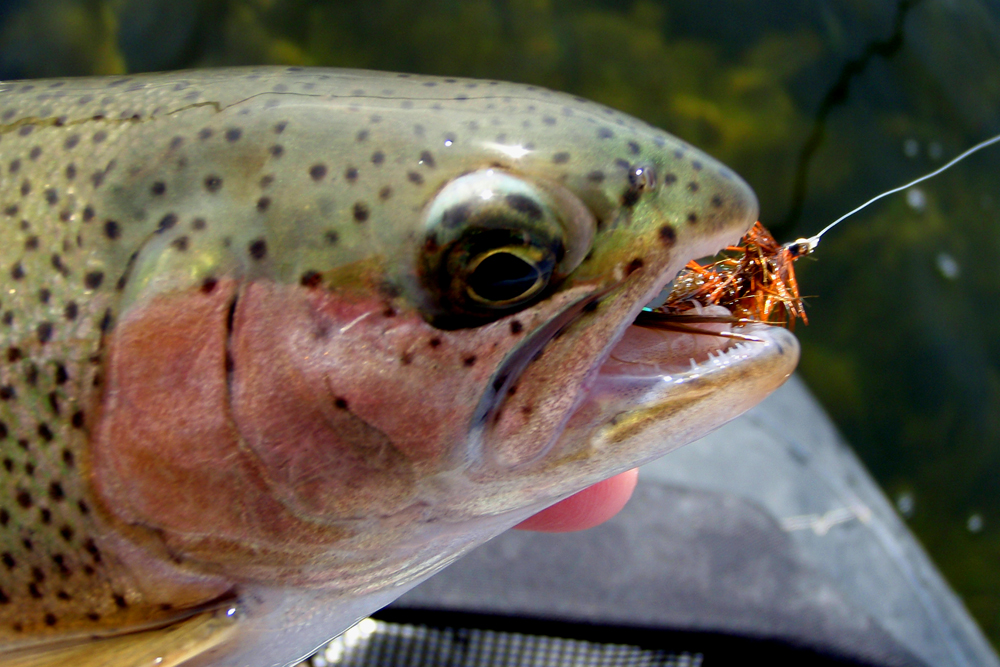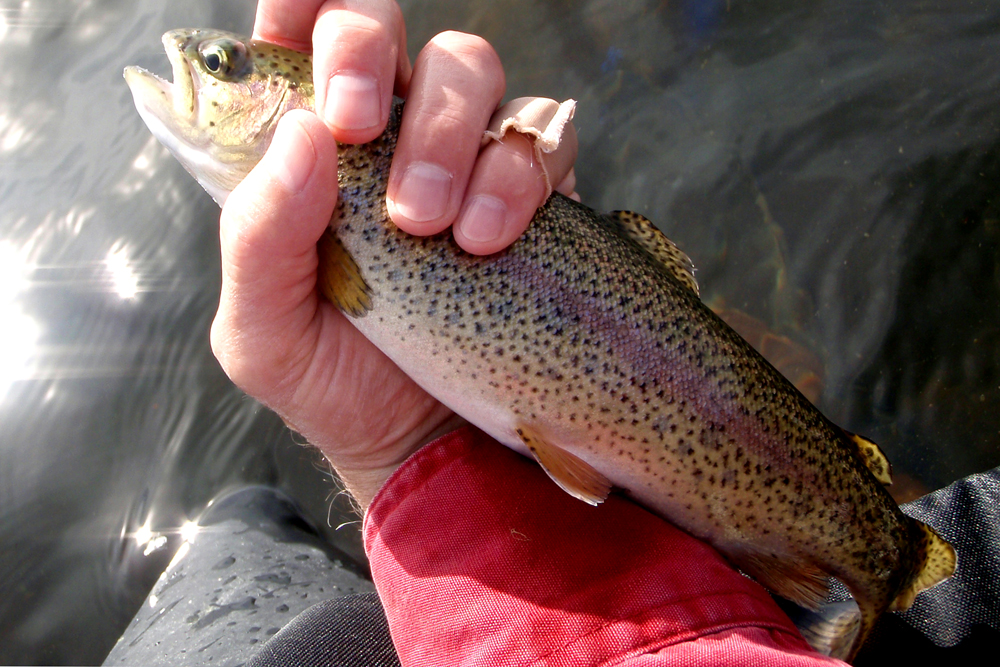 The fishing seemed a little slow to me, so I decided to leave Cold Springs for a run at Haymeadow Reservoir. The men in the boat had already circled the reservoir's perimeter and were drinking their beers when I kick-paddled into the boat launch area. I discovered that they had fared worse than me, catching just five around twelve inches between the two of them. They, too, had driven up from Las Vegas with their fifth-wheel camper towing a boat behind it. We finished our pleasantries and I drove down to Haymeadow. The wind had begun to gust up, but the water was not choppy and kick-paddling was not a chore. I fished Haymeadow from about 12:30 pm to just after 3:30 pm. I caught a thirteen inch trout right away and then it seamed as if the southern dam portion of the reservoir was devoid of trout (of course it wasn't, but it seemed that way). I would have stayed until sunset (5:30 pm), but I told Denise I'd be home by 5:00 pm and I was already more than an hour behind that schedule. I was late because the fishing on Haymeadow didn't pick up until around 2:00 pm and I wanted to make the most of the newfound action. I fished Cold Springs almost exclusively with a green woolly bugger, but on Haymeadow I threw in brown buggers and several nymph patterns. Haymeadow seems shallower, or at least the weeds are closer to the surface, so I switched from my full sinking line to a sink-tip line and avoided the bead-headed flies. The tool of the day was my custom nine-foot, five-weight rod. I ended up landing eight trout on Haymeadow with three LDRs, most occurring within the last ninety minutes of fishing. About half were over twelve inches, but the clincher of the day was a fat female measuring right at sixteen inches. For you fish counters that was sixteen landed and five LDRs in about five hours, translating to a hookup every fifteen minutes or so.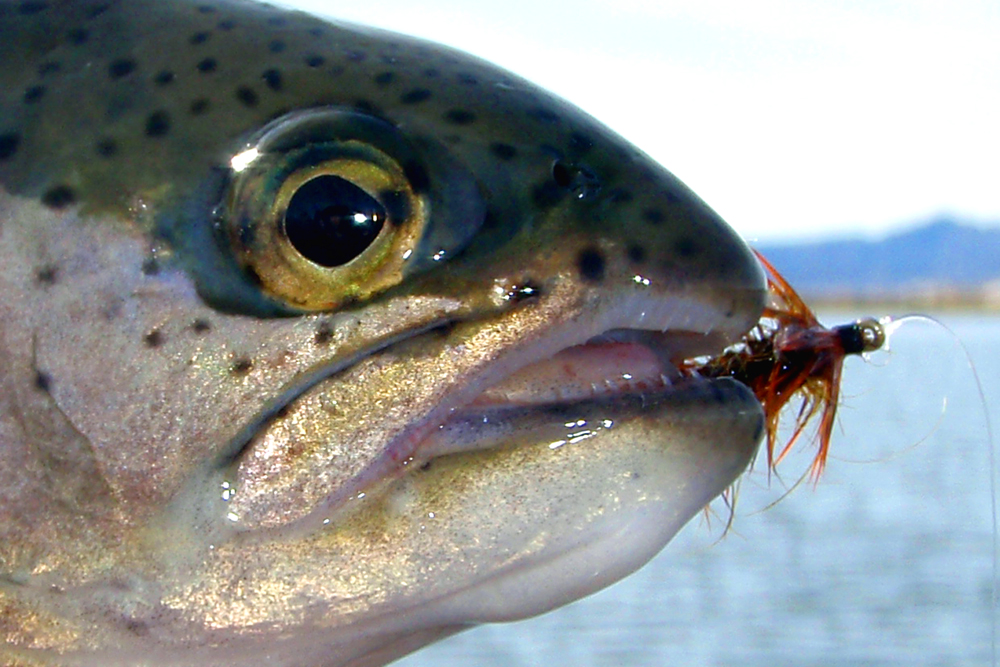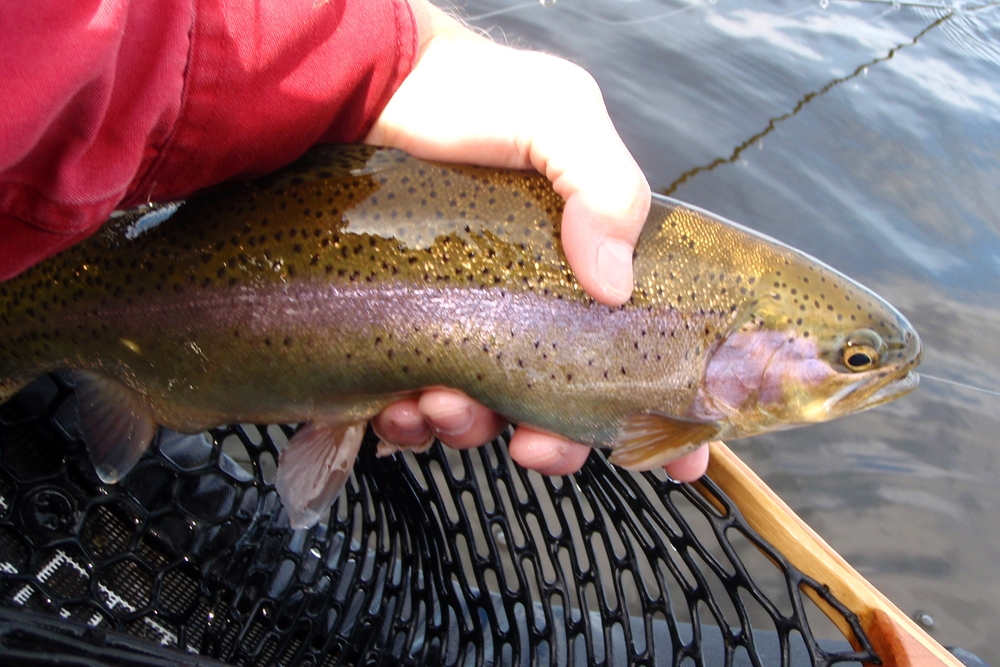 Being that it was deep into the fall weather I had expected the trout to be more energized. What I found was that the larger fish did not seem to want to leap much, a characteristic usually found in the heat of the summer due to lower oxygen levels. Rainbows are known for their leaping ability, and catching them in the springtime usually results in an onslaught of exciting acrobatics. Some of the smaller trout did quite a bit of leaping, but not the larger ones. Another interesting observation was that when I removed the fly from the fifteen-inch male I could see many little round balls of a mottled grey color stuffed in his throat. I was trying to release him quickly after snapping a few pictures, but in retrospect I should have used my forceps to pull out one of those spheres. My initial reaction was that they were eggs of some sort, but I was puzzled as to what would be laying them so late in the fall. Bass and rainbow trout are spring spawners, but then I recalled that the trout in Cumins reservoir were from a Tasmania strain.
Let me digress. Rainbow trout are indigenous to North America. Years ago rainbows were transplanted down under in Tasmania and New Zealand. Over the decades these transplanted trout began spawning in October rather than April because the seasons are reversed in the southern hemisphere. Since there are no competing salmonoids on those continents, these rainbow strains remained very strong, and now are used for stocking programs back in the United States where the indigenous brood stock had become weaker. Ironically, these confused fish when stocked from Tasmanian eggs still spawn in the fall. See my Cumins Reservoir blog for an encounter with fall spawning rainbows.
Perhaps what happened was that some of the Kirch stocked trout were of the Tasmanian gene pool and the hen fish were releasing their eggs. Maybe that male's gullet was full of trout eggs. Come to think of it, when I look at the pictures of the sixteen-inch hen fish from Haymeadow she looks as if she could have just spawned. That could also explain somewhat of their lethargic action when hooked (trout can be a little weak after spawning). I really don't know, but it is interesting to speculate.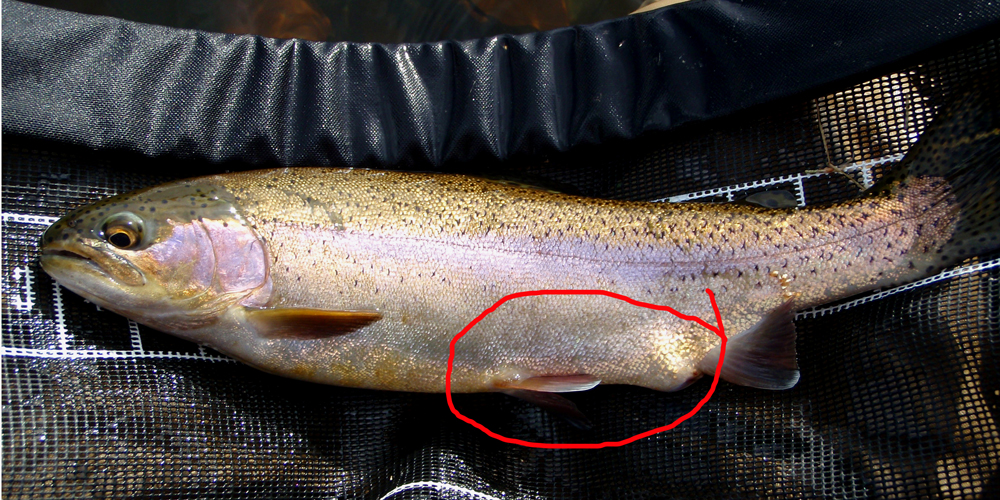 I doubt I'll return to Kirch before it ices over. It will likely have to wait for next year. But I'll have a few nice memories, and a little mystery, to carry me over to the spring while I fool around with those Cold Creek trout over the winter.