It has been a long, dry summer as far as fishing is concerned. I had planned earlier trips, but work and life in general got in the way. But then a window of opportunity appeared at work, and Brian, armed with his new learners permit, was anxious to drive the highway (Nevada law requires him to log 50 hours of driving before he can get his permit, which factors to about 2 hours a week to be ready on his 16th birthday).
We left mid-afternoon on Wednesday, with Brian driving the whole highway just a week after securing his permit… not bad. The traffic was light, so we didn't have to pass too many slow moving trucks; I'm sure we were both pleased about that. Upon arriving we discovered there was a car show in Ely. The town was crowded, and our usual motel had no vacancy. After three tries we ended up at Motel 6 ("we'll leave the light on for ya"). We slept in a little the next day, got breakfast around 7:30 am, then headed for Comins Reservoir which is just 10 miles outside Ely.
I rigged up a six-foot spinning outfit for Brian with a swivel about 2½ feet above the fly. Not only does the swivel keep the fly from twirling as the spinning reel twirls the line around the spool, it also prevent the pinched-on weight from sliding down toward the fly. It emulates what a fly angler would present to the fish, as best as you could expect. After setting up we launched into the water around 8:30 am. I gave Brian a short lesson on float-tubing. He quickly got the hang of it. He even created a method of "dolphin" kicking to propel faster. As I knew he would, he remarked how much more interesting it was to fish in a tube than from shore. You can cover more water, get a little leg exercise, and lean back in your seat and take a rest while enjoying the scenery.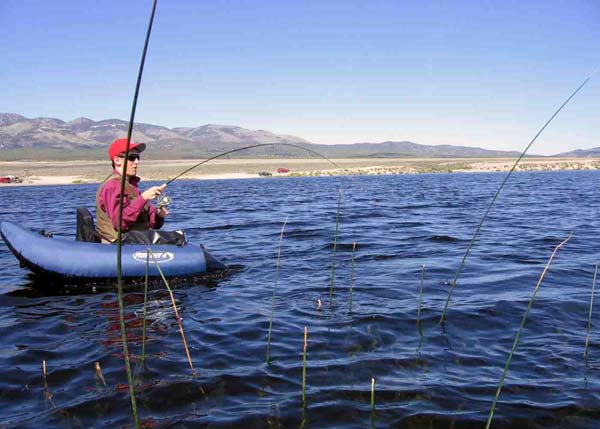 We fished Comins until around 1:00 pm on Thursday. Both the weather and water felt warm. As often happens in the dog days of summer, we hooked up early and then the action slowed by mid-day. I was the first to hook into a Cumins' rainbow of about eighteen inches. I wasn't sure he was that large at first because he seemed more lethargic, less acrobatic than other Comins trout I have caught in the early spring or late fall. I suspect the warmer water slowed down these usually athletic trout. When I brought the trout to the tube I realized he was a good size. I recently bought a 20-inch landing net for Father's Day, a special one designed for float tubes with a handle length mid-way between a regular net and a boat net. The net itself is rubber to facilitate releasing the trout without damaging their protective slime. I used it for the first time on this rainbow and was pleased at how easy it made landing and releasing the fish.
Soon after that, Brian hooked up to a very large fish. I paddled over as fast as I could because I knew Brian had yet to master the art of popping out the hook before releasing the fish. As I approach his tube I began to realized it was a large rainbow, and that the new landing net was going to bee needed. I scooped the trout into the net, and as I raised it out of the water onto my lap I could see it was about two inches longer than my eighteen-inch lap ruler. I handed the net to Brian so I could take his picture with the beautiful rainbow trout, but as you can see in the picture he had a little trouble raising the three-pound fish out of the water.
We continued to hook up fairly frequently for a mid-summer effort, but we had our share of trouble landing all the fish we hooked. We both connected with several good fish that would burrow deep into the weeds and rub off our barbless hooks in the thick water vegetation. I always scrunch down the hook barbs to make it easier on the fish and to expedite their release, but I was beginning to wish we had those barbs on so we could have landed those larger trout. Throughout the rest of the morning I landed two sixteen and one fourteen-inch trout to go with our twenty and eighteen-inch beauties. I would estimate that was nine pounds of trout… not bad on a warm August morning.
For the afternoon we headed to Cave Lake in the Schell Creek Mountain Range. I was hoping the water would be cooler (it was a little). I was also hoping the stocked rainbows would provide a little more action for Brian as I sensed he was getting frustrated, bored, or both from losing so many good fish to the Comins weeds. Unfortunately, we didn't see many fish. I got a few light hits on my fly, but landed just one ten-inch rainbow. Brian saw no action. When the winds started to kick up I decided it was time to get out of the water and give the fishing a rest.
We headed back to the city of Ely and checked out a few of the area's "attractions." We went north towards McGill to check out Basset Lake and Tailings Creek. I believe these two waters were products of the copper mines from the 1950's and 1960's. I remember a Jarbidge hunting trip with Neal in the early 1970's when the smell of a sulfur-like substance was so great we had to roll up the Landcruiser windows and breath through our shirtsleeves. The smelters are gone now, and apparently so are the fishable waters. We checked out the Ely Train Museum. We were told it was closed but the gift shop was open. While there is a lot of history there, if you're not into trains it isn't too exciting for a 15-year-old boy. The buildings were a little interesting, though. You could sense the hustle and bustle that occurred there when the local mines were in their heyday. Driving back to the motel room we drove through some of the older areas of Ely and discovered what Brian and I called, "Ely Graffiti."
We decided to delay breakfast and hit Comins real early on Friday morning to see if the cooler temperatures would make the trout more active. We rolled out of bed shortly after 6:00 am and were on the water by 7:00 am. The fishing was disappointing, particularly after Thursday's results. I had four fish hooked, but landed just one, a fourteen incher. One I had on the line for a while looked to be eighteen inches or so, but I tried to play him off my hand instead of my real. When I tried to muscle him from burrowing into the weeds I pulled the hook out. Unfortunately, Brian had no hook ups on Friday.
I was really disappointed for Brian; I sensed that he needed to land one or two more trout around 15-inches to stoke the fire of fishing. I think every dad hopes his children take an interest in at least one of his hobbies, and so I might have pushed it too far. I don't know. I do know that as we departed the water around 9:30 am I chatted with a couple of guys in a boat. Their rendition of the action on Comins confirmed it was slow for everyone. They had measured the water temperature at 68°, on the really warm side for rainbow trout; they prefer temperatures in the 55° to 60° range. Many other fishermen were skunked that morning, and I tried to use that to lift Brian's spirits a little.
After a "McBreakfast" from McDonalds, we turned south to head for home. On the way up Wednesday we took Highway 318 through the White River Valley. It is shorter by about forty miles. For a change of pace we took "Scenic Highway" 93 along the Snake River Mountain Range and in the shadow of Mount Wheeler, our state's second tallest mountain at 13,063 feet elevation. This took us through Pioche, Panaca, and Caliente before entering back into the Pahranagat Valley that holds Alamo. The traffic was a little heavier, and although there was one or two "truck passings" that I might have done differently, Brian did a great job getting us home safely by 4:00 pm.
Despite the slower fishing action, it was a great opportunity to spend time with Brian talking about "stuff," enjoying the outdoors, and just being a father and son. And despite the fishing not being up to par, Brian still caught the largest fish of the trip, a twenty-inch rainbow. It took me until age forty-seven before I landed a twenty-inch trout. Maybe someday he will recognize how blessed he was to land that trout.