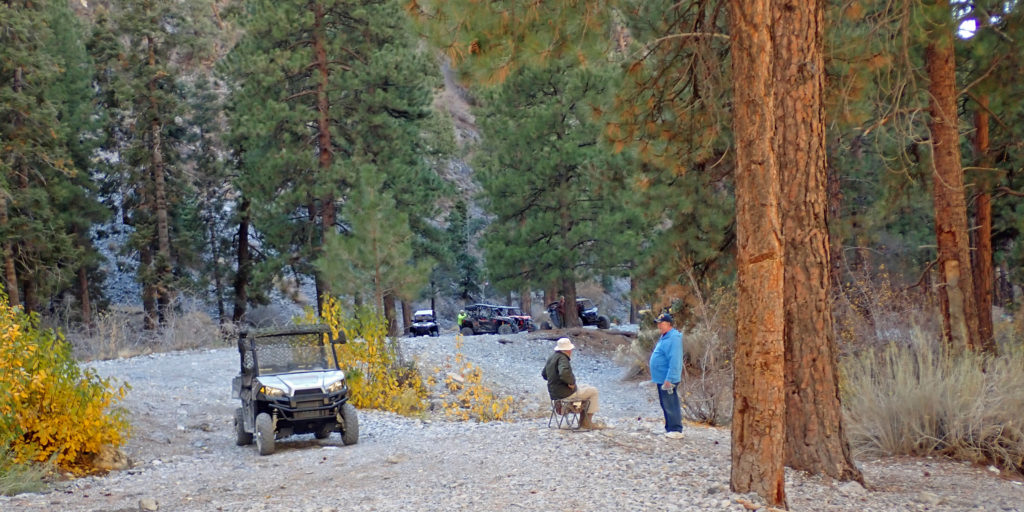 In the 1970s I developed an interest in U.S. Geological Survey topographic maps (i.e., topo maps). Hunting and fishing with my brother Neal often involved these topo maps. While the first satellite global positioning system (GPS) had been created by the US military, civilian use did not materialize until 1993. Civilian access to the Internet also occurred around 1993, but cell phone GPS was not available until 1999. Until civilian GPS became available, topo maps were the best way to explore the outdoors.
Orienteering can be described as the art of using a map and compass to navigate from one known location to another known location. Europeans not only used orienteering for basic countryside travel, but they also originated the sport of orienteering in the early 1900s. In an orienteering contest, the goal is to navigate through a set of specified way-points until the final destination, often miles away, is reached as quickly as possible. For outdoorsmen, navigating to geographic locations for hunting, fishing, or simply exploring is a wonderful way to give purpose and, dare I say, direction to your adventure (similar to what Geocaching and Letterboxing do for others who love exploring the outdoors).
Thanks to USGS topo maps I discovered Cold Creek (as of this writing I have 34 blog posts that relate to Cold Creek), explored and fished the alpine lakes in the Ruby Mountains (four posts), and laid down a new backpack trail up Beaver Dam Creek (4 posts) all the way to Split Pine Hollow just 300 yards west of the Utah/Nevada boundary. I love maps of all sorts and hold fond sentiment for USGS topo maps, but I have reached the 21st century by subscribing to Gaia GPS on my iPhone. I was impressed by Gaia's performance when I explored the Mary's River drainage south of the Jarbidge Wilderness Area, although it was not entirely necessary. To read more about Gaia click on this Elko County blogpost and scroll down near the bottom looking for the subheading Gaia GPS App.
The only business that sold USGS topo maps in Las Vegas when I started orienteering was Mercury Blue Print & Supply on South Main Street. It was purely coincidental that it was owned and operated by my future father-in-law. You could order specialty topos directly from the USGS, but Mercury Blue had the largest selection of maps, by far, anywhere in Clark County. I would like to say I often shopped at Mercury Blue just to see the lovely young lady who would become my wife, but the truth is she did not regularly work in the shop.
I used topo maps to explore quite a bit of the Spring Mountains (which includes Red Rock Canyon and Mount Potosi), so named for its numerous springs. The range also has at least eight small creeks such as Cold Creek, Willow Creek, Deer Creek, Pine Creek, Oak Creek, First Creek, Trout Creek, and Carpenter Creek. I have visited the water of all these creeks except Deer Creek (which might be intermittent) and Carpenter Creek. Today, on Veterans Day, I finally added Carpenter Creek to my list.
I admit to another motive besides four wheeling up Carpenter Creek. In the 1950s, the Nevada Department of Fish and Game (now the Department of Wildlife) planted Lahontan cutthroat trout (i.e., LCT) in Carpenter Canyon's Peak Spring. (Peak Spring is now known as Carpenter Creek.) I imagine that Carpenter Creek was chosen because it is a perennial stream in a comparatively dry climate that is remote from Las Vegas. Most notably, it is not in the Great Basin, LCT's native habitat, but rather in the Mojave Desert's Spring Mountains.
Their "experiment" seems to have worked as the LCT have carved out an existence in this tiny creek, free of competition from the more ubiquitous brown and rainbow trout that tend to aggressively dominate the LCT, not to mention their hybridization with rainbow trout that depletes their gene pool. The LCT was listed as endangered in October 1970 under the Endangered Species Protection Act of 1969. Subsequently, in July 1975, the LCT was reclassified as threatened under the Endangered Species Act of 1973. If you would like to know more about the LCT, check out The Western Native Trout Initiative website.
Based on what I thought I knew about this creek and its small population of LCT, I decided to fish as much of it as I could with my favorite 7 ½-foot fly rod, floating 4-weight line, and a size 16 elk hair caddis dry fly ("dry flies" float on the water's surface). I say "as much of it as I could" because I knew Brian had to be home by 3:00pm to prep for work (which meant we had to start home by 1:00pm), and I was concerned that my aging body would have difficulty bushwhacking and scrambling up the narrow canyon, not to mention the bending, crouching, and kneeling necessary to avoid detection by the trout who rush into their hiding spots whenever they see unnatural movement above their shallow water-world. My son Brian's presence eased any family concerns about me in case of any mishaps or incidents.
I did indeed teeter a few times while stepping on boulders to cross back and forth, but I was surprised by my ability to stalk these trout. Although small, I was pleased to sight so many trout in a creek so tiny (maybe about ten in total). In these type of creeks, not all pools are fishable without frightening the the fish, so I only attempted very short casts on four pools I thought contained trout. In two of those four pools I was fortunate to hook an LCT.
The first trout hooked was small, maybe seven inches, but my dry fly dislodged within ten seconds. The second LCT was substantially larger, a good ten inches. It had a couple seven-inchers finning in the water near its flanks. All three were actively feeding at the tail end of a large, flat, pale boulder that acted like a plate which softened the water that was dropping into the head of the plunge pool. The trout were easily identified against the pale boulder from my position on the bank fifteen feet away from the left side of the creek. I recall it was my second cast that fooled the larger trout, and it was a little raucous in the water for fifteen seconds or so. I was feeling pretty confident that I would bring the trout to hand for a quick photo before it was released, but it had other plans. It sulked in a small channel on my side of the pale boulder, so I tried one more dapping-like cast but the LCT immediately ducked underneath the protection of another rock.
I was not upset by its early escape. While I would have treasured a photo of it, I was more happy that I had fooled it and that its quick get away ensured minimal stress from its encounter with the caddis dry fly. It is the stalking, casting, and hooking that produce the most pleasure for me; the playing and releasing of cherished trout always comes with a sense of anxiety for me, but mostly for the trout. For those of you interested in catch and release (vitally necessary for the survival of these LCT trout in Carpenter Creek), here are some important basic steps you should take according to the Front Range Anglers website:
Use single barbless hooks
Keep the fish in the water as much as possible.
Trout have a protective slime. Protect that slime by keeping hands and net wet.
Use a rubber net. Large mesh allows for quicker removal of hooks.
Avoid unnecessarily long landing battles.
Trout gills are particularly susceptible to poison, infection, and puncture. Never allow anything, especially fingers inside the gill plate.
If the hook cannot be retrieved easily, cut the line.
Trout are lot more fragile than warm water or salt-water fish.
Large trout are less resilient than small trout, be extra careful with them.
Adverse conditions such as water temperature greater than 65 degrees, require extra care in handling fish. If it's above 70 degrees, you probably shouldn't be fishing and many waters will close during this condition.
Although I have known about Carpenter Creek from the topo map I purchased from Mercury Blue when I was in college, for unknown reasons it has taken me about 45 years to explore it. For the last ten years or so I have read stories and seen photos of other angler success on Carpenter Creek. Several years ago my friend, Chan, shared his personal experience with the LCT of Carpenter Creek. Chan's account of the angling resolved me to explore its waters for myself. I am not one for regrets, but I can say that had I driven my 1979 Toyota Hi-Lux 4×4 up there in the 1980s I believe I would have several trips to the creek already banked in my memory.
Maps are very useful tools for those wishing to discover and visit destinations that intrigue their sense of adventure. Serious trout anglers pursue the "blue lines" on the topo maps for the jewels of the mountain streams. If you know where you want to go, maps will get you there if you understand their symbols and nomenclature, and more importantly if you carefully follow their instruction. Travelers and orienteers still make mistakes and fall off the trail, but reapplication of the tools will soon get you back on course.
I recently ran across an article on the Internet titled, "The Bible is Our Roadmap for Life." The author used two analogies regarding the use of maps:
When the United States was in a race to put men in space and on the moon, imagine an astronaut coming into the program and saying, "I know the way to the moon. It's straight up. I don't need a map. I don't need any training."

Imagine a Seal Team that has just received orders to go into the jungle to rescue some Americans that have been kidnapped by a terrorist organization. As the leader of the operation is about to share the plan and lays a map out for the team to study, one of the members of the team grabs the map and wads it up and says, "We don't need a map or a plan. I know the way. Just follow me."
Men especially have a reputation for avoiding travel maps and assembly instructions. (I am certain I am one of them who falls into this category too often.) We either feel more manly because we figured it out by ourselves, or we think the corollary opinion will be we are weak minded and in need of help. This is a form of stinkin' thinkin' because both are untrue. I have used a map of one form or another to get to every fishing or hiking travel adventure I ever had. I have never wandered aimlessly in my truck or on a hike simply hoping I would run into something I wanted to find. At the minimum this approach would be illogical, and at worst it would be insane. For those interested, here are a few verses that touch on the Bible as a map or instruction for salvation:
All Scripture is breathed out by God and profitable for teaching, for reproof, for correction, and for training in righteousness, that the man of God may be complete, equipped for every good work.

2 Timothy 3:16-17 (the Bible is the inspired word of God)
Keep hold of instruction; do not let go;
guard her, for she is your life.

Proverbs 4:13 (the Father's wise instruction)
Incline your ear, and hear the words of the wise,
and apply your heart to my knowledge,
for it will be pleasant if you keep them within you,
if all of them are ready on your lips.
That your trust may be in the Lord,
I have made them known to you today, even to you.
Have I not written for you thirty sayings
of counsel and knowledge,
to make you know what is right and true,
that you may give a true answer to those who sent you?

Proverbs 22:17-21 (words of the Wise)
I passed by the field of a sluggard,
by the vineyard of a man lacking sense,
and behold, it was all overgrown with thorns;
the ground was covered with nettles,
and its stone wall was broken down.
Then I saw and considered it;
I looked and received instruction.
A little sleep, a little slumber,
a little folding of the hands to rest,
and poverty will come upon you like a robber,
and want like an armed man.

Proverbs 24:30-34 (more words of the Wise)
and you say, "How I hated discipline,
and my heart despised reproof!
I did not listen to the voice of my teachers
or incline my ear to my instructors."

Proverbs 5:12-13 (a warning against sin)
For me, the Bible describes the reason for my life and its purpose. It reveals God to me in a way that I can understand His nature and will. It is not merely a moral compass, but a revelation of the Lord in a way I can humanly comprehend (Jesus said, "I am the way, and the truth, and the life. No one comes to the Father except through me. If you had known me, you would have known my Father also. From now on you do know Him and have seen Him"-John 14:6-7). I am free to ignore this revelation, its path to eternal life in His presence, or to follow only those paths or instructions that I like, but I know those choices will get me lost eventually. Yes, I do get lost more often than I like, but I believe the trail becomes clearer to me every day.
May your journey be a blessing to you and yours.