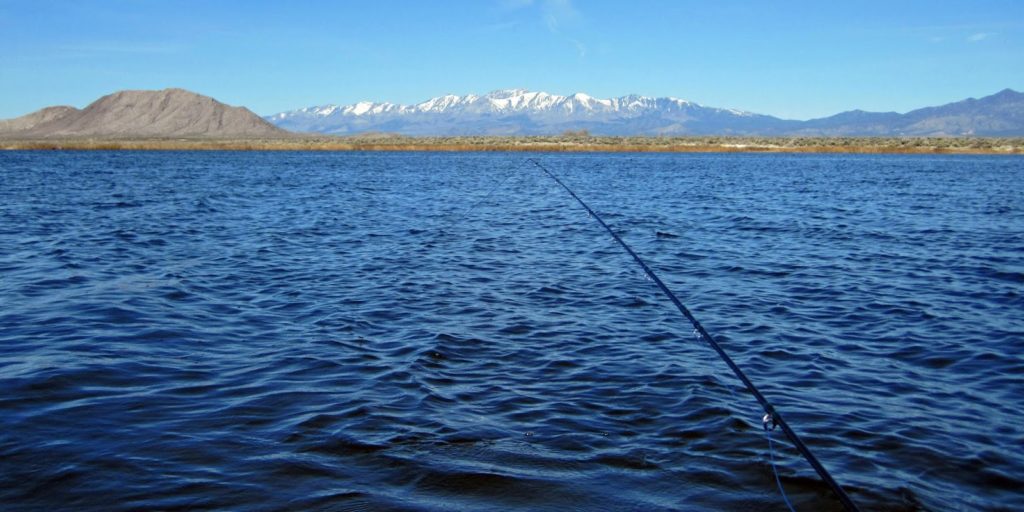 I must confess to selfishly abandoning my family for a short day-trip to Dacey reservoir in the Wayne Kirch Wildlife Management Area (Kirch). It was actually a mission of mercy for them as I was getting stir crazy over the shutdown, and who knows what damage I could bring upon my familial relationships had I not taken a dose of this medicine.
Kidding aside, it was but a day-trip that brought me home by 5:oo PM, and no wildlife was harmed in the adventure. Not much to say, other than narrate the pictorial essay. I know my fellow pescadores will understand.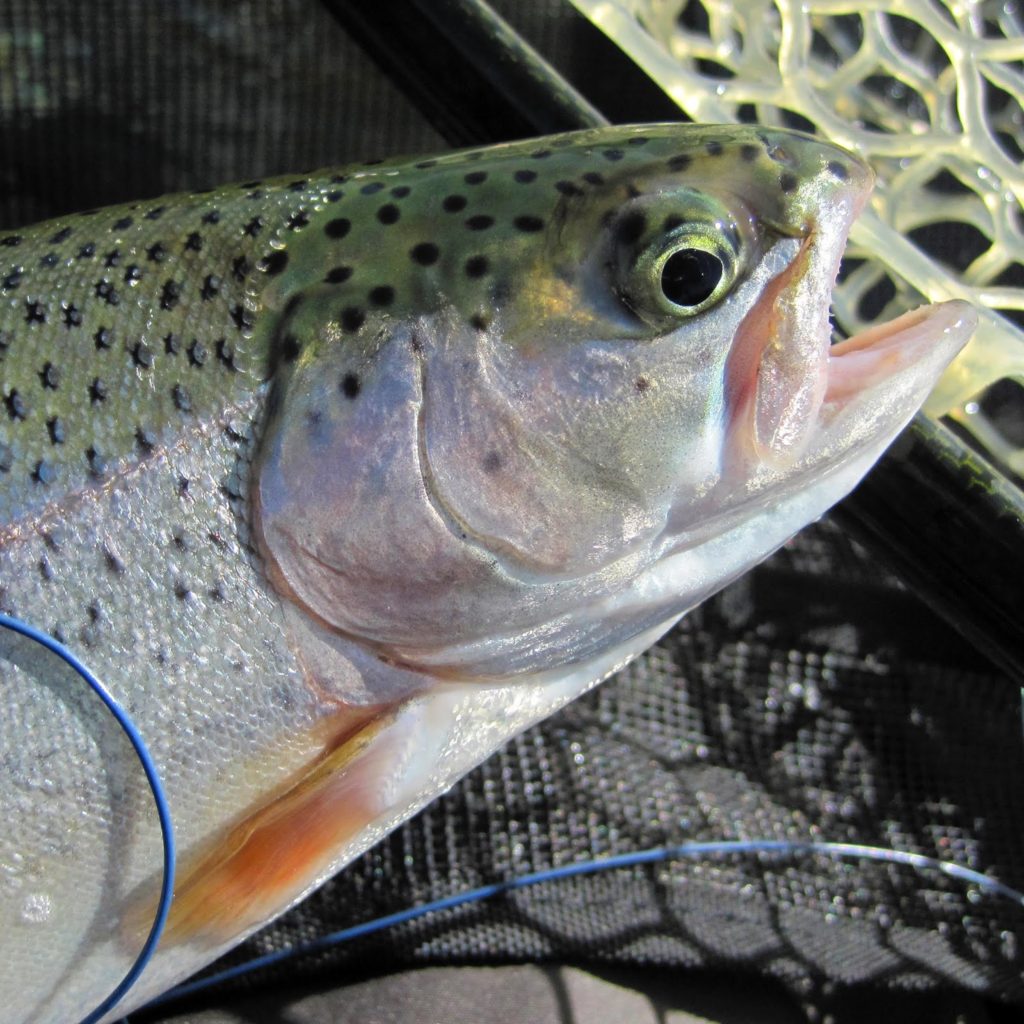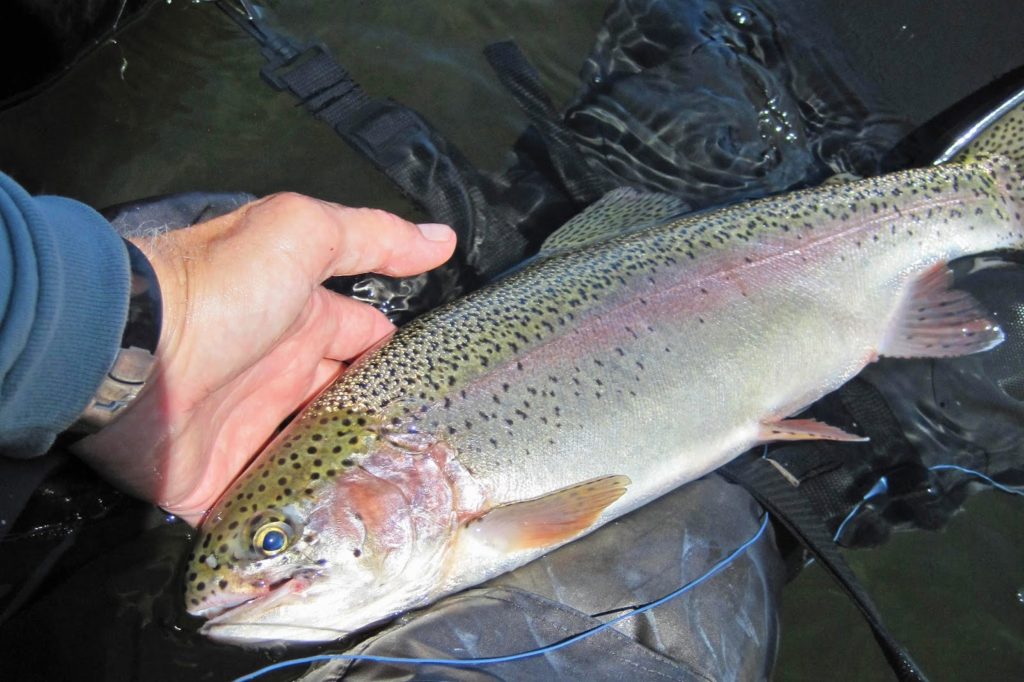 Dacey's special regulations seem to produce larger trout, but they are often difficult to land even in the early season when aquatic weeds have just started to grow. I believe this is because many hardware slingers, especially along the riprap dam, are fishing for meat. Their larger spinners and heavy tackle are designed to get the fish on the table. My educated suspicion is that a fisherman, or a succession of fisherman, hooked this one on larger, barbed spinners, and either it ripped off the mandible or it was damaged by the barbed hook removal. Or, maybe catch and release simply manifests weaker trout jaws over time. Maybe it's "all of the above."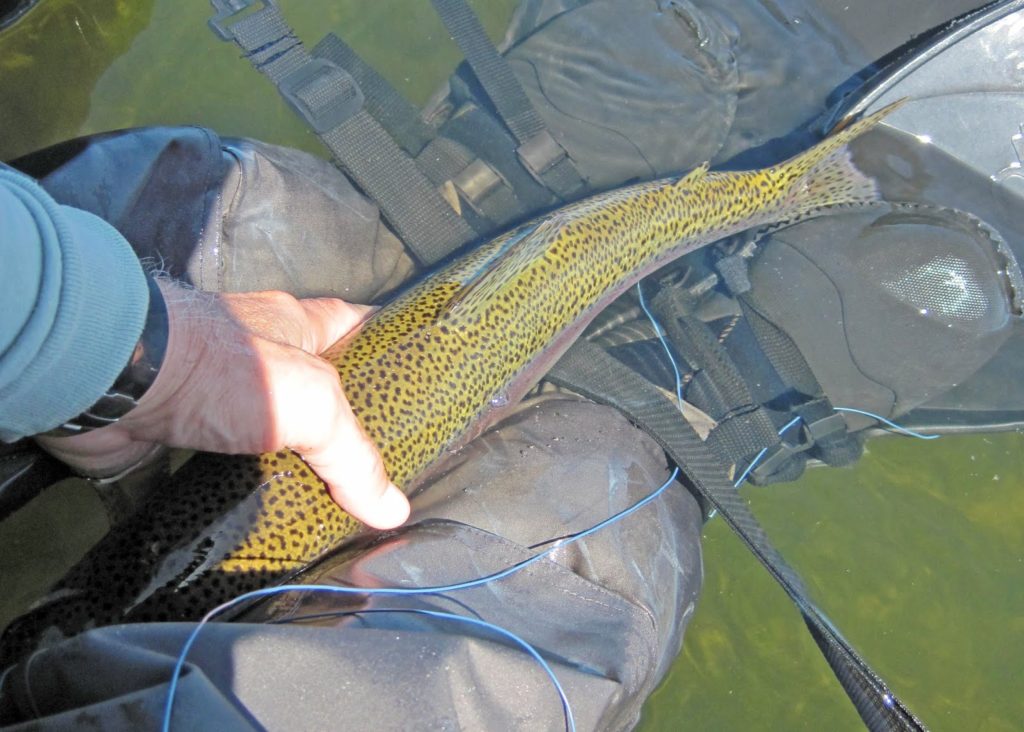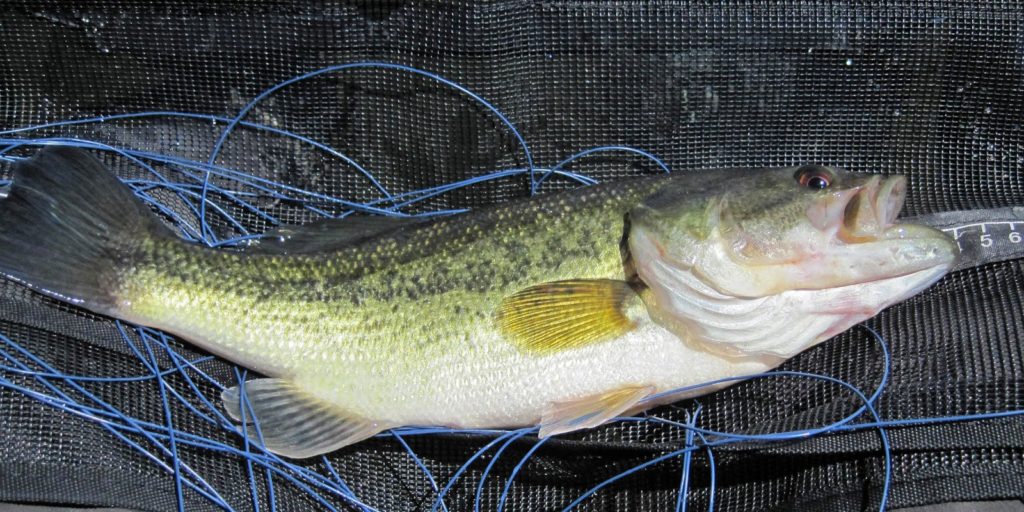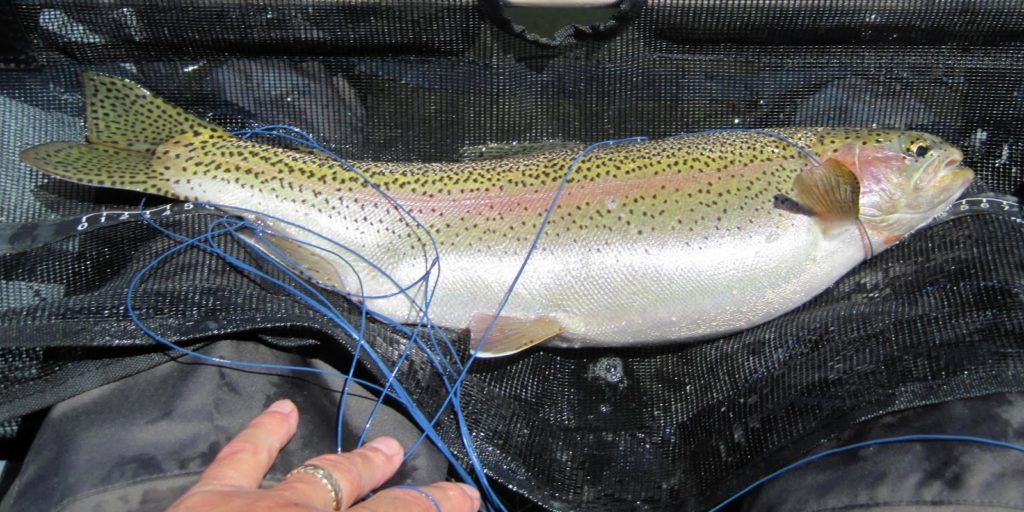 As I was paddling toward the boat launch there were two hardware fisherman casting across the launch channel. They saw me paddling toward them, but I guess they didn't think I was leaving the reservoir so early in the afternoon. And based on that presumption, I didn't want to bust up their fishing, so I kept 150 feet away, but was continuing to cast in their general direction. To my delight I hooked the female rainbow in the above photo. She did one of those signature Dacey-trout leaps right in front of them (these larger trout will leap 2 to 3 feet in the air… extremely acrobatic). It was as if she wanted to show off for everyone to see. I was close enough to hear their commentary, which included some astonishment that I would release such a trout. After her release I made 5 or 6 more casts, but I really needed to get out if I was to get home at the promised time. So I told the men I was getting out and needed through passage to the launch, which they politely obliged.
It took me about 45 minutes to get everything stowed away in the Fish Taco before I could get on my way. While packing I noted a 20 inch trout carcass near the truck. I pegged it as a male rainbow. My guess is it was a day old. It was intact head-to-tail except for the fillets sliced off its sides; the remaining flesh was dried but still pinkish. All this time the two spinner fisherman worked that corner and beyond to where I hooked this pretty trout.
When I started my truck I decided to return to Highway 318 via the Sunnyside road so that I had to cross the dam and see what luck the two fishermen where having. I could tell they both were still fishing but when I got closer I saw a 17-inch trout on a stringer.
The Game Wardens frequent this dam often, and in fact I saw them drive-off two other dam fishermen, who I presume were fishing without a license and/or with bait. I said a quick prayer that one would drive by and catch these guys both fishing wile one of them already had his one-trout limit.
I want to share a chuckle I had while searching for the Wane Kirch Wildlife Management Brochure online a few days ago. While the original brochure was detailed, it appears they have another new Kirch brochure which, if you look closely at the photo on the bottom of page 1, you'll recognize FisherDad on Dacey Reservoir from my October 23, 2013 blog post.
There it is again, that darn prideful ego rising up!
Stay well and stay safe as we climb out of this pandemic episode and return to some semblance of normality.