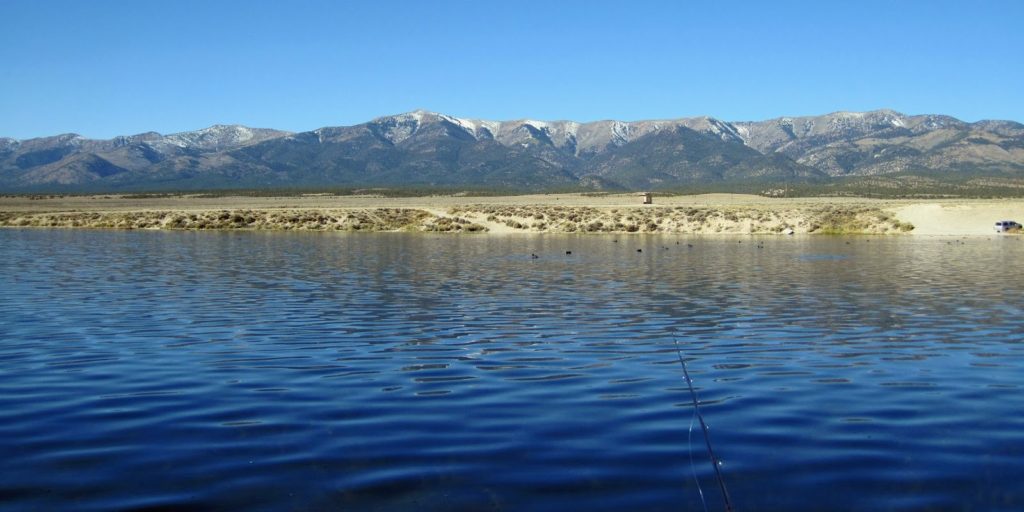 I would like to have written a title that exclaimed "Comins is Back," but the truth is that while this fishing trip included a significant number of large trout, they were likely excess broodstock from the Gallagher Fish Hatchery in the Ruby Valley. Additionally, there's the reality that 5 to 8 inch northern pike were discovered in the reservoir through Nevada Department of Wildlife (NDOW) electrofishing. If NDOW cannot eradicate the illegally introduced pike through electrofishing, they will undoubtedly grow, spawn, and feed such that the decimation of one of the State's best trout fisheries will seem likely for the third time since I started fly fishing in 1977. While that may seem somber news, this Comins fishing trip can still be described as awesome; the "regular" trout stocking program has already begun to produce results that demonstrate this remarkable fishery that has the ability to grow trout by 1 to 2 inches per month.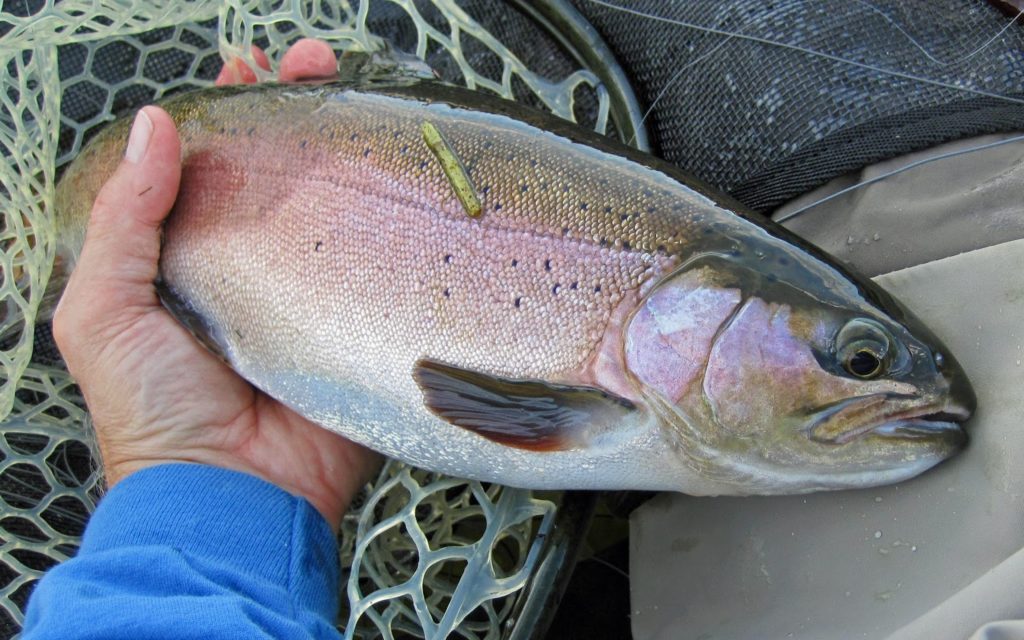 Comins is about 400 acres in size. Like most, if not all, of the State's Wildlife Management Areas it was acquired through the purchase of ranch property, in this case from the 3-C Ranch in 1999. It's less than 10 miles southeast of Ely, NV; you might say nestled at the bottom of Steptoe and Cave creeks. The typical Nevada panorama is evident here. From the alluvial plane you have the mountain vistas from which the Spaniards gave Nevada its name (Nevada translates to "snow-covered"). Massive Schell Creek Range rises in the east with Cleve Creek Baldy standing watch at 10,923 feet, and to the southwest the Egan Range and its 10,936 foot Ward Mountain watches over Steptoe Valley. But for the US Highway 93 traffic, you'd be hard pressed to find a more serene angling destination with world class potential.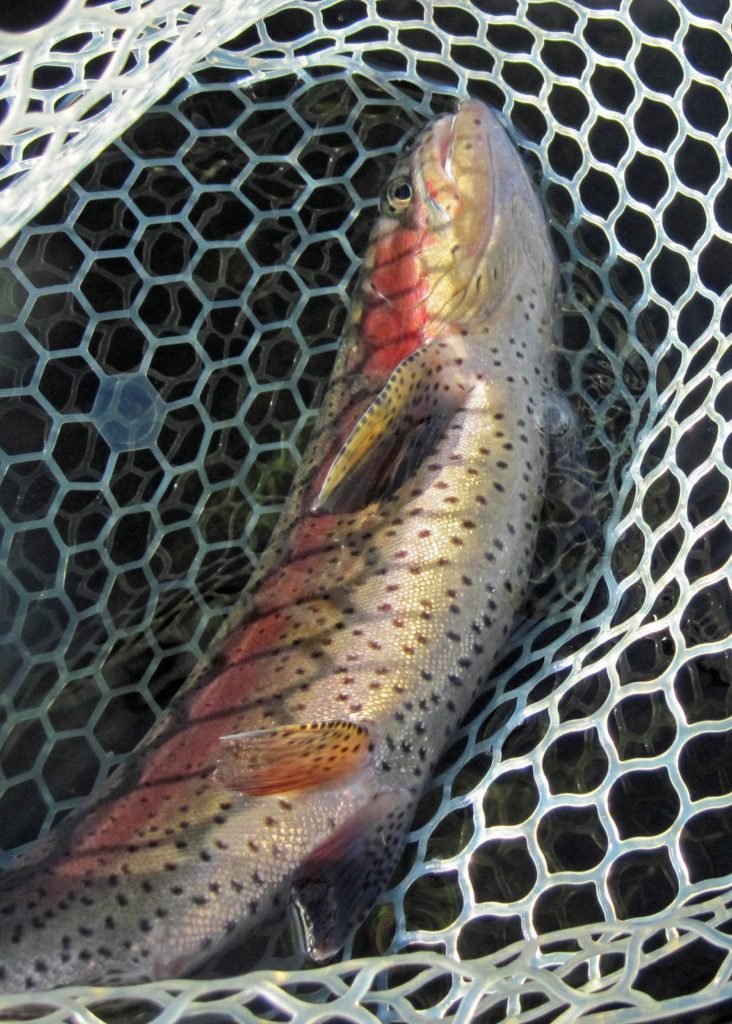 I am not a Comins expert.  In fact, this was just my fifth visit.  My prior trips were almost a decade ago when the trout fishery was booming from the 1989 pike eradication (see Ely, NV – Comins & Cave Lakes and Comins Reservoir – Ely, NV bogs).  I believe pike were present then; there certainly were pictures of pike in every restaurant and gas station I did business with.  By the early part of this decade the pike became so prevalent that they devoured all the planted trout.  Once the trout disappeared the pike started eating smaller pike until all that was left was a stunted pike fishery.  The trout anglers stopped fishing the reservoir.  The fishery, and might I say an Ely "micro-economy," disappeared.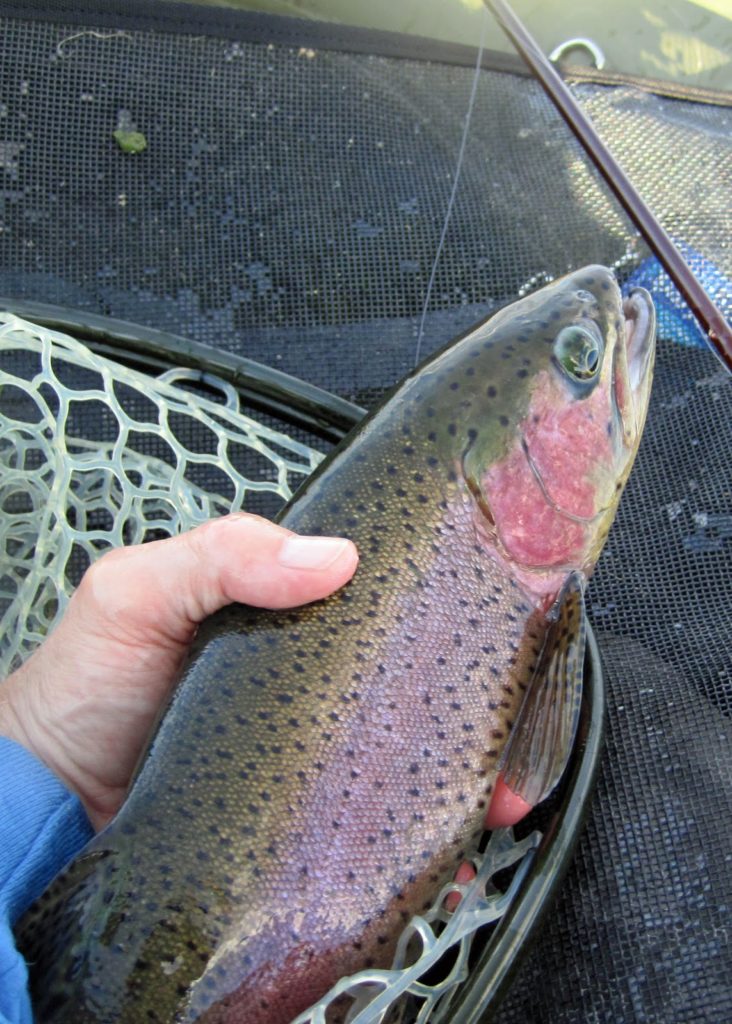 Most of us trout anglers read last spring's reports that NDOW was restocking Comins after successfully removing the northern pike remnants. I believe they've stocked about 15,000 trout since March 2017. As evidence, my fly angling friend from Santa Barbara, Ron Wilmot, emailed me last July:
I fished Kirch for 10 days in early June then moved to Comins for 4 days. Fishing was amazing!!!!! On June 10, my 81st birthday, I quit at 3:45 with a sore arm. All rainbows from 15" – 21". Fished a #14 beadhead P/T about 4' under an indicator, cast out and twitched it in. The reservoir has returned to its original fishery after the eradication of the pike. Fished the weed beds on the west side way down by the last bathroom. No one but me and a guy from Long Beach, Ca. GO!

Ron Wilmot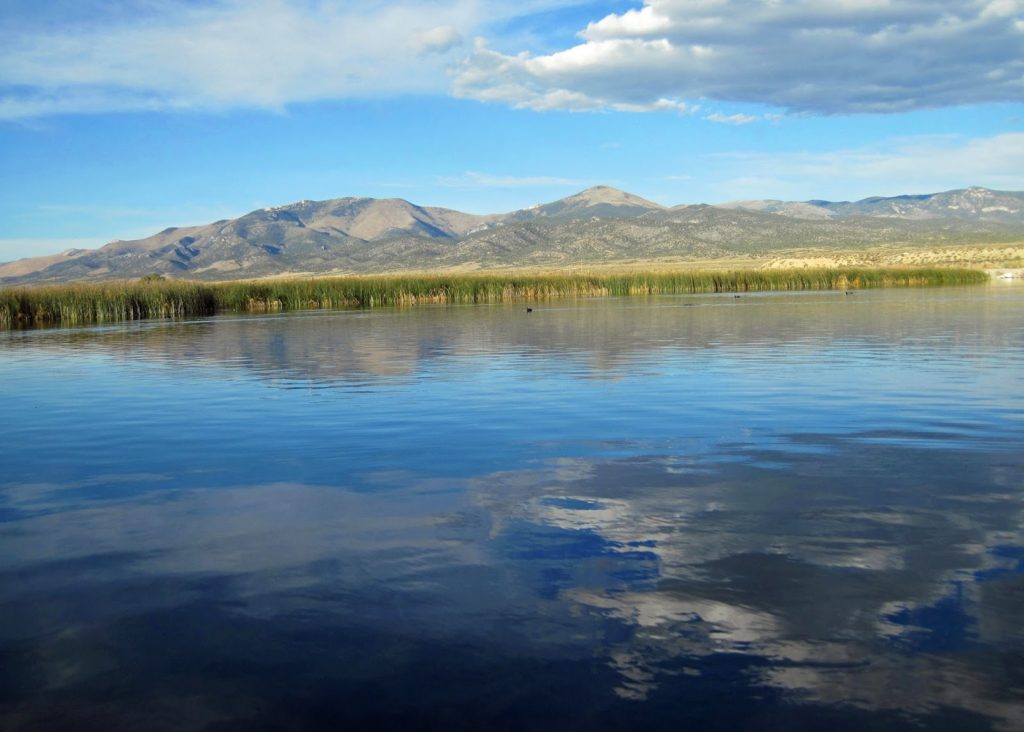 So, I've been waiting for the cool fall weather to try Comins myself, and my experience mirrored exactly what Ron wrote.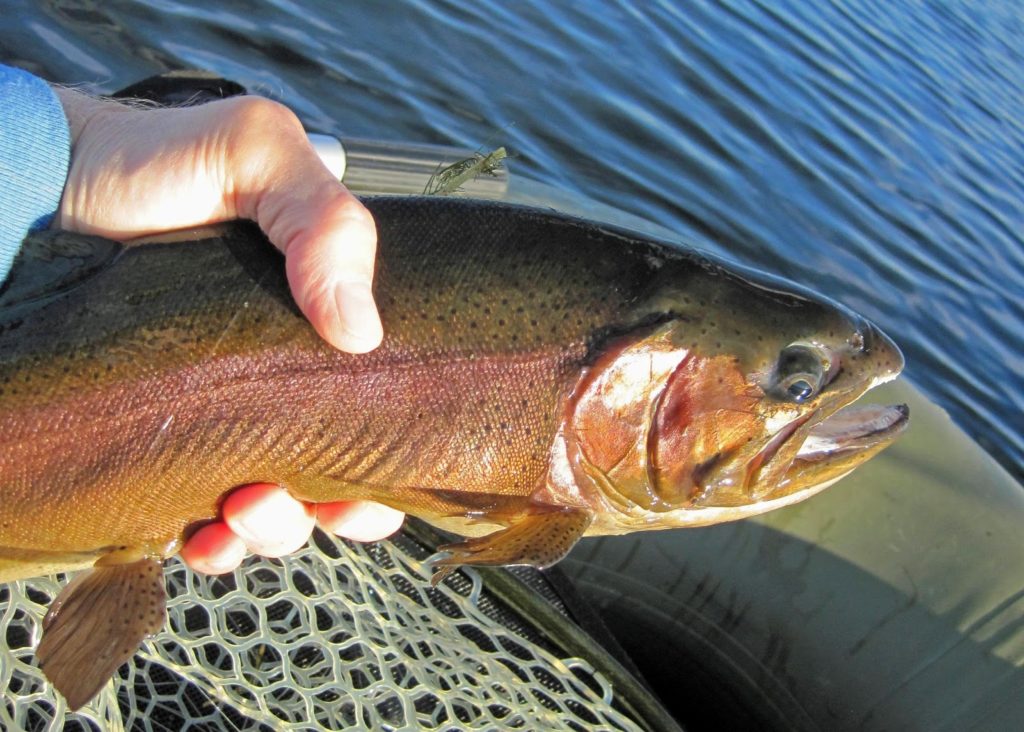 I had a business meeting Thursday morning, so I didn't get on the road until noon.  There was reconstruction work on US Highway 6, so I didn't arrive at the reservoir until 4:30 pm.  The temperature was in the low sixties; very comfortable.  I fished from 5:00 pm to 7:00 pm, landing ten beautifully colored trout (as I've written before, these appear to be what the hatcheries refer to as Tasmanian rainbow trout – for more detail on Tasmanian trout read Comins Reservoir – Ely, NV – originating from the southern hemisphere where their solar cycle causes them to be fall rather than spring spawners).  Five of them were in the 17 to 20 inch range.  Although aware of Comins' prodigious growth rates, I did not believe these could have been from the March stocking of 9-inch trout.  In fact, several looked a little old to me.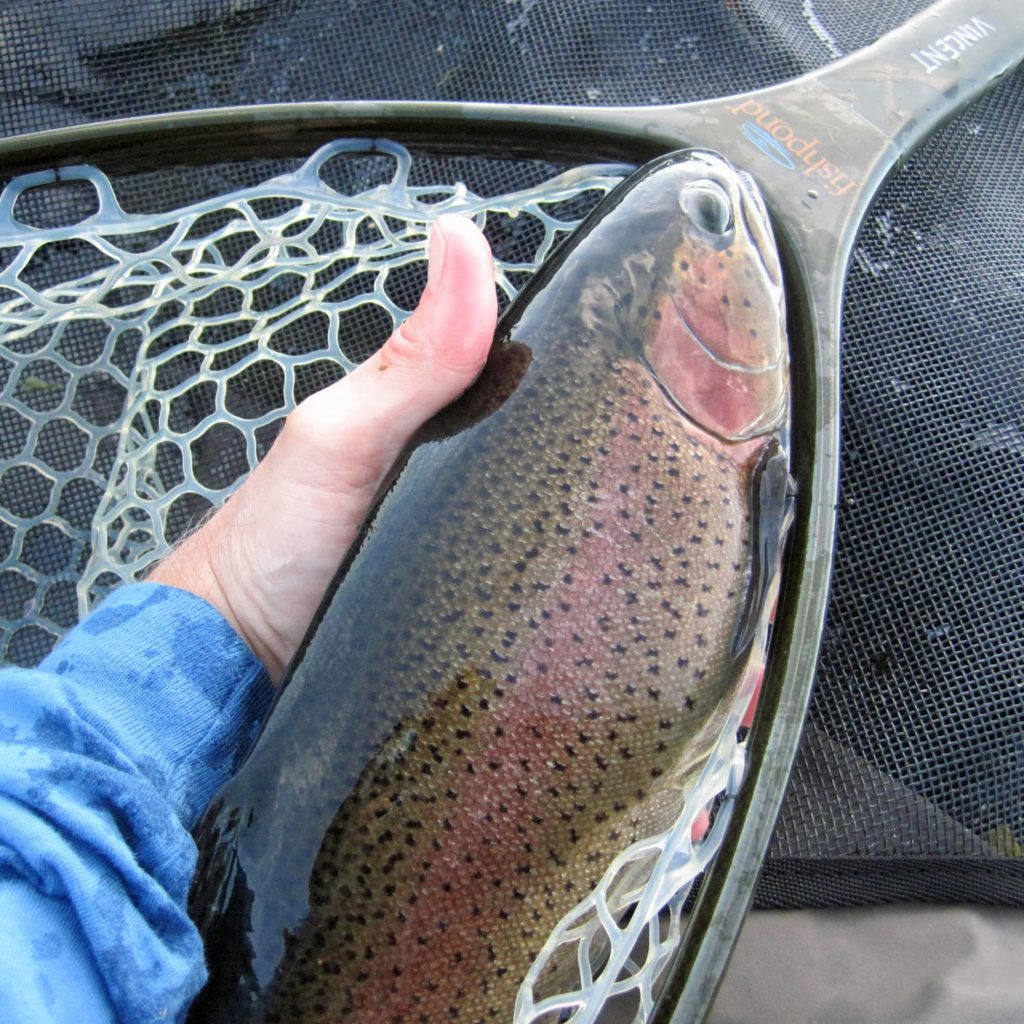 Remarkably I was the only angler on the reservoir. But as I was getting out of the water I noted a truck towing a boat to the launching area. I saw what I thought was an NDOW emblem on the truck, so I decided to drive over and see what was going on. I chatted with a NDOW warden (or maybe a fisheries biologist; I didn't ask him) about the fishery. I told him that my two hours were better than I ever expected, but then I asked about the size of the trout. He admitted that Gallagher had some excess broodstock, and they decided to salt Comins with a bunch of them to quickly spike fishermen's interest. Well, I told him it got my attention. He also confirmed that they had seen evidence of pike in the fishery, and that they were looking for more in that evening's electrofishing procedure. He instructed me to kill any pike I caught and to drop off their carcasses at the Ely office of NDOW so that they could examine the evidence.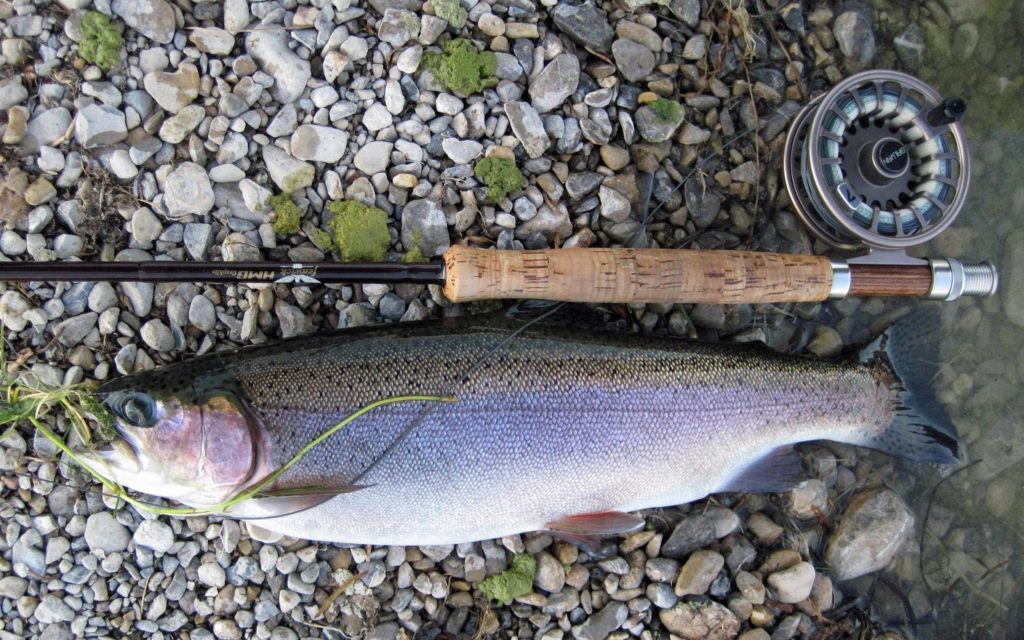 Friday I awoke at 6:00 am to a 37 degree temperature. After breakfast at the Silver State Cafe, I launched the Water Master on Comins by 7:00 am. I had taken Ron's advice to fish the bulrush on the northwestern end of the reservoir where trucks zoom by on US Highway 93. By noon I was simply exhausted after landing 15 more trout, over half of them ranging from 17 to 21 inches. This time I did note a few stale eggs dropped on my apron which validated their Tasmanian heredity.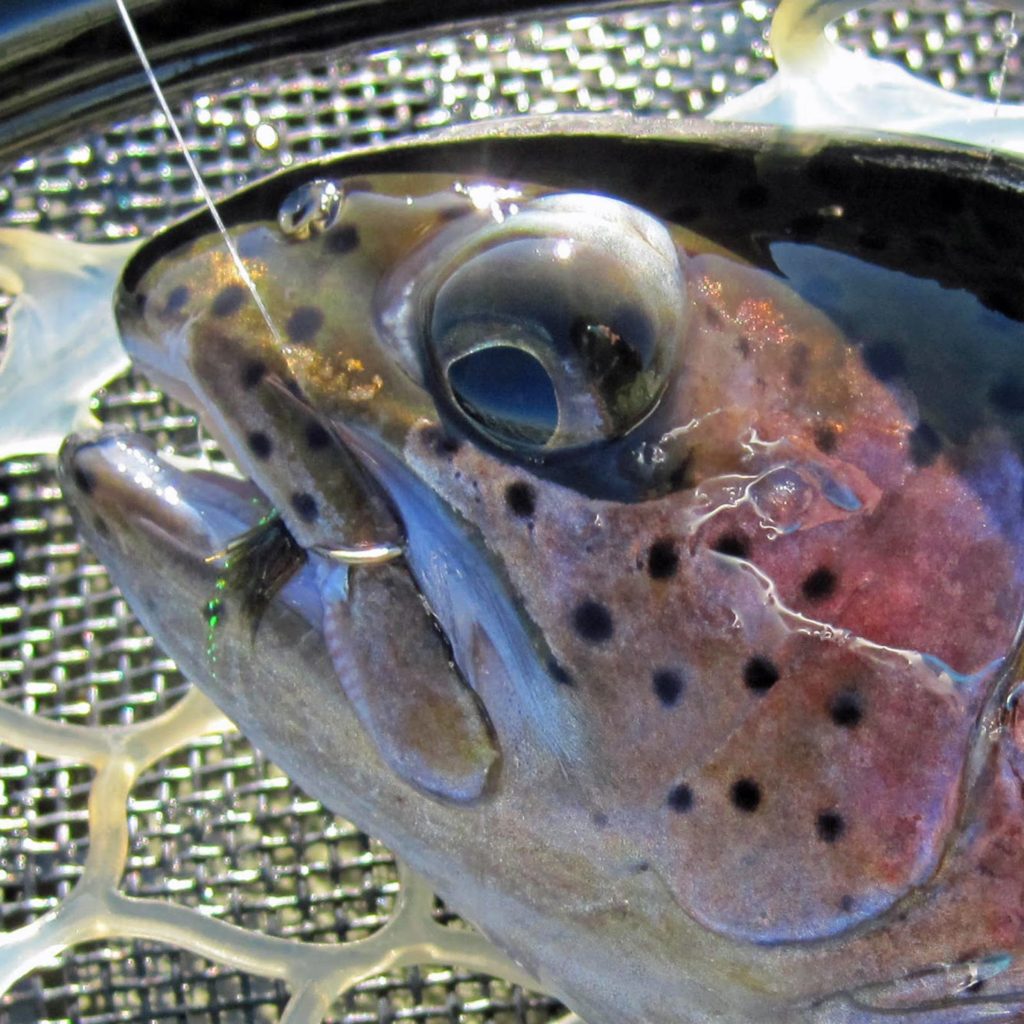 After excluding all the trout landed over 17 inches, on the premise they were excess Gallagher broodstock and not the normal 9-inch planters, I noticed an interesting pattern: half of those 10 trout were in the 14-17 inch range. That's what I would expect from a normal Comins stocking back in March. If those trout can hold over through the winter, many could be young 20-inchers by late spring. To me, that's a great indication of the Comins trout prognosis.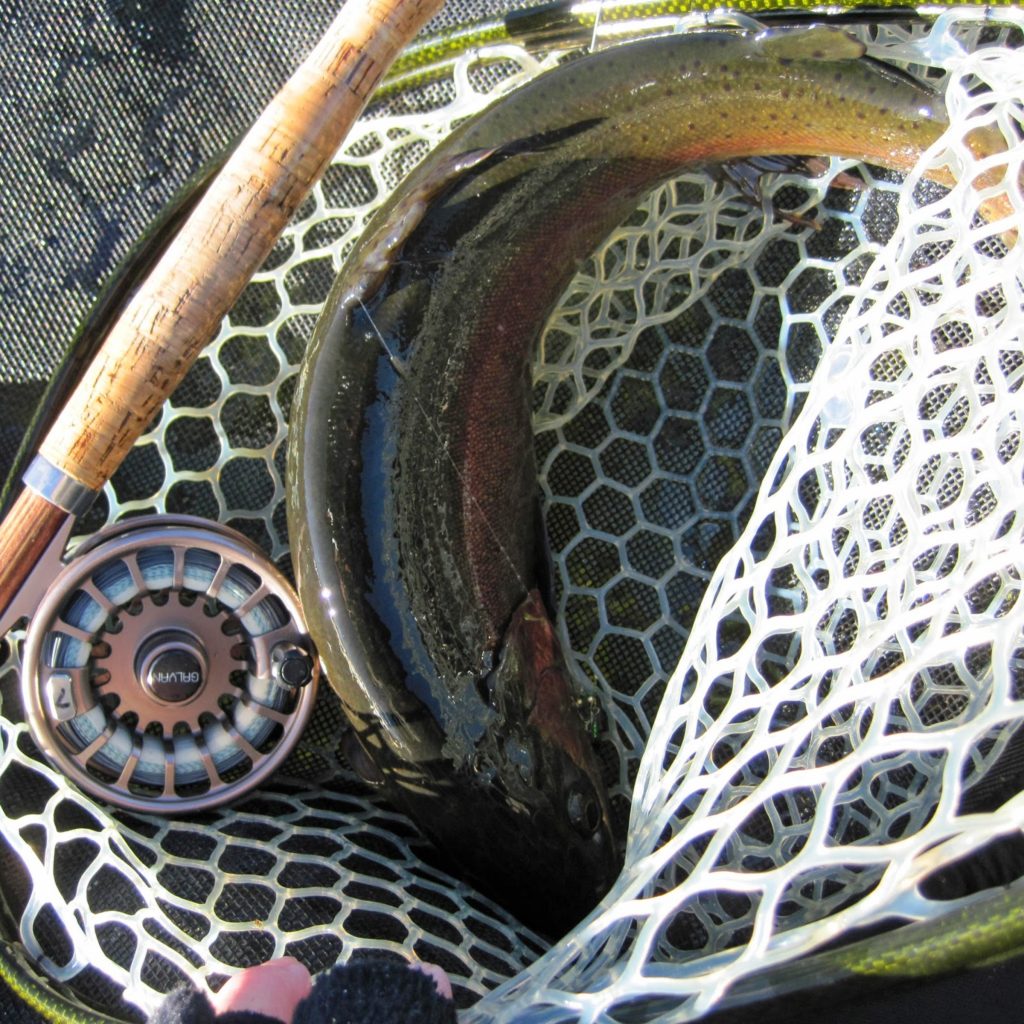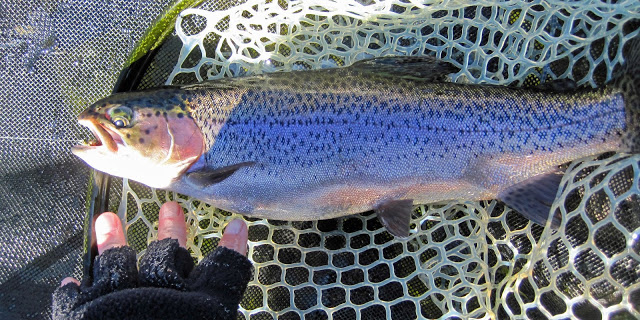 I made the below chart as a way to measure what I believe is the distinction between the normal 9-inch stocking program and the excess Gallagher broodstock. It recaps the results of my two-day, seven-hour fishing experience. I believe it does validate the remarkable growth rate in Comins, and foretells the success that Comins could experience. The athleticism of trout that spend a few seasons growing in the Comins fishery will far outclass that of the broodstock. By the way, I lost about 5 or 6 trout due to hook pull-outs despite the 5 – 6 lbs tippets, and I also caught 8 – 10 baby black bass with the largest being about 9 inches. As usual, all fish were released to grow larger and allow other anglers to experience.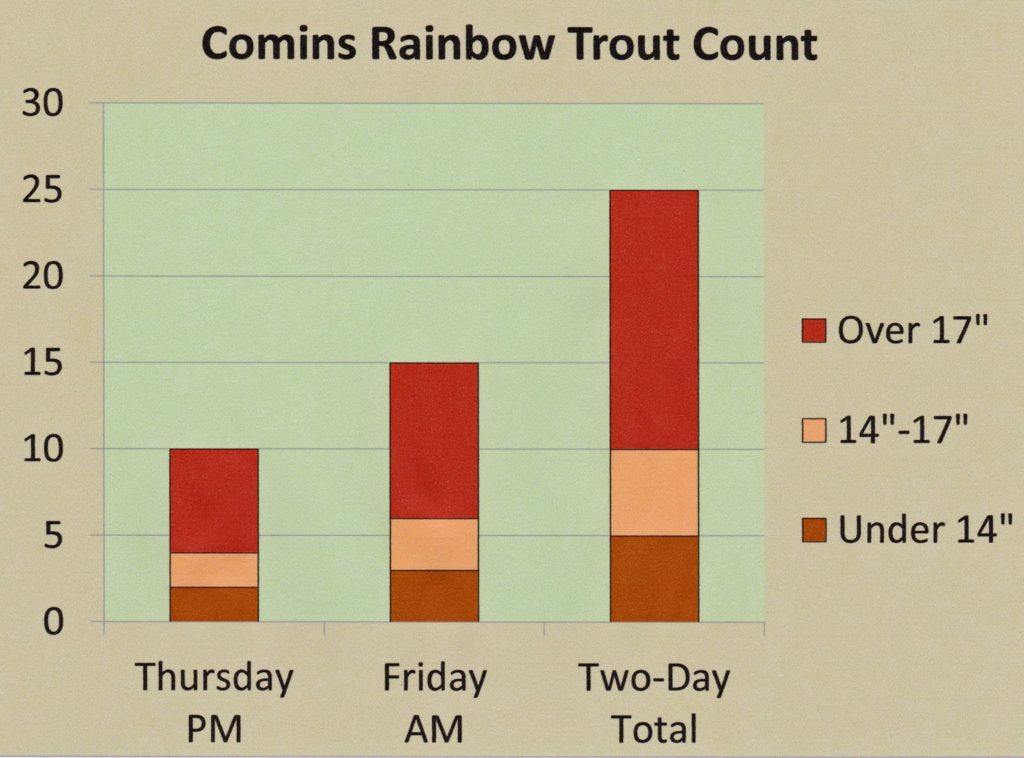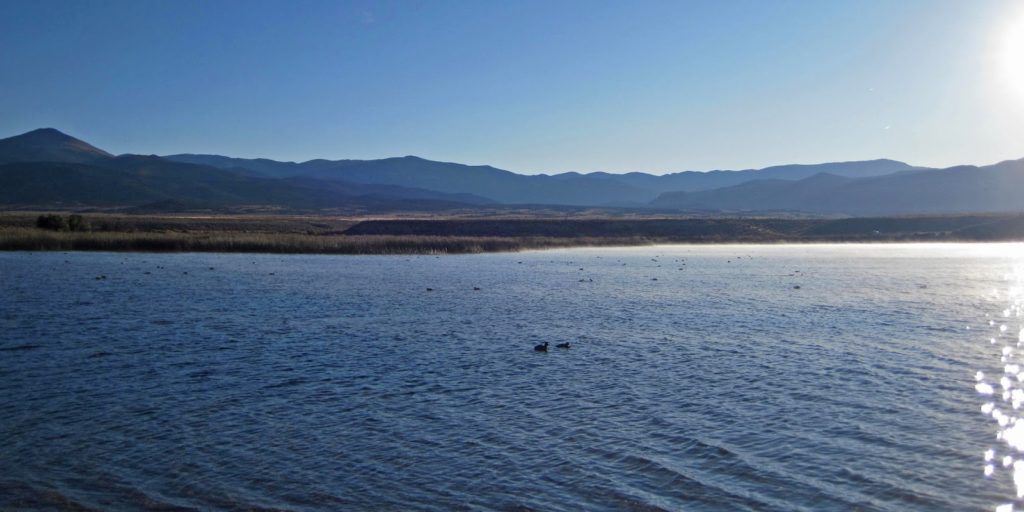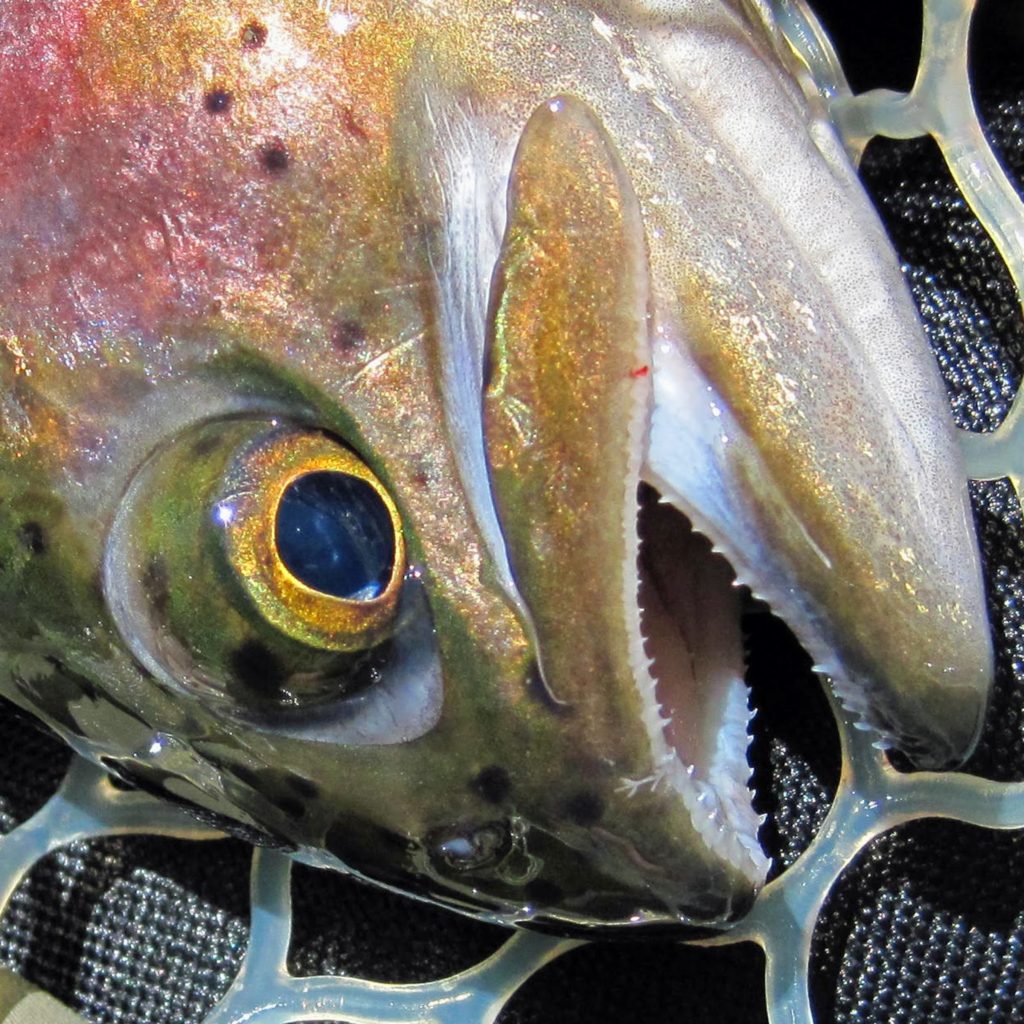 I must say that while the re-introduction of the pike is disappointing news, perhaps NDOW will be able to manage their population such that the trout fishery can return to its lofty status of years past. And I believe that a highly productive Comins trout and bass fishery will do more for the Ely economy than a northern pike fishery. So, next spring, as Ron simply advises, "GO!"