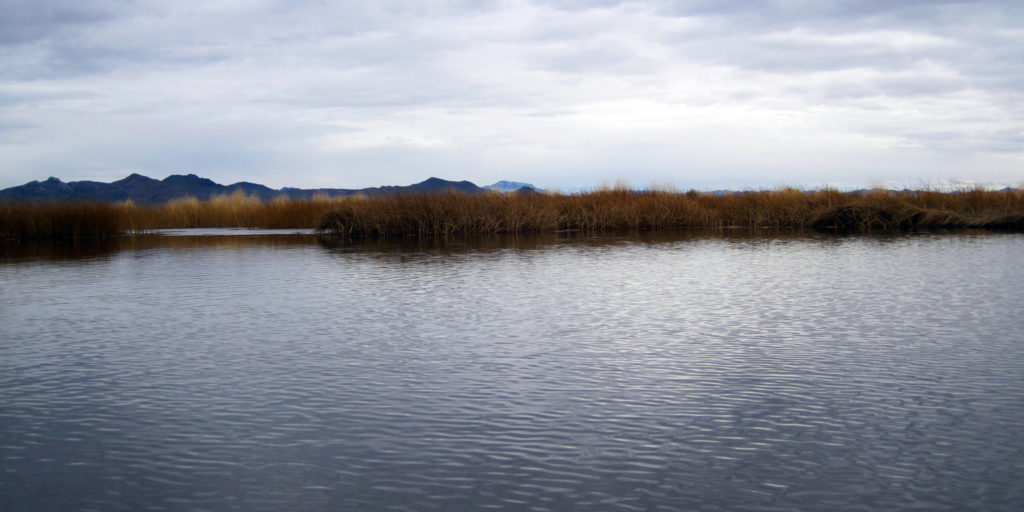 BEFORE READING THIS BLOG, READ THIS ONE: North Fork Outdoors: Not Responsive to Warranty Claims
If you've been reading my blog for some time you know I prefer to use a Fish Cat float tube to navigate and fish stillwater lakes and reservoirs. As much as it makes stillwater fishing fun, I always had a couple complaints about the Fish Cat. My most significant complaint about that style watercraft is that your lower legs are always under water which is uncomfortable after six hours fishing in the late fall or early spring. My second complaint, although less serious, is that kick-paddling is too difficult against winds in excess of fifteen miles per hour.
In the spring of 2008 I purchased a framed pontoon boat in an attempt to remedy some of the complaints I logged in my April 2008 blog. After using it once, though, I decided it was too large and bulky for use on the reservoirs I frequent. The pontoons were nine feet long, and fully assembled it weighed about eighty pounds. Furthermore, assembly of the pontoon took about thirty minutes, as did disassembly (which translated into one-hour not on the water fishing).
The past few years I've been searching for a better solution on the Internet. Dave Scadden's North Fork Outdoors (NFO) seemed to be leading the pack, and his latest series of Outlaw designs really caught my attention. The Outlaw Renegade, a nine-foot watercraft weighing less than thirty pounds and capable of navigating Class V whitewater, was a design that really caught my eye because it was frameless. Still, its nine foot length was a lot for me. But, last year Scadden came out with a shorter Outlaw Escape… six feet in length and a scant twenty-five pounds. And although there's not much whitewater near Las Vegas, it is comforting to know that the Escape is Class III rated. If you want to see the Outlaw Escape in action check out these videos:
Recently I received a Cabela's catalog and noticed that they had a NFO Renegade on sale at half price. I logged on the NFO site and discovered that they were selling off their 2010 demo models. So I called NFO and actually got Dave on the phone. Last year's demos were sold out, but Dave was able to let me pick up a demo of his latest Outlaw Escape model that had only seen carpet… also at half price. I couldn't resist. (As an aside, Dave revealed he was in on the design of the Fish Cat which I was so endeared with.)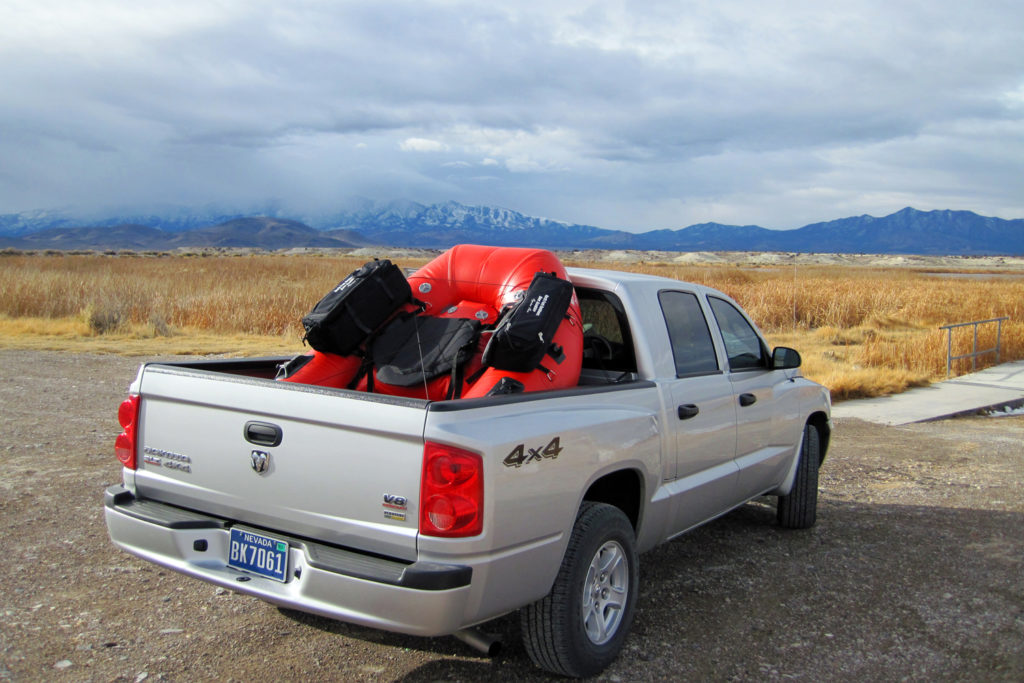 Upon receiving the NFO watercraft I will say that I was disappointed in that it did not come with an acceptable valve adapter for filling the tube. When I called Dave back he said they were not using the more common Halkey Roberts valves, but rather new Bravo valves manufactured by Scoprega out of Italy. My initial search uncovered some blog writing by a disgruntled NFO customer who was having trouble getting Bravo parts for his watercraft. However, my search turned up a great source for Bravo parts at a very reasonable price. Defender, a marine outfitter, carries Bravo valve replacements and tools. So, I would not let the new Bravo valves become a reason to avoid the NFO Outlaw watercrafts.
And so, after storing my new Outlaw Escape in the garage for a few weeks I decided I needed to get away before the trout lakes and reservoirs froze over for the winter. The prior week's report from Wayne Kirch indicated skim ice, and this Thursday's report said it was iced over but un-walkable. Being of stubborn mind and ever hopeful I reasoned that the ice may have softened enough with the recently warmer weather, and so last Thursday after a mid-morning meeting I took-off for Wayne Kirch Wildlife Management Area. The temperature upon arrival at 1:30 PM was forty-five degrees with no wind, but still the Cold Springs and Haymeadow reservoirs were indeed frozen over. Not to be disappointed I drove over to the Adams McGill reservoir and to my pleasure found that the bay near the boat dock was not yet frozen. I was able to launch the Escape and christen her first water voyage.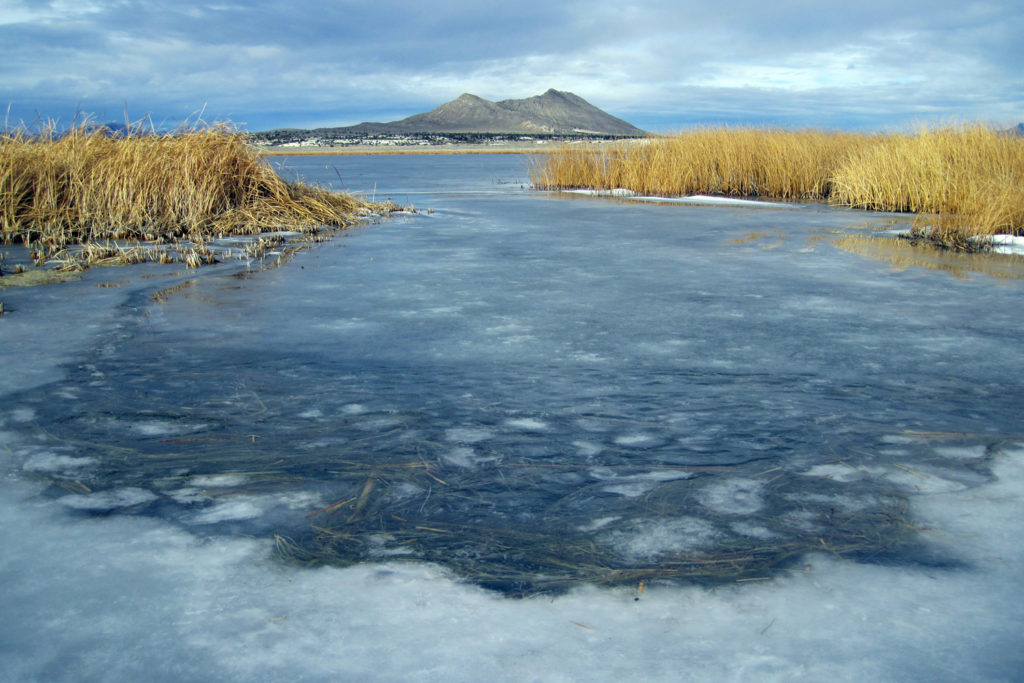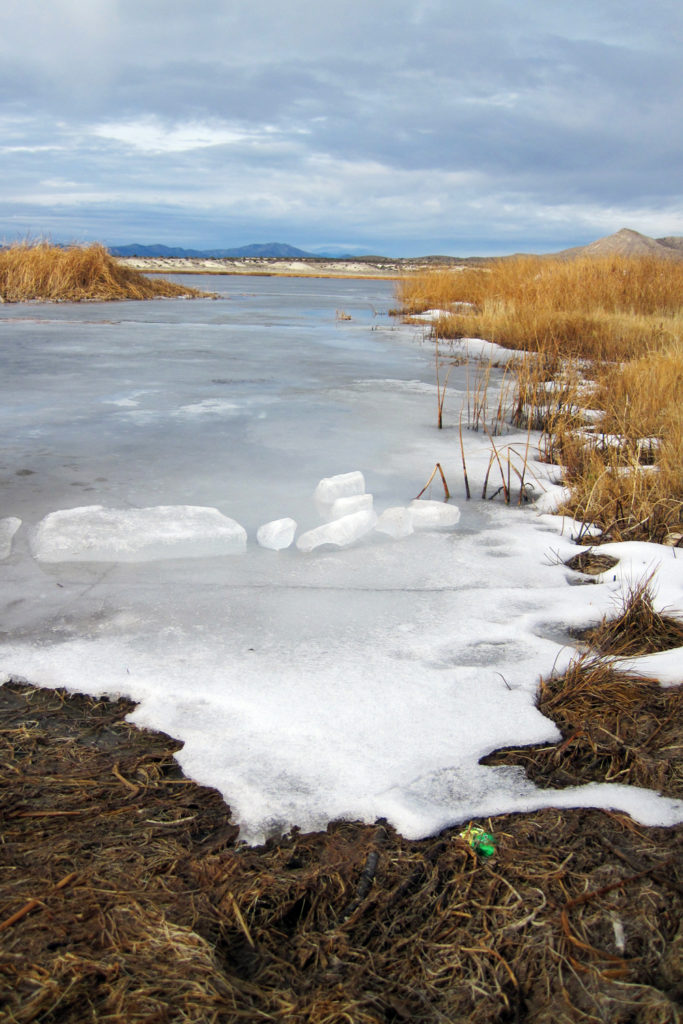 Now Adams McGill is more of a bass fishery, and the un-iced bay area was very shallow with no sign of trout. Still, I was able to run the little Escape through its paces. With the oars in their oarlocks the watercraft kick paddled easier than my Fish Cat, likely because of the better rocker design that makes it track higher and straighter in the water. And when I put my feet up on the cross-bar and unfolded the oars I could locomote quite easily and quickly through the water (…bring the wind on!). Although it's not possible to love an inanimate object, I could tell this Escape was already my favorite watercraft and I had yet to catch a fish from it.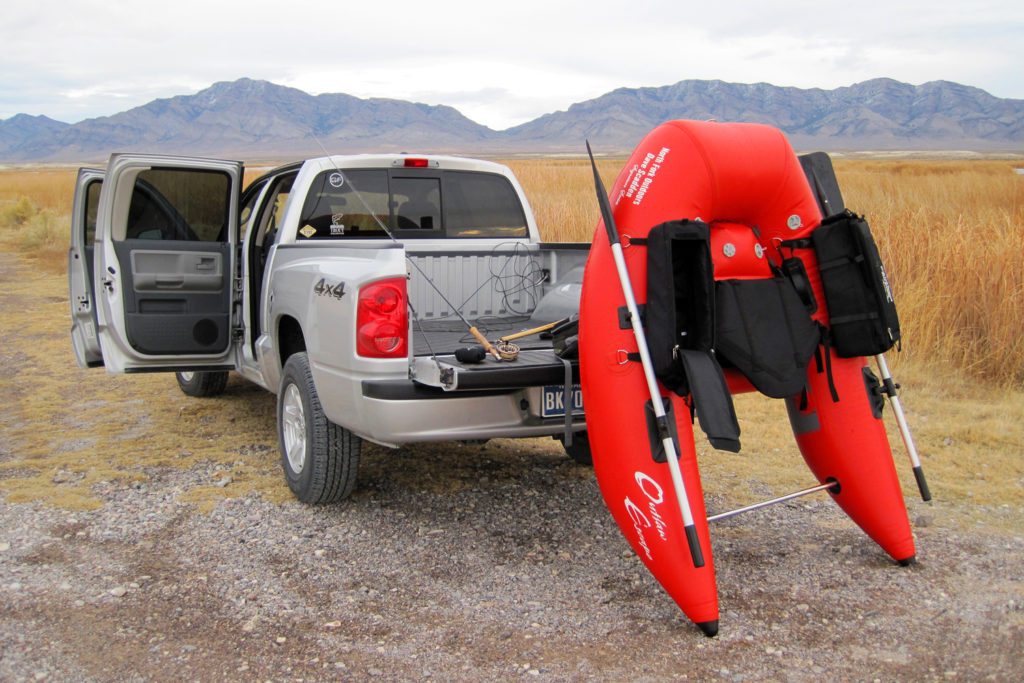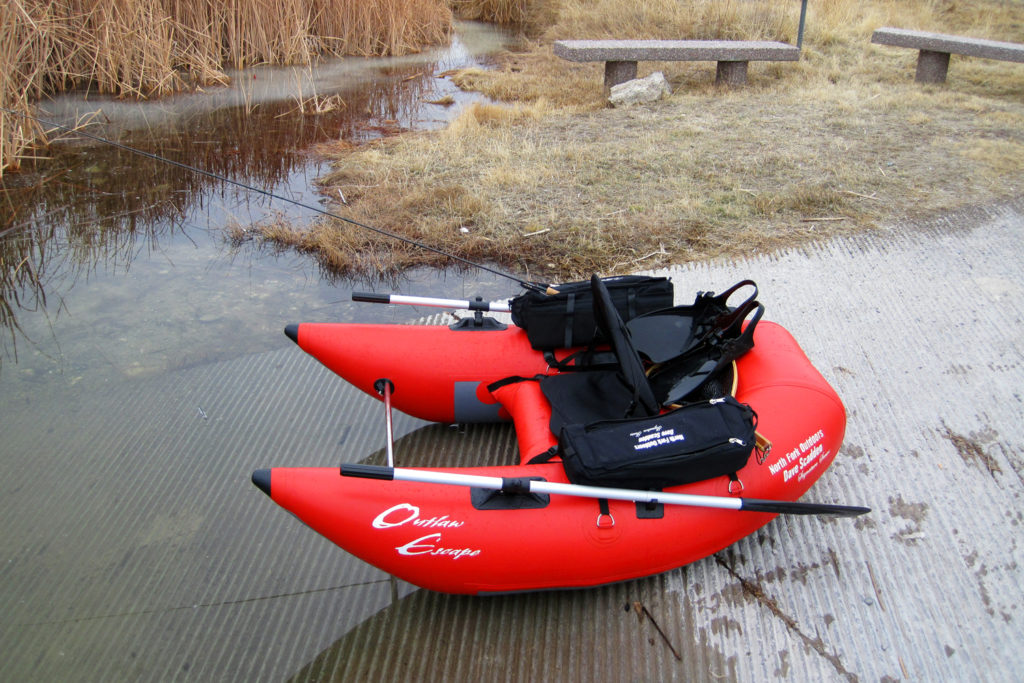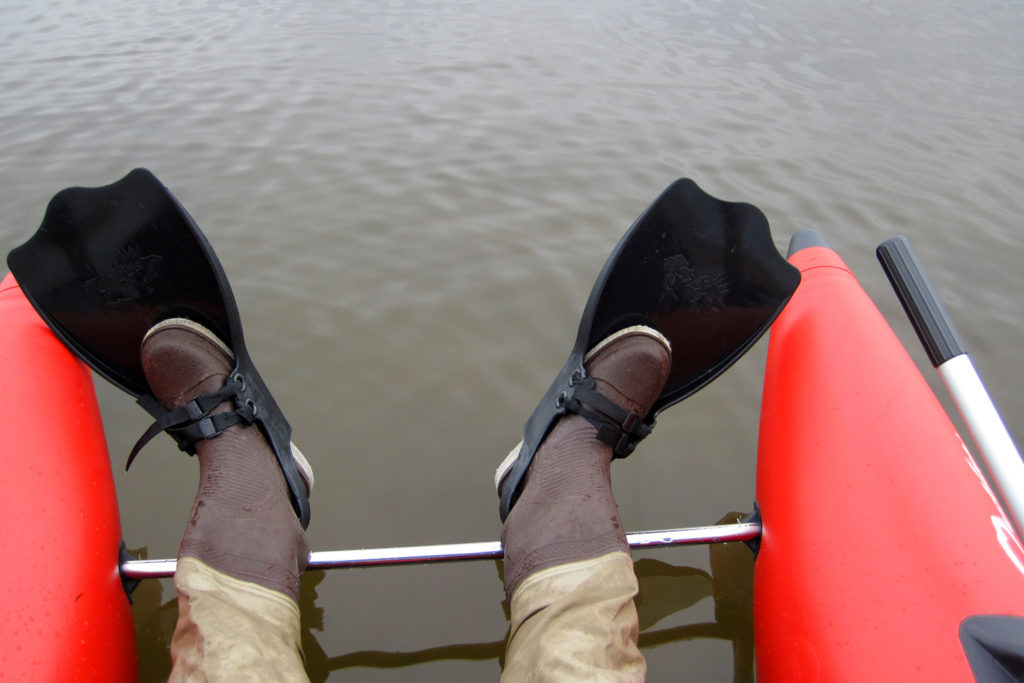 Well, after playing for about ninety minutes I had to get home for a dinner party. Some might think of a trip like this as crazy (five hours of round-trip driving for ninety minutes of fishless float tubing)… but I know better. It was a maiden voyage full of promise of good things to come at ice out next spring.