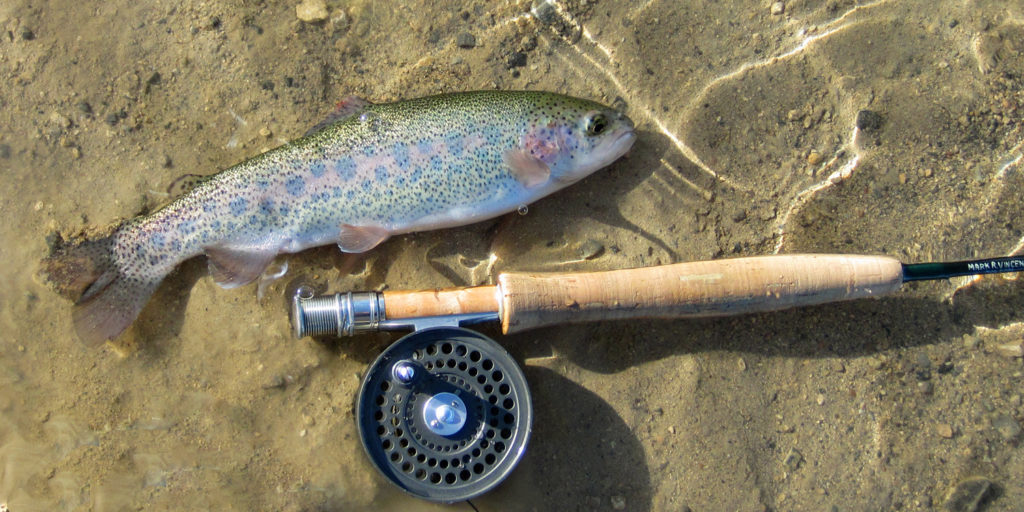 My friend Mitch emailed me that Cold Creek pond was stocked on Monday. Then yesterday I had a post from a reader who said he had a great time fishing in the morning before work, which made me feel relieved to learn that I'm not the only fanatic that fits fishing around odd schedules. So by Thursday you can only imagine that I was unable to resist leaving work early to have some fun before the Christmas season and the inevitable ice-over occur.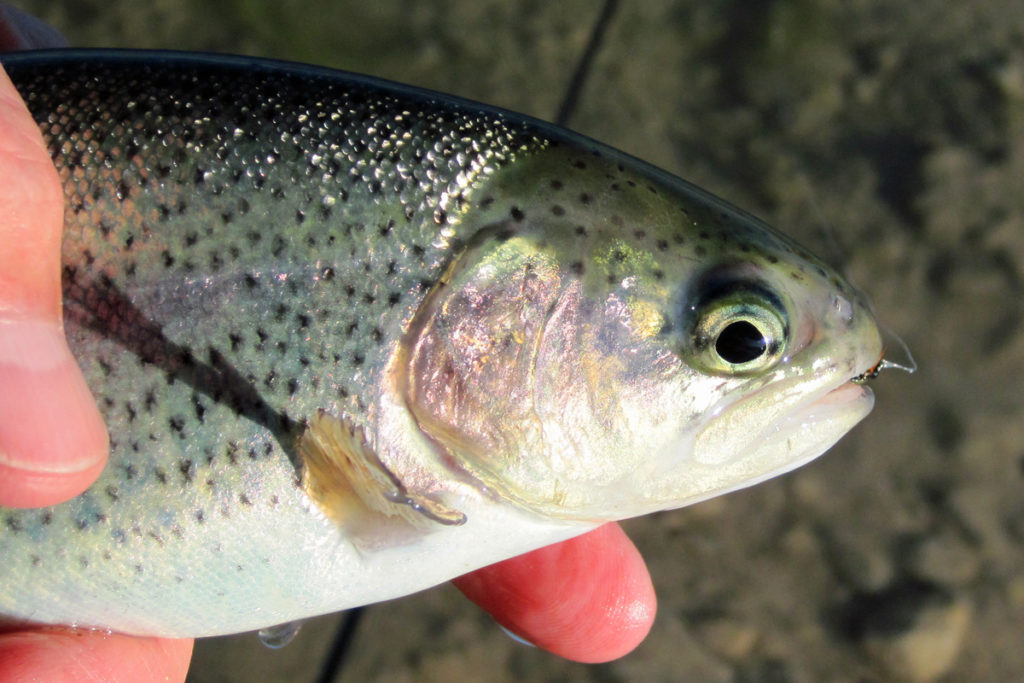 The weather was good. Temperature was about 55 degrees when I arrived at 2:30pm, and dropped to about 40 degrees when I left at 4:30pm. Only a slight breeze now and then, but the bright afternoon sun kept the trout huddled in the deepest parts of the reservoir until twilight. As soon as the bright sun was gone there was lots of surface activity that began to spread out into the shallow areas.
When I arrived there was a family of five (husband, wife, and three very young children), and soon thereafter their friends, a family of four with similar ages, showed up and parked right next to them. Their children were well behaved, but one of the dads was obviously using his children to pad his limit of fish. He'd hook a fish and then have one of his youngsters reel it in well after he had his limit of three (once you have a limit you cannot fish, even if you intend to release the fish). Not that big of a deal, but I admit it slightly bothered me. I sometimes see things only in black and white, truth vs. lies. I can be intolerant like that. I suspect he incorrectly assumed that if his children reeled them in he could keep an additional three each. I heard him mention the three-fish limit for urban ponds so he was aware of it, but he didn't appear to know that while children under twelve can fish for free, their limits must not exceed 50 percent of the general limit, i.e., one each in this case. The reason for these limits is to ensure more of the public can enjoy the sport and share in its bounty because hatcheries cannot stock these ponds frequently enough to keep up with the urban demands.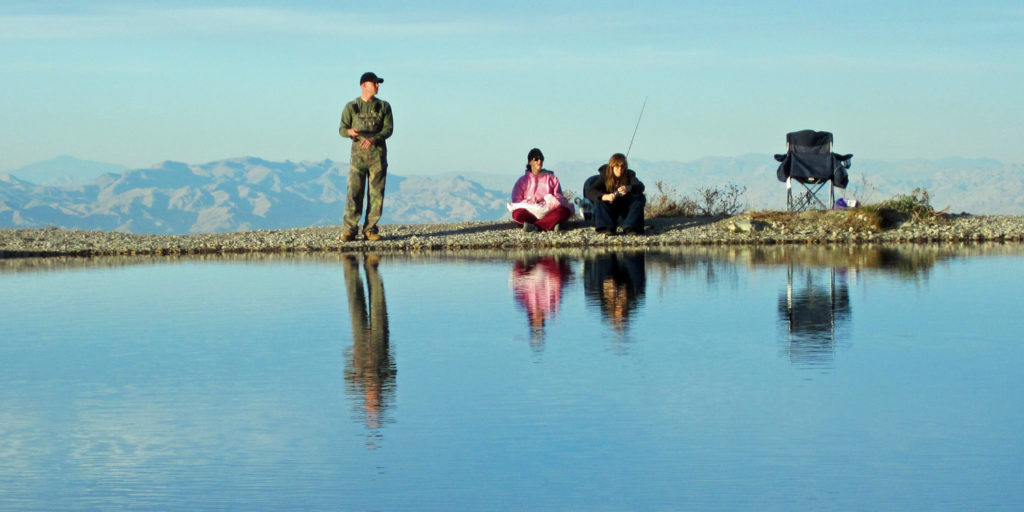 There was another lone fisherman that arrived later who did quite well. He was using bait or perhaps a jig, but he seemed to release all that he caught.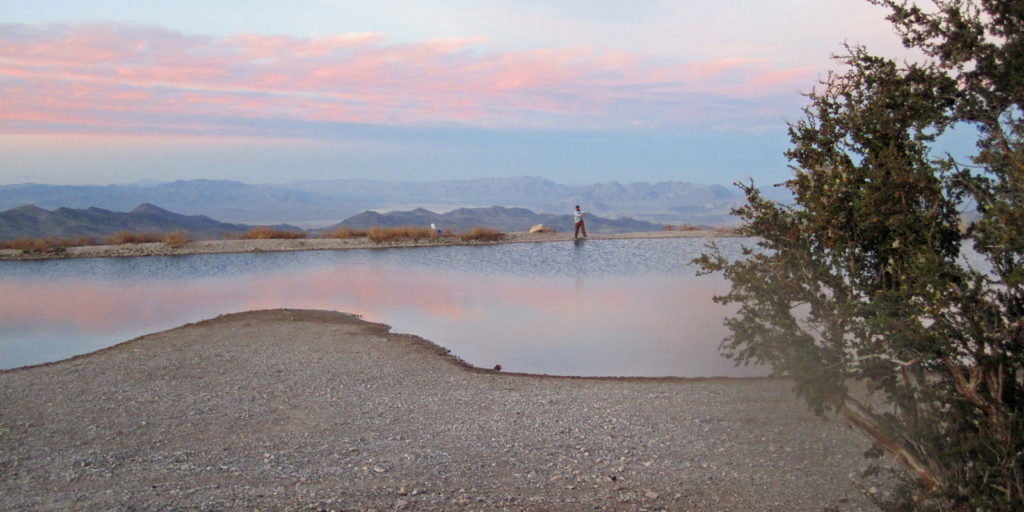 As I mentioned, the freshly stocked fish seemed to be congregating in the deepest part of the pond while the sun was still high (an overcast day would have been better). I only caught five in the first hour, usually after the fly had sunk about three feet. As soon as the sun was setting the trout seemed to spread out and start surface feeding. I caught ten in that final hour. A total of fifteen in a couple hours, with about four or five "long-distance-releases" provided some fun, excitement, and peace for my psyche. And the trout were pretty considering they were hatchery raised. They were healthy, in the nine to ten inch range, and most were heavily spotted. Their pectoral fins were intact, indicating that they weren't too overcrowded or aggressive in the hatchery (often hatchery trout bite each other in crowded conditions resulting in damaged or missing pectoral fins).
All in all, a good afternoon away from the office despite the somewhat crowded conditions. Maybe next time up I'll look for an early morning trip. Those of you that have been waiting for the trout stocking will be pleased to read this blog as evidence of the stocking. Tight lines for you all.